Learnworlds no-code website builder
Build the perfect online home for your academy. Instantly.
Experience the power of the #1 website builder for eLearning and get your stunning website up and running with just a few clicks and zero coding. Everything you can imagine is real!
Launch your stunning academy website in a snap
Choose among 50+ designer-made, ready-to-go, industry-specific site templates to launch your website fast & with confidence. So simple, so powerful!


The perfect starting point for your academy
Choose one of 50+ best-in-class templates to launch your academy's website with confidence and start fast. Select your template and begin customizing it to fit your needs.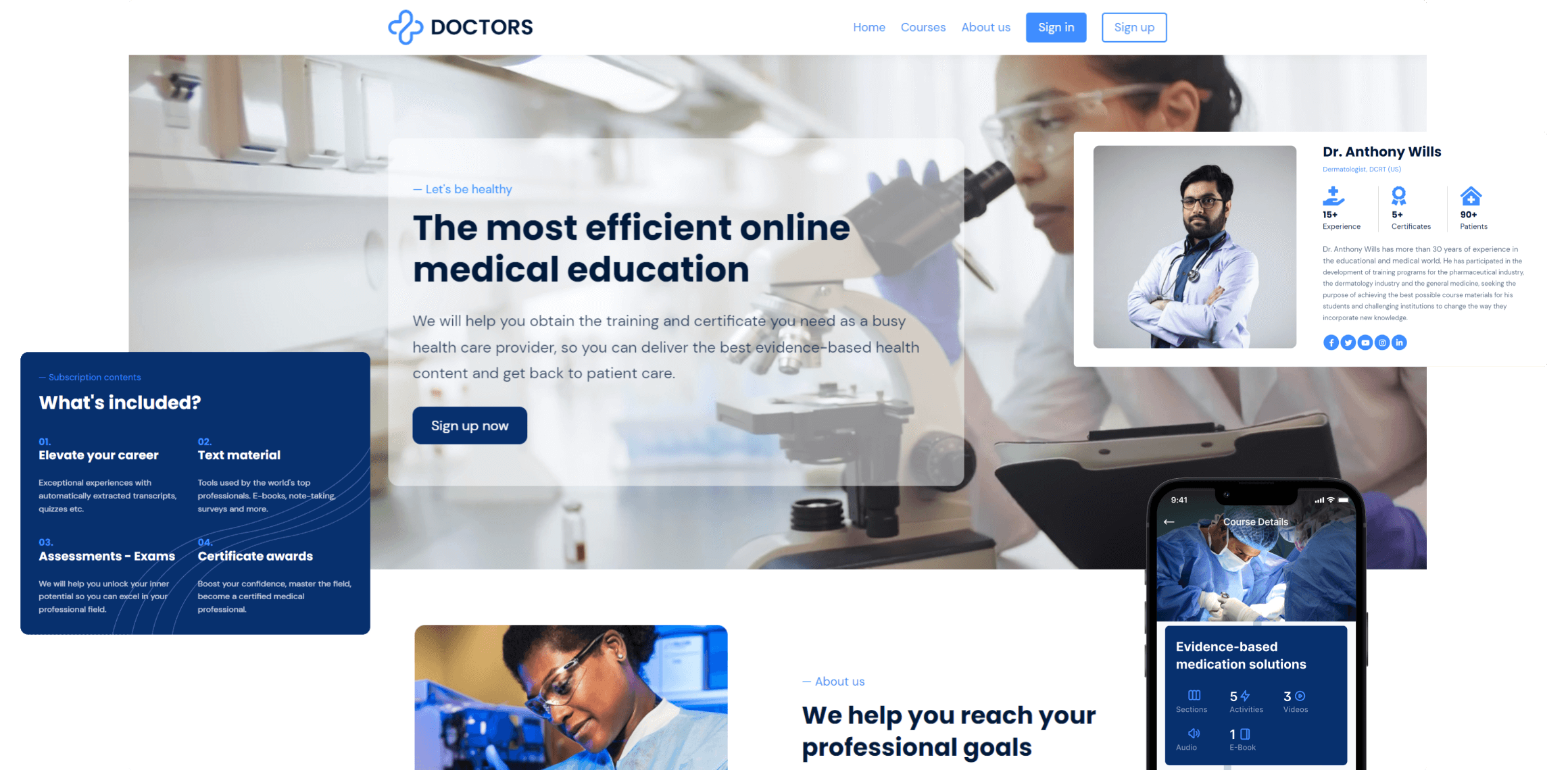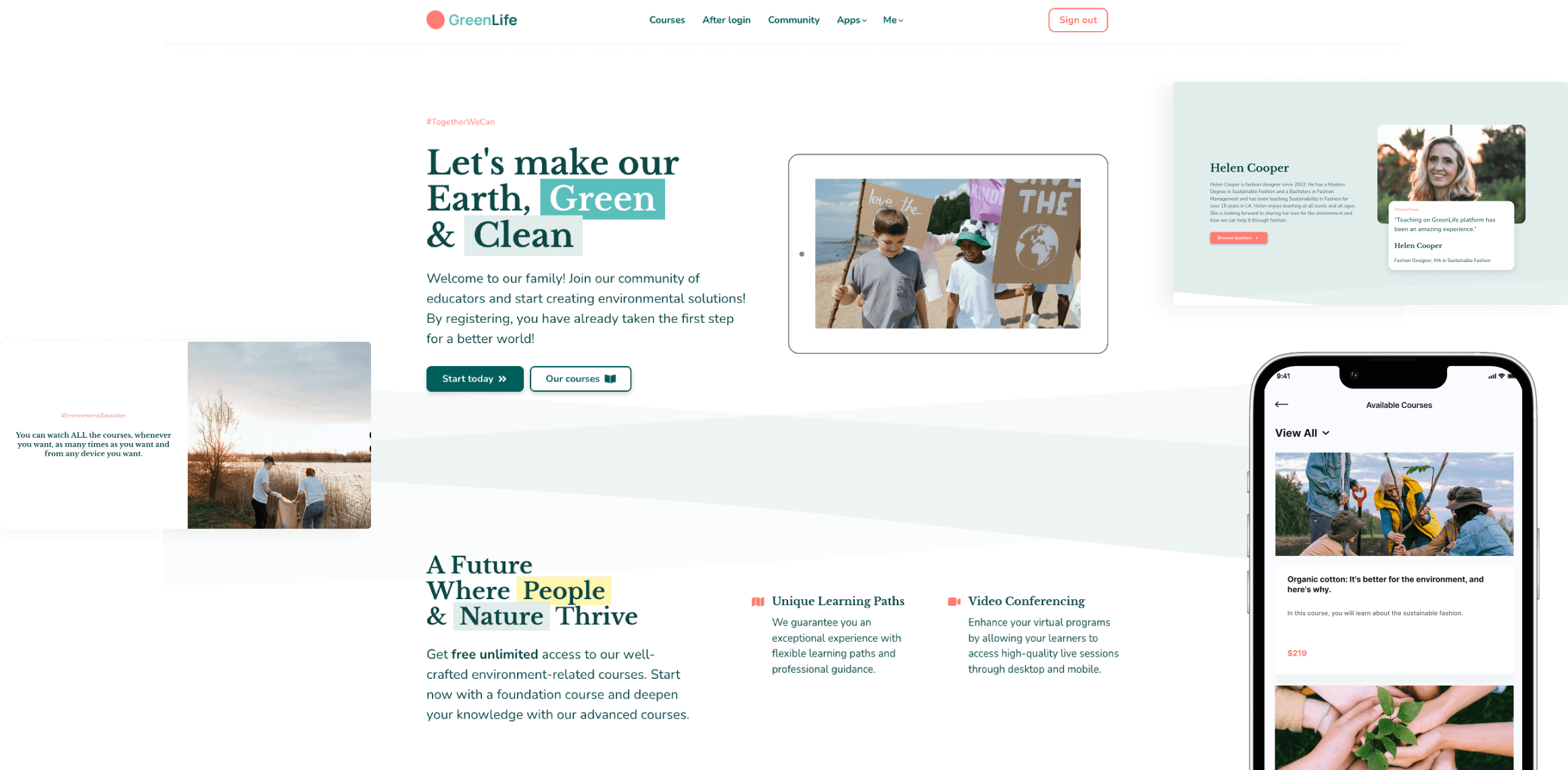 Discover an exceptional
experience in website design
Create your website in minutes. No design skills needed
Just point & click your way through hundreds of ready-made, fully customizable elements to build your awesome online academy in no time without the dev time and hassle.
Eye-catching templates to make your online academy shine
Dozens of industry-specific and flexible website templates, easily customizable with just a few clicks to fit your business. Don't settle—get the ideal looks & style you want for your online academy.
Switch between website styles in minutes
Create multiple versions of your website in a flash. Build a version of your website for Black Friday, activate it, and switch back to your regular website with just a click. An experience unlike any other!
The all-inclusive solution for thriving online academies
Replace an ocean of tools and skip the hassles of multiple vendors and installations to design, manage & grow your online presence𑁋the LearnWorlds Site Builder is your go-to solution for stunning web design.
Everything you need for your academy's website!
A platform jam-packed with fully customizable templates, forms, pop ups, and more.
Point & click or drag & drop your way to a stunning website with zero coding.
Increase conversion and capture more leads with fully customizable, sleek, and beautiful pop ups.
Collect valuable feedback and generate leads by building single or multi-step rich conversational forms.
Make the customer journey unique by creating multiple after-login pages and win your users 'at hello'.
Get the right online attention for your academy. Boost your search engine rankings using our built-in SEO settings.
Engage & convert your audience with a set of widgets that blends with your brand: calendars, timers, testimonials & more!
View and edit your pages for different devices! Our 100% mobile-friendly designs work seamlessly on any device.
Speak your learner's language. Easily translate your academy's user interface from a growing list of available languages or input your own.
Personalize the learning experience
Control how your site looks and functions for different users. Create sections & widgets that appear only to specific audience segments or devices.
Login status
Whether users are logged in or not.
Device type
Whether users are using smartphones or other devices.
Assigned tags
Whether users are tagged with specific keywords.
Course status
Whether users are enrolled in courses or not.
Why businesses love LearnWorlds
"Amazing Tool - Far Surpasses Thinkific, Kajabi, Teachable"
"The quick and easy way to re-cast the site templates to fit certain marketing efforts is especially phenomenal."
"I was able to accomplish in a few hours what took a few weeks in other platforms."
LearnWorlds is the best course sales software that provide the students with on time courses an manages the issues related to course handling. It has a demo that can make the user to feel easy in working.
- Ayesha Nasee
I took a long time for me to find a great platform for my online schools. LearnWorlds is a robust platform that is very easy to use and setup and it is also affordable for those that are just getting started.
- D'Andrea Bolden Ministries
The TEAM behind LearnWorld is what makes the difference and the support they offer.
- Ariane G
I am in love with this platform and I would never change them for another. I feel cared for by the amazing support team that know my name, my work, my problems and needs. They offered me the attention and personalized tips. All that gave a big boost to my online school.
- Teya B.
LearnWorlds will soon be recognised as the GLOBAL authority in online teaching... they stand out above the rest and their promises are REAL.
- AAW
The confidence I've gained in my business is priceless. No matter what issue I might have with my platform, the LearnWorlds Support Squad has my answer. When they say "customer service is their #1 goal" they truly mean it. I've never been disappointed.
- Missy C.
I have used few others providers and wasn't satisfied until I found LearnWorlds. They have all the tools and easy to use interface to build your online school.
- Jonas K.
I'd like to say that the support that we've been getting from LW since I got to know the platform is, until this moment, without any doubts one of the best customer services that I've experienced.
- Samir A.
Extremely easy to use their in house video hosting platform, so there's no need to get a platform like vimeo which ultimately saves you money.
- Kenneth John
I can recommend LearnWorlds as a great tool to manage an online course, academy, accelerator or anything similar. The platform works well and has many adjustable features. The support is super fast and always helpful! 5/5
- Alona Belinska
LearnWorlds is likely the most interactive learning system I have encountered. Thanks to greatly integrated video functionalities, gamification and personal notes/library there are immense opportunities to enhance the learning experience by creating engaging content.
- Epp Krusenvald
Before I committed, I decided to contact every elearning platform but honestly, no one beats what they offer. They are always on top of things and all the best features are always being added. The creators are so amazing, I can tell they work so so hard!
- Corine C.
Easy to use, good support from the team (very responsive) and costs less than many course platforms
- Tany Williams
I was looking at maybe 5-7 different platforms before I decided to go with LearnWorlds. It is easy to use (intuitive) and there are the features that you need. I am happy I found it!
- Martin B.
Definitely the best option on the market after an extended research I made. I like to compare my options before making a purchase and LW was the clear winner. The amazing, friendly and well trained support team that replies withing a few minutes is what I find also extremely impressive about LW.
- Teya Bozhilova