Although Thinkific is great for building a course with rich multimedia and in an easy manner, it offers limited control and it doesn't include many learning features, for example, recently it has stopped supporting SCORM files.
If you are reading this you might want to upgrade to a platform more suited to your needs. So, if you are looking for a great Thinkific alternative …
… you are in the right place.
Here I want to share a list of Thinkific alternatives for your business. You can find the top alternatives, what other people are using and how it compares to Thinkific.
There are a number of Learning Management Systems (LMS) which are comparable with Thinkific and I will be reviewing 6 of them:
LearnWorlds
Teachable
Podia
Learndash
Udemy
Kajabi
All these platforms are a good fit for edupreneurs, SMEs and training businesses that want to sell online courses and businesses that want to provide corporate training.
So, let's start comparing the top Thinkific alternatives you will find in the market today:
LearnWorlds – An all-in-one course platform
LearnWorlds is an all-in-one platform for course creators who want to create, host and sell their courses.
It would be strange if we didn't put LearnWorlds as a #1 on our list of training platforms. We work hard on our product, and we believe it is the best online course platform out there.
LearnWorlds helps you create, market and sell courses with:
A powerful pages builder with ready-made templates.
Authoring tools to create online courses with interactive units for ebooks & video.
Supports SCORM & HTML5 files.
Highly customizable course players, with pre-requisites and completion requirements.
True white-label schools.
Modern elearning assessments with quizzes, assignments, gradebook, reporting, certificates and more…
… and many more tools that help create courses quickly.
One of LearnWorlds' most significant advantages is that it provides rich interactive multimedia content and an easy-to-use interface to upload your content. LearnWorlds is also one of the few platforms that support SCORM files and offers true white-labeling.
Creating and uploading learning material using LearnWorlds is very easy, here is how it works:
The course player also comes with three different skin choices and many customization options:
More features you can find in LearnWorlds?
E-commerce capabilities to sell online courses
Built-in Community
Affiliate management
SEO optimization
Memberships, subscriptions, payment plans, and coupons
Gamification badges (beta)
Full website builder for beautiful landing pages & blog
Video and assessment analytics
24/7 customer support
Personalized onboarding
And a host of other features that will allow you to build the school of your dreams by tailoring the branding and courses to suit your ideal teaching environment.
There are four plans: The starter, the Pro Trainer, the Learning Center and the high volume and Corporate.
LearnWorlds is an lms platform that can truly make your online learning experiences stand out in the market. I'd highly recommend taking advantage of the free 30-day trial.
Teachable – Course Platform
Teachable is another popular standalone course platform. The platform provides an intuitive and well-designed. Teachable is a simple alternative to Thinkific, it's easy for new creators to use it but does not come with many learning capabilities.
Let's see what it feels like to create a course in Teachable.
This is what you see once you sign up for a Teachable school. To start creating courses, click on the "create a course" button:
You can see all the customization options on the left sidebar. There are tabs like "Dashboard", "Users," "Site," "Sales," "Emails," "Settings," and others.
The course structure consists of "sections" and "lectures". To create a new lecture, you simply choose "Add new lecture" and add your title. You can move lectures or sections up and down pretty easily.
A lecture is not necessarily a video. You can also add audio, files, links, or any other content type, and you can preview the results. Despite the fact that Teachable offers all these options, it doesn't support advanced quiz features like question banks.
You can watch a short tutorial of how to create your first course with Teachable in the video below:
Like LearnWorlds and Thinkific, Teachable supports course compliance settings. With those settings, you can ask students to complete certain actions in order to advance through your course.
Teachable provides integrations with MailChimp, Google Analytics, Segment, Deadline Funnel, Zapier, and others. You can also make some customizations like: Change the font family, the colors, the navigation bar links, the hierarchy, the buttons, etc.
What else can you find on this platform?
Set drip course content
Do upsells
Bundle-up courses
Affiliate program management
Affiliate program management
Create Payment plans
Teachable plans: There are four plans, namely Basic, Professional, and Business and a hidden free plan that has recently limited to 10 students only and 10% in fees
Teachable is a simple course platform giving more emphasis in sales and less in the learning experience. It is suitable for people who are just starting out and would like to offer simpler courses.
Podia – For Solo Creators
Podia is also a standalone cloud platform and particularly a content management software. It markets itself as a platform for selling memberships and digital downloads rather than elearning.
Podia might be the cheapest choice of all the standalone platforms and is focused for simpler products with basic capabilities for selling and memberships. It's great if you are selling a video, ebook or another digital download.
There are two plans – Mover and Shaker. The Shaker plan comes with features like embedded checkout, affiliate marketing, third-party code, and also free migration.
Now, let's see what it feels like to create a course with Podia. This is what you see when you sign up into Podia for the first time:
You can choose among three options: Set up a membership, an online course, or a digital download.
Podia provides a beautiful user interface. In the course builder, you can create sections, and under each section, you can create other content like files, text, links, or quizzes.
This is how you create a course in Podia:
While the interface is quite enjoyable, the way Podia asks you to add elements (learning units) is simple and straightforward:
Podia's main disadvantage is that it doesn't really support elearning like the other platforms mentioned here graded quizzes, certificates, course compliance.
You will find native integrations with ConvertKit, Mailchimp, Drip, AWeber, ActiveCampaign, MailerLite, Zapier, and others.
What else can you find in Podia:
Upsells (available in all the plans)
Coupons (normal, timed, or limited)
An easy and beautiful visual editor to customize colors and sizes
Podia is great if you are selling simple products, but not if you are looking for a learning management system. It is more suited to solo creators who want to monetize their audience.
LearnDash for WordPress
Let's suppose that you have a WordPress site. There are many WordPress LMS plugins that can help you create courses. However, in those plugins, you may not find the variety of features you can find in standalone platforms.
One of those plugins is LearnDash. LearnDash lets you convert your WordPress site into a course platform. Τhe interface is fairly basic:
This plugin provides you a course builder with a custom menu in WordPress upon installation. You can find several assets in the LMS like advanced quizzing, drip-feed content, dynamic forums, and others.
In your activities, you can use several media forms including SCORM or HTML5 exports from Articulate Storyline, Adobe Captivate, H5P content, and many more.
Want to learn how to create a course with LearnDash? Watch the video below:
LearnDash is far more affordable than the previously described platforms as it is a wordpress plugin. The disadvantages of a wordpress plugin is that you will probably need to combine it with other plugins to achieve the desired results, creating a technical headache further down the road and you will have to accept the cost of hosting and maintaining it yourself.
LearnDash is a great choice if you have experience with WordPress and the technical expertise to maintain it. A developer or web-designer might be needed to help you while implementing it or maintaining it for best results of your elearning site.
Udemy – The Marketplace Option
Next comes Udemy, one of the top Marketplaces of Online Courses. The platform gives subject matter experts a simple, straightforward way to assemble content into a course experience. You can then publish into a marketplace and use a variety of marketing tools to promote your courses.
Udemy is free for instructors. The company makes its money by keeping 50-75% if it sells your course. If you make the sale, you get 97% of the profit (Udemy takes a 3% transaction fee).
After completing a course, students can receive a certificate and leave helpful reviews and ratings.
This is what you see on the first page of Udemy:
To create a course, you have to click on "Teach on Udemy". What you see next is this interface, and you have to click on "Create your course" to get started.
Udemy resources are quite useful (e.g., how to get started with video or how to create an engaging course).
When you choose to create a course, Udemy gives you two options: Either create a course or a practice test.
In the image below, you can see how the platform guides you in creating your content step by step.
Another thing I found interesting in Udemy is that it allows you to set learning goals in each learning section you create. The platform also provides communication among instructors and students, several tools like video test and marketplace insights, and useful resources.
.
Here is how it feels like to create a course with Udemy:
Udemy isn't a course platform but a marketplace and you can use both Udemy and a hosted-platform at the same time. However, while it seems that Udemy takes the marketing away, it's not true. You will still need to do a lot of work in promoting your courses before your course will go up in organic results, due to the big competition there.
Although Udemy is free, it comes with many disadvantages: It makes it difficult to maintain a full-time income because you don't have control over your course's pricing. It doesn't allow for white-labeling and you don't own any of the data, this means you could be sending thousands of students to Udemy, only for it to push them towards a competing instructor.
Kajabi – An all-in-one Content & Marketing Platform

And let me finish with an all-in-one platform. This kind of online course software provides everything you need not just to create courses, but also to manage your full Web presence.
With Kajabi, you can host your own website, course sales pages, online course, membership site, email marketing, and more. Kajabi is more of a marketing and content management platform rather than an LMS, but many people use it to host simple online courses.
This platform combines elements of a Web content management system with marketing and customer relationship management tools. Along with courses, you're able to sell memberships, training programs, PDFs, and pretty much any other digital product.
Pricing starts at $149 a month ($119 if paid annually). The Growth plan is $199/month, and the Pro is $399/month. Unfortunately, Kajabi's free plan requires your credit card details!
After working a bit with the interface, Ι found Kajabi's interface bright and clean.
Here is how it feels like to create a course with Kajabi:
Kajabi has different sales funnels built into its platform, called "Pipelines" that help you start marketing your course in different ways. Also, it comes with built-in email and marketing tools.
However, like in Udemy or other Thinkific alternatives, Kajabi does not provide an adequate variety of learning activities and learning features, but focuses more on small digital product sales. Also it can be tricky to set-up a course because of limited control over website design.
What else can you find in Kajabi?
Drag-and-drop builder with 17 themes to choose from
Includes community features
oBundle-up products
Create upsells
Create coupon codes
It offers integrations like Aweber, MailChimp, ConvertKit, ActiveCampaign, and more.
24/7 customer support (for Growth and Pro plans).
Comparing the Learning Experience
All of the platforms above are designed for self-paced learning, but you can use a 3rd party software and connect it to one of them for live classes and webinars.
Similarly, most platforms support payments using Paypal or Stripe like Thinkific does, so migrating to one of them will not need a new payment processor and you might be able to keep subscriptions running while migrating.
It is also interesting to check differences in the types of activities each learning platform provides:
Platform
Multimedia content
Thinkific

Video
Text
Digital downloads
Quizzes
Survey
Typeform
Embedded content

LearnWorlds

Interactive videos
SCORM files
Quizzes
Assignments
Exams
External links
Downloadable files
YouTube videos
SoundCloud
MP3 files
Embedded content
SlideShare

Teachable

Audio
Video
Downloadable files
Text
Quizzes
Embedded content

LearnDash

Files
Text
Videos
Links
Quizzes

Teachable

Text
Videos
Quizzes
SCORM files
H5P content
Embedded content

Udemy

Videos
Audio
Text
Quizzes
Downloadable files
Also, in an attempt to compare the six platforms' learning experience, it makes sense to see how each course player looks like so you can offer your students what best suits your taste.
Thinkific's course player:
LearnWorlds' course player:
Teachable's course player:
Podia's course player:
LearnDash's course player:
Udemy's course player:
Choosing a Platform
As you are considering your options, be sure that you are clear about using a stand-alone platform, an all-in-one platform, a WordPress plugin, or a marketplace platform. It does matter.
With this review, we have gone through 6 of the top Thinkific alternatives to help you decide which one works for you.
Migrating to a new learning platform is a big step and you should choose carefully. Testing a platform before committing is always a good idea.
This is why here, at LearnWorlds, we offer a free for 30 days. Try out and see if LearnWorlds works for you!
Further reading you might find interesting:
(Visited 6,502 times, 3 visits today)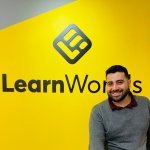 Nick Malekos is a Senior Digital Marketer in LearnWorlds. He is a results based and well-rounded Digital Marketer with years of experience in the education industry, writer and digital literacy trainer.