Thinkific is one of the top course platforms for creators to launch their online courses, training or coaching programs. It is a robust cloud-based LMS with a modern course builder, app marketplace, and sales & marketing tools.
However, some Thinkific users find its learning features, support, and customization options limiting for growing elearning businesses.
For example, Thinkific:
Does not have email marketing tools
Does not support SCORM files
Does not provide live chat support
In this article, we have reviewed the best Thinkific alternatives. All these platforms are an excellent fit for edupreneurs, SMEs and training businesses that want to sell online courses and businesses that want to provide corporate training.
But, first, our top choice of Thinkific alternatives is LearnWorlds. Get a taste of LearnWorlds with a 30-day free trial to see for yourself what LearnWorlds has to offer you:
Best Thinkific Competitors
But, first, a quick recap on Thinkific's pricing, advantages and disadvantages.
Thinkific Pricing & Plans
Thinkific offers four main plans Start, Grow, Expand, Plus and instead of a free trial like some of its competitors, it offers a Free Plan with various limitations on what you can do.
Most entrepreneurs will start with the Start plan and move along as their business grows.
Free Plan – $0
Start – $99
Grow – $199
Expand – $499
Thinkific Plus – Customized pricing
*Pricing information retrieved on the 28th of September 2022.
*The above pricing is about Thinkific's monthly prices. Yearly prices come with 20% off the monthly price but are charged on a yearly basis.
Thinkific Advantages & Disadvantages
What are the pros and cons of Thinkific? Here, we do a quick review of Thinkific's functionality, online course creation, and other features.
Thinkific Advantages 👍
Thinkific is a great platform for anyone starting with online courses, offering a very easy interface for building and managing online courses. It also provides a drag & drop website builder based on templates.
Finally, Thinkific offers most marketing & sales tools a creator will need to build subscriptions, sell & upsell courses and offer online training. If you can't find something on Thinkific, they probably have an integration with another platform to do that.
Free plan
Supports multimedia lessons
Easy online course creation
Easy to use in general
Drag & drop website builder
Good support
Sales & marketing features
Lots of integrations & apps
Thinkific Disadvantages 👎
On the other hand, Thinkific lacks more advanced features that a growing e-learning business and professional course creators are looking for.
If scaling your business, reporting and advanced learning tools are essential along with hosting your business there, it may seem limiting as you go on from simple landing pages to full-scale websites.
Lastly, a pain point for many Thinkific users is not having a built-in email marketing tool and requires integration and additional costs to set up.
Limited learning & assessment tools
Limited site builder
Limited payment gateways
Limited reporting & user management tools
No interactive learning tools
No SCORM or XAPI/TinCan
No email marketing tool
No mobile app
Additional costs for integrations for features it does not have.
No real white label, you can see a Thinkific logo on the code of your website 👇
Compare Thinkific with LearnWorlds
Compare Thinkific with Teachable
Best Thinkific Alternatives for Creators, Coaches, Professional Trainers & SMEs
LearnWorlds – Our Top Choice
LearnWorlds is the best modern course platform for scaling elearning businesses. It comes with the most impressive learning experience features, the most customizable site builder, and great marketing & sales tools.
LearnWorlds is most often compared as the closest platform to Thinkific, but it offers much more e-learning capabilities and customization and provides a lot of unique features you won't find on Thinkific, such as:
Interactive videos
Learning analytics
SCORM support
Native mobile app
But, we are getting ahead of ourselves. Let's go through LearnWorlds' Pros & Cons:
Pros
LearnWorlds offers a lot more features on learning experience and capabilities. Unlike other online course platforms, LearnWorlds features go in-depth and allow you to offer quality education to your students:
Better course authoring tools
Advanced assessments
Interactive video editor
Customizable course player (you control the learners' experience)
SCORM & HTML5 support
Enhanced reporting and learning analytics
Learning templates
Zoom & Webex integrations
Native mobile app
LearnWorlds' Site Builder
It also comes with a very powerful Site Builder. Not only LearnWorlds' site builder allows for drag & drop but it comes with dozens of templates, widgets, and a theme explorer that essentially allows you more control over the templates.
White Label Academies
Another notable exception is that many platforms promise white-label but do not provide. For example, Thinkific's white labeling on the growth plan only removes the Thinkific mention on the footer but still shows up on the platform's email notifications and shows on the code of the platform.
LearnWorlds offers true white-label academies on a higher plan and removes any mention of the brand, even from the code!
E-learning Mobile App
With LearnWorlds, you can even have your white-labeled mobile app on both Android & iOS with push notifications, reminders and sell via Google Pay & Apple Pay.
The app comes with ready-made professional templates!
Other Features on LearnWorlds
And there are many more features that make LearnWorlds the top platform you can use.
Marketing, E-commerce & Sales Features
Built-in Community
Affiliate management & affiliate marketing features
SEO optimization
Membership site
Subscriptions, payment plans, and coupons
Great 24/7 customer support
Personalized onboarding
Cons
There is a learning curve to use due to complex features
No built-in email marketing
No multi-tenancy
How much does LearnWorlds cost?
LearnWorlds starts at a lower price than Thinkific at $29 over $49.
Also, LearnWorlds' higher plan is much cheaper at $299 with much more features than Thinkific's $499 Premier plan.
Pricing information retrieved from LearnWorlds on May 12th, 2022
LearnWorlds is a truly modern LMS platform that can truly make your online learning experiences stand out in the market. Try LearnWorlds with a 30-day free trial.
Find out LearnWorlds' top competitors here.
Teachable vs. Thinkific – The Coaching Solution
Teachable is another popular standalone course platform. The platform is intuitive and well-designed. Teachable is a simple alternative to Thinkific, it's easy for new creators to use it but does not come with many learning capabilities.
While it's an easy-to-use platform, Teachable is suited more to early inexperienced users and more experienced creators might find it lacking in educational capabilities. Teachable focuses more on marketing and sales tools.
Teachable also focuses primarily on marketing and selling over.
Recently, Teachable has changed its focus to offer more support and features for online coaching over course creation.
Pros
Teachable is an intuitive platform with drag-and-drop functionality that allows you to shift things around and re-organize without fuss.
It also comes with a unique advantage through its course marketplace Spotlightapp.io and a basic mobile app where all its creators can allow their courses to be discovered.
Free plan
Intuitive user interface
Advanced pricing options
Spotlight Marketplace (formerly Discover by Teachable)
Marketing tools like order bump) and affiliate program
Built-in email broadcasts
Mobile App
Cons
Teachable comes with many downsides as it is a beginner-friendly platform but does not support growing businesses and more advanced tools like interactivity, assessments, and communities.
No white-label option
No advanced learning & assessment tools
No SCORM or XAPI/TinCan
Downtimes and technical problems
Few templates to choose from
Bad customer support
How much does Teachable cost?
Teachable offers four plan tiers and comes with additional fees:
Free plan & transaction fees
Basic plan with 5% transaction fees – $59/mo (price increased from $39/mo as of Jan 5, 2023)
Pro plan without transaction fees – $159/mo (price increased from $119/mo as of Jan 5, 2023)
Advanced plan without transaction fees – Custom pricing
*Pricing information retrieved from Teachable on Jan 4th, 2023
**Teachable's free plan does not expire but comes with a lot of limitations.
Compare Teachable with LearnWorlds
See Teachable's competitors
Podia vs. Thinkific – The Cheaper Solution
Podia is an all-in-one platform for selling digital products such as courses, memberships and downloads. It is a cheaper clone of Kajabi and comes with very basic functionalities and features over what you will find in other Thinkific competitors.
Podia is great if you only want to sell simple digital products through digital marketing but lacks educational features like the more professional course platforms.
Pros
Podia has all-around features, including an email marketing tool, and it is considerably lower priced than other platforms. However, a lower price comes with lower quality and fewer capabilities.
Relatively cheap
Built-in email marketing
Easy-to-use interface
Discussions & community features
Cons
Podia only offers a free plan, missing many educational and reporting features, and provides no possibilities to white-label the platform.
Also, if you are interested in scaling up your business, any form of advanced feature is missing.
No free plan
No white-label option
No educational features
No reporting or analytics
No advanced features like SSO, API, Website builder, Automations, etc
Additional users come with an extra cost of $20
In short, Podia is suitable for anyone selling simple videos; downloadable and online courses are only another product they use to monetize their audience but do not care about the quality of the service they provide.
It's great for cheap and quick courses but not for sustainable and growing businesses.
How much does Podia cost?
Podia offers a free plan and three paid plans. There are minor differences between the plans, other than a few features and an increased limit of monthly emails you can send:
Free plan
Mover – $39/mo
Shaker – $89/mo
Earthquaker – $199/mo
*Pricing information retrieved on the 9th of June 2022.
Compare Podia with LearnWorlds
See Podia's competitors
LearnDash vs. Thinkific for WordPress
LearnDash is one of the top choices for WordPress LMS plugins that can help you create courses. WordPress plugins are preferred for their flexibility and customization for creators who already have a WordPress website. But, they require some technical knowledge to set up.
LearnDash is a far more affordable alternative to Thinkific than the previously described platforms but comes with some hidden costs you need to be aware of before choosing it.
LearnDash is an excellent choice if you have experience with WordPress sites and the technical expertise to maintain them. A developer or web designer might be needed to help you while implementing or maintaining it for the best results for your e-learning site.
Pros
Anyone who chooses LearnDash loves it for the price and customization, as they can combine it with other WordPress plugins to get more capabilities out of it.
Cheap for a course platform
Simple and easy course authoring
It plays well with many plugins like BuddyPress, MemberPress, and WooCommerce
White-label solution
Customizable
Cons
All the disadvantages of LearnDash come because it is not a standalone solution. You will need to pay and set up your server, include more plugins to receive payments or have a community, and most additional features come as add-ons.
LearnDash is not suitable for non-technical users who might need more help maintaining their website.
No free trial, only a 15-day refund period
Hidden costs: You are paying for server hosting & maintenance
Requires other plugins to accept payments, it's not a complete solution of its own
Adding other plugins and add-ons can be expensive e.g. for Gamification
How much does LearnDash cost?
LearnDash charges only per yearly price, and you can pay with a credit card or PayPal with a 15-day money-back guarantee.
Each plan comes with several Site licenses and how many websites you can use it for. The Plus & Pro plans give you free access to the ProPanel add-on.
Basic plan – $159 / yo for 1 Site License
Plus plan – $189 / yo for 10 Site License
Pro plan – $329 / yo for 25 Site License
*Pricing information retrieved from LearnDash on the 12th of May 2022.
Compare LearnWorlds vs. LearnDash
See more LearnDash competitors
Udemy vs. Thinkific – The Marketplace Option
Udemy is one of the top Marketplaces for Online Courses. The platform gives subject matter experts a simple, straightforward way to assemble course content into a course experience. You can then publish into a marketplace and use various marketing tools to promote your courses.
While it seems that Udemy takes the marketing away, it's not true. Due to the big competition there, you will still need to do a lot of work in promoting your courses before your course will go up in organic results.
Udemy isn't a course platform but a marketplace. You can use both Udemy and a hosted platform simultaneously, using Udemy as a way for a larger audience to learn about your courses and upsell the more expensive courses from elsewhere.
Pros
Udemy is easy to start, and does not require any technical knowledge, setting up a website or technical maintenance and landing pages. It's ideal if all you want to do is teach and not get involved with the technical details, but it still requires you to work on promoting yourself as an instructor.
Easy to Use
Free of charge
No technical or design requirements
Big audience looking for courses
Helps with marketing the top courses
Cons
Although Udemy is free, it comes with many disadvantages: It makes it challenging to maintain a full-time income because you don't control your course's pricing.
It doesn't allow for white-labeling, and you don't own any of the data; this means you could be sending thousands of students to Udemy, only for it to push them towards a competing instructor.
Udemy takes a significant share of the profits
It discounts the courses all the time (you can't have premium courses)
You do not own your students' data
You need to work on promoting yourself there
There are many competitors next to your course
There are instructor requirements and standards to follow
How much does Udemy cost?
You'll hear that you can publish limitless courses spending no budget. Udemy charges a significant fee for the sales! They call it instructor revenue share. An instructor can get 37% of the sale, while Udemy receives 63%, except if the instructor sells the course using a coupon or affiliate link.
*Pricing information retrieved on the 12th of May 2022.
Kajabi – An all-in-one Content & Marketing Platform
Kajabi is one of the most popular course platforms in the market. With Kajabi, you can host your online business with all the features you need for your website, course sales pages, course building, membership sites, email marketing, etc.
Kajabi offers more in terms of marketing and less in learning management than the other platforms on this list. Solopreneurs and SMEs prefer Kajabi as a one-stop solution, only for the ability to send email blasts and automations to their users.
Pros
Kajabi is a one-stop shop for creators to monetize their content, with all the authoring & marketing all in one place.
The most complete solution to sell digital products
Course authoring templates
Marketing & email automations (funnels)
Mobile apps for iOS and Android
Up to 3 custom domains/websites
Good customer support
Cons
On the other hand, Kajabi is very expensive, especially for anyone starting out, while it does not offer enough user management, reporting and learning tools for scaling businesses.
Most expensive platform
No free plan, only a 14-days trial
Lacking in learning features
Very basic discussions / social features
Very basic website builder
No unlimited courses like the rest of the platforms (limited to 100 products on the highest plan)
How much does Kajabi cost?
Kajabi's lowest plan starts higher than most platforms' middle plan but offers more features in terms of marketing with limitations on the products, pipelines or funnels, admins, contacts, and active members you can have.
Basic plan – $149
Growth plan – $199
Pro plan – $399
*Pricing information retrieved from Kajabi on May 12th, 2022
Compare Kajabi with LearnWorlds
See more Kajabi Alternatives
Mighty Networks vs Thinkific – For Membership Sites
Mighty Networks is a cloud-membership site software. It's one of the best community platforms on the market and is often used along with Thinkific or LearnWorlds to supplement their learning features with a strong community.
If you are looking to migrate from Thinkific due to its lack of community, social, and discussion features, then Might Networks might be right for you.
Pros
Free trial
Community features
Built-in livestream
Mobile app
Cons
Limited learning features
Limitations on livestream
Limited integrations
No email marketing
No transparent pricing for add-ons
Not many marketing & sales tools
Online courses are offered on the Business plan and above
How much does Mighty Networks cost?
Mighty Networks' price starts at $39, and you need the $199 plan to have online courses. For additional features, mobile apps, and more, you need to contact their sales team first.
The Community Plan – $39
The Business Plan – $119 (for online courses)
See more alternatives to Mighty Networks.
Uscreen vs. Thinkific – For Video Courses
Uscreen is a primary video platform. Creating a video-based subscription or membership website and video-only courses is very well suited.
Uscreen is the choice of YouTubers and video creators, but not suitable for educators and businesses that want the complete package.
Pros
Uscreen is a video-first platform, with video hosting, monetization, live streaming, and tv apps at the epicenter of its product.
Easy-to-use
Beautiful themes
Payment gateways like Stripe, Authorize.net & PayPal
Branded OTT apps
Mobile apps
Cons
Expensive pricing with add-ons
Difficult to cancel a trial or subscription
Learning tools & features are not available
Not very user-friendly
Limited customization options
Bad support
How much does Uscreen cost?
Uscreen starts at a higher price than most course platforms at $99 and charges its plans based on uploaded video hours. Premium features like the mobile, streaming and tv apps come at an additional cost.
Basic – $99
Growth – $199
Plus – Contact Sales
Choosing a better Thinkific Alternative for Your Learning Management System (LMS)
Choosing a great Thinkific alternative to host your website and online courses depends on your specific needs. Are you looking for a video hosting platform, a learning platform or a membership/community management one?
Whether you want simple video courses, quizzes, digital downloads or webinar hosting might require using another platform.
You have many options based:
Standalone platforms
An all-in-one platforms
WordPress plugins, or
Marketplaces
Each one comes with its advantages and disadvantages, and the truth is that you will need to adapt your idea to the one that best fits your requirements.
In this article, we have presented the top Thinkific competitors, and the verdict persists, LearnWorlds is the best platform compared to Thinkific and the most feature-rich to create awesome learning experiences, sell online courses, and have a beautiful, customizable website to represent your brand.
You can start using LearnWorlds, with a 30-day free trial and see the power behind a modern course platform!
Further reading you might find interesting:
Frequently Asked Questions (FAQs)
What is better? Thinkific versus Kajabi?
Kajabi is better than Thinkific but comes with a higher price. The best platform to use at a reasonable price, though, is LearnWorlds.
Kajabi has more robust marketing tools, while Thinkific offers more flexibility in course design and LearnWorlds rocks the learning experience. Ultimately, it's up to the course creator to decide which platform is right for them. Both LearnWorlds, Thinkific, and Kajabi offer a lot of value, so it's worth taking the time to compare the two before deciding.
What is the main difference between Teachable and Thinkific?
Teachable is focused more on first-time creators and coaches, while Thinkific is a more professional platform for trainers and SMEs, the same as LearnWorlds.
Teachable offers simpler courses and a simpler interface. If you are looking for more user friends and professional experience, you should check LearnWorlds and Thinkific.
Which is the best platform to sell online courses?
LearnWorlds is the best platform to sell online courses. It offers marketing, sales, website/landing page creation tools, and the best user experience for your students.
Does Thinkific have a free option?
Yes, Thinkific has a free plan to test the platform's basic features.
What are the benefits of Thinkific?
Thinkific has the following benefits:
Free plan
Supports multimedia lessons
Easy online course creation
Easy to use in general
Drag & drop website builder
Good support
Sales & marketing features
Lots of integrations & apps
What is the difference between Thinkific and Udemy?
Thinkific is a course platform where you can host your courses on your website, keep all the earnings to yourself and own the customer data (and emails). At the same time, Udemy is a marketplace that controls the data, takes a big chunk of the money, but requires no technical understanding to set up your courses.
(Visited 9,906 times, 3 visits today)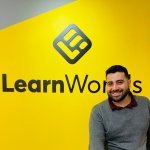 Nick Malekos is a Senior Digital Marketer in LearnWorlds. He is a results based and well-rounded Digital Marketer with years of experience in the education industry, writer and digital literacy trainer.