*LearnWorlds is the only course platform that offers a full suite of intellectual property protection and anti-piracy features.*
Are you worried that your educational content might get copied, pirated or stolen?
All content creators face the fear of having the fruits of their labor stolen; in this day and age, this is a valid concern.
After all, you have spent countless hours working on your training material, shooting videos and creating content for your course. You don't want all that shared publicly all over the internet or, worse, some impostor selling your courses and profiting off your hard work.
While the technology doesn't yet exist (neither will ever) to 100% protect your online content, we can definitely do a lot to make it so much more difficult for anybody to steal your content.
Here at LearnWorlds we worked hard to develop a comprehensive set of features for protecting your online content. In fact, LearnWorlds is the only course platform offering such built-in copyright protection functionality, meaning you don't have to spend time and money on third-party products to get a similar result.
Let's find out how our latest copyright protection features, along with other clever ideas, help you protect your school and profits.
How to Protect Your Intellectual Property
Let's face the truth … it's the internet, and I can't even list all the ways someone can copy, record or download even from the most secure sites. When companies like Disney, Netflix, Microsoft get pirated all the time, what can you, the entrepreneur or small business, do?
Firstly, this should never deter you from creating great content. If every content creator was discouraged by this, you wouldn't see this fantastic growth of courses, videos and the rise of the knowledge society. Success will bring copy-cats, imitators and pirates. To some extent, this is the price of a successful online business.
Secondly, as a matter of fact, there are a lot of things you can do to discourage potential malicious users from copying your content.
You can start by using LearnWorlds' latest package of built-in copyright protection features. Watermarking your Videos and PDFs, and disabling downloads will go a long way towards protecting your content.
And you can make sure that your unique take on the material and learning experience cannot be imitated. Some of LearnWorlds' unique features, such as our Interactive Video and built-in community for social learning cannot be stolen or emulated, making sure that only legitimate students and customers of your school get the full value out of the courses you offer. There will always be copy-cats and imitators, this is the price of success, but no-one will ever be able to replace you.
So, without further ado, here are some great ways you can employ to keep bad guys away from your content.
Show your face & introduce yourself – Sounds obvious? If you have a lot of video content, you can have several points in the video with your face. Introducing yourself along with the subject of your video, and your other complementary content will "tag" the video as yours and promote yourself even if you are being copied.
Watermark & Stamping – Include your name, brand, and logo in your content, like a video watermark or a unique stamp on your PDF files. This way, even if your content is stolen, it is "tagged" with unique characteristics that point back to your site, and cannot be used by others as their own. Unique tags such as the user email make any pirated content traceable back to the user that did it or allowed it to happen. Fear of being discovered is the number one deterrent against piracy and now the LearnWorlds' course platform offers watermarking for Videos and PDFs as built-in features.
Unique Content/Experience – It might not sound like a way to counter piracy, but it is. Paying customers do not pay just for a video or a pdf download. They pay for an experience, a certificate, the community, and interacting with you, the expert instructor. What makes your course unique is all the things a copied content cannot provide, it's the constant updates you make to your content, the answers you give in the comments, the personal feedback and the sense of belonging in a VIP group of like-minded professionals.
Sharing can be positive – Seeing the positive side of this, everyone who shares, even a pirated copy of your work is doing you a service. It's free advertising for you. Especially if you follow the previous points here, someone with a pirated copy will see your value-offering, and anyone who wants the full experience will come back to you and pay. If your content is so successful you are being copied; it is the most significant indicator you are doing great. So what should you do in this case? Simply go ahead and create new versions of your course, by adding some more content and repackaging. Add more unique experiences, as described above, and promote the new course. Very few customers will be satisfied with getting their hands on the obsolete pirated version (and those that will would probably never buy the official version). Most will go for the new, updated, legit version
When to talk with a lawyer – In extreme cases where someone might try to sell your content as theirs, you will need to address the situation. You can try contacting the person responsible, the platform that allows the sale of the stolen goods to take place (and ask them to take the content down), or even contact a legal expert on how you can address the situation. You can easily monitor your brand mentions online by setting Google Alerts and see whether there is a pirated content of your course on the web.
Seems like quite a lot of work to protect your intellectual property, right?
How about we take some of it away? Talking with thousand of course creators using our platform, we have done multiple updates of our platform over the last few years adding on the security and privacy features.
LearnWorlds Built-in Intellectual Property & Copyright Protection
When looking to host online courses, you need to take into account the security of the platform. Fortunately for you, LearnWorlds comes with built-in features to counter piracy and account sharing, so, you don't need to worry about adding any 3rd party tools with an extra cost to do it.
You can find a complete guide on how to enable video watermarking & PDF stamping on LearnWorlds here.
Video Downloading Restrictions
Videos uploaded and hosted on LearnWorlds use domain restricted access, which means, a non-logged in user cannot access them and can't download them. We also restrict by default any downloading or saving option. An average user can't copy, save or download the videos in your LearnWorlds account.
Video Watermarking
Using LearnWorlds, you can enable the Video Watermark settings to show unique identifiers on top of your videos. You choose a combination of the below:
Logo
User email and
Unique ID
These can show up in different places or in random rotation around the video to prevent screen recorders from getting your content and sharing it.
It's important to know that this is a watermark that is displayed on top of your video to discourage and identify content pirates who use screen recorders and mobile phones or cameras to capture video.
*A sufficiently sophisticated and motivated malicious actor could still get the original video, without the watermark, by using special software. Unfortunately, nothing can be done here. To watermark a source video, you would still need to use special video editing software to add your logo & name to the video before uploading it to LearnWorlds.
PDF Protection – Disable Download, Copy & Print
Depending on your teaching style, you might want to give access to your PDF files or fully restrict them. From the copyright protection settings, you can choose the level of security you want for your PDFs.
PDF File Downloads
PDF File Copy (e.g. copy a line of text)
PDF File Print
If you enable these settings, but you still want to give a downloadable pdf in some units, you can attach the pdf as a digital download.
LearnWorlds' interactive ebook is a safer alternative than uploading PDF files to your course. Creating an ebook unit enables your students to take notes, highlight and allows for video embedding. Adding functionality and interactivity makes your content unique and more protected.
PDF Stamping
Taking your IP protection on PDFs to the next level, you can use LearnWorlds' built-in function to stamp each PDF. Stamping means you will be able to show an identifier on top of every PDF your students see:
Logo
Name
User Email
User ID
By having a PDF stamped, you can discourage sharing, and if you find someone sharing your content online, you can identify them by their unique id or email.
Pro tip: No one wants their email being shared all over the web 😉
You can choose from a number of settings on how you would like to stamp PDFs, where you prefer to do it in a corner, diagonally, with some transparency or different sizes.
Anti-Account Sharing / Multiple Sessions Control
A recurring worry of many online educators is account sharing. A user who is sharing their account with friends, family, or, really, anyone. We also have a solution for this. You can easily disable multiple sessions for each user.
Now, your users cannot be logged in from more than one device every time, and if they try to connect from another device, the first one will be kicked out.
Privacy, Policies, Terms, and GDPR
Lastly, and not less important it is the legal part of your academy. Your copyright and user agreement should be included in your Privacy, Terms & Conditions and Policy pages of your website.
Luckily, your LearnWorlds' site comes pre-loaded with the pages, and you can include them in your registration & checkout pages with a simple setting. The pre-loaded templates are based on UK law, so you should be customizing them based on your local authorities requirements.
You can use a Free Custom Policy Generator, but it's always a good idea to talk with a legal professional about it.
On a side-note, if you are also interested in being GDPR-compliant either because you are based in the EU or have clients in the EU, read about our GDPR-compliance toolkit.
What Really Matters
Securing your intellectual property is important, but don't let that be an obstacle to you sharing your knowledge with the world.
Your customers are there for you, not a video or a pdf. Build an online business and a strong brand around your name, and you won't need to worry about piracy or file-sharing. They will never be you!
Focus on being unique, give value, personal touch and improve the lives of your students.
Be a change-maker in the lives of your students; no-one will ever be able to copy that.
So, what's keeping you from launching your online course today?
(Visited 5,014 times, 1 visits today)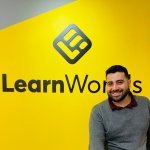 Nick Malekos is a Senior Digital Marketer in LearnWorlds. He is a results based and well-rounded Digital Marketer with years of experience in the education industry, writer and digital literacy trainer.