Online education is not a new thing, but rather a more productive way of teaching by removing barriers of time and space. We are now rapidly transitioning from online education as a nice-to-have option, to online education as an absolutely must-have.
Chances are that if you can't offer your training online then you probably cannot teach at all. We can't let that happen.
However, not all learning is pre-recorded and not everyone has a ready-made curriculum to deliver and sell. This is where live teaching, with its flexibility and directness, is more relevant than ever.
In fact, most traditional educators prefer to keep live teacher-to-student interaction. This can be a 1-on-1, a live classroom environment, or a one-to-many (webinar) type of training.
Are you providing a self-paced course, live online classes, or a combination of both?
Here at LearnWorlds, we support all options. Responding to the pressing need for rapid emergency training and wanting to help more trainers to reach their audiences, we just released an integration with Zoom, the most popular live meeting software (and cultural phenomenon).
Zoom is a modern, light, and easy to use video and audio conferencing software. It allows for collaboration, chat, and webinars across all devices.
Now, you can incorporate all the above capabilities inside your LearnWorlds online school with the Zoom Integration.
In this article, we are going to cover everything from how you connect your Zoom to your LearnWorlds school to the settings for scheduling a Live Meeting or a Webinar. Use the table of contents below to go directly to where you are looking to go:
So, what's new?
Now you can run meetings and/or webinars directly from LearnWorlds and inside an online course format. This is a native integration with Zoom and provides additional security and better management options.
Let's go through the two main functions: Meetings & Webinars.
Meetings
A meeting is either a 1-on-1 meeting with a customer/student or can be used for a group live class.
It is a non-restrictive format where both students and teachers can interact with each other through live video, audio or chat, and even a Whiteboard. It allows for equal participation with a trainer managing the class and leading the educational process.
Useful Settings for Meetings
Display client link (on/off when set the users would be able to press a link to open the normal Zoom client)
Topic
Description for zoom meeting
Date/time
Duration
Recording (allow to automatically start recording, local or on the cloud)
Password

No registration needed
Registration required (automatically approve)

Approval type
Start host video upon joining the meeting (on/off)
Start participant video upon joining the meeting (on/off)
Join Before Host (allow participants to join before host)
Mute upon Entry (on/off)
Waiting room (on/off)
Webinar
A webinar is one-to-many communication. Think of an auditorium, where the professor talks to a class of 100 students. There is little to none interaction with students other than the professor presenting.
Some additional things you can do in the webinars are:
Q&As
Chats
Raise hand
Allow a student to open their microphone and speak
Promote someone to co-panelist
That's an educational webinar for you.
Of course, a webinar can be part of your sales funnel. A free online course can include a free webinar where you will be selling your courses to free leads, upselling them for your premium courses.
Useful Settings for Webinars
Display client link (on/off when set the users would be able to press a link to open the normal Zoom client)
Topic
Description for zoom webinar
Date/time
Duration
Recording (allow to automatically start recording, local or on the cloud)
Password
Start host video upon joining the meeting (on/off)
Start video on HD quality (on/off)
Q&A (on/off allow participants to use Q&A functionality)
You can also choose whether your students can join from the Zoom app or only the browser window, thus showing or not the link on the upper left corner of the video.
If you allow it and they click to open the Zoom app, the "meeting registration" screen will open up:
The first time your students join a meeting or webinar, they will be asked to allow the use of their microphone and/or camera by your domain. If someone skips or blocks it, they won't be able to use the microphone or their camera and will not be able it in the video.
Advanced Settings on Zoom
Zoom also provides more controls than the above, and especially when you are looking to pump your Zoom's security you can further do that through your Zoom account's page.
We are going through Zoom's security settings further down this article.
What you will Need
For Zoom Meetings you can use a free Zoom account which allows for up to 40 minutes of video conferencing.
For Webinars, you will need:
To connect Zoom to LearnWorlds, all you need to do is visit our integrations page and connect the two by authorizing your LearnWorlds account to manage your Zoom account.
The full process is:
Go to Integrations → Live Sessions
Click Activate
Click on Connect to Zoom
Authenticate / Authorize
The authentication page will look like this:
Tip: There can only be one Zoom account connected to one LearnWorlds account. All admins and instructors will be using the same Zoom account for their live classes and/or webinars. Be sure not to create overlapping Zoom events.
Disconnecting Zoom from LearnWorlds
In case you want to disconnect Zoom from LearnWorlds, you won't be able to do it through your LearnWorlds admin. You will need to login to your Zoom account first.
If you are not connected, our link (screenshot below) will send you to the Zoom Marketplace.
When you sign-in, you will need to find the "Installed Apps" Page. Find LearnWorlds and click Uninstall.
If you have multiple LearnWorlds accounts connected to the same Zoom account, you will see the name of your "school" there.
What's next? Managing multiple live sessions of course!
To make it easier for you to view and manage your upcoming classes, we have created three views, the:
Calendar – A full calendar view with all scheduled meetings and/or webinars.
Upcoming – A list view for all the meetings and/or webinars that are yet to be live.
Previous – A list view of all previous meetings and/or webinar you have had in your account.
From there, you can manage the events by editing the settings (as listed above) and also:
Edit events,
Delete events
Start an event,
Get the direct link, or
End the session
From there, you will also be able to see the status of your sessions:
Pending → has not started yet
In Progress → has started, not ended yet
Finished → has started, ended by author
Expired → if scheduled time + duration time has passed (for webinars only)
In a live class setting with Zoom, the instructor can share her screen using a PowerPoint, a document, video or other multimedia.
But, a true advantage to every educator is the ability to share a Whiteboard and start writing. This is a much needed tool for many teachers who are used to teaching with a whiteboard present.
The whiteboard is even more useful if the teacher is using a tablet with a stylus to write.
Here is how to enable the whiteboard on Zoom:
Zoom is one of the most secure ways to do a video conference, meeting or webinar. Especially after their recent update on the security front, they are implementing a set of additional features to secure your communications with your students and clients.
How do they do that? By:
Protecting your Meetings
Zoom offers several tools to protect your meetings from how people join to how information is shared.
Protecting your Data
Communications are established using 256-bit TLS encryption and all shared content can be encrypted using AES-256 encryption.
Protecting your Privacy
With controls to safeguard the collection, use, and disclosure of your information.
Information on security is taken from Zoom's Security page.
Controlling Zoom Security from LearnWorlds
LearnWorlds allows you to control a number of security settings for your live classes and meetings. Additional controls can be enabled through Zoom's website.
What you can do from your online school?
Here are the most important security settings:
Enable and issue a meeting password
Require registration to meetings/webinars
Choose when video starts
Enable waiting room (control who joins when)
More controls can be accessed from Zoom's website when creating or editing the settings of a new event. For example, to protect your meetings you can additionally:
Secure a meeting with encryption
Lock a meeting
Screen share watermarks
Audio signatures
Enable/disable a participant or all participants to record
Temporary pause screen-sharing when a new window is opened
Only allow individuals with a given email domain to join
Data and encryption are another huge topic, so you can choose whether to require additional encryption by Zoom with a two-way encryption, private chats and whether to save the chat or not:
Authentication
Lastly, your LearnWorlds users will be automatically remembered when registering from their course. LearnWorlds sends their username and email they used in their account to automatically sign them up.
Once logged in you will need to authorize certain permissions, the screen will look like:
You can also enable additional checks and authentication for additional security by requiring a password or another way of authentication. This is especially important if you are running Zoom outside of LearnWorlds.
GDPR, HIPAA, PIPEDA & PHIPA Compliance
Zoom can be set up to be compliant with the EU's General Data Protection Regulation (GDPR) and adhere to the standards that HIPAA, PIPEDA & PHIPA require for compliance.
Our Zoom integration is considered an advanced integration and can be accessed on accounts on the Pro Trainer, Learning Center and higher plans.
You can consult our pricing page for more information on LearnWorlds' pricing.
Known Limitations
Due to limitations on the Zoom web component only Chrome or browsers based on Chromium may be used. Also, the admin is not able to promote a participant to panellist if he/she has joined from the browser.
Any user that faces these problems will need to use the Join link provided on the learning unit to join the meeting via the standard Zoom desktop or mobile application.
Here is also what is supported in Zoom's browser view:
| | Chrome | Firefox | Safari | Edge Chromium | Internet Explorer |
| --- | --- | --- | --- | --- | --- |
| Share Video | ✓ | ✓ | ✓ | ✓ | |
| Share Screen | ✓ | ✓ | | ✓ | |
| Join Computer Audio | ✓ | * | * | ✓ | |
| Join Audio by Phone | ✓ | ✓ | ✓ | ✓ | ✓ |
| Meeting Host Controls | ✓ | ✓ | ✓ | ✓ | ✓ |
| View Shared Video | ✓ | ✓ | ✓ | ✓ | |
| View Shared Screen | ✓ | ✓ | ✓ | ✓ | ✓ |
| Request Remote Control | ✓ | ✓ | ✓ | ✓ | ✓ |
| In-meeting Chat | ✓ | ✓ | ✓ | ✓ | ✓ |
| Closed Captioning | ✓ | ✓ | ✓ | ✓ | ✓ |
| Webinar Q&A | ✓ | ✓ | ✓ | ✓ | ✓ |
*Joining computer audio on Firefox and Safari is only available for webinar attendees. Meeting participants and webinar hosts and panelists can also join computer audio on Firefox if they are using Linux.
You can find more information and read about mobile browser features of Zoom here.
Zoom enables a live classroom environment and online conferences, but that's part of online education.
Your students will also expect to have access to their recordings, additional material, quizzes/exams and/or certificates of completion of their education.
This can only be achieved with a blended learning approach, where live and self-paced asynchronous education is combined.
LearnWorlds is an all-in-one learning platform and helps educators and trainers alike move their offline education online. All the educational and marketing tools you will need in one place to manage your online education business.
You can check out LearnWorlds with a 30-day free trial (demo).
Be sure to check our demonstration webinar and get to know how to use LearnWorlds to get online as quickly as possible.
(Visited 21,273 times, 1 visits today)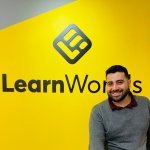 Nick Malekos is a Senior Digital Marketer in LearnWorlds. He is a results based and well-rounded Digital Marketer with years of experience in the education industry, writer and digital literacy trainer.