Have you ever wondered what would signify total success for your online course? Is it people signing up in bulks? Is it learners finishing the course with flying colors and not abandoning the effort halfway through, as so often happens in online learning?
Enrollment and completion rates may be important, but on their own, they are just vanity metrics you can't solely rely on. Instead, what defines true success is when learners have gained true value from your course and come out of it, having achieved the learning objectives.
And when learners have come out of your course being more knowledgeable, confident, feeling better about themselves, or anything else they're supposed to become, this is when they will want to buy more courses from you, recommend your course to their friends, and leave glowing reviews.
In corporate training, meeting the learning goals of a training program means there're good chances you'll see a noticeable difference in employee performance and efficiency. You can even aim for higher employee retention, provided you invest in lifelong learning.
So how can you tell if your course brings value to your learners?
When it comes to staying on top of learner performance, the recipe is pretty simple. In fact, you only need three ingredients:
Powerful assessments to measure knowledge
A versatile gradebook to keep a record of learner performance
In-depth learning analytics to monitor learner behavior & course performance
And, you need a good oven too! An online course platform, like LearnWorlds, that offers these features in their best possible version.
In this post, we'll explain in more detail why you need these features and show you briefly LearnWorlds Assessment Builder, Gradebook, and User Progress Report (spoiler alert – it's so much more than what the average LMS offers!).
Assessments: Your First Source of Learning Analytics
Assessments shouldn't miss from any online course, whether we're talking about higher education, corporate training, or an e-learning course that teaches knitting.
Here's why assessments are an integral part of the educational process and what you need to pay attention to when building them:
Measure knowledge based on learning objectives
Learner assessment is at the core of the learning process and closely tied to the learning objectives of the course. Depending on the desired learning outcomes of the course, you need a different type of assessment to measure knowledge accurately – and we want our users to face zero limitations when it comes to this.
If your learners need to demonstrate a practical skill, the typical multiple-choice quiz or even a text assignment will not do. Enabling a video submission, instead, will allow your learners to complete a practical task and showcase their skills more efficiently.
Incorporate self-evaluation into the learning process
The learning process is complicated and not always linear. Learners may actually have to look back and reevaluate their learning journey, identify their mistakes on their own, and find more effective ways to move forward.
We've introduced two types of self-evaluation activities – self-assessments and reflection journals to encourage learners to focus specifically on that instead of simply reviewing their answers.
Refresh Memory
Assessments are also a fantastic opportunity for learners to retrieve information and refresh their memory, this way enhancing knowledge retention. Remember to add assessments throughout the course, always offer feedback, and, if you don't want to add pressure, make them non-graded.
Cater to Learning Disabilities
Be mindful of physical and learning disabilities and how these can impact learner performance during assessments. We wanted every learner to be able to bring their A-game and not feel at a disadvantage, so we give plenty of options for video, audio, text, and image-based assessments.
Presenting the LearnWorlds Assessment Builder
While most lightweight Learning Management Systems offer a basic quiz functionality limited to multiple-choice questions, LearnWorlds offers a wide variety of learner assessments ranging from non-graded self-assessments and reflection journals to formal exams and certificates.
Let's see a quick overview of learner assessments available on our platform.
Exams
Create an Exam exactly as you want it! Our assessment builder supports 16+ question types, including multiple-choice, multiple-answers (text, video, custom, image), match & ordering, file assignments, video recordings, and more.
Self-assessments
Self-assessment is a hybrid type of learning activity because it combines Exams (with disabled scoring) & Form types of questions. Self-assessments allow learners to measure their knowledge and identify their weaknesses stress-free, as this activity is not graded and has no impact on their final grade.

Reflection journals
Another essential student activity. Use the reflection journal template and reflection widget to create a Reflection Journal activity. During this non-graded activity, learners can reflect on the answers they gave in a previous assessment and reevaluate their thinking processes and even communication skills.
Forms
Create a Form learning activity to receive course feedback from your learners and gauge student engagement, collect student data (like demographics), allow learners to communicate their goals before they start the course, or add them as part of a self-assessment at any point before or after. Forms support numerous and versatile types of questions, from multiple choice and text to Contact and Rating & Ranking.
Certificates
In online learning, you need to try a bit harder to keep learners motivated, and offering a certificate at the end of the course certainly helps. Consider it a must for compliance training, customer education programs, and any paying online course. What better way to validate and reward the accomplishment of your learners than awarding them with proof of knowledge?
In LearnWorlds, you can create a Certificate of Knowledge learning activity and add any of the available assessment questions you wish. When the learner completes them successfully, they will acquire their Certificate.
More features you'll love:
User tagging: Tags users based on their responses to modify their user experience accordingly. Tags can be used in multiple ways, including the User Progress reports we'll review later.
Question bank: Create questions that you can reuse multiple times.
Randomized questions: Shuffle the order of the questions.
Timer: Set a time limit for learners to complete the exam.
Attempts allowed: Set a maximum amount of tries.
Auto-recovery: Allow learners to leave the assessment page and return within a time frame.
Flexible scoring: Award a different score for each answer depending on the importance of the question.
Graded SCORM packages: Offer a Graded SCORM questionnaire to your users.
Sharable certificates: Enable certificate sharing on LinkedIn, Facebook, and /or Twitter.
Customizable ending screen: Modify the User Interface and choose among 3 status options – Pass, Fail, and Pending (awaiting grading).
💁 For a more detailed look into LearnWorlds' Assessment Builder, check our respective support article.
Presenting the LearnWorlds GradeBook
The LearnWorlds Gradebook offers plenty of functionalities and flexibility, so you can stay on top of student progress. Let's see what a LearnWorlds instructor can do with the Gradebook:
1

Editing Score

Edit every grade for every student. After a student takes a test, you can change the score with a simple click of a button, giving you better control of your Gradebook. Would you like to give a bonus for an offline assignment? This is your chance!
2

Reset Tries

Reset specific tests and exams, thus allowing a student to retake a test. The instructor can even delete or edit individual test submissions, correcting the record where this needs to be done.
3

See Answers

View the answers of each individual student for each individual assessment. This is an absolute power tool of educational assessment, allowing for deep drilling down into the smallest detail of a student's interaction with an online course and unprecedented access to their understanding. You can additionally download the feedback report.
4

Grade Now

Click Grade Now to grade pending assignments. You will be redirected to the Review Center, where you can grade or provide feedback on the Assignment.
5

Export Answers

LearnWorlds allows you to export each answer (in excel or CSV format) for further processing and analysis.
6

Export Grades

And, at any time, you can export all students' grades for each assessment they've taken, in an excel or CSV file, for further analysis and processing. You can export the final score of each assessment or the scores they got on every attempt.
7

Delete or Re-Issue Certificates

You can even delete and reissue certificates for students, either because you need to correct a name, grade, or typo or simply because you want to use a new template for your certificate.

💁 For a more detailed look into the Gradebook feature, visit our respective support article.
User Progress: Learning Analytics to Measure Success
Despite your best efforts, it's easy to lose sight of your learners in an online environment. That's why we're huge fans of data analysis and metrics that go beyond the standard course completion rates.
Learning analytics can help you:
Understand Your Course's Performance
Data can help you understand if your course as whole appeals to learners. Identify weaknesses and strengths to tweak your offerings, enhance the course content, and modify your instructional methodology if needed.
Identify Bottlenecks in Learning
The User Progress report will tell you how much time learners spend on each activity and the scores they're getting. Low scores and little time spent on activities indicate that you need to update your learning materials.
Having such data at hand will help you improve your online course and reach out to help weak learners, therefore preventing dropouts or failures.
Evaluate Course Effectiveness
Do learners finish their course more knowledgeable than they were before? Did they learn what they were hoping to learn? In other words – was your course worth their time? And if they paid for the course, was it worth their money?
In any case, an online course must offer what learners expected to get and what you created the course for. Learning analytics will shed light on these questions and enable you to build an online course that delivers its promise.
Make Data-Driven Decisions
See in real-time and at any point in the course how learners are progressing. This is all the more important in corporate training, where stakeholders need accurate data for effective decision-making.
Imagine having deployed health & safety training with an inspection coming up, but employees are only halfway through the course. Knowing they're falling behind, you can allocate some extra time within their work schedule to allow them to finish the course on time.
Presenting the LearnWorlds User Progress Report
Our Report Center is your trusted, built-in analytics tool (no plugins or integrations required!) to monitor student performance and school performance alike, not only with reports but also beautiful graphs and visualizations (available in the Course Insights).
Here, we want to talk about the User Progress Report, which allows you to combine different filters to view the datasets you want and measure student progress.
Some indicative filters you can set are course name, average score, tag, progress status, and registration date.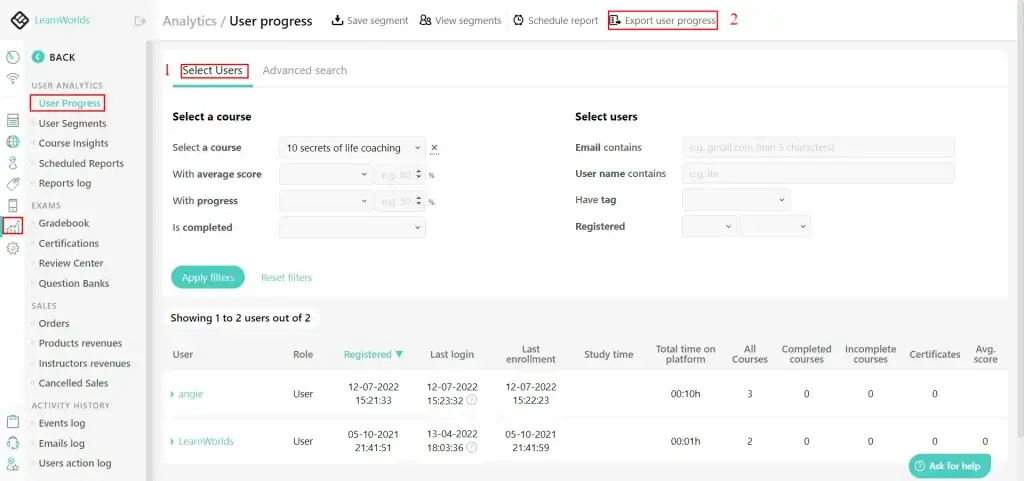 In our Learning Center plan and above, detailed progress reports are available to select when exporting user progress. Details reports include more information on the Course Summary, Progress Status, Time Spent on each learning activity, and Scores.
💁 For a more detailed look into the User Progress Report, see our respective support article.
Monitoring Student Progress Has Never Been Easier
A virtual learning environment is exciting but has challenges – one of the greatest challenges being that it's hard to measure students' learning. It takes a very dedicated instructor to stay close to their learners and extend help when help is needed.
Investing in a feature-rich course platform will pay dividends, as it will make this part of your job a lot easier, enabling you to monitor learner progress and step in to empower your learners and set them back on track.
LearnWorlds is a leading example of educational technology, making it super easy to build high-value courses, as well as collect and manipulate educational data and learning analytics.
Want to experience our platform yourself? Join LearnWorlds for free, no credit card required, with a 30-day free trial.
Further reading you might find interesting:
(Visited 7,828 times, 1 visits today)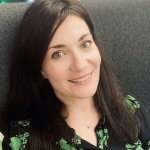 Androniki is a Content Writer at LearnWorlds sharing Instructional Design and marketing tips. With solid experience in B2B writing and technical translation, she is passionate about learning and spreading knowledge. She is also an aspiring yogi, a book nerd, and a talented transponster.