The future looks very bright for eLearning. In fact, the eLearning market is predicted to grow by upwards of 200% between 2020 and 2025, with a high peak already happening during the Covid-19 pandemic. This will not come as a surprise, as the industry has already begun making moves that will help their businesses succeed.
There is a lot of pressure to provide a good experience for users, and market analysts have to take into account a number of factors. We'll have to see what new elearning trends are introduced in learning and development during this time, how businesses will adapt to them by integrating and implementing them.
We've seen many established learning tools and delivery methods keep momentum in 2022 in online education and training programs. Gamification, microlearning, and using video in online courses remain as popular as ever. These will undoubtedly continue to play a prominent role in eLearning, enhancing the learning experience and maximizing the effectiveness of online courses.
In this article, we are not reminiscing about any of the obvious trends already present today. Instead, we discuss the new top elearning trends expected to truly evolve the coming year and become the new norms in online learning and online training.
Keeping an eye on what's happening in the eLearning industry and deep diving in the valuable insights we have from thousands of our customers and their elearning courses and online academies, we have uncovered the top 10 eLearning trends for 2023.
A Learning Experience Platform (LXP) is an AI-powered elearning platform that focuses on enhancing the user experience with adaptive learning during the learning process and empowers the learners. Many like to think of them as the new generation of Learning Management Systems (LMSs), but, in reality, they serve entirely different purposes.
Traditional LMSs deliver training that is, for the most prominent part, moderated by instructional designers and course creators, who create specific learning paths and decide on the curriculums and learning material.
There's nothing wrong with this approach when you need to deliver formal types of training, like compliance, health & safety, or job-specific new skills. In fact, for mandatory and high-risk training, developing a structured program is preferable and, in most cases, required.
An LXP platform, on the other hand, automatically makes content suggestions from external resources. These external resources can be from a blog to your company's LMS – yes, the two can work together! And just like LMSs, LXPs support a wide variety of content.
Because it's AI-powered using machine learning, the more the learner uses the platform, the more targeted the suggestions are. The platform also makes suggestions based on the user's job, department, identified skill gaps, etc., and what users with similar profiles have liked.
The LXP is a better learning solution fit for non-compulsory training. It's a more relaxed approach to learning that promotes lifelong learning, as it's more user-focused.
The rise of LXPs coincides with the rise in more autonomy in learning. Although online learning has traditionally been relatively flexible in pacing and location, LXPs take it a step further and enable learners to build their own learning paths – not just decide when or where they'll learn. AI also plays a significant role in this, enabling the delivery of personalized suggestions based on past learner behavior.
Last but not least, let's not forget that the "social media" style of learning, i.e., personalized feeds with user-generated content, is more familiar to learners now. LXP platforms can create similar user experiences and "trick" them into learning.
Online learning is rapidly evolving from simply mobile-friendly to mobile-first. In fact, the demand for mobile education is so high that by 2024 experts project a market value of $46.9 billion (at a CAGR of about 26%).
The design of online courses has advanced over the years to include mobile responsiveness, so learners can seamlessly navigate their course and interact with their peers smoothly and without delay, as is with in-person learning. This is not enough anymore.
A mobile-first design requires the development of a mobile app. Through a mobile app, creators can offer their learners a next level mobile learning experience, boosting this way also learner retention. In corporate training, a mobile app enables deskless employees to access online training resources fast, any time they need them, wherever they are.
The ability to download content and view it offline is a must. In the spirit of optimizing the mobile learning experience to the full, an increasing number of learning apps offer downloadable content users can access without an internet connection.
Last but not least, microlearning is a trend within the mobile learning trend. Bite-sized content, especially in the form of video content, continues to be the most popular and efficient learning material for consumption on mobile devices.
Online assessments, especially in Massive Open Online Courses (MOOCs), are typically limited to a multiple-choice quiz at the end of the course module. But, lately, assessment has significantly evolved and been enriched with a variety of assessment types that enable course creators to evaluate in depth whether their learners have reached the desired learning objectives.
Assessment initiatives have now become part of the instructional process, not just aftermath. Formative assessments are becoming more and more common, enabling instructors to offer valuable feedback, provide in-time support, and steer learners in the right direction.
Another trend is performance-based assessment. Learners are requested to prove their skills by working on group projects with joint submissions or solving problems in "real-world" circumstances with the help of AR and VR technologies. These types of assessments evaluate learning and, at the same time, enhance soft skills like critical thinking, problem-solving, resourcefulness, and collaboration, therefore providing a more holistic and valuable learning experience that helps learners build personality traits in addition to technical skills.
In more great news, assessment is becoming more inclusive and accessible. Among the variety of different assessments, course creators can find the most suitable option to evaluate the skills of those with learning or physical disabilities. Learners with dyslexia or vision problems, for example, can submit video recordings instead of written assignments.
A term initially associated with K-12 education and academic institutions, hybrid learning, is a massive trend in workplace training too. In most companies, work has turned hybrid, and employee training is following suit.
Hybrid learning combines classroom face-to-face training with online in relatively equal proportions. It's often confused with blended learning, but there's a critical difference between the two: blended learning takes place primarily on-site and is complemented by online activities.
The online part of a hybrid course combines real-time and self-paced learning, including learning material learners can access online from a central repository. This repository can be anything from an LMS to a Google Drive, depending on how organized the training is.
Hybrid learning combines the perks of online and on-site learning. On one part, learners enjoy the flexibility to build their learning schedule as they wish and to study from their preferred place. At the same time, they enjoy the interaction with their peers and the instructor, which empowers social learning, keeps them engaged and improves learning effectiveness.
The cohort-based learning model is an educational method in which a group of learners progresses through a course together. Online cohort-based courses often use a mix of synchronous and asynchronous learning and promote collaboration among learners through group assignments and in-class interactions.
Cohort-based courses have specific start/end dates and deadlines for assignment submissions, therefore increasing accountability and showcasing high completion rates. Students joining cohort-based programs learn to manage their time and workload better.
The elements of interactivity, which are strong in cohort-based learning, motivate learners and help them maintain their interest in the course. They also provide excellent chances for the instructor to interact with their learners and provide them with more relevant content based on their comments, feedback, and expressed interest. Learners enjoy personalized attention and a more profound sense of community.
Micro-credentials are certifications that are offered upon the completion of a short course or training. Think of them as mini degrees or specializations. Micro-credentials are increasing in popularity as they validate essential job skills and competencies gained in a relatively short period.
In an academic setting, the credits received from micro-credentials can be transferred from one institution to another and count towards completing a degree. In a business setting, a micro-credential really adds to a candidate's resume.
Even though there are no official guidelines to indicate how knowledge is evaluated, there's always an assignment in place to verify that learning objectives have been met, making a micro-credential a reliable proof of knowledge and skills gained.
As modern professionals are heavily invested in building impressive resumes and gaining versatile skills, micro-credentials will continue to rise in popularity and become the go-to solution for skills enhancement.
We've noticed from our customers that all the more course creators choose to build membership sites. What's so "special" about this business model that makes it so popular? It recreates the environment of a social media platform, minus the distractions, and reinforces the sense of community among members and between the creator and their followers. On a more practical level, a subscription secures a steady income for the creator.
Creators offer members different access tiers, which translates to exclusive content, special discounts, community forums, and more. Maintaining a membership site requires consistent effort on behalf of the creator to keep their community engaged.
Creators with membership sites upload new content regularly and host live events, to maintain interaction and communication among and with their members. For many learners, being part of an online community is far more rewarding and exciting than signing up for self-paced courses. So take note, membership sites are here to stay!
Artificial Intelligence (AI) significantly enhances the quality of the learning experience for the end user with personalized suggestions, deep search functionality, and tools catering to learning disabilities.
AI in eLearning is also beneficial and time-saving for the creator. AI tools automate tons of tasks like content translation, content tagging and grouping, assigning courses to users to courses, and quiz generation. And, of course, one of the top functionalities of AI is in-depth data analysis. Learning analytics tools will shed light on every aspect of an online course and learner behavior, enabling training providers to improve their offerings.
The role of Artificial Intelligence in eLearning doesn't stop there. With the power of Natural Language Processing, a subfield of AI, chatbots become virtual assistants. They respond to simple queries with information they retrieve from a pre-determined knowledge base, facilitating both learners' and instructors' lives.
You must have heard of "Pokemon GO," right? This Augmenten Reality (AR) game entered the market in 2016 and was a massive hit. Whether you have tried it yourself or agree with the idea of chasing imaginary friends on the street is one thing. But you can't deny that it sounds pretty cool and engrossing, especially when translated to game-based learning.
When used in eLearning, Augmented Reality (AR) and Virtual Reality (VR) bring two big-time benefits to the table: incomparable immersion and faster, deeper learning.
AR and VR are the next best thing to real-life practice. These technologies provide learners a safe place to practice and assimilate processes without the risks they might enclose for themselves or others.
Workers that operate heavy machinery, construction workers, healthcare professionals, and emergency rescuers are just a few examples of employees that benefit tremendously from using Augmented Reality (AR) and Virtual Reality (VR) technologies in their training. Using simulations to learn strengthens learner retention and provides a distraction-free learning environment.
Virtual Reality is a more immersive technology than Augmented Reality. During a VR activity, the learner usually wears a headset or visor, completely immersed in the experience, and dissociated from the "real world."
Augmented Reality is more limited but quite impressive too. It's a technology that "responds" to the user's actions. Imagine hovering your phone over a plant, and then digital elements or imagery pop up explaining what you see. To enable AR experiences, users need to wear smart glasses or download an app on their smartphone.
AR and VR can also be used to provide game-based training, which is what they have originally been associated with anyway.
Data analysis is extremely essential for eLearning, especially in corporate training and higher education. Predictive analytics uses past data to predict future learner behavior, often with the help of AI, which analyzes the data collected and turns it into reliable forecasts.
Data analysis can massively improve learning effectiveness. It can direct learners to the learning material they like the most and the content that helps them learn faster and more effectively. It can also identify declining performance and notify the instructor so that they can offer timely help to the learner.
Data analysis and data-driven learning will only become more important in the future. Learners' expectations and preferences are influenced, shaped, and continually changing by external factors. Monitoring their behavior closely as consumers and learners is the only way course creators and training providers can offer learners what they need at the given moment.
It looks like 2023 will be yet another exciting year for eLearning. We can't wait to see how learners will respond to these new trends, and whether they're any surprises in store.
If you're a course creator looking to turn over a new leaf this year and seriously upgrade your online courses, try LearnWorlds with our 30-day free trial. Exciting content, a lively online community, a native mobile app, and many more features are at your fingertips to build an online academy that has it all!
Further reading you might find interesting:
(Visited 26,975 times, 6 visits today)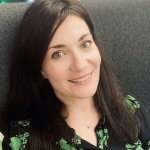 Androniki is a Content Writer at LearnWorlds sharing Instructional Design and marketing tips. With solid experience in B2B writing and technical translation, she is passionate about learning and spreading knowledge. She is also an aspiring yogi, a book nerd, and a talented transponster.