Matthew Pierce, Learning and Video Ambassador at TechSmith, gave a fantastic talk during the 2022 Worlds of Learning Summit. Matt shared small bits of interviews he has held with successful YouTube creators with huge followings.
Video experts know how to engage their audience – and now you will too!
This is the place to be if you are looking for reliable advice to overcome your fear of the camera, perfectionism tendencies, and other…vices. All the hot tips Matt and his interviews shared are here!
Interesting Facts About YouTube and Video Viewer Habits
Throughout his talk, Matt shared a few statistics that will give you some context about the status of YouTube and the ways people consume video.
73% of adults in the US use YouTube.
People upload 500 hours of video every minute. (That's a lot of competition! You want to be in the middle-top of the spectrum in terms of quality to stand out.)
A 2021 study run by TechSmith showed that the number one reason (24%) why people stop watching a video is just because they've received the information they need.
The same study found that what keeps people watching is relatable and current content, engaging and knowledgeable speakers, and content that is easy to follow.
9 Top Tips and (Reminders!) to Create Better Videos for Your Online Course
Let's cut to the chase and hear what some of the most successful YouTube creators and video professionals give to all aspiring video creators.
1. Perfection is a myth
Almost every professional video creator will tell you that their videos are never perfect. This means that, at some point, they stop trying to perfect their videos and move on to creating their next one – because perfection is not attainable!
Instead of striving for perfection:
Punch perfectionism in the face!
This quite refreshing advice comes from Sean Cannell of Think Media, who has over one million subscribers on YouTube. Sean says it's scary to get on camera at first. You have to accept that your first videos will be the worst ones and move past that – move past the fear and just hit publish!
If you're not making videos right now, start! Put your video out there and get feedback. If you are already making a video, don't worry about making it Hollywood-style. It's okay if you don't have a high-end production video camera and gear. If you have a smartphone, you can make excellent stuff. Instead of worrying about making your video perfect, think about how your customers will benefit from it.
2. Perfection is the enemy of consistency
Amy Landino has a lifestyle YouTube channel with about 400,000 subscribers. She admits being guilty of perfectionism herself, and she warns that:
Perfection leads us not to be consistent. And consistency is the big piece of every point of contention with video…Perfection is always everyone's biggest mistake.
So it's time to stop with the "becauses" and the excuses! You've got something valuable, and it's time to put it out there. Don't let perfectionism get in the way because your audience needs your content and needs it now.
It is always possible to make your video more high-quality, like using professional gear, but your audience doesn't really need that. What they need is your message.
3. Keep testing
Nick Nimmins teaches his 900,000 subscribers how to get better on YouTube. And here's his advice.
It's important always to be testing; test what you're making, test and see what people respond to the most.
Nick also said that you might be surprised by what people might respond positively to, like videos with a shaky camera. This happens because what really matters is the personality behind the camera, the story, and the information that's being shared.
So, put your video out for the world to see and find out how people respond to it. There might be something they really dislike. What works for one audience may not work for another – you can't know unless you put it out, get feedback, and then adjust as you go.
4. Empathize with your audience
It's essential to think about your audience when making a video. Because you want them to do something –like your video, subscribe to your channel, download something, etc. With your video, you want to give them something that they need.
Amy Landino advises,
If you're just getting started, you need to focus on who you're talking to. Really understand who that individual is because that will make every single decision along this path of getting started with video.
What Amy is talking about is empathy. You need to think about the person going to push play on your video; think about their questions and what they go through.
Owen Hemsath, a smaller-scale creator who's good at working with small businesses, also discussed empathy. Here's a kind reminder by Owen:
You're not speaking to yourself. You're not speaking to your ego. You're speaking to that person that you aim to help.
He says that if you think of yourself as the provider of solutions, as the server, when you look into the lens, you will find that the anxiety of creating a video will melt away.
While creating your video, don't think you want to sell your audience something; think that you want to help them and make a personal connection.
5. Visualize your viewers while talking to the camera
Many people don't feel comfortable being in front of the camera (maybe you don't like your voice and things like that). But guess what? You don't even have to use a camera to shoot a good video today!
Tim Schmoyer teaches people how to use YouTube and grow their channels. He's the best person to advise on how you can be more comfortable speaking to the camera.
Sometimes it helps to actually have a friend right behind the camera. Some people will take a picture of their customer avatar, ideal target audience, or a friend who represents them.
This way, you can picture these people, and it will seem like you're conversing with them!
6. Own it!
It's weird talking to the camera. We've established that. But remember that you've got something important to say; you're a great messenger.
As Sean Cannell puts it,
You just got to own it. Be you, be you x2, be bold. A lot of times, people get on camera, and they apologize – don't apologize!
7. Remember why you're doing this
The camera is the medium to share a message, so you've got to lean into it. It's your canvas. It's a visual medium with auditory components, so it works well for learning and should be part of your course content.
Andrew Kan worked for a large company making videos and used to work for TubeBuddy. He admits being in front of the camera is not the most natural thing to do. But it's a choice you've made! You're there for a reason.
Instead of thinking that the camera is the enemy, the camera is your friend. It's your ability to tell and spread what you're trying to do.
8. Be helpful
Learn to be helpful! As simple as that. Whether you're trying to educate, entertain your audience, or anything else, your content needs to be helpful.
A 2020 study by Google proves this quite effectively. The study aimed to see what people are watching in a day. The second most popular response in the study was, "something that teaches me something new." This can be anything from fixing your bathroom to learning new software.
The third most popular response was "something that allows me to dig deeper into my interests," which makes sense because we all want to learn more about the things that interest us.
And the fifth most popular response was "something that relates to my passion." At this point, Matt admitted he's a Dungeons and Dragons fan, so he has probably spent some time himself exploring relevant videos!
9. Iterate and adapt
Eventually, what's going to help you create better videos is practice: keep creating videos, and keep testing to understand what works for your audience. Start with that first lousy video, then keep going, making improvements every time. Meanwhile, always keep an eye on what's trending.
YouTube creators are always adjusting, always willing to change, always willing to try something. You got to iterate and adapt. If something's not working, change it. If something's worked in the past, but now it's not working, change it.
Matthew Pierce
Q&A Session
Let's see some of the top questions that Matt answered during the Q&A section of his talk.
What is the best way to create videos?
Your first investment should be a good microphone, some lights, and a light panel. If your budget allows it, invest in a camera.
Is it an absolute must to show your face in videos?
No, it's not. It doesn't impact learning. But many prefer to see the person talking to them, as they can build a better connection.
What content can we utilize for content creators who dislike being on camera?
Make visuals, like infographics, or use a b-roll video where you don't appear on the camera.
Lights, Camera, Action!
These pieces of advice are gold. Don't miss out on the real thing, though – Matt's energy and enthusiasm will inspire you and give you that nudge you need to get started with video!
(Visited 431 times, 1 visits today)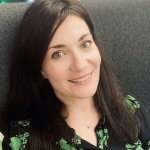 Androniki is a Content Writer at LearnWorlds sharing Instructional Design and marketing tips. With solid experience in B2B writing and technical translation, she is passionate about learning and spreading knowledge. She is also an aspiring yogi, a book nerd, and a talented transponster.