Just a couple of months ago, the entire LearnWorlds team came together for our 2022 Retreat. The excitement was building up with every passing day, and when the time finally came, everything was planned to the last detail. The only thing left to do was pack the essentials – aka warm clothing, strong sneakers, creativity, and an appetite for serious amounts of fun. And off we go to Northern Greece and the magical city of Ioannina and the nearby picturesque village of Papingo.
To provide a bit of context, LearnWorlds has been a fully remote company since it started up and is now powered by 130 amazing people spread across 13 countries. The benefits of working remotely are unbeatable. There's flexibility, talent diversity, freedom, autonomy, and the list goes on.
Now imagine what can happen when you fuel this with spending real time together offline. Motivation, sense of belonging, creativity, bonding, morale and ultimately, remote work itself just got even more meaningful. That's why we stepped outside of Zoom and into one place for 5 full days. Spending some serious time together, as well as messing around, was one of the best decisions we've ever made.
We tried to fit as much as possible into these days, and we split our Retreat into two parts. To begin with, we would work, plan, strategize, review, brainstorm, present our case and then make decisions on how to change the world of education. Easy.
For the following two days, we would only do fun stuff: socialize, eat and drink until we were unable to move, hike the gorge, go rafting, explore, hang out, party every night and start again. Hard. We were utterly exhausted by the end of it, but at the same time, we couldn't get enough of our time together.
At LearnWorlds, we always try to nurture a healthy culture that's aligned with our values and reflected in all aspects of our day-to-day choices. And the Retreat was the epitome of this way of thinking.
We wanted to offer a simple, humble, and authentic experience that communicated to every single LearnWorlder that we truly care. To give and receive a first-hand understanding of how diverse we are and how we treat everyone as peers regardless of hierarchy. We got our hands dirty and gave fully transparent presentations to offer visibility on how we are performing in the market. At the end of the day, we were all fully aligned and felt like one team ready to take over the world of eLearning.
The end result was 5 extremely special and cherished days, and we'd love to give you a look at how it all went.
The Retreat in a Nutshell
Our first ever Retreat was in Milia, Crete. Now back after two years of the pandemic, we chose to explore two breathtaking locations in Northern Greece. A few hours after arriving at our first destination, the beautiful lake city of Ioannina, our founders delivered an inspirational presentation.
They shared their vision of our company and how it has evolved over the years. Now the path ahead leads towards us becoming the most flexible eLearning building block for complex & demanding business models. We'll be the market-leading platform for course creators by enabling them to deliver the kind of learning that transforms people's lives.
They also gave us a brief LearnWorlds history lesson, both funny and inspiring. It was impressive to see how a company of 3 gradually grew into one of the world's top 5 course creation platforms and how our first employees worked tirelessly for something they had faith in.
In between meetings and workshops, we fit in refreshing early morning runs and walks around the city lake and castle and after-work drinks and dinners.
On day 3, we traveled to Papingo, a welcoming and cozy stone-built village, where we enjoyed a hearty dinner with traditional local recipes, to fend off the winter cold.
Picnic after rafting at the Voidomatis river
Days 4 and 5 were adventurous. We split into groups and went hiking in the Vikos Gorge and rafting on the Voidomatis river. The natural surroundings were breathtaking, and we were all trying to take in as many of the impressive images. The brave ones even swam in the cold river.
(Visited 563 times, 1 visits today)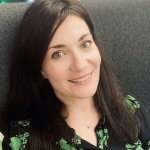 Androniki is a Content Writer at LearnWorlds sharing Instructional Design and marketing tips. With solid experience in B2B writing and technical translation, she is passionate about learning and spreading knowledge. She is also an aspiring yogi, a book nerd, and a talented transponster.