Online learning boasts of the flexibility it offers – learn anywhere, anytime, at your own pace, and on your device of choice. That's an impressive level of freedom, but is this what makes eLearning accessible to all?
Not really.
Accessibility in eLearning, and education in general, is a different story altogether that we're going to unfold in this post today. Read on to find out what accessible eLearning really is, why it matters, and how to create accessible online courses everyone can enjoy and benefit from.
What is Accessible Learning?
Accessible learning, or accessible education, is a form of learning that takes into consideration and accommodates the needs of people with physical, learning, or cognitive disabilities, like hearing or sight impairment, dyslexia, and attention deficit disorders.
The course materials are built and structured in such a way that everyone can attend the classes, understand the course content, and keep up with the course syllabus.
The most common disabilities fall under one of the following categories:
Visual: Reduced vision, color blindness, and blindness. Offering audio content is essential to accommodate visually impaired learners.
Hearing: Partial or total hearing loss. For these learners, you'll need to offer supplementary audio resources and video tutorials with visual content, like closed captions and text descriptions.
Cognitive: ADD and ADHD are quite common neurological conditions that affect learning as it makes it hard for learners to stay focused. Dyslexia is a learning disorder that affects reading, spelling, and writing.
Motor skills: Motor skills can be limited even permanently due to a physical condition or temporarily as a result of an accident.
Why You Should Care About Accessibility in eLearning
We're giving you three key reasons why you should prioritize accessibility in eLearning course design.
It's compulsory (for employers)
Under Section 508 Standards for Electronic and Information Technology, "agencies must give employees with disabilities and members of the public access to information that is comparable to the access available to others."
In the context of online learning, this means that all employers need to take into consideration the limitations and advanced needs of people with learning or physical disabilities, cater to web accessibility, and adjust their web content accordingly.
Learning disabilities are more common than you think
In the US alone, about 4-5% of adults have ADHD. And that's ADHD alone. The exact number of other types of disabilities is hard to measure. This means that learning disorders and physical disabilities are not all that unusual. Even if 5% doesn't sound like an impressive number, these individuals are worthy of your attention.
Offer Equal Opportunities to All
It's not just about the user experience and usability. Perhaps above all, caring for website accessibility and offering accessible online courses is the humane thing to do. Education is a fundamental human right and not a privilege.
Whether in the workplace or outside of it, all employees should have equal opportunities to grow professionally and personally through seamless access to education.
12 Tips for Accessible Online Courses
People with learning disabilities can have equally engaging and beneficial learning experiences provided you create accessible content. So next, we're sharing 12 tips you can follow to create accessible online courses for each and every member of your audience.
1. Study relevant standards and guidelines
First things first. Before you dive into the nitty-gritty of accessible eLearning and start creating course content, you need to know the background story. The background story is Section 508 Standards and Web Content Accessibility Guidelines (WCAG).
Taking a look at web content accessibility standards will give you a better idea of which parts of the course need your special attention and why accessibility compliance should be a priority.
2. Learn more about disabilities
It's essential that you learn more about the struggles and difficulties of your learners in their everyday lives and, as an extension, in their learning. Learning more about how it is to live with a disability, whether physical or cognitive, will help you develop empathy and understand what your learners go through and how you can best accommodate their personalized needs.
3. Avoid long blocks of text
It's true that long blocks of text are boring to the core, so they must be avoided at all times, at all costs, and for all learners, as they will most probably harm the engagement and completion rates of your online course.
Jokes aside, long blocks of text are particularly challenging for learners with attention deficit disorder and dyslexia. They can quickly become incomprehensible for anyone who loses their focus easily, and they're hard to read for those with learning disorders.
Instead, try breaking down the text into infographics, bulleted PowerPoint presentations, or create microlearning videos. Another tactic that helps with dyslexia, in particular, is using more white space, like by adding double spacing between lines.
4. Use inclusive language
A few quick tips on inclusive language for an inclusive online learning environment:
Avoid mentioning colors when referring to navigation buttons or other visual content
Instead of the word "click," use the word "choose" or "select"
Avoid using phrases like "let's hear" or "see below."
These minor adjustments in the way you phrase your words can make a huge difference in how welcome your learners will feel and in how they understand that you care about their needs.
5. Add subtitles and transcripts to videos
For those with hearing impairment, you need to add subtitles, closed captions, and transcripts to your videos so they can understand the content. This practice is also beneficial for non-native speakers, so you'll be actually shooting two birds with one stone.
To increase the feeling of "not being left out," you can even add text in the video to highlight key points or ask a question to encourage learners to pose and think. Adding some interactivity will come in handy with learners with ADD and ADHD, as it will draw their attention back to the lesson.
There are plenty of free tools and paid software online to help you with generating subtitles. Invest some time and research to find the ideal ones for you and add them to your business toolkit. Also, keep in mind that modern learning management systems like LearnWorlds, offer the option to autogenerate subtitles based on the language of your video.
6. Add alt text and voice-over to visual content
Always add alternative text to your images, i.e., a brief description that screen readers (and search engines) can read. You can additionally add a caption, which is the same thing except that the text appears below the image.
For videos, multimedia, and visuals combining text and images, like infographics, you can add voice-over and audio descriptions. This way, you don't have to sacrifice the variety of content in your course and keep everyone happy.
Another idea is to create podcasts or audiobooks, especially if you are already offering an eBook.
7. Use screenreaders
Assistive technology and screen readers can read alt text and therefore describe images that your visually impaired learners can't see clearly or at all. Screenreaders also pick up headings, so use headings to help learners navigate through the text more easily and understand when new information is about to be introduced (and to boost your SEO efforts).
Screen reader users rely on sound design, headers, and less dynamic content for their accessibility plugins to assist them in reading the web page.
8. Avoid high color contrast
Background and fonts should have just enough contrast to enable visually impaired learners to recognize the letters. High contrast strains the eyes, though – and this goes for all learners. What should stand out are navigation buttons and nothing more.
Bold also helps, especially to direct the eyes to the most helpful information (something that learners with attention deficit disorders will appreciate too). The only problem with bold is that screen readers can't pick it, so it won't help people with severe visual impairment.
9. Use drag-and-drop in moderation
Although interactivity in eLearning is inarguably a huge plus, learners with hand dexterity issues will feel excluded if most of your activities require them to use the mouse. For this reason, avoid drag-and-drop activities when you can, or rework these activities so learners can use keyboard shortcuts instead.
10. Be careful with navigation
As we mentioned above, navigation buttons (e.g., your academy's user interface) should stand out by being bolder or larger than the rest of the content. To make things even simpler, use easily recognizable symbols and avoid phrases like "Click here."
Similarly, if you're using hyperlinks, make sure to describe them and not just say 'click here.'
11. Use different types of content
Using a variety of content is always a good practice in online classes as it keeps things more interesting and satisfies diverse learning styles. It's even more important when creating an accessible eLearning course as it ensures that there's content everyone can access and digest.
12. Measure accessibility
Before deploying your online course, do an accessibility audit against Web Content Accessibility Guidelines to ensure you're up to par with WCAG standards. Ideally, you want a score of +AAA, but most companies are at +AA. Alternatively, you can create a small focus group to get feedback.
Accessible Elearning is Beneficial for Everyone
Implementing digital accessibility best practices in instructional design helps build enjoyable learning experiences for all, including learners without disabilities. Most Learning Management Systems (LMS) already have some functionality supporting web accessibility, like the option to add alt text, dynamic font size, use color and contrast, subtitles and transcripts, and integration with screen readers.
Besides, in design, sometimes less is more. If you are working with a web designer or a web developer, ask them to avoid using Javascript programming language and focus more on HTML & CSS elements. Keyboard users using accessibility plugins will find it easier to navigate your site.
Last but not least, keep in mind that LearnWorlds integrates with the tools you need to enhance the accessibility of your online school. Try LearnWorlds with a 30-day free trial and start building inclusive and utterly engaging courses.
Save big with Learn
Worlds
(Visited 1,146 times, 2 visits today)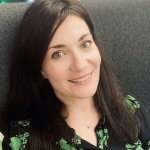 Androniki is a Content Writer at LearnWorlds sharing Instructional Design and marketing tips. With solid experience in B2B writing and technical translation, she is passionate about learning and spreading knowledge. She is also an aspiring yogi, a book nerd, and a talented transponster.