The SaaS industry is accelerating rapidly, especially after the pandemic. At the same time, it needs to keep up with the intense competition and growing customer demands. The introduction of complex products with powerful features to satisfy customer needs has become another challenge, as it's hard to keep scaling without putting tremendous pressure on customer support.
Therefore, businesses have turned to customer education as a more sustainable way to drive business growth. Through customer education, companies expect to improve critical business KPIs, such as product adoption and the work experience of their customer-facing employees.
It's worth noting that the rise of customer education is also coincidental with the shift in mindset: businesses become all the more customer-centric and follow a value-first approach. On the other hand, customers have shorter attention spans and little time to devote to learning new software.
Customer education fits the bill just right, satisfying both parties' needs.
Today we're sharing with you all the key takeaways from our recent live webinar "How to create a high-impact customer education program" with Chris LoDolce from SaaS Academy Advisors (and Founding Member of the HubSpot Academy) and Panos Siozos LearnWorlds co-founder and CEO.
▶ Watch the webinar to get the full scoop here ◀
Read on to find out everything you need to know about building a customer education program that carries transformative value for your customers and fosters business growth!
Customer Education Definitions
Let's see some definitions of customer education-related initiatives:
Customer Education
Any purposeful and organized content designed to impart attitudes, knowledge, and skills to customers.
Popular customer education content examples:
Blogs
Webinars
Documentation
live training
on-demand courses
Customer Education Program
Strategic initiatives by organizations to educate customers in service of improving top and bottom-line business metrics. The end goal is to improve retention, upselling, cross-selling, product usage, etc.
Corporate Academy
Α holistic alignment of learning teams within an organization in service of a unified customer experience and optimization of resources. This can include industry education, customer education, partner/agency, and employee education. By aligning all of those and repurposing content, you are creating an organization that's learning and sharing, and you also reduce the number of teams that need to create content.
"Customer education programs can be average, good, or great." Chris Lo Dolce
Average customer education programs educate a learner on a specific topic.
Good customer education programs drive tactical action, resulting in business value for the learner's organization.
Great customer education programs drive strategic action that transforms the learner's career and organization.
How do you achieve great education?
As Chris Lo Dolce states: "It's the excitement; it's the inspiration, the care, the connection with another human being through learning that makes great education."
3 Major Mistakes to Avoid When Creating a Customer Education Program
Now, let's see some common faux-pas that can set your program up for failure and what you need to do instead to gain the most benefit from customer education:
1

Imitation

Imitation is when you're copying an existing customer education program. Instead of trying to be somebody else, try these instead:
Commit to helping customers excel using your product.
Design the program for your company's culture and organizational structure.
2

Resources

This mistake happens when you miscalculate the vision of where you want to go vs. the time and budget available. To avoid overpromising and underdelivering:
Double the timeline.
Double the budget.
3

Hiring

A great hire on paper doesn't mean they align with where your customer education program is. Here's how to go about hiring the members of your learning team:
Understand your customers' and your program's needs before looking for a new hire.
Ask whether the candidate has the right skills.
Ask whether they have the right attributes, like an entrepreneurial mindset.
Customer Education Growth Model
Usually, all customer education programs fall under one of the following stages: Ideation, Beta, Live, Scale, or Innovation.
Ideation
If you're at the ideation stage, you have recognized the value of customer education and maybe even have a few resources. However, customer education is not a strategic initiative for the business yet. You're still unclear about how this program is driving business value.
Beta
When you're at this stage, you must move fast so that your content isn't outdated by the time it's released. Maybe you're offering some live training sessions or webinars to find out what type of content works.
Live
The content is live. You are now measuring not only the learner but also business metrics to measure the impact of customer education.
Scale
You take the content and scale it vertically, horizontally, internally, and globally, repurposing it for customers or employees, translating and localizing it.
Innovation
You have started to reuse the content innovatively, like partnering with universities or nonprofits.
7 Areas of Designing and Growing Your Customer Education Program
Let's now see the seven areas of designing or growing a high-impact customer education program and what they comprise. When building your learning team, you can use these steps as a roadmap to pick the right person for each job.
Remember rule number one is to design the right program for your company and culture.
1

Program Leadership

Above all, a leader needs to have the right mindset. Learning professionals in great customer programs have a sense of responsibility, ownership, and excitement for their job; not for teaching people how to use the product – but for the impact of customer education on the business and the people.

"Αs the leader of a customer education program, it is very important to consistently reinforce the purpose, the mission, and the principles." Chris Lo Dolce
2

Program Management

As a part of the program management, you need to do the following:
Study and understand your company's business model, strategy, and metrics. Not knowing these aspects makes it very difficult to align your program in a way that's strategic to the business and drives growth.
Create a roadmap that communicates your team's output's short-term and long-term expectations and impact. Double the budget and time you need to prepare the program to avoid the "overpromise, underdeliver" situation.
Pick a project management methodology. Although it gets overlooked in the process, it's critical to pick a method that works for your team and follow it.
Use metrics and reporting to prove the value of your program. Break down your metrics into 3 sections:

Business goals (e.g., Customer Acquisition Cost, Retention, NPS, Customer Satisfaction)
Department goals (e.g., Time to Value, Cost per ticket, Product usage)
Team goals (e.g., engagement, completion rate, learner NPS)
3

Stakeholder Management

The most overlooked area of all. Strategic customer education programs can't drive value in a vacuum – you need to think about how customer education aligns with the company's different departments (sales, product, marketing, and customer success) and how it can help them.
As initiatives, priorities, and resources may change, you also need to think about pivoting the program so that it still brings value to the business where it needs it most. For stakeholder management, you need to build:
Stakeholder analysis
Stakeholder map
Stakeholder plan
4

Content Design & Development

First, you build your team, and then you go on to design the customer education program. This stage includes:
Content architecture: At this point, you need to ask how the program's layout you're designing can drive efficiency and effectiveness with your content. This will make it easier to reuse, repurpose, update the content, and share it with employees, partners, and customers.
Content development process: It should be repeatable and flexible but rigorous enough to ensure the content is scalable and that the expectations regarding the time and cost are met. The lack of a content development process will make it hard to scale your content. The ADDIE model works well for this phase.
Content update process: The content you're developing can quickly become outdated due to product or industry changes. To avoid this, create a database where all your content can be stored and tracked.
In addition, you need to have a priority update model. This should include a process to notify team members when new product versions are released. (Maybe via your Project Management software?) Next, you'll need to determine how critical the update is and whether you need to update the content immediately or not.
5

Tech Stack Design

This section is all about the tech tools you use when creating the customer education program.
Content delivery tools: They refer to how you'll deliver the educational content, e.g., PDFs or via a Learning Management System (LMS).
Content development tools: How are you developing on Google Sheets? Are you using authoring tools? These are your content development tools.
Assessment tools: These include quiz software, test certification software, etc.
Reporting tools: Tools that give you qualitative and quantitative learning metrics.
Operations: The tools you use for Project Management.
Integrations: The tools that get learner data into your data pool and the CRM.
Remember that each time you add another piece of software to your tech stack, it will most probably make things more complicated for your processes. Ask what's going to happen if you get rid of that tool. Will it make things harder or easier? Could you replace it with a more beneficial tool?
6

Marketing Υour Customer Education Program

The following teams can use your content to make their jobs easier:
Sales team. Your sales team should be able to communicate to customers that your company doesn't invest only in selling software but also in the successful implementation of the product.
Marketing team. Ensure the team has adequate resources and access to the necessary website pages or integrations into your LMS so they can send emails to prospects and others as needed.
Customer success. Think about integrating the educational content into customer onboarding, in the community, etc.
Product. Is there a place for your customer education to live in the product? Like a short video on a specific software part or a link to your customer education website?
7

Learner Engagement & Support

There is no specific support for customer education. Usually, support is limited to technical support. So there's no opportunity for learners to engage with the team, only in live training.

Full customer education support includes technical issues and content discussion. Give multi-channel opportunities for communication with learners. It's essential to find ways (e.g., through a discussion forum in your LMS or emails) to open up the lines of communication and show customers you're there for them.

When the teams start engaging with their learners, they will create better and better content.

"It's nearly impossible for somebody to create engaging, inspirational content that drives transformation with somebody's job or the business they're working for if they're doing it in a silo." Chris Lo Dolce
Choosing the Right Platform
This part is critical for ensuring a good User Experience. Look for the following features:
User-friendly for admins and end-users. Most traditional LMSs are a bit clunky, focusing on the management of learning and not learning itself. You need an LMS that offers learners what they want: a fast, user-friendly, and interactive experience.
Flexible and scalable. As the team grows and the content expands, your LMS should be able to keep up and accommodate your needs.
Mobile-ready. With more than 50% of learning happening on mobile devices, a white-label mobile app is the best way to offer learning that's one tap away.
Authoring capabilities. From PDFs to assessments, quizzes, and interactive videos.
Reporting capabilities. See where your students are, what content they're consuming, and more. Make correlations with other business metrics, like revenue, retention, and acquisition cost to convince people up and down the chain about the ROI of this investment.
Brand control. The platform should feel a natural extension of your existing website or app with a look and feel that match what you offer in other parts of your business.
Data ownership to comply with GDPR and other data management policies.
Integrations. Built-in integrations with tools or with an API, so you can customize the functions you wish.
Custom-centric. Consider whether this LMS can create a learning experience that will satisfy your customers. The answer should always be yes.
Final Thoughts
We all know that the SaaS world is a competitive one, and as such, many companies are looking for ways to stand out from their competitors. One way in which you can do this? Provide your customers with educational material. What's more, it seems like an idea whose time has finally come! To help you get started, we're offering a 30-day free trial.
💡 Need more guidance? Watch our webinar "The blueprint for customer education" here.
Further reading you might find interesting:
(Visited 777 times, 5 visits today)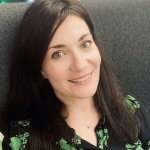 Androniki is a Content Writer at LearnWorlds sharing Instructional Design and marketing tips. With solid experience in B2B writing and technical translation, she is passionate about learning and spreading knowledge. She is also an aspiring yogi, a book nerd, and a talented transponster.