Whether you've been creating online courses for years or are new to this, you've probably come across many tasks that are repetitive and you would like to automate. Tasks like keeping your email marketing lists up-to-date, adding leads to your CRM or recording new sales as invoices in your accounting software. Why on earth do those things manually when there are easier options?
How about connecting LearnWorlds with your favorite tools and make your job easier? You can now do that using Zapier.
What is Zapier?
Zapier is a tool that allows you to connect your LearnWorlds school with apps you use every day to automate tasks and save time. Creating "recipes" for your daily repetitive tasks and letting Zapier do all that for you.
It offers integrations with more than 1000+ tools including top marketing tools such as:
Hubspot
LeadPages
Unbounce
LeadPages
ConvertKit
ActiveCampaign
Aweber
Challenge: Try to find a tool you use that does not integrate with Zapier (click here).
What does Zapier mean for Course Creators?
You will be able to automate tasks such as course enrollments, syncing leads with your favorite mailing application or CRM, sending coupons, recording sales in your accounting software, and all sorts of wonderful time-savers.
With Zapier now accessible within LearnWorlds, you can quickly create LearnWorlds Zaps to automate your repetitive workflows and take care of tedious, yet important, tasks such as these:
How does it work? Triggers + Actions = Zaps
A Zap is a blueprint for a task you want to do over and over which only needs to be set once. Zaps usually consist of two parts: the Trigger, i.e. the when the zap is activated, and the Action, i.e. what the zap does.
When a Course is Sold
When a User is Registered
When a Certificate is Awarded
When an Email Lead is Captured
Or, vice versa, you can set up an Action in your LearnWorlds school (enroll a user to a course) when something happens outside (e.g. a user purchases a product in your e-store). You can read our step by step guide using Zapier with LearnWorlds at our Help Center.
Then, one or more actions follow the event. An action can be anything from sending an SMS notification to adding someone to your email list or creating an event to your calendar.
Ideas for Automation
Time is of the essence and when it comes to helping your business grow, there is no time to lose. The same applies to an online academy of course. You may be the overseer of your school but we know first hand the variety in numbers and importance of tasks that come along with it. Here are a few ideas about things you can automate in your school today.
1

Add new students and leads to email lists

A well-maintained email marketing list may be your best marketing tool. Add new students to your email lists and also segment them based on their purchases. Some popular email marketing software you can automate are:
Mailchimp
ActiveCampaign
Drip
Mailerlite
Mandrill
You can even have an automated sequence based on who hasn't bought a course yet 😉 Try that!
2

Update Your Customer Relationship Management Tool (CRM)

While LearnWorlds offers a great student management system, you might want to keep a copy of your data into your CRM. Updating new leads, customers, information, purchases and more. Here are some of the many CRMs that play well with Zapier:
Hubspot CRM
Salesforce
Zoho CRM
Agile CRM
Keep your contacts up to date, add tags and automate your marketing campaigns!
3

Record Online Course Sales to Accounting System

If you have an accounting software for your offline business or that which your company uses, you probably would like to have all of your invoices in one place. While LearnWorlds includes a full built-in invoicing system, you might want to keep them all under one roof. A Zap can do that for you, no more time in exporting and importing between two different systems.
4

Automated Reporting

I am a big time lover of Microsoft Excel and Google Sheets, the things you can do with spreadsheet software is amazing. What would you do if you could automate every new student to be added to a new line of an Office 365 Excel or Google Sheet? Amazing reports, graphs, and databases that is!
5

Receive an sms for every time you sell a course

Zapier has some awesome built-in actions of its own, one of them is to send you an sms. Would you like to get a sweet sms when someone buys a course or when a student has received a certification? You can automate that too!
6

Sent an offer when they complete a course

Upselling to existing customers is a must. Now you can send a discount code every time someone finishes a course and gets awarded with a certificate. This is the best time to reach out and sell another course 😉

Use the certificate of completion as an event trigger and send them an email or sms with a discount code!
7

Connect your E-commerce Site

Do you have an E-commerce site, perhaps selling products or services using a shopping cart? Then you can sell courses with your existing system and use LearnWorlds as the delivery system for your courses. Or perhaps you would like to give a free course to anyone buying one of your products in your e-shop? With Zapier you can connect Learnworlds with more than 40 e-commerce solutions:
WooCommerce
Shopify
Magento
SamCart
8

Add a course subscriber to your next webinar

Webinars are great to get leads or do live training. Why not automate the process of enrolling your students to your next webinar? Connect GoToWebinar or Zoom to your LearnWorlds Courses and save yourself some precious time!
9

Sequential access to courses

Creating a sequential learning path for your students is sometimes required. If you want someone to get access to specific material, another course or part 2 of the same course ONLY after they have completed the first course, you can also do that using Zapier. This can be a great way to offer a curriculum and structure specific learning paths based on user results.

Trigger the event with a certificate of completion to send them additional material by email or add them to the second part of the course.
10

Get all your subscribers into the LearnWorlds School community

Would you like to enroll all your leads into your School's community and engage them in a social setting? Create a zap that gets all rows from a new Excel or Google Sheet and registers them to LearnWorlds as users. They will receive an email notification about their new status and can join an active community of students!

What is the most tedious repetitive task you would get rid off with Zapier? Shoot me an email and we will add this to the list!

(Visited 2,499 times, 1 visits today)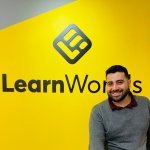 Nick Malekos is a Senior Digital Marketer in LearnWorlds. He is a results based and well-rounded Digital Marketer with years of experience in the education industry, writer and digital literacy trainer.