eBook
Elevate Your Customer Education Academy
Discover 9 professionally designed website templates, perfect for building a Customer Training academy using LearnWorlds. Educate your customers smarter & in style!
Contents
Lifevo
A minimalist and easy-to-use design with a direct and no-nonsense presentation of messages, testimonials, and benefits.
Warshap
Simple color schemes paired with versatile illustrations convey professionalism and depth about your offering.
Ultimate Training
Bold and versatile illustrations with a sophisticated dark theme, to help you convey a powerful message.
Constructor
A sleek and innovative template to seamlessly showcase your customer's learning journey.
Coaching Academy
Simple, stylish, and effective, showcasing information with vibrant illustrations and refined sections. 
Driving Data
A modern, technology-inspired dark theme and simplistic illustrations, to make data more visually appealing and pave the way to one powerful message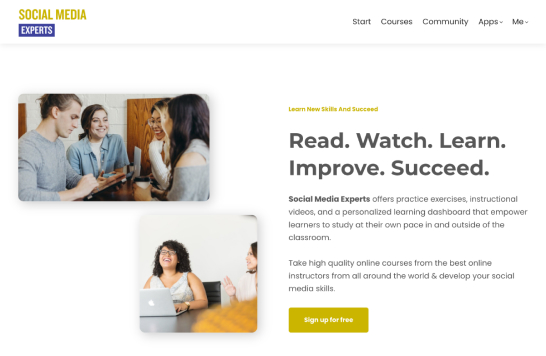 Social Media Experts
A colorful template to engage and inspire. Easy navigation and clear sections allow you to showcase your services beautifully. 
Shift Academy
Versatile design blocks pair with a seamless and engaging navigation display. Draw attention to reviews, programs, and all the right information
eSchoolM
Fun and engaging colors that pop, to help bring attention to an array of service benefits, powerful testimonials, and your overall message.
Download free Customer Education resources
Customer Education as a Marketing Tool
Establish your company as a thought leader by providing education to your customers. A great customer education process makes for faster onboarding, lower support costs and engaged users. Read our guide on how to provide excellent customer education and use it to grow your company!
Learn more
The Ultimate Guide to Building Customer Education Courses
From Idea to Launch. Create engaging & effective online courses for your customer education programs with this handy step-by-step guide. The guide includes templates from LearnWorlds customers to help inspire & assist you with the process.
Learn more
Read all our Customer Education based blog articles