At a recent roundtable of the Special Permanent Committee on Research and Technology in the Hellenic Parliament, Panos Siozos, co-founder and CEO of LearnWorlds, discussed educational technology and innovative entrepreneurship.
Panos Siozos discussed the future of education in a post-pandemic world. As he explained, knowledge is the most powerful asset in the 21st century – and educational technology (EduTech) is an essential tool that needs to be integrated into every educational initiative.
Let's take a closer look at the key points and remarks from this important discussion.
eLearning can play a big part in supporting and complementing education, both public and private – something that was irrefutably confirmed during the pandemic as well.
The pandemic has dramatically changed how we work, communicate, socialize, consume, and learn. That said, the pandemic didn't bring changes out of nowhere. It simply accelerated workplace and education trends there were already in the making.
These trends are the following:
Remote work.

Many professionals are working freelance or have turned into digital nomads.

Need for financial independence.

Due to the high unemployment rates, a lot of people had started side hustles or their own businesses long before the pandemic.

More control over work schedule.

Employees have long already started to reject the 9-5 mentality and seek opportunities to work their own schedules.

Several activities have irreversibly moved online

– e-banking, entertainment, and education, to name a few.

Traditional academia has lost its glory,

as it left students with a heavy debt they could hardly repay. Both students and employers are looking for alternative ways to gain access to knowledge.

Competency-based education,

like micro-credentials and certifications, is on the rise.

Education has turned into a consumer good,

therefore creating business opportunities. That's because learning is in our nature – even if by learning, we mean learning a new hobby.
Apart from the trends above, our habits have also changed over the last few years: people now shop and learn online, seek virtual experiences, and move away from big cities back to their hometowns or the suburbs.
eLearning and educational technology can successfully meet the needs for flexibility, cost-effectiveness, accessibility, and personalization in education and employment, as these result from the trends above. Let's see how.
Easy

access to digital resources

like learning material and courses for everyone, regardless of location ("democratization" of education).
Opportunity to

communicate directly

and in real time with people from all over the world.

Flexible and personalized

learning experiences where course content, pacing, level, and learner assessment can be adjusted to meet learner needs and preferences.

Engaging and effective learning

thanks to the use of Virtual Reality and other media.

Cost reduction

for both learning providers and learners.

Reduction of the environmental footprint

as a result of reduced transportation and minimum usage of printed material.
Education is something we value deeply in Greece. So much so that it might as well be the "heavy industry" of the country in lieu of tourism. And because Greece has many islands and remote locations, there's a huge opportunity – if not an obligation – to utilize online learning and educational technology.
All knowledge creators receiving funding and operating in the public and private sectors should find ways to integrate educational technology and distance learning to make learning accessible for those who don't have access to live instructors and classroom learning.
💁 You can view the video of the roundtable discussion in the Greek Parliament here (only available in Greek).
LearnWorlds is an award-winning platform that supports the creation, distribution, and selling of knowledge products. LearnWorlds clients are public entities, private companies, and knowledge creators who use the platform for packaging their knowledge and distributing or selling it to those who need it.
This "knowledge" can be anything – from edutainment and brief courses of 20 minutes teaching photography and knitting to long, formal courses of 30 hours and more given by educational institutions or organizations training employees, customers, or external partners.
At the end of his talk, Panos Siozos said that the EduTech market is expected to grow significantly by 2030, creating new talent through reskilling and upskilling and ultimately offering great financial and social gains.
When it comes to eLearning, the genie is out of the bottle. The future of education is online.
(Visited 360 times, 1 visits today)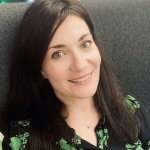 Androniki is a Content Writer at LearnWorlds sharing Instructional Design and marketing tips. With solid experience in B2B writing and technical translation, she is passionate about learning and spreading knowledge. She is also an aspiring yogi, a book nerd, and a talented transponster.