LearnWorlds for Healthcare
Enhance your healthcare service with elearning
Educate, train and certify medical professionals. Create engaging, interactive, personalized online continuous education programs and elevate your patient care.
30 day free trial
No credit card required
The best healthcare online academies trust LearnWorlds
Launch a stunning healthcare online academy today
Choose among dozens of gorgeous, flexible, healthcare and medical templates, customize the design with a few clicks and zero coding, upload your courses, and you are good to grow! So simple, so powerful!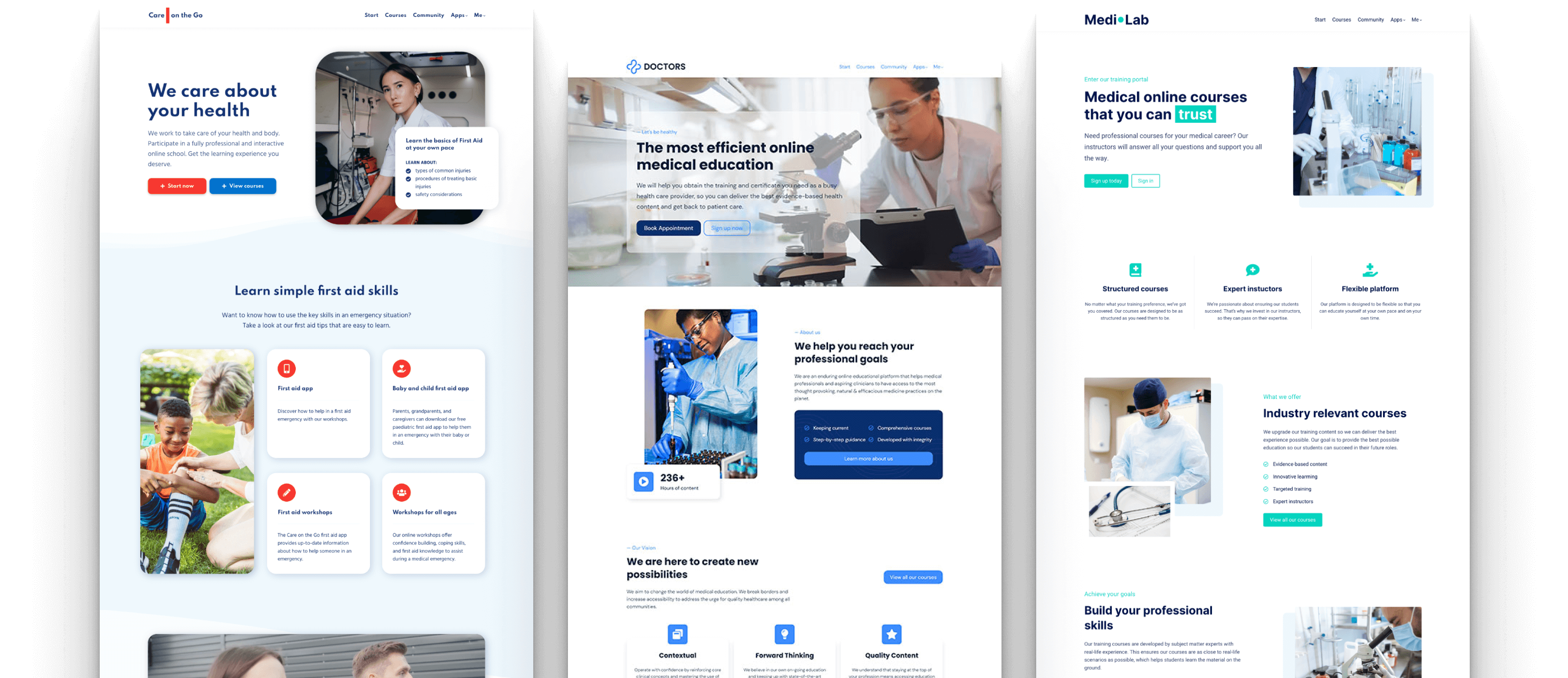 Train & upskill people who save lives
Offer engaging, personalized content
Tailor your training to the diverse needs of your clients with interactive videos, self reflection activities, learning diaries, forms, surveys, and more!
Get face-to-face, motivate and connect
Ensure your learners success through live one-on-one and group coaching sessions using Calendly, Zoom, or Webex.
Build a business. Grow a community
Create a strong, supportive, and vibrant community of people who share their passion for health, using our built-in community tools.
Build a healthy learning environment
Get feedback, review, assess, certify
Listen to your learners with surveys and forms; assess their progress with Quizzes and Tests; certify their skills with ease.
Keep learners happy with engaging learning
Enrich learning with Interactive Tools. Translate data into actionable insights and optimize your courses based on learners' performance.
Create an active, data-driven training program
Gain in-depth real-time insights about your clients behavior, make data-driven decisions and help them reach their goals.
"LearnWorlds flexibility is unmatched in this industry. It allowed us to turn their platform into a corporate training powerhouse that holds all our company knowledge."
Administrator in Hospital & Health Care
Scale your healthcare training without limits
Break the time and location barriers
Harness the power of mobile learning. Reach your clients whenever, wherever they are through your own branded Mobile App.
Get started
Personalized training with a global reach
Adapt and localize your content easily to serve diverse needs. Reach out to a global audience and scale your business.
Get started
No-sweat flexible payments
Get paid quickly and safely via world-class international payment options like Stripe, PayPal, Shopify, and local payment gateways, in the currency of your choice.
Get started
State-of-the-art eLearning for your organization
State-of-the-art eLearning for your organization
Be in full control of your healthcare content
Secure all sensitive information. Fine-tune access and permissions through custom user roles and keep your team focused.
Upgrade your team with built-in tools and insights
All the content and marketing tools to grow your online business. Dashboards, analytics and insights to help you optimize your academy's performance.
Safe. Secure. Reliable.
Enterprise-grade safety, security and reliability for protecting your sensitive content and fully GDPR-compliance for safeguarding your data.
Empower your school with robust third-party integrations
Grow your online academy with our native tools and scale it with 4,000+ third-party apps. Reach enterprise level with our API, Webhooks and SSO.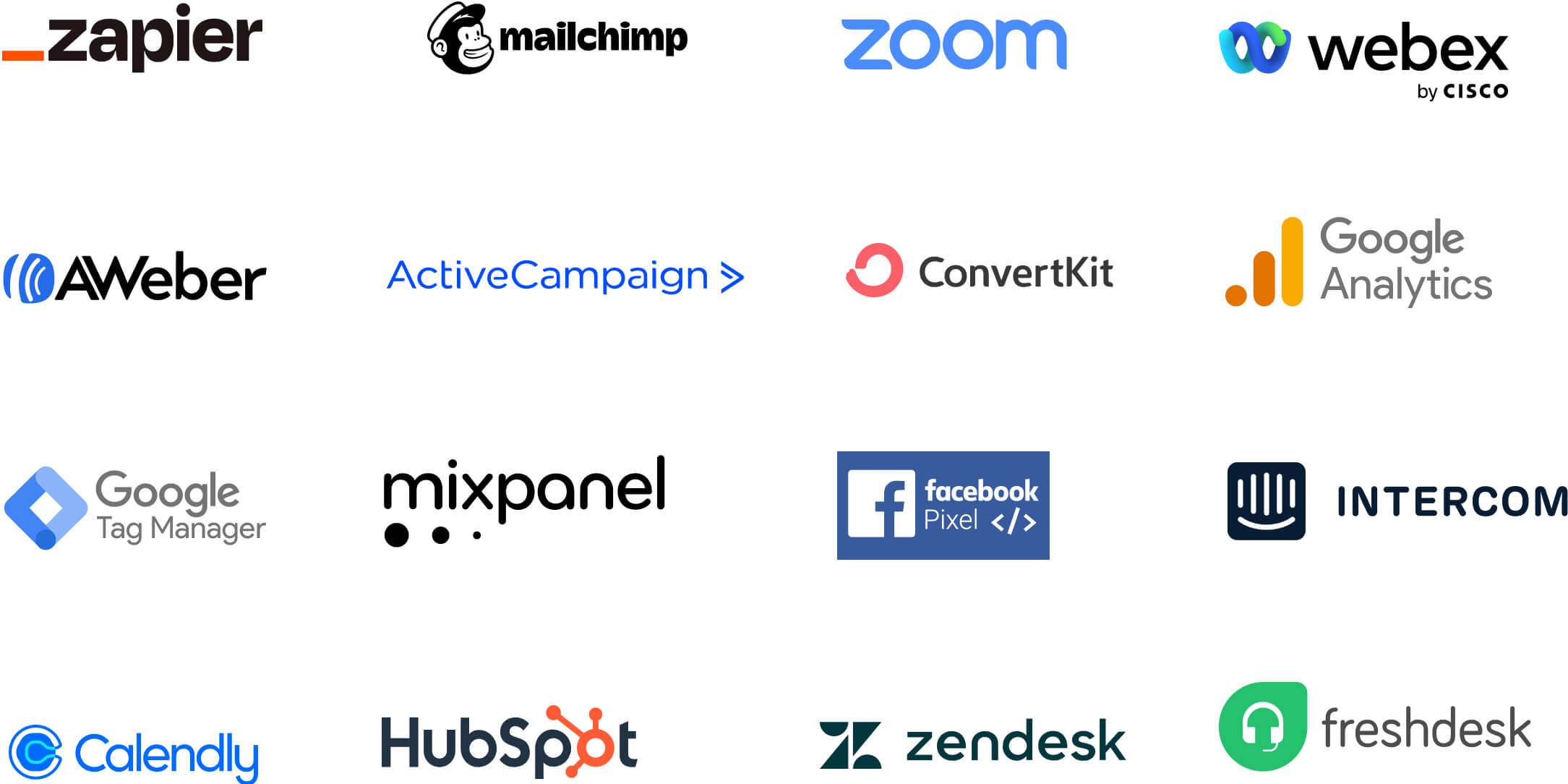 Learnworlds case studies
Training certified professionals
Learnworlds case studies
Training certified professionals
As a leading online academy for training estheticians and laser technicians, European Institute of Esthetics (EIE) went online as a response to Covid-19 and saw amazing results in the performance of learners.
Health Professionals FAQs
Everything you have ever wondered, but were too afraid to ask...
LearnWorlds is the best course sales software that provide the students with on time courses an manages the issues related to course handling. It has a demo that can make the user to feel easy in working.
- Ayesha Nasee
I took a long time for me to find a great platform for my online schools. LearnWorlds is a robust platform that is very easy to use and setup and it is also affordable for those that are just getting started.
- D'Andrea Bolden Ministries
The TEAM behind LearnWorld is what makes the difference and the support they offer.
- Ariane G
I am in love with this platform and I would never change them for another. I feel cared for by the amazing support team that know my name, my work, my problems and needs. They offered me the attention and personalized tips. All that gave a big boost to my online school.
- Teya B.
LearnWorlds will soon be recognised as the GLOBAL authority in online teaching... they stand out above the rest and their promises are REAL.
- AAW
The confidence I've gained in my business is priceless. No matter what issue I might have with my platform, the LearnWorlds Support Squad has my answer. When they say "customer service is their #1 goal" they truly mean it. I've never been disappointed.
- Missy C.
I have used few others providers and wasn't satisfied until I found LearnWorlds. They have all the tools and easy to use interface to build your online school.
- Jonas K.
I'd like to say that the support that we've been getting from LW since I got to know the platform is, until this moment, without any doubts one of the best customer services that I've experienced.
- Samir A.
Extremely easy to use their in house video hosting platform, so there's no need to get a platform like vimeo which ultimately saves you money.
- Kenneth John
I can recommend LearnWorlds as a great tool to manage an online course, academy, accelerator or anything similar. The platform works well and has many adjustable features. The support is super fast and always helpful! 5/5
- Alona Belinska
LearnWorlds is likely the most interactive learning system I have encountered. Thanks to greatly integrated video functionalities, gamification and personal notes/library there are immense opportunities to enhance the learning experience by creating engaging content.
- Epp Krusenvald
Before I committed, I decided to contact every elearning platform but honestly, no one beats what they offer. They are always on top of things and all the best features are always being added. The creators are so amazing, I can tell they work so so hard!
- Corine C.
Easy to use, good support from the team (very responsive) and costs less than many course platforms
- Tany Williams
I was looking at maybe 5-7 different platforms before I decided to go with LearnWorlds. It is easy to use (intuitive) and there are the features that you need. I am happy I found it!
- Martin B.
Definitely the best option on the market after an extended research I made. I like to compare my options before making a purchase and LW was the clear winner. The amazing, friendly and well trained support team that replies withing a few minutes is what I find also extremely impressive about LW.
- Teya Bozhilova