Regardless of the type of online course you offer, you always address people to get sales or enrollments. And people must want to listen to you.
Of course, you can use elaborate descriptions and written messages, but let's face it, we live in the era of video.
People are spending more and more time online, so video has become a crucial communication channel to promote and communicate your online courses.
In terms of social media ads, according to Social Insider, in 2020, 15% of all Facebook content was video. A significant part of the Facebook experience has always been video.
Using Stock Video Footage
If you are planning to promote your online school and courses through a social media platform like Facebook, then you should definitely consider including video ads.
You can display your online courses in new ways through the video format in Facebook News Feed. Make your online school's story come to life with movement and sound to grab attention quickly.
The same stands for YouTube videos. You can have an attractive presentation of your online courses and school, without worrying about hiring a video production company.
Do you really have the budget to spend hundreds, even thousands, of dollars on a few seconds of good footage? Do you even have the time to spare or the proper equipment and people needed to produce your own high-quality videos?
Luckily, there is now an abundance of tools and resources to create attractive new videos filled with your brand messages, as well as an ever-growing community of videographers dedicated to offering great stock photos for downloading, royalty-free music, and video stock footage.
To make it easier for you to produce engaging and popular videos to promote your online courses, we've put together in this article a list of the best websites for paid and free stock video clips for both personal and commercial projects that can help you bring your ideas to life with great video content! Listed below in alphabetical order 🙂
Free Stock Video Footage
Apart from royalty-free videos, many of these free stock video sites offer premium and pro plans also for commercial purposes, make sure to check their pricing plans out as well.
The videos on Artgrid can be used for personal or commercial use and can be downloaded unlimited times.
Canva has a large collection of free stock video footage built right in, making it easy to add video clips to social media posts.
Clip Canvas has a variety of free videos under a variety of categories
Coverr offers thousands of free, high-quality videos that have been downloaded more than 5 million times
CuteStockFootage offers a lot of clips and shots for your video & sound projects
Dareful offers thousands of free stock videos for personal and commercial use.
Distill provides curated HD video free for personal and commercial use with no requirement for attribution.
Flickr creative commons provides videos that have been uploaded to Flickr by its users and are licensed under Creative Commons.
Foca provides free photos, videos, and templates for commercial use to use in websites, projects, print materials, social posts, and more.
Free Nature Stock offers 4K and HD nature stock videos, completely free to use in both commercial and personal projects.
Isorepublic offers a small, but vibrant collection of over 130 of the best royalty-free stock video footage clips. for personal or commercial projects.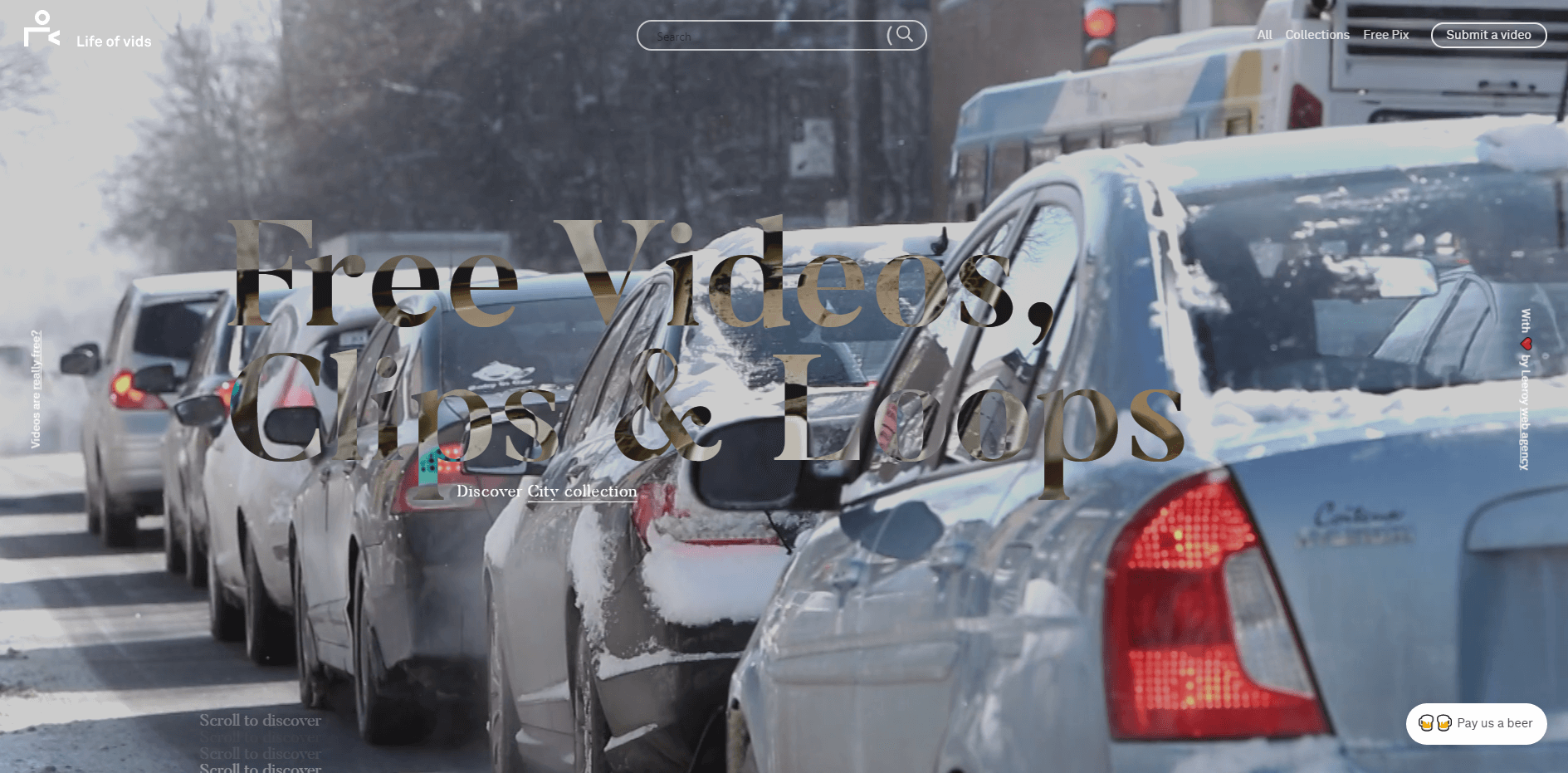 The Life of Vids website has a huge collection of free stock videos that you can use for any purpose. Their only restriction is that users can distribute no more than 10 videos on other websites.
Mazwai provides approximately 300 videos in HD & 4K quality, selected by their staff of professional video producers.
MixKit provides a variety of royalty-free videos as well as free music and sound effects that you can use in your videos.
Motion Array provides stock video footage, Premiere Pro and After Effects templates, and royalty-free music.
MotionElements offers over 2 million 4K stock footage, HD clips, and animated backgrounds for your video editing.
Motion Places is a free stock footage website with HD videos of places around the world in 1080p.
Nature Stock Videos offers free nature stock footage in 4K UHD quality to use for both private and commercial use.
OrangeHD offers nearly twenty pages of video content available for download. Each video includes a short description and details about its quality, duration, and size.
Pexels provides a great collection of free videos, even in 4K quality, and images that don't require any attribution to the creator or site.
Pikwizard offers high-quality, free stock videos, royalty-free and suitable for commercial use, with no attribution required.
Pixabay provides royalty-free, high-resolution, free stock videos that can be used commercially without attribution.
Pond5 offers over 20 million video clips, many of which are free.
ProductionCrate provides full HD FX stock videos in all kinds of content categories, including explosions, fire, anime, creatures, horror, muzzle flashes, etc.
Splitshire provides many free stock videos in a plethora of categories, such as animals, cinemagraphs, automotive, food, technology, nature, people, etc.
The Tanuri experiment offers free videos organized into categories that must be credited under Creative Commons 3.0.
Videezy offers royalty-free footage for personal and commercial use, but users are asked to credit 'Videezy.com' in their projects.
Vievo offers an extensive collection of HD and 4K stock footage videos, with the requirement that creators be credited.
Vidsplay provides over 300 videos, available in 1080p HD and some available in 4k resolution, with new videos added on a weekly basis.
X Stock Video offers a nice collection of broadly categorized free videos to download.
Since YouTube allows video creators to set their videos to be used for creative commons purposes, when searching for videos, you can filter the results to only display creative commons videos.
Paid Stock Video Footage
123RF offers a comprehensive collection of more than 100 million creative works including videos organized into various categories.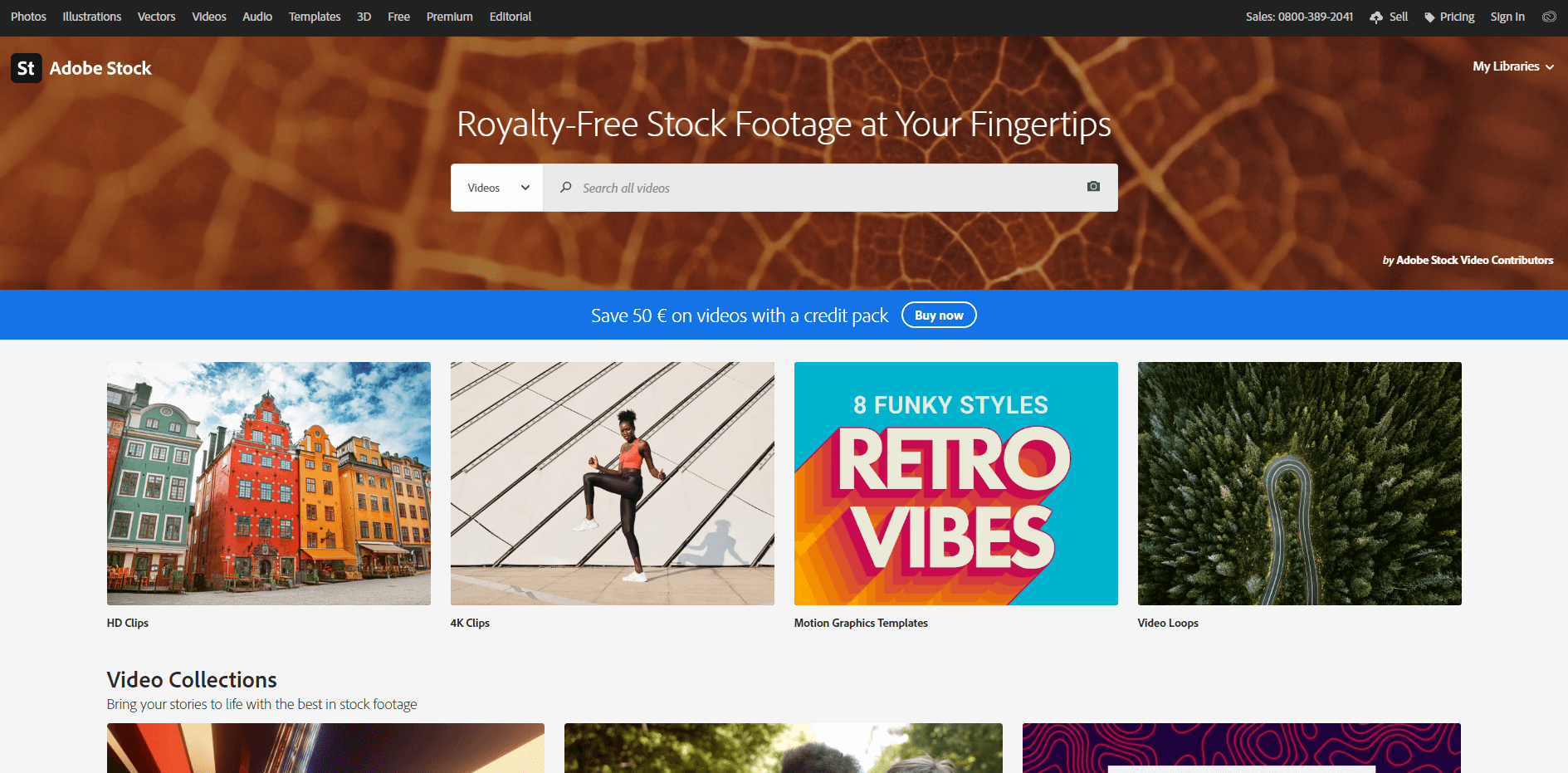 Adobe Stock provides royalty-free videos in HD and 4K resolution, including motion graphics templates and video loops.
Bigstock contains a vast collection of video stock footage arranged in categories, that you can also search using keywords.
Clipstill has a very decent collection of free cinemagraphs.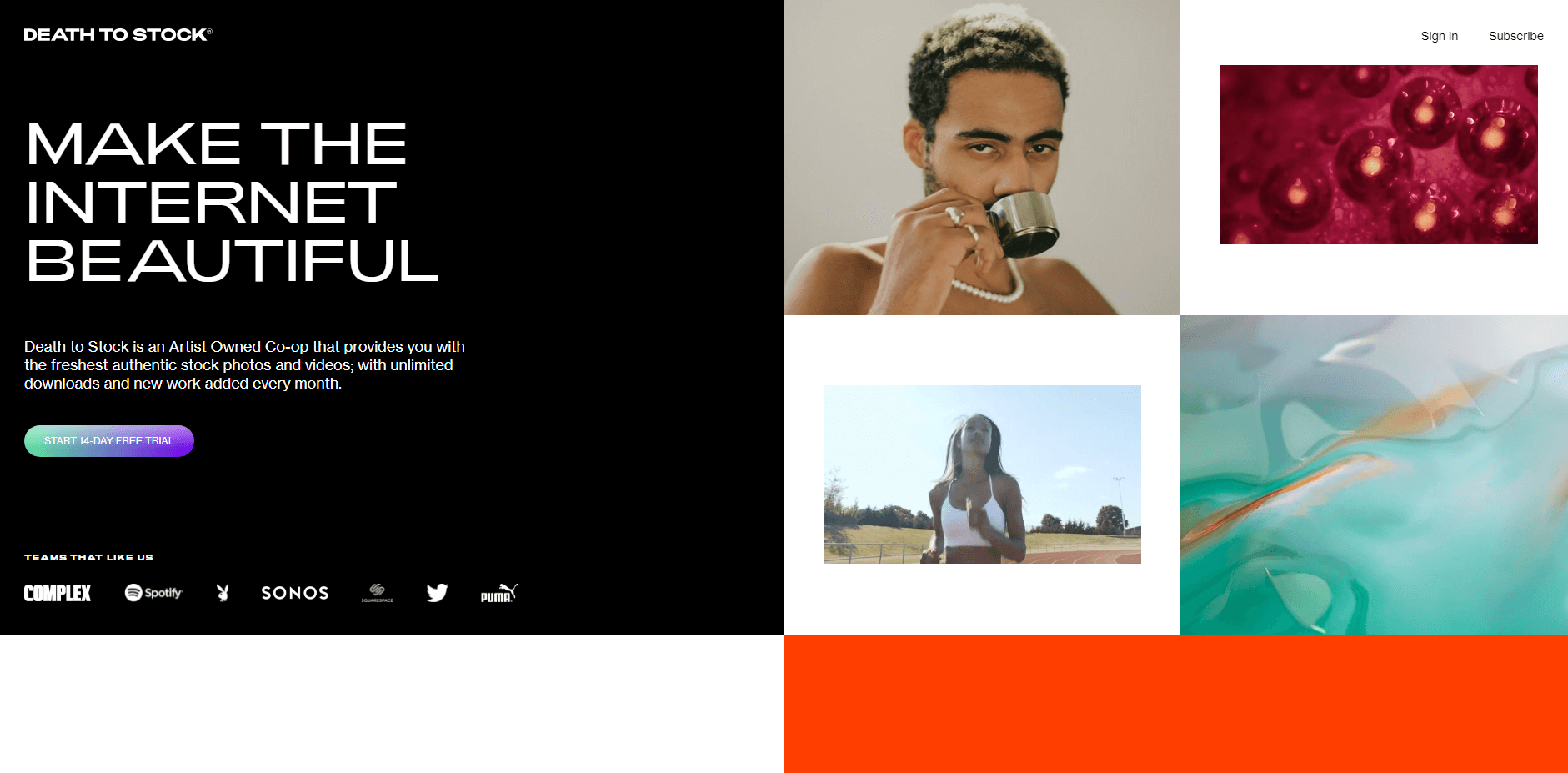 Death to Stock is an Artist Owned Co-op that offers a selection of fresh and authentic stock photos and videos. New work is added every month.
Dissolve provides high-quality footage for use in any video, with more than 1.3M stock videos to choose from.
Dreamstine provides a bog collection of professionally produced royalty-free video footage.
Envato Elements provides unlimited downloads of 55+ million creative assets, which range from stock photos and video clips to time-lapse videos.
iStock provides exclusive royalty-free 4K, HD (High Definition), and SD (Standard Definition) stock videos.
OpenFootage.net provides HDRI panorama, time-lapse, textures, 3dscan, smoke fire footage, and panorama photography videos.
Shutterstock provides high-quality licensed videos in 4K and HD formats that you can buy and use for your personal and business projects.
Storyblocks offers HD and 4K royalty-free videos hand-picked by industry-leading videographers for creators.
Ready to elevate the video promotions of your online school?
Make sure to search for video footage using keywords related to your e-learning course's topic when browsing these stock video footage websites. Now that you have an abundance of resources you can create attractive and engaging promotional videos to boost your online school's brand image.
So, what are you waiting for? Make your online school stand out!
(Visited 1,359 times, 3 visits today)
Rosemary is a Content Marketing Manager for the LearnWorlds team. Her mission is to improve the customer experience across all possible touchpoints through content. She has a solid background in omnichannel marketing and content writing. Her superpower is making sense out of any content mess. In her free time, she likes assembling jigsaw puzzles.