Teaching Calisthenics

to more than 40,000 users in less than a year

Tim Stevenson talks about the birth of the School of Calisthenics, its rapid growth, and the best practices in running an online school as well as in targeting the correct customers efficiently!
Don't have a School yet?
Start your Free online School Now
Create New School
Introducing
Tim Stevenson
Tim Stevenson, the co-founder of
The School of Calisthenics
, has been a strength and conditioning coach for more than 12 years, working predominantly with Paralympic athletes such as the British Paralympics team in Rio 2016. Tim started using Calisthenics to see if it would help him stabilize an unstable shoulder with history of dislocation; it didn't take long for him and his co-founder, David "Jacko" Jackson, to give birth to the School of Calisthenics, a school aiming to help people move better, get superhuman strength, and have more fun with bodyweight training.
We are targeting people that are invested in their training and want to have ownership over it.
The move to an online school on LearnWorlds generated explosive growth
An essential element of their strategy has been a relentless tweaking of the platform: they have changed the landing pages and the sales funnel multiple times, a process that is made easy by LearnWorlds' platform.
Another crucial advantage is that formatting transfers perfectly over on mobile, which is massively important as a lot of people use their service at the gym or at home following along on their phones.
Are you into a similar industry yourself?
Why LearnWorlds?
Find out why Tim and Jacko went with LearnWorlds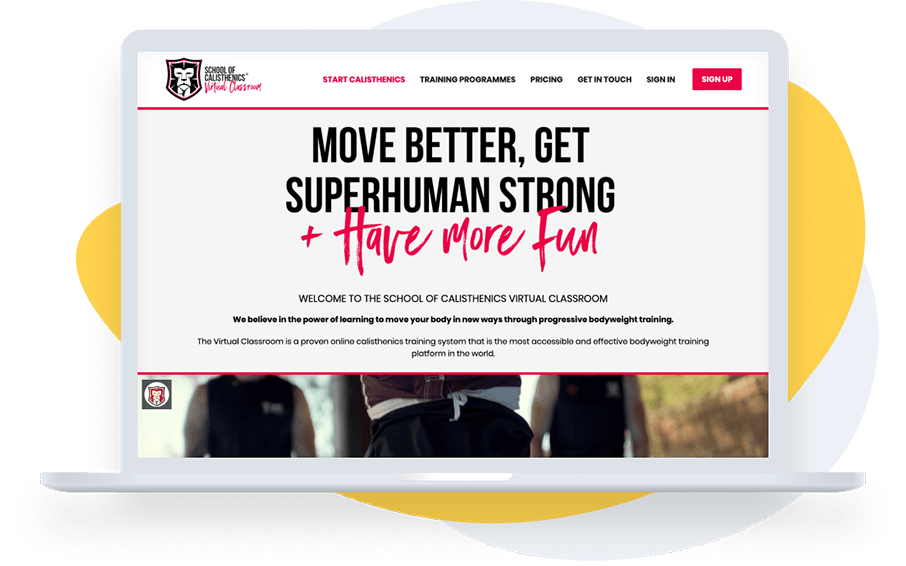 The team of the School of Calisthenics sees their collaboration with LearnWorlds
✊
❤
🎓
as an investment that has paid off 100%. They describe LearnWorlds as a complete e-learning solution for people that want to create deep, detailed courses, with features that enable effective communication in engaging ways and with a variety of different customization options about how to present content.
There is still so much more growth within LearnWorlds, especially if we start understanding more about how we can use the back-end systems, the integrations, and the plugins.
It feels like we bring users home where we can then support them in one place. LearnWorlds gives us the opportunity to gather them all together and then move them through the funnel.
Read more about...
A side-project rising through word-of-mouth
The first steps of teaching online
Growth coming from an online course
Creating great experiences for customers
Targeting the correct audience
Reaching out in the optimal way
Create your own school