Do you want to create and sell online courses but don't know where to start?
Are you passionate but also overwhelmed by all the options and don't know how to make things happen for you?
If so, this post is for you! In it, we'll introduce you to Course Masters –your go-to learning hub that makes creating and selling online courses easy, powered by LearnWorlds 🚀
Course Masters is a LearnWorlds initiative where industry-leading experts how to create and sell your courses like a pro, through a series of easy-to-digest and practical Masterclasses.
Course Masters is a value-packed, expert-led Masterclass series where subject matter experts share their "secret sauce" of success in course creation and sales.
You will learn how to create a sales funnel, automate email marketing, improve your copywriting skills, and much more!
At the moment, LearnWorlds brings together 7 subject matter experts, with more to come in the future:
Mari Smith – Premier Facebook Marketing Expert
Andrea Vahl – Facebook & Instagram Ads Expert
Steven Lewis – Copywriting Expert
Rachel Reclam – Instructional Designer
Sarah Cordiner – Course Creation Expert
Talia Wolf – Conversion Optimization Expert
Jeanne Jennings – Email Marketing Expert
Ready to learn more as a course creator and join a community of like-minded individuals?
Make sure to visit Course Masters often, since we intend to make it a vibrant source of learning.
*Course Masters is the evolution of Just Launch It! (JLI) All workshops, challenges, and courses you had signed up for are still accessible from your profile page.
**If you already have an account on JLI , you can sign in with the same credentials. If you can't remember your password, you can easily reset it.
(Visited 224 times, 1 visits today)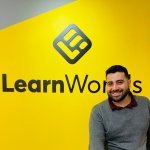 Nick Malekos is a Senior Digital Marketer in LearnWorlds. He is a results based and well-rounded Digital Marketer with years of experience in the education industry, writer and digital literacy trainer.