LearnWorlds VS MightyNetworks
Choosing the right platform to build and grow your business in the creator economy is not an easy task to perform on your own. In the following article, we're comparing two popular platforms for course creators - LearnWorlds and MightyNetworks - to help you choose the right one for you.
Ready to scale your school's success?
Get started with LearnWorlds, free for 30 days.
What does LearnWorlds do?
LearnWorlds is a digital-first training platform that enables you to create scalable digital academies with built-in authoring, development and marketing tools.
What does MightyNetworks do?
MightyNetworks is an online platform that allows you to build a digital community, sell memberships and offer online courses to your audience.
Let's compare LearnWorlds and MightyNetworks capabilities in these areas
Key takeaways
An online training platform like
LearnWorlds
is the right choice if you want to:
Create online courses and other types of digital goods

, like subscriptions and memberships.

Build a fully branded website for your knowledge business

with zero coding and maximum customization capabilities.

Set up a digital academy end to end

, where users can consume your content and interact with each other.

Own a full-blown mobile app

that is in sync with your digital academy.

Take advantage of integrated marketing and sales tools

to generate revenue and grow your knowledge business without the need of third-party apps.
A community building platform, like
MightyNetworks
, will be a good fit for you only if:
You are mostly interested in building a community

where you can monetize your expertise.

You can afford the extra costs of the apps

that you'll need to promote your membership site.

You are not interested in creating and selling online courses

but you could experiment with a basic online course tool.

You can bear with limited customization capabilities

when it comes to creating landing pages and websites.
Enjoy a platform designed for knowledge entrepreneurs
LearnWorlds is a purpose-built platform for creating and selling online courses and other types of knowledge products. As soon as you join LearnWorlds, you reap the benefits of a powerful authoring tool where you can
easily turn pieces of content into engaging courses
with a built-in content management kit.
Your courses can be built around any type of content, like videos, live sessions, eBooks, simple text, audio files, and surveys. That way you can
create a learning path for your users
filled with a wide range of content types that keeps them engaged with your digital academy.
MightyNetworks, on the other hand, is a community building platform that has recently added online course functionality to their stack. For MightyNetworks, a course is a series of lessons where you can add your content, like videos, text, and live sessions.
If creating a simple video course to offer to your community is all you're looking for, then MightyNetworks might get the job done for you. But if you're looking for
a complete authoring tool
that will enable you to edit your videos, add interactive elements to your content, and
boost your digital academy with top-notch assessment tools
, then you will definitely need to choose LearnWorlds.
| Course creation | | MightyNetworks |
| --- | --- | --- |
| Online Courses | | |
| Memberships | | |
| Live Classes with Zoom | | |
| Unlimited video hosting | | |
| Built-in Content Editor | | |
| SCORM & HTML5 | | |
| Assessment | | |
| Quizzes | | |
| Certificates | | |
| Gradebooks | | |
| Questionbanks | | |
| Text / File Assignments | | |
Bottom line: With MightyNetworks you can sell memberships and offer online courses to the members of your community. LearnWorlds equips you with the most advanced authoring and assessment tools to create engaging lessons and learning activities right on the platform.
Let us take care of your online academy, end-to-end.
Both LearnWorlds and MightyNetworks offer a no-code website builder to help you easily create a hosting environment for your knowledge products. To set up your website,
LearnWorlds offers more than 400 ready-made templates and widgets
that are fully customizable, so you have limitless options to make your website speak your brand.
For more advanced customization, LearnWorlds enables you to put your coding skills forward and edit any element of your website with
a built-in HTML code editor
. However, if coding is not your cup of tea, you can use a template, change colors and typography, and add logos and widgets - your website will still look sleek with zero development effort.
Building a website with MightyNetworks, though, is fundamentally different. MightyNetworks websites resemble online communities, like Facebook groups, which works fine if your goal is to build a community. What you might find as a downside is the customization options that you'll have, both for building a website and for creating landing pages to highlight a course, an offer, or a new product.
With MightyNetworks, your choices are limited to a couple of templates which you can enhance by adding images, videos, logos, and CTAs. On the other hand, LearnWorlds not only supports full white labeling for your website but also enables you to create a blog to engage your audience and SEO-friendly pages to be easily discoverable by search engines.
MightyNetworks

Branding

Limited

Page templates & widgets

400+

2

Advanced Device Authoring

Adjust how your school looks based on user's device

Student Profiles

Allow your students to see core metrics about their interaction with your school

User Roles

Advanced

Limited

Custom code editor

Advanced

Site Flavors

Create an alternative version of your school's site in just a few clicks

Communities
Testimonials & Quotes
Bottom line: With LearnWorlds, you can build a scalable digital academy from scratch with a drag and drop editor and have a website, landing pages, blogs, and communities - all in one place. You can use ready-made templates, add interactive widgets or custom HTML code and get a fully-branded website with minimal effort. MightyNetworks gives you two different templates for your online community, and you can edit colors and add logos for your branding.
Stop the guesswork, and focus on growing your knowledge business
Does more courses mean more revenue? Absolutely not! Any course creator could just roll out a high volume of content and try to monetize it, but quantity is not the secret here. The most successful course creators made a fortune out of a single course that simply spoke to the hearts of a profitable audience. But how would you know how your courses resonate with your audience without the help of deep analytics?
LearnWorlds' Reporting and Analytics offer you
deep insights into your courses, content, and user progress
, so you can constantly improve and gain more customers. Everything you need to drive business growth is outlined through
state-of-the-art graphs and visualizations
that allow you to easily understand the peaks and valleys of your business without an analyst degree.
For example, you can see your most engaging courses, your best learning activities, and key metrics about your students' interaction with your school. All these pieces of data are presented in a structured manner and can be easily exported, so you can share them with your team or use them in your own systems.
On the other hand, if you're mostly interested in community analytics, like member activity and post engagement, then MightyNetworks will come in handy. You can easily view active users, comments and post activity over time and use this data to grow your community and increase revenue.
However, if you want to dig deeper in the nitty gritty of your digital academy, like video analytics, user progress reporting, or course insights, then LearnWorlds is the place for you.
| | | MightyNetworks |
| --- | --- | --- |
| User Engagement | | |
| Course Insights | | |
| Video Analytics | | |
| User Progress | | |
| Assessments & Grades | | |
| Sales & Affiliates Reports | | |
| Automated School Reports | | |
As a LearnWorlds customer says:
'The data we can pull from our courses is above and beyond. LearnWorlds has given us everything we need to create innovative, engaging online courses that people LOVE taking.'
Bottom line: LearnWorlds Analytics provides you with reports on your learners' behavior and school performance right on your dashboard, so you can keep growing your business and providing educational excellence to your audience. MightyNetworks gives you deep analytics on your members' activity, how they interact within your community, as well as performance metrics of your community's posts.
Get up and running with Mobile Learning, code-free.
With the LearnWorlds Mobile App Builder, you can
create your own white-labeled app
for both iOS and Android, at an extra fee, and take your business mobile.
Setting up your app is quite easy, as you can leverage the click-and-edit visual builder functionality to bring your brand to life, without a line of code needed. Also, you can keep your course curriculum consistent without feeling overwhelmed.
Your school's content is automatically synchronized
with your web school's one at once.
The Mobile App Builder comes packed with awesome features to boost your business and enhance student engagement. You can harness the power of
push notifications
to keep your users engaged and prompt them to take action. You can also provide learners with a quick and easy way to purchase your online courses via
in-app purchases
and supercharge your school's growth.
MightyNetworks also comes with a native mobile app for your community that is available with their highest plan. Their mobile app has everything in place, like push notifications and in-app purchases and it can also be used in offline mode, enabling users to consume content even when they're offline.
| | | MightyNetworks |
| --- | --- | --- |
| White-labeled app | | |
| Push notifications | | |
| In-app purchases | | |
| Offline mode | | |
Bottom line: Both LearnWorlds and MightyNetworks enable you to own a fully branded mobile app and have complete control over it without coding skills. The key difference here is that with LearnWorlds, the mobile app is offered at an extra fee, while with MightyNetworks it is included in their custom solution package, where pricing is not publicly available.
A marketing stack, purpose-built for your academy
LearnWorlds comes packed with a marketing stack that is built to work together with your online academy seamlessly. You can
easily create unlimited landing pages, pop-ups, and forms
, so you'll never miss an opportunity to turn visitors into leads.
LearnWorlds' integrated marketing tools can be easily used no matter how far you are with marketing and demand generation. From creating an 1-click sales funnel to promoting an offer and working with affiliates, you have plenty of options to unleash the marketing beast inside you without getting lost. Here at LearnWorlds we know that producing top-quality content is overwhelming and sometimes marketing can fall behind. For this reason, we've built tools that will make earning revenue as easy as ABC.
MightyNetworks allows you to create landing pages, subscriptions, memberships, and courses and build a team of ambassadors to promote your community and products. However, sales and marketing enablement with MightyNetworks falls a bit short, as it misses key features on the eCommerce side.
If you think that lack of built-in marketing tools is a snag, then you should also know that you can only connect MightyNetworks with other tools through Zapier, as it also misses native integrations with third-party apps.
As for payment flexibility,
LearnWords supports Stripe, Paypal, Shopify, Apple Pay, Google Pay, Klarna, and 5 local payment gateways
that are popular in large markets across the world. MightyNetworks supports only Stripe and Paypal, which are the major payment processors in the world.
MightyNetworks

SEO-ready pages
Offers & Coupons
Pop-up messages
Sales Funnel
Global Payment Gateways
Stripe
PayPal
Shopify
PagSeguro
Apple Pay
Google Pay
Klarna
Stripe
PayPal
Local Payment Gateways
iDeal (Netherlands)
Bancontact (Belgium)
Giropay (Germany)
Przelewy24 (Poland)
Sofort (6 EU countries)
Email Notifications
Email Campaigns

Integration with Mailchimp, Active Campaign, AWeber, ConvertKit
Bottom line: When it comes to marketing and selling your courses, LearnWorlds offers you many advanced built-in tools within your digital academy to help you build your brand and expand your audience. MightyNetworks lacks many built-in features for marketing and sales enablement. However, you can use Zapier to connect your community with other third-party apps.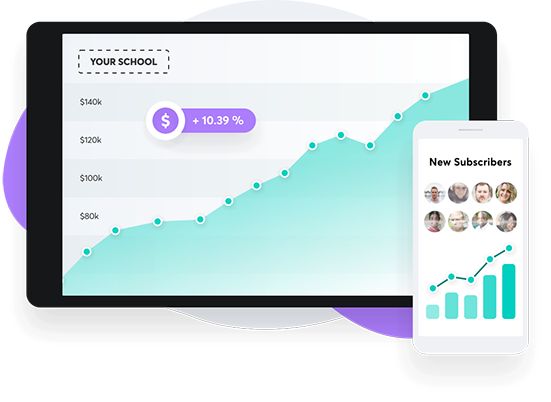 Keep using the tools you know and love
With LearnWorlds, you can
build an ecosystem of third-party apps
that you can't live without via integrations. LearnWorlds offers
more than 30 native integrations
with the most popular tools for email marketing (MailChimp, Active Campaign, etc.), CRM, tax management, video calls, webinars including Zoom, HubSpot, and Zapier.
For custom integrations, LearnWorlds has
the most extended and complete API
amongst online training platforms, with 54 API calls and 15 webhooks - you can embed any event that occurs within your academy, in your own system.
To connect your MightyNetworks website with a third-party app, you will need to use Zapier as until now, MightyNetworks does not support native integrations.
| | | MightyNetworks |
| --- | --- | --- |
| Integrations | 31 + | |
| Zaps on Zapier | 4,000 + | 2,000 |
| API | 54 calls | |
| Webhooks | 15 | |
Bottom line: LearnWorlds supports a wide range of premium integrations with third-party apps that play perfectly with your online academy. With MightyNetworks, native integrations are not in place yet, but you can use Zapier to connect with the other tools that you use.

Compare pricing
Now that you have seen the main differences between LearnWorlds vs. MightyNetworks, let's compare the pricing to give you a better understanding of where it's worth investing your money.
Low Plan

Middle Plan

High Plan

LearnWorlds

Save up to 20%
with annual plans

$29/mo

Starter

$99/mo

Pro Trainer

$299/mo

Learning Center

MightyNetworks

$39/mo

Community

$119/mo

Business

Custom

Mighty Pro
Both platforms offer different plans to choose from and a free trial to allow you to test the grounds. MightyNetworks' has 2 pre-packaged plans and a custom solution for individuals with advanced needs.

LearnWorlds offers 3 plans, and you can also request a tailor-made solution after discussing with our sales team. All these options make it easy for you to start with a low plan and upgrade as your business scales and new needs emerge.

So, which is the right platform if you're looking for building and scaling a digital academy with advanced customization and authoring tools? Let's do a recap:


LearnWorlds makes it possible for online course creators to:
Deliver a stellar learning experience with interactive courses

Build branded websites, blogs, and communities

Create interactive videos and eBooks directly within the platform

Increase revenue with built-in marketing and sales tools

Own a full-featured native mobile app for your school, code-free

Enhance collaboration with your team

Optimize your school's performance with in-depth insights into your courses and users.
MightyNetworks is a perfect fit for:
Creating an online community or a membership site

Increasing peer-to-peer interaction with built-in social tools

Offering simple courses to your community members, paid or free

Building a native mobile app with zero coding skills
Are you a hands-on person when it comes to choosing your next business tool?
Just try it! LearnWorlds offers a 30-day free trial, giving you the chance to see firsthand and real-time how you can scale your own online business.
LearnWorlds is the best course sales software that provide the students with on time courses an manages the issues related to course handling. It has a demo that can make the user to feel easy in working.
- Ayesha Nasee
I took a long time for me to find a great platform for my online schools. LearnWorlds is a robust platform that is very easy to use and setup and it is also affordable for those that are just getting started.
- D'Andrea Bolden Ministries
The TEAM behind LearnWorld is what makes the difference and the support they offer.
- Ariane G
I am in love with this platform and I would never change them for another. I feel cared for by the amazing support team that know my name, my work, my problems and needs. They offered me the attention and personalized tips. All that gave a big boost to my online school.
- Teya B.
LearnWorlds will soon be recognised as the GLOBAL authority in online teaching... they stand out above the rest and their promises are REAL.
- AAW
The confidence I've gained in my business is priceless. No matter what issue I might have with my platform, the LearnWorlds Support Squad has my answer. When they say "customer service is their #1 goal" they truly mean it. I've never been disappointed.
- Missy C.
I have used few others providers and wasn't satisfied until I found LearnWorlds. They have all the tools and easy to use interface to build your online school.
- Jonas K.
I'd like to say that the support that we've been getting from LW since I got to know the platform is, until this moment, without any doubts one of the best customer services that I've experienced.
- Samir A.
Extremely easy to use their in house video hosting platform, so there's no need to get a platform like vimeo which ultimately saves you money.
- Kenneth John
I can recommend LearnWorlds as a great tool to manage an online course, academy, accelerator or anything similar. The platform works well and has many adjustable features. The support is super fast and always helpful! 5/5
- Alona Belinska
LearnWorlds is likely the most interactive learning system I have encountered. Thanks to greatly integrated video functionalities, gamification and personal notes/library there are immense opportunities to enhance the learning experience by creating engaging content.
- Epp Krusenvald
Before I committed, I decided to contact every elearning platform but honestly, no one beats what they offer. They are always on top of things and all the best features are always being added. The creators are so amazing, I can tell they work so so hard!
- Corine C.
Easy to use, good support from the team (very responsive) and costs less than many course platforms
- Tany Williams
I was looking at maybe 5-7 different platforms before I decided to go with LearnWorlds. It is easy to use (intuitive) and there are the features that you need. I am happy I found it!
- Martin B.
Definitely the best option on the market after an extended research I made. I like to compare my options before making a purchase and LW was the clear winner. The amazing, friendly and well trained support team that replies withing a few minutes is what I find also extremely impressive about LW.
- Teya Bozhilova