Launch your academy &
Save up to

269

for 6 months
Launch your academy &
Save up to

269

for 6 months
Get the offer
Live Event
June 27th
June 27th
Register now
Register now
LearnWorlds VS Teachable
Choosing the right platform to build and grow your business in the creator economy is not an easy task to perform on your own. In the following article, we're comparing two popular platforms for course creators - LearnWorlds and Teachable - to help you choose the right platform for you.
Ready to scale your school's success?
Get started with LearnWorlds, free for 30 days.

What does LearnWorlds do?
With features that allow you to set up an entire school and enhance it with powerful courses, LearnWorlds is the go-to solution for seasoned professionals that need full control of their online business.
What does Teachable do?
Teachable is an easy-to-use platform and a popular solution amongst solopreneurs, bloggers, and creators that want to start sharing their expertise and make money online.
Compare pricing
Low Plan
Middle Plan
High Plan
Mobile Plan
LearnWorlds
Save up to 20% with annual plans
$239/mo
Branded Mobile Apps
Starting January 1st, 2023, Teachable raised its prices and now requires existing clients to switch to the new pricing structure by August 1st. Additionally, Teachable has introduced product limits across most of their plans: 1 course for the low tier, 5 courses for the mid-tier, and 50 courses for the high tier.
Starting January 1st, 2023, Teachable raised its prices and now requires existing clients to switch to the new pricing structure by August 1st. Additionally, Teachable has introduced product limits across most of their plans: 1 course for the low tier, 5 courses for the mid-tier, and 50 courses for the high tier.
Both platforms offer a discount on annual plans and with LearnWorlds you can try the platform
free for 30 days,
while Teachable has a free plan to help you get started.
LearnWorlds plans start from as low as $ 29/mo and offer you more customization capabilities, so you can both have a white-label solution and deliver an engaging learning experience to your audience.
While both platforms have some similar features, the decision has to do with how far you want your online school to grow.
With an unbeatable Site Builder, interactive Courses, advanced Assessment features, insightful Analytics and fully blown Mobile apps,
LearnWorlds offers the most advanced tools in the market for online course creators and coaches that need to scale and transform their business.
Here's what LearnWorlds makes possible for online course creators like you:
Create unlimited courses and landing pages
Build professional websites, blogs and communities
Make your videos and eBooks interactive and engaging
Strengthen your brand with full white-labeling
Own a fully-blown mobile app
Enhance collaboration with your team
Optimize your school's performance with deep insights into your courses and users
All these come with:
Premium, top-class support and customer onboarding
Integrations with 40+ premium apps
A stable and secure platform that will support your goals on the road to success
Create Interactive Courses
Both LearnWorlds and Teachable enable you to easily upload your content and turn it into digital products (e.g. courses, bundles).
LearnWorlds allows you to create engaging courses by adding interactive elements to your content. For example, you can
enhance your videos
with questions, pointers, image overlays, logos, text, and automatically
extract your video transcripts
so that your content is accessible to anyone. All these tools are available within the platform to save tons of time from post-production.
Teachable's course builder supports all kinds of content like videos, eBooks, and text, but it is quite limited in interactive elements and customization. If you need advanced customization for your courses, like live classes or forms, then you have to edit the course's HTML.
With LearnWorlds, you get all these functionalities without having to write a single line of code, making it the perfect solution for individuals that want to
build powerful and engaging courses with zero coding effort.
| Course creation | | Teachable |
| --- | --- | --- |
| Unlimited Courses & Pages | | |
| Live Classes with Zoom | | |
| Interactive Videos | | |
| Interactive eBooks & Videos | | |
| Automatic Video Transcription | | |
| SCORM & HTML5 | | |
| Assessment | | |
| --- | --- | --- |
| Exams | | |
| Question types | 16 | 2 |
| Certificates | All plans | Higher plans |
| Gradebooks | | |
| Questionbanks | | |
| Text / File Assignments | | |
| Video/Audio Assignments | | |
| Self-assessments | | |
Key takeaway:
Course creation with Teachable is easy but customization is limited. You have to add HTML code blocks if, for example, you want to embed a form in your courses or host a live session. With LearnWorlds, on the other hand, you can make your content interactive and customize your courses with just a few clicks and zero coding effort. LearnWorlds also wins on the learning experience, as it provides an interactive course player that allows your students to add notes or highlight text, and also offers a set of powerful assessment tools.
Build professional websites
With LearnWorlds' drag and drop builder, you can
build a landing page or even an entire school.
You can customize your elements on the front-end, add footers and headers, dynamic text, and icons that make your website look professional.
Also, you can choose from
400+ templates and widgets
for your website and pages, so you won't have to worry about your design skills. For advanced editing, LearnWorlds allows you to
edit the HTML code
of your website with any plan that you choose.
Building your website with Teachable is easy, but customization is limited. The platform offers a single template that you can edit only by using HTML, so you might need a developer to build your website the way you want, if you're not familiar with coding. To quote a Teachable's customer in their review,
'If you want to change the whole experience, you should hire a designer to work on some code.'
Another downside for Teachable is that you're not allowed to create a community for your students. LearnWorlds, on the other side, offers you an exclusive
built-in social network feature
, where everyone enrolled in your course can get a public profile. Students can interact with each other and post questions within your community, so they are always in the loop with your school.
Teachable

White-labelling

Full

Limited

Page templates & widgets

400+

9

1

Multiple after-login pages
Sign-up approval
WordPress SSO Plugin
User Roles

Advanced

Basic

Interactive Community

Advanced Device Authoring

Adjust how your school looks based on user's device

Editable HTML

Site Flavors

Create an alternative version of your school's site in just a few clicks.
Key takeaway:
Teachable's website builder is simple to use but offers limited customization features. LearnWorlds, on the other hand, enables you to easily create your website with built-in templates, manage sections with a few clicks and build interactive communities for your students.
Market & Sell your expertise
For many creators, building a course is all fun and games. Making people aware of and paying for your course is where the battle begins. Both LearnWorlds and Teachable offer built-in tools -like offers, landing pages, coupons, and funnels- to help creators market and sell their expertise.
With LearnWorlds,
all your school's pages are SEO-ready
which means that when you publish a page on your website, it gets automatically indexed on Google and Bing. This enables you to boost organic traffic to your website and sell more courses without spending all your budget on ads.
LearnWorlds has the most powerful
Form Builder
to help you capture leads, gather feedback from your audience and even cross-sell physical products. Offering
16 different question types, powerful file upload, webcam capture, tagging based on answers, easy customization, Zapier triggers, URL redirection,
and a
rich template library,
LearnWorlds Form Builder enables you to discover everything you want to know about your students. Kajabi also allows you to create forms but the functionality is limited to gathering information from your contacts.
To help you sell courses anywhere, LearnWorlds offers 9 global and local payment gateways, including Stripe, Paypal, and Pagseguro. Teachable, on the other hand, supports payments only through Stripe and Paypal.
Teachable

SEO-friendly pages
Offers & Coupons
Form builder
Survey builder

Qualification surveys

Collect additional user information like demographics and interest, post sign-up

Funnels
Global Payment Gateways
Stripe
PayPal
Shopify
PagSeguro
Stripe
PayPal
Local Payment Gateways
iDeal (Netherlands)
Bancontact (Belgium)
Giropay (Germany)
Przelewy24 (Poland)
Sofort (6 EU countries)
Email Notifications
Key takeaway:
If you're interested in tools that will help you grow organic traffic, offer flexible payment options, and scale your school faster , then LearnWorlds is a better fit for you. On the other hand, if you're just starting with online courses, then Teachable will get the job done for you efficiently.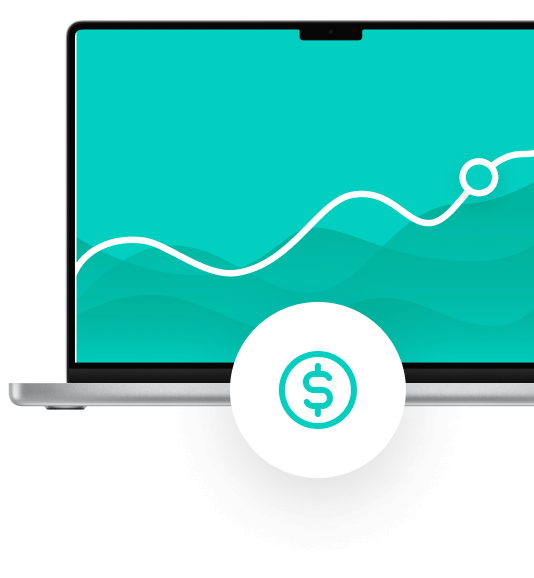 Measure Success & Optimize
Tracking how your customers use your products enables you to see what works for your school and what doesn't, so you can constantly improve your offering and grow.
LearnWorlds is packed with
advanced built-in analytics tools
that help you monitor user progress and course usage at any time, right on your dashboard.
Through the
LearnWorlds Reports Center
, you can answer the most important questions about your school like:
Which are the most engaging courses?
How quickly are your users progressing?
Which users are inactive, so it's worth following up with them?
Which are your best selling products?
What is the revenue per instructor/affiliate?
LearnWorlds also makes it possible to create and share automated reports with your team or stakeholders at a time of your choice, so you can keep everyone updated on how your school is performing.
Teachable offers built-in reports like course completion, student and video reports, but you won't dig deep in your school's performance with these.
| | | Teachable |
| --- | --- | --- |
| User Engagement | | |
| Course Insights | | |
| Video Analytics | Advanced | Basic |
| User Progress | | |
| Assessments & Grades | | |
| Sales Analytics | | |
"The data we can pull from our courses is above and beyond. Learnworlds has given us everything we need to create innovative, engaging online courses that people LOVE taking."
Alicia S.
Key takeaway:
With LearnWorlds, you can deep dive in your learners' experience with state-of-the-art insights and visualizations. This way, you can make informed decisions to successfully optimize your school and scale your business. Teachable analytics lets you keep an eye on what's happening in your school, but you might need an external tool for deeper analysis.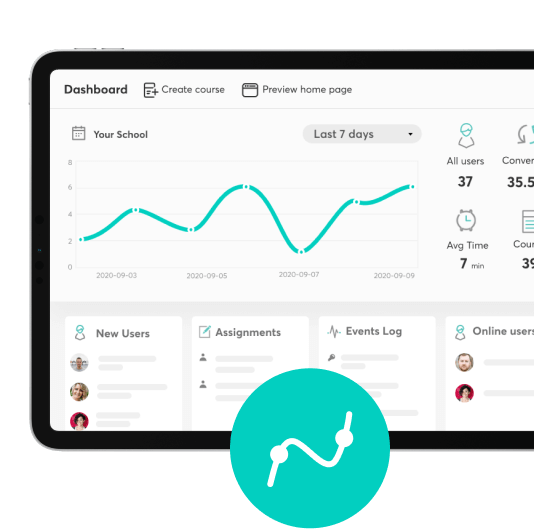 Build a Mobile App
LearnWorlds' Mobile App Builder enables you to
create your own white-labeled app
for both iOS and Android at an extra fee, and take your business mobile. Setting up your app is quite easy, as you can leverage the click-and-edit visual builder functionality to bring your brand to life without a line of code needed.
The Mobile App Builder comes packed with awesome features like
push notifications and in-app purchases
, to boost your business and enhance your students' engagement. Also, you can keep your course curriculum consistent without feeling overwhelmed.
Your school's content is automatically synchronized
for your school's web and mobile versions at once.
On the other hand, LearnWorlds comes with its distinctive Mobile App Builder, enabling you to
create your own white-labeled app
for both iOS and Android, at an extra fee, and take your business mobile.
On the other hand, Teachable doesn't offer a native mobile app builder. Your users can access your school only through Teachable's branded mobile app, available for iOS. This comes with major downsides. Chances are that your students are not aware that your school is built on Teachable, so they will not search for it on the App Store, thus they may ignore the mobile version of your school. Also, every time your users access your courses through Teachable, they may be exposed to your competitors.
| | | Teachable |
| --- | --- | --- |
| White-labeled app | | |
| Push notifications | | |
| In-app purchases | | |
| Customization | | |
| Offline mode | | |
Key takeaway:
LearnWorlds enables you to own a fully-branded native mobile app and have full control over it without any coding skills. Teachable allows your users to access your content through the Teachable app, with all the risks that come with it.
Integrate with powerful tools
Both LearnWorlds and Teachable offer integrations with third-party apps so you can connect your online school with your favorite tools.
LearnWorlds has
built-in integrations with 30+ apps
, including MailChimp, HubSpot, ActiveCampaign, Zapier, Quaderno, and Zendesk, while Teachable supports integration with 8 apps, like Mailchimp, ConvertKit and Circle.
Both platforms support Webhooks to allow you connect with other apps, and also an API. LearnWorlds recently launched the most extended API in the eLearning industry with 54 calls and countless data waiting to be transmitted to your organization's back-end tech stack (and vice versa!).
| | | Teachable |
| --- | --- | --- |
| Integrations | 40 | 8 |
| Zaps on Zapier | 4,000+ | |
| API | 54 Calls | |
| Webhooks | 15 | 17 |
Key takeaway:
LearnWorlds offers a wide range of tools to help you connect with other apps and systems, so you can easily build your eLearning powerhouse without limitations.
Are you a hands-on person when it comes to choosing your next business tool?
Just try it! LearnWorlds offers a 30-day free trial, giving you the chance to see firsthand and real-time how you can scale your own online business.
LearnWorlds is the best course sales software that provide the students with on time courses an manages the issues related to course handling. It has a demo that can make the user to feel easy in working.
- Ayesha Nasee
I took a long time for me to find a great platform for my online schools. LearnWorlds is a robust platform that is very easy to use and setup and it is also affordable for those that are just getting started.
- D'Andrea Bolden Ministries
The TEAM behind LearnWorld is what makes the difference and the support they offer.
- Ariane G
I am in love with this platform and I would never change them for another. I feel cared for by the amazing support team that know my name, my work, my problems and needs. They offered me the attention and personalized tips. All that gave a big boost to my online school.
- Teya B.
LearnWorlds will soon be recognised as the GLOBAL authority in online teaching... they stand out above the rest and their promises are REAL.
- AAW
The confidence I've gained in my business is priceless. No matter what issue I might have with my platform, the LearnWorlds Support Squad has my answer. When they say "customer service is their #1 goal" they truly mean it. I've never been disappointed.
- Missy C.
I have used few others providers and wasn't satisfied until I found LearnWorlds. They have all the tools and easy to use interface to build your online school.
- Jonas K.
I'd like to say that the support that we've been getting from LW since I got to know the platform is, until this moment, without any doubts one of the best customer services that I've experienced.
- Samir A.
Extremely easy to use their in house video hosting platform, so there's no need to get a platform like vimeo which ultimately saves you money.
- Kenneth John
I can recommend LearnWorlds as a great tool to manage an online course, academy, accelerator or anything similar. The platform works well and has many adjustable features. The support is super fast and always helpful! 5/5
- Alona Belinska
LearnWorlds is likely the most interactive learning system I have encountered. Thanks to greatly integrated video functionalities, gamification and personal notes/library there are immense opportunities to enhance the learning experience by creating engaging content.
- Epp Krusenvald
Before I committed, I decided to contact every elearning platform but honestly, no one beats what they offer. They are always on top of things and all the best features are always being added. The creators are so amazing, I can tell they work so so hard!
- Corine C.
Easy to use, good support from the team (very responsive) and costs less than many course platforms
- Tany Williams
I was looking at maybe 5-7 different platforms before I decided to go with LearnWorlds. It is easy to use (intuitive) and there are the features that you need. I am happy I found it!
- Martin B.
Definitely the best option on the market after an extended research I made. I like to compare my options before making a purchase and LW was the clear winner. The amazing, friendly and well trained support team that replies withing a few minutes is what I find also extremely impressive about LW.
- Teya Bozhilova