Launch your academy &
Save up to

269

for 6 months
Launch your academy &
Save up to

269

for 6 months
Get the offer
Live Event
June 27th
June 27th
Register now
Register now
LearnWorlds VS Thinkific
Choosing the right platform to build and grow your business in the creator economy is not an easy task to perform on your own. In the following article, we're comparing two popular platforms for course creators - LearnWorlds and Thinkific - to help you choose the right platform for you.
Ready to scale your school's success?
Get started with LearnWorlds, free for 30 days.

What does LearnWorlds do?
Built from the ground up as a fully customizable platform, LearnWorlds enables you to build professional schools and mobile apps, create and sell interactive courses, enhance your brand and earn more revenue with a secure and trustworthy platform.
What does Thinkific do?
Thinkific allows entrepreneurs to create, market, and sell online courses. Setting up a school is easy, making Thinkific a good fit for individuals just starting with online course creation. From organizing your content to selling it online, Thinkific has all the basics in place.
Create Interactive Courses
Both LearnWorlds and Thinkific offer features that make it quick and easy to create an online course. Thinkific allows you to follow a simplistic process where you can just upload content of any form, and then your course is ready to be published. LearnWorlds has an intuitive course builder that enables you to upload raw content and make it a stellar course with built-in tools. You can add interactive elements in your ebooks and videos, automatically extract transcripts and create different types of assessments, to capture students' attention and boost engagement.
| Course creation | | Thinkific |
| --- | --- | --- |
| Unlimited Courses & Pages | | |
| Live Classes with Zoom | | |
| 1-1 & Group sessions | | |
| Interactive Videos & eBooks | | |
| Quizzes | | |
| Automatic Video Transcription | | |
| SCORM & HTML5 | | Only HTML5 |
| Private Courses | | |
| Copyright Protection | | |
| Assessment | | |
| --- | --- | --- |
| Exams | | |
| Question types | 16 | 2 |
| Certificates | | |
| Gradebooks | | |
| Questionbanks | | |
| Text / File Assignments | | |
| Video/Audio Assignments | | |
| Self-assessments | | |
Key takeaway:
While Thinkific's course builder is easy to use and helps you get started quickly, LearnWorlds gives you limitless capabilities to customize your content, make it interactive and accessible to anyone, and offer an engaging experience to your learners.
Build professional websites
Building a website to host and promote your content is a time-consuming task for most course creators. Similar to creating courses, Thinkific's website builder is easy and straightforward but lacks customization features. LearnWorlds enables you to create a fully-branded, customizable website with 400+ different templates and multiple interactive elements that make your school look professional and modern.
Thinkific

White-labelling
Page templates

400+

10

Multiple after-login pages
WordPress SSO Plugin

Student Info Sections

Allows your students to see core metrics about their interaction with your school.

Custom Code Editor
User Roles

Advanced

Basic

Site Flavors

Create an alternative version of your school's site in just a few clicks.

Interactive Community

Built-in social network

Only posts and comments

Testimonials & Quotes
Calendars & Countdown timers
Key takeaway:
If you need to build a professional website that effectively communicates your brand and highlights your products, LearnWorlds is the right option to go.
Measure Success & Optimize
Tracking user engagement at your courses, school and communities are fundamental to the success of your business. Information like the number of enrollments and partial feedback is not enough for making decisions that affect your growth. Thinkific allows you to monitor metrics like number of sign-ins, enrollments, course completion rates, and course reviews. LearnWorlds is unbeatable when it comes to tracking user engagement, as the built-in Reporting Tools empower you to monitor 21 different data points about user progress and get the complete picture of your school's performance. Also, the Reports Center makes it easy for you to manage, visualize and export user and course insights data with just a few clicks.
| | | Thinkific |
| --- | --- | --- |
| User Progress | | |
| Course Insights | | |
| Video Analytics | | |
| Visualizations | | |
| Data Export | | |
| Scheduled reports | | |
"The data we can pull from our courses is above and beyond. Learnworlds has given us everything we need to create innovative, engaging online courses that people LOVE taking."
Alicia S.
Key takeaway:
If you need deep insights into your school's performance and make more informed decisions, then LearnWorlds is the right option for you. For basic reporting and monitoring, Thinkific gives you some options but these cannot provide the intelligence you need to scale your business.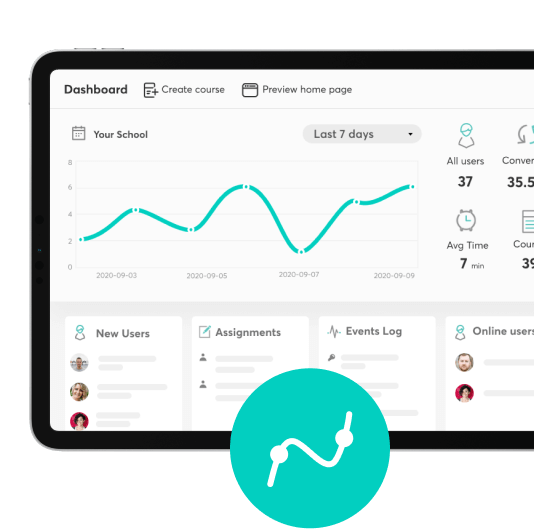 Build a Mobile App
As soon as you have your school up and running, you may consider giving it an edge. And what would be more edgy than a mobile app? With LearnWorlds Mobile App Builder you can create a mobile version of your school for iOS and Android with zero coding skills and maximum branding capabilities. Managing and maintaining your online business is as easy as it gets with real time synchronization between your online school and your mobile app. Do you need to upload a new course or edit an existing one? These changes will automatically reflect to your mobile app, so that your courses are always updated no matter the platform that they're offered.
Here are 5 ways that the LearnWorlds Mobile App Builder empowers you to go mobile while streamlining your workflow:
Create 100% white-label and customizable mobile apps
Automatically synchronize your course content
Send push notifications to your learners
Increase revenue with in-app purchases
Manage your app easily and code-free
On the other hand, Thinkific does not offer a mobile app builder. If you need a mobile app for your school, you either turn to a solution provider like LearnWorlds or you can outsource it to a developer, which will cost you a huge amount of money.
| | | Thinkific |
| --- | --- | --- |
| White-labeled app | | |
| Push notifications | | |
| In-app purchases | | |
| Customization | | |
| Offline mode | | |
Key takeaway:
LearnWorlds offers the most intuitive builder for creating your mobile app without any coding skills. Thinkific does not include a mobile app functionality - it only gives you a website and courses that are mobile responsive.
Integrate with powerful tools
Building and managing an ecosystem of tools that will support your school to grow is one of the most important challenges for online creators. Both platforms offer a wide range of integrations with third-party software to help your business run smoothly and grow fast.
The downside for Thinkific is that all premium integrations like Zapier and ActiveCampaign are available with the Growth Add-on, which is an extra 'plan' on top of your subscription - so this is where things get pricey and complicated. With LearnWorlds, you can integrate your school with HubSpot, Zapier, Mailchimp, Freshdesk, ConvertKit, Google Analytics, and many more apps even if you are subscribed to the low plans (Basic & Pro Trainer).
| | | Thinkific |
| --- | --- | --- |
| Integrations | 40 | 59 |
| Zaps on Zapier | 4,000 + | |
| API | 54 calls | |
| Webhooks | 15 | |
Key takeaway:
LearnWorlds supports a wide range of premium integrations with third-party apps, even in low-tier plans. With Thinkific, you can integrate your online school with other software, but the premium integrations come with their higher plans, making them a less affordable option.
Market & Sell courses
As soon as your online school is ready, you'll need to start spreading the word out and getting revenue. Both platforms offer tools to help you market and sell your courses like memberships, discounts, and SEO-friendly pages. With LearnWorlds though, you can build 1-click Sales Funnels in order to remove friction from your checkout process so that you'll never lose a customer again. Regarding payments, LearnWorlds offers more global and local gateways to help you expand your audience. On the other hand, Thinkific has a built-in tool for payment processing, but it will cost you more as they charge fees per transaction.
Thinkific

SEO-friendly pages
1-click Sales Funnel
Payment Gateways
Stripe
PayPal
Shopify
PagSeguro
Stripe
PayPal
NPS surveys

Qualification surveys

Collect additional user information like demographics and interest, post sign-up

Local Payment Gateways
iDeal (Netherlands)
Bancontact (Belgium)
Giropay (Germany)
Przelewy24 (Poland)
Sofort (6 EU countries)
Forms & Surveys
Pop-ups
Memberships & bundles
Affiliates
Sales Analytics
Key takeaway:
While both platforms do not offer a full marketing suite, LearnWorlds makes conversion rate optimization easier and offers multiple payment gateway options so that you can expand your reach globally.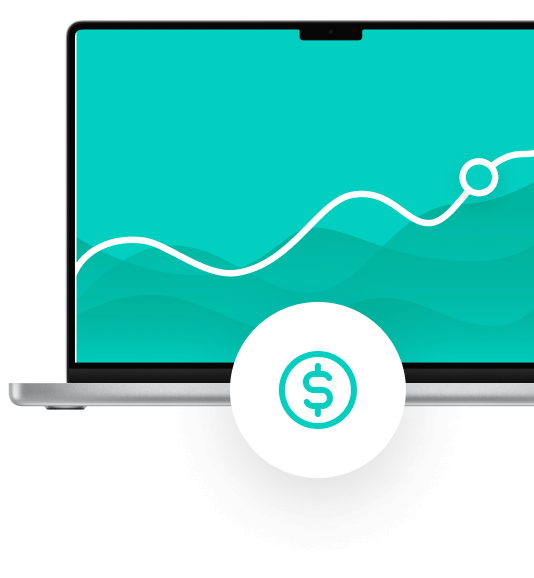 Compare pricing
Now that you have seen the major differences between LearnWorlds vs. Thinkific, let's talk about pricing so you can see where it's worth investing your money.
Low Plan
Middle Plan
High Plan
LearnWorlds
Save up to 20% with annual plans
Although it seems like Thinkific is a cheaper alternative to LearnWorlds,
the plans are not comparable
in terms of the features they include and the value they bring to the user. Now, let's compare LearnWorlds' and Thinkific's higher-tier plans on critical areas of building up an academy to help you better understand the cost-effectiveness of each solution:
| | | Thinkific |
| --- | --- | --- |
| Admins | 5 Admins & 20 Custom User Roles | 2 |
| Support | Dedicated Customer Success Team | Phone/ Priority Email Support |
| Onboarding | Premium Onboarding | |
| Assessments | Advanced Assessments | Assignments |
| Multiple seats | | |
| Interactive courses | | |
| SCORMs | | |
| Marketing automations | | |
| iOS & Android app | extra fee | |
LearnWorlds makes possible for online course creators like you to:
Create unlimited courses and landing pages to highlight your school's offering
Build professional and powerful websites and blogs
Strengthen your brand with full white- labeling
Optimize your school's performance with deep insights into your courses and users
Enhance collaboration with your team
Make your videos interactive and engaging
All these come with:
Premium, top-class 24/7 support and onboarding
Integrations with 40+ premium software platforms
4,000 Zaps on Zapier
A stable and secure platform that will support your goals on the road to success
Still confused about which platform is the right one for you?
Just try it! LearnWorlds offers a 30-day free trial so you see how our platform empowers course creators to scale their online business.
LearnWorlds is the best course sales software that provide the students with on time courses an manages the issues related to course handling. It has a demo that can make the user to feel easy in working.
- Ayesha Nasee
I took a long time for me to find a great platform for my online schools. LearnWorlds is a robust platform that is very easy to use and setup and it is also affordable for those that are just getting started.
- D'Andrea Bolden Ministries
The TEAM behind LearnWorld is what makes the difference and the support they offer.
- Ariane G
I am in love with this platform and I would never change them for another. I feel cared for by the amazing support team that know my name, my work, my problems and needs. They offered me the attention and personalized tips. All that gave a big boost to my online school.
- Teya B.
LearnWorlds will soon be recognised as the GLOBAL authority in online teaching... they stand out above the rest and their promises are REAL.
- AAW
The confidence I've gained in my business is priceless. No matter what issue I might have with my platform, the LearnWorlds Support Squad has my answer. When they say "customer service is their #1 goal" they truly mean it. I've never been disappointed.
- Missy C.
I have used few others providers and wasn't satisfied until I found LearnWorlds. They have all the tools and easy to use interface to build your online school.
- Jonas K.
I'd like to say that the support that we've been getting from LW since I got to know the platform is, until this moment, without any doubts one of the best customer services that I've experienced.
- Samir A.
Extremely easy to use their in house video hosting platform, so there's no need to get a platform like vimeo which ultimately saves you money.
- Kenneth John
I can recommend LearnWorlds as a great tool to manage an online course, academy, accelerator or anything similar. The platform works well and has many adjustable features. The support is super fast and always helpful! 5/5
- Alona Belinska
LearnWorlds is likely the most interactive learning system I have encountered. Thanks to greatly integrated video functionalities, gamification and personal notes/library there are immense opportunities to enhance the learning experience by creating engaging content.
- Epp Krusenvald
Before I committed, I decided to contact every elearning platform but honestly, no one beats what they offer. They are always on top of things and all the best features are always being added. The creators are so amazing, I can tell they work so so hard!
- Corine C.
Easy to use, good support from the team (very responsive) and costs less than many course platforms
- Tany Williams
I was looking at maybe 5-7 different platforms before I decided to go with LearnWorlds. It is easy to use (intuitive) and there are the features that you need. I am happy I found it!
- Martin B.
Definitely the best option on the market after an extended research I made. I like to compare my options before making a purchase and LW was the clear winner. The amazing, friendly and well trained support team that replies withing a few minutes is what I find also extremely impressive about LW.
- Teya Bozhilova