"Michael's alarm rings at 8 a.m. He hits the snooze button. He was up late last night chatting with friends about his new research project on feeding newborn chicks. He also has an assignment about Little Prince to finish today. By the time he gets up, everyone has left home. He takes a comfortable seat in the kitchen and connects to his school's site to see the latest comments on the project. He feels excited about what this upcoming real-life problem in maths will be. He has to go through his teachers' slideshow presentations and read the instructions carefully. He will discuss the problem with his classmates through Zoom, then they'll use Google Docs to show each other the steps they'll take and comment on ideas."
The above scenario is based on a kid's life who has transferred from traditional to virtual schooling. There were several reasons he quit public school to attend virtual schooling from home.
The commute to the school required a long bus ride, and the school didn't provide the quality of education Michael and his parents wanted. So they decided that this school year, he would be homeschooled with the assistance of virtual classes.
A virtual school is a school that offers its courses online. These schools involve more than an online curriculum and submitting assignments until a specific due date. They offer real interactions with teachers and students at the other end. Sometimes, students even go to a classroom to log on from school-owned computers or do field trips and other activities.
Virtual schools are a reality in most states in the U.S. Virtual schooling options include both online public schools and private ones, and they range from K-12 virtual schools to higher education. They're also gaining popularity in other countries as a means of alternative education.
Because of its ubiquitous nature, virtual education transcends the boundaries of traditional country-by-country or state-by-state educational management. Virtual schools are dispersed, with a large variety of types of students. They also scramble the traditional ways the traditional system holds schools accountable because of their innovative character.
Virtual schools may have grown in popularity during the pandemic, but data shows that virtual school enrollments kept climbing in 2021-2022. This indicates that online schools are not a trend or a last resort but a new mode of schooling that is here to stay.
Here are some examples of virtual schools to visit:
Public online school programs are taught by certified faculty members, many of which are specialized in online teaching. As such, students get to attend the curriculum instructed by the U.S. Department of Education.
Let's see some reasons why many students choose to attend a virtual school vs. a brick-and-mortar one.
They save time
Virtual schools save time because of the lack of commuting and because they allow students more flexibility in setting their day-to-day schedules. Students can progress at their own pace and manage their course load more effectively as the course curriculum adapts to their unique needs and performance. Virtual high schools, for example, offer students more time to study. Students can also use the SharePoint calendar in Outlook to be in the know of any upcoming classes, school events, etc, giving them the space to plan their day.
Parents can set a daily routine and cultivate a safe learning environment for their children. Also, many families feel that educating their children at home can be extremely rewarding. Parents feel they're more involved in the educational process and enjoy witnessing moments when students understand a new concept.
They offer custom learning
Apart from offering flexibility in terms of time, virtual schools are also flexible with learning material, as students can experience personalized learning with custom-tailored coursework. Students can build their preferred curriculum by choosing among electives
In that case, if a kid is gifted, they can be kept engaged with many collaborative assignments and extracurricular activities. On the other hand, if a kid needs more time to elaborate on some things, they're given the appropriate time and attention.
They are more suitable for some kids
For some private school or public school students, it is easier to learn from home than in-person. Virtual schools are more attentive to student needs, especially those with physical or mental disabilities (even minor ones). Accessibility issues are often raised in typical mortar schools, where not every student receives the same high-quality education. Some school districts are also known to be harsher than others, with incidents like bullying making the lives of some students especially hard.
Children from military families that are frequently on the move benefit from not having to continuously switch schools. Younger children especially need a sense of stability, and virtual schools for elementary school students can offer that. Children who are actors or athletes also find it easier to attend a virtual school, with distance learning saving them a tremendous amount of time and offering them the flexibility to build their study schedule around their activities.
They support lifelong learning
Many who haven't finished high school and want to get an actual diploma while still working full-time choose to attend a virtual academy to continue their studies without having to step back into the classroom.
What are the Disadvantages of Virtual Schools?
Despite the many perks, virtual schooling may not be for everyone. Keep in mind the following limitations when considering this option.
They require self-discipline
Virtual schools require that students have a certain degree of self-discipline, which is a rather unrealistic expectation for elementary and middle school students. For some kids, the lack of supervision may amount to too much freedom, making them fall behind without anyone telling them.
They require active involvement from the parents
Following up on the previous point, parents may have to be more involved in their children's education if they attend an online school. Although helping the children when they study is pretty standard, when a younger child needs to join an online class, parents might need to be present to help them log in or even to ensure they'll attend.
They don't promote social skills as effectively
It's also true that virtual schools don't cultivate social skills to the same degree as physical schools. Although there's some level of interaction, it's one thing to interact online or during scheduled activities and under the teacher's supervision and another to interact and play during school breaks.
It is clear that both online and traditional education have their perks. So, it seems like we need to get the best of both worlds. Blended learning is a new type of learning that is becoming increasingly popular. In blended learning environments, students experience a combination of online tutoring and offline, face-to-face interactions with teachers and students.
If your child is highly self-motivated and knows how to regulate their learning – and you have logical reasons to prevent them from going to your local school or homeschooling them – then, yes, online schooling is what you are looking for.
If you go for a virtual school, make sure that your kid has an adequate social life and that online learning won't isolate or limit their social-emotional development. Remember that learning is mostly a social act, and a single computer cannot provide everything a kid needs to learn to grow up.
In any case, do your research. Be a selective customer, and before you make a decision, contact a school counselor, and ask as many questions as possible before choosing the right school for your kid.
If you're an educator, teacher, or school director and want to create a virtual school with endless possibilities, you don't have to go any further than LearnWorlds.
LearnWorlds provides everything you need to create an exceptional e-Learning environment. Here, we will showcase some LearnWorlds features (but there are many to discover on your own!)
Backed up with the ability to create online courses with its course authoring tools, LearnWorlds allows you to add any activity type you like including PDFs, ebooks, audio, video, HTML5, exams, and embedded content in the online classes. Moreover, it does this in a way that makes everything interactive. For instance, you can make videos interactive and let learners interact with elements on the screen.
LearnWorlds also enables you to create eBooks where learners can highlight the text, make notes, add stars, or comment on social media for a particular part of the text. The platform also enables you to have your very own community page right within your online school.
Here are some further readings to learn more about all these great features:
Also, in LearnWorlds, you can conduct instant live classes through webinars right from your school without you having to go with an external webinar platform.
LearnWorlds Assessment and Form Builders allow you to create exams exactly how you want them, with a variety of question types, arrange them in sections and present them on one page or one at a time, grade learners easily with an advanced gradebook, provide feedback and track students' progress seamlessly.
In the same way, you can create any page that either has to offer more to your current students, helps to get new ones on board your virtual school, or serves a specific goal you want to achieve:
About us page
Course landing page
Thank you page
Subscription pages
Unique promotions page
Blog page
Testimonial page
Sign up for the 30-day free trial and give LearnWorlds a spin to experience all its amazing features.
Based on the above, it seems like virtual schools and online education will become more prevalent in the future and dominate as an alternative form of formal or informal education. There is an increase in the number of entrepreneurs who visualize and design new innovative Virtual Schools. If you are one of them, this blog is the right place to start!
Do your research and find out the best option among the e-Learning platforms to start creating your Online School.
FAQs
Homeschooling vs. Online School: What's the Difference?
Homeschooling and attending an online school are not the same at all. An online school shares the same core characteristics as a physical school, like a standard curriculum and real-time classes with a certified teacher, and all the classes are held online.
In homeschooling, the parent or another caregiver is responsible for providing the kid/student with the learning material and teaching and monitoring the student's progress.
Virtual School vs. Physical School: What's the Best?
Both options have their pros and cons.
A virtual school offers more pace, scheduling, and curriculum flexibility. In many cases, it offers higher-quality education, as the curriculum adjusts to the student's performance, and each learner receives individual attention from their teacher. Plus, it provides a safe environment that doesn't enable bullying or physical aggression. On the downside, online schooling falls behind in social interactions among students, requiring more self-discipline than a brick-and-mortar school.
A physical school is interactive and promotes direct communication and collaboration. Students learn valuable social skills, and, in most cases, they assimilate the information faster. On the other hand, students lack personalized attention. The physical school also requires students to attend following a strict schedule and with an inflexible curriculum.
Why Virtual School is Better?
Virtual school is better under specific circumstances. For example, some students need to have the flexibility to study at their own pace and from their own homes. Others, such as students performing extraordinarily well or needing to move at a slower pace, need a customized curriculum and personalized attention from their teachers, respectively.
(Visited 1,563 times, 1 visits today)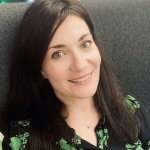 Androniki is a Content Writer at LearnWorlds sharing Instructional Design and marketing tips. With solid experience in B2B writing and technical translation, she is passionate about learning and spreading knowledge. She is also an aspiring yogi, a book nerd, and a talented transponster.