Are you wondering how to start an online school? It's easy. Follow the steps in this guide to launch a profitable online school effortless and on budget.
Starting an online academy in 2021 can mark the beginning of an exciting journey. With online learning becoming more widespread every year, online courses are offering an easy and accessible way for everyone to learn a new skill and an opportunity to invest in knowledge.
But being able to transmit that knowledge in the best way possible, is a skill on its own. Education is a wonderful gift and should always come in a beautifully-wrapped package ready to be delivered to learners – regardless if these are called students or employees.
Just like elearning coach Connie Malamed says:
One of the most important areas we can develop as professionals is competence in accessing and sharing knowledge.
And, what better way is there to access and spread your know-how than building an online academy that offers it so generously?
Start an Online School in 10 Steps
With the plethora of online learning platforms and learning management systems (LMS), out there, today it's easy to build your own online school.
However, each one comes with its own features, tools, and capabilities, and it's important to choose the one that is customized to your needs.
Using a state-of-the-art online learning platform like LearnWorlds ensures that you are offering all the social and learning features that will make your academy the must-go learning destination in your industry.
Consider this article as a checklist for building your online school, and go through the following steps to help you out.
Step 1: Your School's Branding and Website
First off, start building a website that will host your online school. A landing page is the first page your website visitors will 'land on', so it makes sense to begin from there.
While working on it, make sure to invest in your brand identity. Add your logo, change the colors of the theme you are using and the fonts.
The LearnWorlds page builder is doing an amazing job on this since it offers the ability to personalize your website within minutes, without the need for any technical or coding skills.
Here's how to use LearnWorlds for your school's website:
Choosing a unique website template
On the page builder, you will find a rich collection of templates to choose from and customize as you see fit. Selecting and editing yours is super easy and feels like editing a Microsoft Word's or a Mac's pages file!
With this handy tool, you can get creative with the colors of your brand and the logo to create a landing page that is customized to your personal or professional brand, message, and audience.
Also, you can use it to choose the right font that suits the style you want to create for your academy.
Choosing the right templates, especially for the header image, is crucial because it is a make-it-or-break-it move. If your landing page can't entice your site visitors to read your content within a matter of seconds, then they will reach immediately for the X button and the opportunity is lost.
Completing the look of your website
Apart from a landing page, the pages builder can help you create any other type of page that needs to go into your school's website. This is the ''About Us'' page – which can be used to introduce your brand, and the ''Thank You'' page – which appears after course purchase and can help you get your message(s) across effectively.
In the same way, you can create any page that either has to offer more to your current students, helps to get new ones onboard your academy or serves a specific goal you want to achieve.
For example:
Subscription Pages: Need to showcase your online courses or school subscriptions? Then, choose a template that you like and focus on presenting the information they need to get about them.
Unique Promotions: Want to promote special offers or coupons? Create a call-to-action button that has a high conversion potential and you are good to go!
Blog: Share useful information and create a 'buzz' around your academy? Build a blog or create an ebook to educate your audience and promote your online classes.
Testimonial Page: Tell others what your students are saying about your courses? Easy. You can create a customer testimonials page!
For some more advanced customizations, you can also customize the CSS code and customize each course's player to create a unique experience.
As you can see, with the LearnWorlds page builder, possibilities are endless and there is no need for spending money on expensive tools, hosting and maintenance to set up your school's website.
With it, you have all you need to create the most stunning pages and fill them with videos, images, text styles or even embed and mirror external content! In short, we have you covered.
Step 2: Develop Your First Online Course
Once you have your website up and running, it's time to get some learning content on there.
All you need to come up with your own is finding a profitable idea for a course and then working on that idea to create elearning content. Prefer to choose a subject that you are passionate and knowledgeable about or is relevant to the industry of your business.
Creating the content on the subject of your first course requires setting your learning objectives and then building a course outline that helps to guide the learning process.
Creating a course outline
In order to create a course outline, you will need to divide the course curriculum into main topics and sub-topics. Set the course sections apart by the level of difficulty, a specific pedagogical approach, or any other category you prefer.
It might help to brainstorm ideas on how to teach the subject, research the literature, or search the web and look at what others in relevant topics are doing.
Choosing your learning method
Decide on a learning method or a blended approach you want to follow and stick with it. This will define the type of content and activities, as well as the format of your whole academy, since it's not just about the course, but about the space that your teaching is taking place.
Remember that learning does not happen in a social vacuum, but rather in a social environment with multiple variables. Besides, this is what a successful online academy is all about.
Learning online and especially in an ecosystem which is part of your website has several interactions that you can take into account or leverage. This includes social activities, group study or instructor feedback through messages or email.
Uploading your first course
If you have already prepared training material on the subject – video, text documents or blog posts, you are one step ahead as you can reuse your content into the course. However, if you are creating new content from scratch, our step-by-step guide on how to create online courses can give you the best guidelines.
Once you have prepared your learning material, you can upload them on the LearnWorlds platform by following our quick instructions below:
Click on the "Create Course" button and go through the course creation process.
Give a catchy title to the course, select a user-friendly URL for it, select the type of access for the course and choose an image that goes with it. And that's it.
Then, you are ready to start editing the course layout:
And adding your content and learning activities section by section:
Depending on the kind of learning, training or coaching you will be doing, you will probably use a variety of learning activities. The most common learning activities on courses are ebooks, PDFs, video and audio lessons. You can complement these with educational quizzes, exams or certificates.
Adding the learning material
Putting all of this into practice means thinking about how you can use the learning materials and the tools you have in your inventory in the most engaging way. This should help to create an enhanced learning experience for your students.
a) Elearning Video
Video is a powerful tool for delivering online education. It is a vehicle of communication that increases student participation. When using the right video editing equipment, and choosing its place carefully, a video can do wonders.
Insert a short 1-2 minute intro video to your course, and you will see the difference.
With LearnWorlds, you can create interactive videos while adding interactive elements and activities – like captions, inside them. Try them out to avoid boring content and offer something unique!
b) Text Document & Ebook
The most commonly used medium for delivering education online and offline is the written word. While the video might be popular and considered high-value, many people prefer to read.
Text documents are much easier to produce, they allow more knowledge to be retained and are more familiar to us since childhood. They may take the form of educational leaflets, guides, reports, case studies or any material you have used before in offline training.
PDF is the best format to use for your Word documents, or you can spice them up using the LearnWorlds' Ebook Authoring Tool to create a web-friendly ebook.
By using LearnWorlds interactive ebook, your students will be able to highlight parts of the text, take notes and star important sections.
Regardless of what you choose to add, you can adjust the teaching environment and output to suit the needs of the course subject.
For example:
Is your teaching approach self-paced and learners can access the learning materials in their own time? Wonderful, then you can drip your content to your learners week by week and guide them with pre-recorded videos, audio logs, and informational ebooks.
Are you offering coaching? Then, you can run a live webinar at your school.
Is there a certificate of completion, or an examination? Awesome! Your students can also showcase their new knowledge.
What's great about creating courses this way, is that it gives you the ability to add whichever elements you want inside your course to make it as unique as it can be and centered around the learning needs of your students.
Step 3: The Tools and Integrations You Need
Every business has an essential tool-set to help them manage different aspects of it, automate repetitive tasks or improve their productivity.
LearnWorlds comes equipped with many of these tools as built-in functionalities and connects with the top software tools in the market to take care of the rest. Some of those come as direct integrations or can be connected by using Zapier.
So, what are the essential tools for an elearning business?
Email marketing software
Referral / affiliate marketing tool
Analytics software (see Step 4)
General Marketing & Sales tools (see Step 5)
Productivity apps, Zapier and others
API & Includes
Email marketing software
Email is the king of marketing software for the web and each business owner or marketer likes to use their favourite email marketing software to communicate with their students and sell online classes.
We have connected with the four most popular email marketing software: ActiveCampaign, AWeber, MailChimp and ConvertKit to make your life easier.
If you are using any other email marketing tool, chances are it integrates with LearnWorlds through a Zapier integration.
Referral & Affiliate Tool
Referral management tools are usually quite expensive and you need to test a few before you see what works for you. This is why we have created our own built-in affiliate management tool that works incredibly well for recruiting your students as affiliates to promote your courses.
Invite your students, influencers and partners to join your online school and your affiliate program and grow your education business!
To start using Affiliate Management you need to have a Pro trainer or a higher plan. Then, you simply log into your school, navigate to the "Marketing Tools" menu and you click on the "Affiliate Program".
Switch to 'On' to enable the affiliate program:
Adjust your settings by setting your own commission rate, expiration date and commission payable after duration:
And manage all of your affiliate marketing efforts through the main dashboard.
A view of the dashboard in the affiliate management tool.
Productivity apps, Zapier and others
Productivity apps is everything that makes your job easier. From a Hubspot CRM to an automation software like Zapier.
Anything that makes tedious tasks not an issue, can help you manage your business more efficiently and save you valuable time which you would otherwise spend onactivities that needed more attention.
LearnWorlds integrates with most productivity apps through a direct integration or Zapier. This way, you can automate many of the tedious tasks i.e. updating customer information in a CRM.
Create LearnWorlds Zaps to automate your repetitive workflows on the following tasks:
API, SSO & Includes
For businesses with in-house technical expertise, an API can be used for more complex connections and custom work. Whether you are looking to create a seamless transition between your website, automate tasks from an in-house software or any other tasks that cannot be achieved with a simple integration. Take a look at our API documentation here.
The API is also an essential part of the Single-Sign-On (SSO) capability, which allows you to seamlessly transition from your website's log in process to an online academy without requiring the students to log in twice with different credentials. We have also built an easy-to-implement WordPress SSO plugin to make this even easier!
Lastly, the "includes" section allows you to copy and paste any code that is required for 3rd party software to run on an online school. You can use for live-chat, tracking visitors, sending or receiving information between systems and more. You can also separate logged in from logged out users. Read more about it from here.
Step 4: Connect the Analytics and Know Your Numbers
The course content is on the site, and everything is working as it should. What's next?
Before you are ready to launch your academy, you need to set up your analytics tools. This is a crucial step to take since such tools can help you assess the overall performance of your online academy in terms of website traffic and brand exposure.
Google Analytics
Google Analytics is an industry-leading tool that allows you to monitor web traffic and can be easily integrated with your academy.
To connect Google Analytics with your school, follow these steps.
Facebook Pixel
Also, out of the many analytics and monitoring integrations, you can get with LearnWorlds is Facebook Pixel, which is another powerful tool to use. With it, you can leverage the actions people take on your website across devices to create more effective Facebook advertising campaigns.
To connect Facebook Pixel with your school, follow these steps.
Mixpanel
This is the big boy player of analytics. Mixpanel allows for more advanced tracking and analysis of users.
If you are looking to track user interactions in more detail, our Mixpanel integration will solve everything for you!
Step 5: Sales & Marketing Tools
Just like with any type of business, your online academy needs to follow a marketing plan. Adopting a marketing strategy can help to sell your online courses and gradually grow the number of your students.
These are the tools that help you sell your digital products such as online courses, online classes and online training, create offers, manage promotions and upsell to your customers. LearnWorlds comes with built-in marketing tools such as:
Bundles
Create a bundle of courses, to upsell to your customers. Sell more courses in one quick swoop and offer a great offer to your customers by grouping similar courses together into one big bundle.
For example, if you have 4 courses worth $325 in total if bought individually, you can bundle them up and offer them at the price of $150 to entice people to buy them all at once.
Here's how you can create a course bundle:
First, go to 'Marketing tools'.
And choose, 'Manage Bundles':
Click on 'Create bundle' and then another window will open up to choose the courses you want to bundle up and their price.
Promotions / Coupons
Another way to increase interest in your courses is by offering promotional coupons with or without an expiry date. Coupons can be used for special offerings, sharing with partners or loyal customers as a gift.
They are also great for discount periods, sharing them by email or in coupon sites to attract first-time customers.
To create a promotion or coupon, go to 'Marketing Tools' and choose 'Course/Bundle' Promotions.
Once a new window appears, click on 'Create course promotion'.
Then, give your promotion a name, decide the discount for it and select the courses for which the promotion will apply.
Create a coupon code by giving it a name, set the maximum number of times this coupon can be used and choose an expiration date for it. And that's it!
For more details on how to create and share promotional coupons, go through these steps.
Lead capturing
Lead captures are an excellent tool for getting people to opt-in your email list. For it to work, you need to offer the option to your school website visitors to join your email newsletter subscription.
Get them to complete an online form to opt-in and ask them to give you their contact details e.g. their name and email address, through an online form.
As an extra incentive, you can also offer a free course, ebook, a PDF document or a checklist that is related to the subject of your course and get them more interested in it.
When you come to think about it, there are tons of online marketing ideas you can try out. In the end, it's up to you which one(s) you prefer to use and works best with your target audience.
Step 6: Schedule Automated Email Notifications
Using the email as your primary channel of communication between you and your students (and customers) comes with an added advantage: Automated Email Notifications.
These are "the voice" of your school, and you can send them out to your learners whenever certain events take place in your academy.
For example, you can send an email to welcome them to your academy when they first sign up to your school, when they are enrolling in a course, or even when they complete an assignment.
Through our notification center, which is divided into 6 different sections, you can create and edit the text of the emails you want to send out.
Customizing your email notifications comes with a few handy guides. Go through them to create a dedicated message for each notification:
There is also the option to send automated emails when drip-feeding the course content. Create an email course sequence or a notification when new course sections become available and make sure to customize each email in the sequence.
Step 7: Most Important Settings of an Online Academy
Having your own online academy goes beyond building a website, a landing page, and customizing the email notifications. For it to take place, you will need tools & options that can give you absolute control, and you can find these listed in your LearnWorlds school admin menu.
On this menu, you can find various customizable settings for even the slightest detail and make the academy of your dreams a reality:
Login Settings: Add More Fields and Control Registrations
If you want to have full control of your learner accounts and the way students can sign up or log in to your school, then you have come to the right place. School owners are able to manage the login/sign-up setting as they wish through the Login settings.
Here, you can choose who can sign-up for your school and by when.
For example:
Do you want to allow the sign-up fields of the Login form once you are done with your academy setup?
Do you want to disable the sign-up field for a period of time?
Or do you want to give school access to your paid learners only?
You can do all of that! On top of that, you can choose which information you want to collect from users. Add more fields to the signup process with a tick in the appropriate box ☑.
Navigation Settings: Control the Whole Experience
With the 'Navigation Settings', you can decide which is the first page your learners will get to see once they enter the school. Also, you have the option to lock the actions of un-enrolled users inside your school or redirect users to your own website or blog.
In the same way, you can send the logged-in users directly where you want, or set your own website, blog or exit landing page as their logout destination.
This is what we call taking full control of a user's path. Neat right? 🙂
Social Settings: Monitor Your Online Community
So you have already set the access levels for school to match your academy's login terms.
Now, what if we told you that you can choose which actions your learners can take once they are in your learning community and control their level of interaction?
We have just the thing for you!
With the 'Social Settings', you have complete control over your school's interactive community. Your learners are able to chat with you and with each other about the courses and by creating groups or communicating with private messages.
Share your thoughts with all the school users or create separate discussions for each course or learning unit. Decide on the level of communication your learners can have and choose whether the discussions are going to be visible to all or to specific students or a group.
When it comes to monitoring your school and controlling your students' actions, a LearnWorlds school can save the day with its multi-layered setting capabilities.
School Language Settings: Choose Your Native Language
Every academy is different and that is how it should be. This means that you can work on your own rules and make it entirely yours.
If you want to operate your school in another language than the default English, go to your 'School Language' settings and choose the one you prefer the most.
Whether it's your native language or another foreign language you are proficient in, you can choose from seven different languages including Portuguese (Brazilian), German, Spanish, French, Greek, Italian and Dutch. You can also translate it to your own language, dialect or technical jargon!
To do this, go to 'Settings' and click on 'School language'. When the following window opens up, choose 'Load language'.
Then, choose the language you prefer from the drop-down list:
Through your 'School Language' settings, you can change the interface text of your entire academy:
Copyright Protection Settings: Secure Your Online School
If you are concerned about the privacy of your learning content like the majority of school owners, you can rest assured that you are safe with us.
LearnWorlds is the only course platform offering a built-in copyright protection functionality.
With this set of features we offer, you can protect your online content and ensure that your academy stays out of the sight of malicious intellectual property thieves.
This is done through our video and PDF watermark settings.
Through the video watermark settings, you can select to show unique identifiers on top of your videos, such as your logo, email or unique ID and prevent screen recorders from stealing your content.
Go to your school 'Settings', click 'Copyright protection' and make your changes.
While you are at it, you can choose the position of your watermark on the video:
Also, you can choose the level of security you want for your PDFs or use the PDF stamping feature which shows an identifier on top of each document such as your logo, name, email or ID.
To enable the video downloading restrictions and video watermarking for your school, go through the steps our detailed copyright protection guide suggests.
The GDPR Toolkit: Make Your School Compliant
With all the GDPR (General Data Protection Regulation) changes that took over the internet in May 2018, every online business had to take additional measures to protect the privacy rights of its customers.
For this reason, we created the LearnWorlds GDPR toolkit that offers the most comprehensive and practical solution for data privacy compliance amongst all course platforms.
With this GDPR-compliance toolkit, your school can either become fully compliant or you can choose which options you want to enable for it – depending on your business model and whether you or your users are based in the EU or not.
To do this, go to your School's 'Settings' and click on 'Privacy/GDPR'.
Then, choose which opt-in capabilities you want to enable for your school.
And see how each appears to your students.
For more details on how to make your school GDPR compliant check out our complete guide on data privacy settings.
Once you have checked and completed these steps, well done!
You have successfully customized LearnWorlds to your own branded online academy. Now you are ready to launch your academy!
Step 8: Go Live
Going live means that you make your academy publicly available to people and you start selling your courses. To do this, first, you need to connect your own domain (website) with the academy and then set up a payment gateway to accept payments.
Connecting your own domain name
They say do not judge a book by its cover but let's face it, the cover is the first thing you see on the book, so the better it looks, the more enticing its content is. Interestingly enough, the same happens to your website.
A website that owns its domain name is more inviting and trustful because it looks credible. With LearnWorlds you have the option to go fully white-label on a paid plan, to connect your website domain and enhance your branding efforts.
The white-label option can help you sell more courses or price them higher while at the same time differentiating you from the competition.
Also, having the academy on your own website e.g. YourAcademyName.com, will remove the LearnWorlds domain and give it more prestige. Just follow these instructions that guide you through the most popular hosting providers available out there, and build your own branded academy in no time.
Setting up a payment gateway
In order to set up a payment gateway for your academy, you need to upgrade to a paid plan.
Then, in order to start receiving payments, you will need to connect your academy with a payment gateway. And, we have got five for you to choose from.
These are the payment gateways that you can connect to your school:
Click on the one that works for you, follow the installation instructions and let the sales flow. 🙂
Online School Examples to Get Inspired
All of this information may be overwhelming, but if you take it piece by piece, you will be surprised to find out that building an online academy from scratch is a lot easier than you think.
You may be asking, how do we know?
Well, we believe that if you can dream it you can achieve it. And we are proof that this is true because tons of people have done it and today they are more than happy with their results.
Check out a few beautiful online academies that were built with LearnWorlds:
Industry: Health and Wellness Education
As an online academy, the WELL Learning Library manages to show how companies or teams can use their resources right away. Their short branding message 'Healthy People. Healthy Buildings' and the simple explanation that goes with it, are more than enough to do the trick and welcome visitors to their website.
On the same page, it directs site visitors through the features that the academy offers and explains how each can help them achieve results. Also, it offers the opportunity to connect with the rest of the community using clearly visible social media buttons at the bottom of the page.
Industry: Martial Arts
Less is more and this simplistic design of the Hung Kuen Kung Fu Academy is an excellent example of that. A short clip of the Kung Fu instructors accompanied by a dynamic blend of three colors – black, red and white, invites people to learn more about Kung Fu.
What you can tell with just a single scroll through the page is that for those interested in Kung Fu, the academy has a community that is diverse, friendly and inviting. And they can become part of it.
Industry: Business and Marketing
Start Social has built an awesome online school and is killing it. The logo looks smart and the whole page makes use of colors that match perfectly.
What's great about this landing page is that it reaches out to Spark users and encourages them to make the first step through an opt-in form that offers them a 50% discount coupon. Now, that is a great incentive!
CEO and Founder Wendy Thompson also introduces herself and includes a short bio explaining what Start Social can do for businesses. As you can see, getting yourself out there can work to your advantage.
Industry: Continuous Professional Education – Teacher Training
The Learning Liaisons Academy offers a great deal of information for each certification it has a course on. Its branding message is straight to the point and tells site visitors what this school is about and for whom it is built. The landing page includes testimonials and makes use of social proof the right way. Learning Liaisons take online teaching to the next level with LearnWorlds.
This is their list of courses and tests, as it appears on their academy website and gives people a range of choices to choose from.
See these? You can build your own online academy in the exact same way. Take some inspiration from them, gather your ideas, filter out the ones that don't work and start working on yours.
In the meantime, if you need more guidance we have you covered…
Check out Available Resources
Our very own LearnWorlds Academy is here to save the day and educate you on creating online courses. Whether you are looking for a course to teach you how to make a course or how to create an educational video in more detail, it is the go-to place for it.
Sign up to the LearnWorlds Academy and enroll in our online courses for free:
Also, we have a huge database of support articles on our Help Center to guide you through the process of starting your online academy, and a variety of useful elearning resources to check out:
Checklists:
Ebooks:
Go through our ebooks and checklists and download them for free, or read our large collection of articles on our blog!
Putting the work you into creating, marketing and selling your online courses, offers you the potential to make a six-figure income. Besides, everything is possible with an online teaching platform that can adapt to your learning needs and is branded as yours.
So, make sure to start your own free trial with LearnWorlds today!
Further reading you might find interesting:
(Visited 154,995 times, 139 visits today)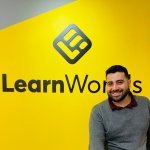 Nick Malekos is a Senior Digital Marketer in LearnWorlds. He is a results based and well-rounded Digital Marketer with years of experience in the education industry, writer and digital literacy trainer.
Kyriaki is a Content Creator for the LearnWorlds team writing about marketing and e-learning, helping course creators on their journey to create, market, and sell their online courses. Equipped with a degree in Career Guidance, she has a strong background in education management and career success. In her free time, she gets crafty and musical.