Amazon is the world's biggest online marketplace, where millions of people shop every day. With 2.45 billion monthly visits per month, Amazon is a prime destination for selling online courses.
In this article, we are going to show you step-by-step how you can sell online courses on Amazon and discuss different ways to increase your sales and become one of the top Amazon sellers in your category.
Can You Really Sell a Course on Amazon?
Yes, you can sell online courses on Amazon if you repackage them correctly. Here are some ways to repackage your course to sell it on Amazon:
Ebook

Video / Video series

Audiobook

Physical product
You cannot directly sell access codes for your course on other platforms or digital downloads as a course, but you could include an access course or discount in an ebook or physical product to additional multimedia content, assessments, and more.
Selling Courses on Amazon as Digital Products
Let's go through some digital formats you can repurpose your course for the Amazon marketplace:
Educational eBook – Amazon KDP
You can repurpose your content into an e-book format through the Kindle Direct Publishing. It's easy to self-publish to Amazon, all you need is to collect all your material and write them into a book.
You can always add a discount coupon for your full multimedia course, or link to your website / free course with further assessments to bring people back for more. It's a great upsell opportunity!
Sell Video Course with Prime Video
If your course is mostly video, you can use Amazon's Video Direct to sell, rent, or offer it for free as ad-supported. Training videos are acceptable through video direct.
However, you need to be sure that your video adheres to the guidelines of Amazon found here. You might need to edit parts of your video, or add/remove content to be compliant for an Amazon listing.
Audio Lessons as Audiobook with Audible
Did you ever consider selling your course as audio lessons?
Audible is a great way to sell audiobooks, and if you already have an ebook and a great voice, just record the audiobook and submit it for a listing to audible.
Audible titles are shown in the Amazon platform, and people already have their credit card information there.
If you don't feel comfortable recording yourself, consider hiring a voice actor for your audiobook.
P.S.: Audible is also a great place for podcasts as well.
Physical Product (Amazon FBA)
Do you think that the "old ways" don't work anymore?
There are still many who like to have a physical item over a digital one. Whether it's because of its collection appeal or feeling a better emotional collection, it might open up a whole new market with less effort than you imagine.
CD / DVDs
Prepare a few limited edition CDs or DVDs for your video courses. All you need is prepare the DVDs and include a discount or access code to make them visit your website as well (an opportunity to upsell).
Then, the Amazon FBA (fulfillment center) will take care of the rest.
Physical Book
You can also prepare your ebook for printing, add a nice cover, and print a small number as a limited edition to test the Amazon marketplace.
This is a great way to test whether this kind of product listing will work for your online business before going to print more books.
A printed physical book has a different appeal as well, people love and connect with physical items more than with digital products.
And, making a beautiful cover can give you additional exposure when people post on social media holding the book! That's difficult to do with a digital product 🙂
Other Product + Digital Access Code
Any product can be sold through an Amazon store. 
Do not limit yourself. 
Be creative to get ahead of your competition:
If you are teaching an online cooking class, you could sell a cookbook on Amazon with an access code for your online course and videos.
If you have a fitness training class, branded fitness merchandise coming along your video exercises or training videos.
If you teach an arts & crafts course, you can also sell a "starter pack" of art or diy supplies with a video course on how to make the first craft.
And, if you don't think CDs / DVDs would be suitable, send them the material with a USB!
Step-by-Step Guide to Sell Your Course on Amazon
You have decided to sell your course through Amazon. After deciding which format is the right one, and whether you need to prepare for Amazon's Marketplace, Video Direct, or Audible, it's time to do the work needed to get your product listed!
Research the market & competition

Prepare the product

Create your own Amazon Seller Account

Sales page & pricing

Promote the Course
But, before, you need to understand this channel and the differences between Amazon FBA and your current business model. Selling through Amazon and their fulfillment center is quite different from operating your own business or selling through your own website.
That's why you need to do some research, and review the requirements, costs, and prepare the material you will need:
1. Research the market & competition
Whether you are going to sell an ebook or a DVD, you need to see who else is doing the same and whether they already have any sales or not. Product research is the first step to selling profitable products on any marketplace!
It might sound like an early-2000s search, but looking for Fitness Training DVDs, you can see that there are still people purchasing them and leaving reviews as recent as 2023.
Or, if your training is about success in a niche, a quick search of how to be successful in business will come up with a lot of results for books & ebooks.
By looking through your competition, options, and purchasing, you can better understand what your customers are looking for. You might want to repackage your offer or title, or copy some of their tactics for your listing.
Amazon selling is a different business model than most, and you can also take some free Amazon FBA training from Amazon's blog.
2. Prepare the product
Whether it's an e-book, book, or video course, you need to package it appropriately.
Create your course contents in the right format. Break your course down into sections, modules, and lectures appropriate for the format to make it easier for your audience to follow.
For ebooks and books you might also need to create an attractive cover, and some design work, while for selling video masterclasses you will need to prepare the subtitles as well.
3. Create your own Amazon Seller Account
Then, visit the Amazon Seller Central to create your account.
Through the Amazon Seller Central you can manage your business, your store, and even be able to run advertisements through pay-per-click (PPC) campaigns.
Be sure to review the account details and charges.
Amazon charges  $0.99 per unit sold, but on the Professional plan it costs $39.99 per month no matter how many units you sell.
There is also a referral fee between 8% to 15% and this depends on the category. Some categories cost a higher percentage.
4. Sales page & pricing
Then, it's a matter of setting up the page & deciding your pricing.
Think of the price your learners will be more likely to buy on the marketplace. There, you will have competitors being shown next to you, you need to offer competitive pricing, consider the left digit bias, but also avoid pricing too low as your offering might be viewed as the "cheap option".
You will also need to optimize your listing in order to increase your visibility on Amazon. The right keywords your audience will be looking for while searching.
Ahrefs has a great tool for searching for keywords on Amazon. Try it to find some keywords your customers might be looking for and add them to your product's title & description.
The most successful Amazon sellers know how to optimize their listings to get in front of the biggest possible audience. New sellers might need some time to get used to how to promote their products on the marketplace.
5. Promote the Course
Listing your online course to Amazon won't get it sold automatically.
Amazon has its own algorithm on showing and suggesting products. Optimizing the listing is only the beginning.
You will also need to collect reviews and sales, signaling that your product is desirable.
Amazon says that it uses a variety of signals to suggest products such as:
ratings, 

price, 

popularity, 

product availability, and 

fast delivery
You can influence ratings and popularity by bringing in the first customers. Ask them to also leave a positive review to boost your product listing. This works better if you are selling to your own audience before-hand, as they are more likely to leave a good review.
Here are a few ways to promote your Amazon products:
Social Media
Share your products on social media and in relevant groups.
You can create stories, reviews, and even recruit micro influencers to review your products and suggest to their audience. Influencers can even sign-up as an Amazon affiliate to earn additional revenue from the product.
Email Marketing
Email is one of the most powerful ways to sell products.
If you have an email list, be sure to send an email to your list. You can even temporarily create a discount or reduce the price of your product for your email list, and let them know of a limited-time offer.
Your email list is more likely to buy your product than social media audiences.
Paid Ads on Amazon
You can run Pay-Per-Click advertising on Amazon. Using your Amazon Seller Central, you can create ads for your products and increase their sales to collect reviews.
The more sales and good reviews you have, the more likely your product will be featured.
Paid Ads on Other Channels
You can also utilize paid ads in social media or Google. If your product is priced high, selling it through paid ads would make sense.
Running ads for cheap products is usually not a great idea, except if the keywords are cheap and you can bring a massive audience very cheaply to purchase.
Alternative Ways to Sell Courses
Amazon is a great place with a huge user base, but it's not the right way to sell online courses for every business.
If an Amazon FBA business is not the right fit for you, then an online course platform or a course-only marketplace might be the right fit.
LearnWorlds, the Best Cloud-Based Course Platform
LearnWorlds is the best online course platform in the market, where you can launch your own academy without worrying about the retail hurdles and fees of Amazon.
LearnWorlds comes with everything you need to create, market, and sell an online course or other digital products.
You can:
Create courses

Manage your users

Build a website

Send emails

Issue discounts

Have a community
And, many more! Take a look at LearnWorlds with a 30-day free trial and start building your first course.
Course Marketplaces
The other option is a course marketplace like Udemy or Skillshare.
Course marketplaces do not offer control as a standalone platform like LearnWorlds, but come with large audiences.
Pros
Big audience

People are used to them

New learners may discover your content
Cons
Limited control over pricing

High fees

You still need to promote your courses

There is a lot of competition
Even if you choose a course marketplace, you will still have to promote your courses the same way you would do in Amazon or your own website.
Having your course there does not automatically mean sales, you need to work hard to get reviews, and the first customers in before the platform starts suggesting your course to other users.
Key Takeaways
Selling your courses on Amazon is not an overnight process, but it's worth the effort. The marketplace offers a huge audience and high-quality tools to help you succeed. 
By following these steps, you'll be well on your way to generating more sales by accessing a well-known marketplace.
Consider Amazon as another sales channel rather than your only source of revenue. It's a great addition to your effort to be a successful course creator, but should not be your only source of revenue.
Cheers to your success!
Frequently Asked Questions (FAQs)
Can you sell online courses on Amazon?
Yes, you can sell online courses on Amazon if you turn them into a format that Amazon could accept like e-books, videos, audiobooks, or physical products.
How to sell courses on Amazon
To sell courses on Amazon you need to repackage them into an acceptable product like educational books, video lessons, or a physical product. Then, you need to create an Amazon seller account, create your product listing, and promote the course as any other product.
Selling Teachable courses on Amazon
You can't directly sell Teachable courses on Amazon, but you can create products that include a digital access code for your courses on course platforms like Teachable or LearnWorlds.
(Visited 2,225 times, 6 visits today)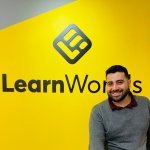 Nick Malekos is a Senior Digital Marketer in LearnWorlds. He is a results based and well-rounded Digital Marketer with years of experience in the education industry, writer and digital literacy trainer.