In order for your email marketing campaign to be successful you should be aware of all the benefits you will bring them if they buy. You then, need a specific strategy to drip your campaign.
You may be asking yourself:
– What should I send to my subscribers?
– When should I send it to them and how do all those pieces fit together to optimize sales?
This article is exactly what you were looking for if you want to find those answers.
I am going to show you a proven framework that is used from Learnworld's teachers to run a successful course launch. Since you create your own framework of specific emails automate and release them to certain subscribers depending on their status.
The Ultimate Guide To Selling Online Courses (vol 1)
Discover how to make your online courses ready for sales and, most importantly, profitable.
So, let's dive into this framework. In LearnWorlds we believe that there are specific phases for a successful campaign.
We would say that there are two phases to launching a course. Selling shouldn't begin immediately. In the beginning you have to build rapport and educate your subscribers and then you must try to sale. You can learn a lot from our course A Comprehensive Guide to Email Marketing.
But first, let's see how your first email should look like:
The Welcome Email
With welcoming emails you try to get familiar with your subscribers. You can thank them for joining and also ask them about possible questions they may have.
A welcome email has an 4x higher open rate and a 5x higher click rate than other promotional emails, according to Experian. With this level of attention it is imperative that your first message is really good.
In the welcome email, which you can send immediately after the subscription, you should definitely mention:
Who you are.
What your company does and its logo.
The common ground you share with your audience and your competitive advantage.
Where they signed up for your email.
When you'll be sending another email.
The welcome email doesn't have to be long to be valuable. This is how welcome email looks like in LearnWorlds' Academy.
After sending your welcome email, there is a series of emails you can start sending to strengthen rapport and build trust.
The Educational Phase
In the educational phase you create an understanding of your product. Also you must give value through high-quality content.
By using educational content you frame yourself as an authority.
In this phase of your campaign you have to gradually create a need in your potential customers to buy your course. Explain to them: How does your content take them from point A to point B and transform their lives for the better?
Your subscribers have to see how you will change their business, life, relationships, or whatever your subject is all about.
What kind of content is educational?
You can show case studies of people and how they solve a problem.
You can share blog posts you have written in the past and other free content that adds educational value (ebooks, podcasts). Don't be afraid to send similar pieces of content. Your subscribers won't get tired of seeing similar things again and again in their inbox if they are worthy of attention.
Webinars are powerful also when it comes to sales (there are special articles online concerning webinar emails).
Video tutorials are special and build stronger rapport, especially if you are the presenter.
Group or personal meetings make subscribers feel special.
The best frequency of these emails in this phase is sending almost day by day. A total duration of two weeks is enough for this phase.
The Selling Phase
After you have sent a good amount of valuable content out there, and have warmed up with your recipients it is time you can start launching your course. In this phase you can move a little more aggressively into sales. Your course should appear as the solution to a problem/need most people already have or is created by you.
To understand this phase we will show you how most of the instructors sell. When the educational phase gets completed you can send every day each of the email types below:
Email No.1: Announce the course
This email can definitely be linked to a previous related blogpost or webinar. This way you increase the likelihood your readers are in the mindset of buying.
So, link your course with previous content, explain how it is related with their problem. Announce that you will open a course and what your course will be about. Generate some excitement to your receivers. Explain the the various modules and of your course and tell them when it will become available. Emphasize on the final benefits of your course.
Email No.2: Open the course
Send an email to communicate that your course is open. Include in your email two to three CTAs that will link them to your sales page.
Include statistics from valued publications and testimonials. Continue emphasizing the value created by your course and the effort you have invested to create it.
Email No.3: Provide a FAQ email
In this email you want to answer the logistical questions about your course:
How long do they have to buy?
How long will they have access?
Is there a money back guarantee?
Are there payment plans?
Are you dripping content?
Who is this course right for?
How much time does it take?
Email No.4: Give bonuses
After the first launching emails you have to try to achieve more sales by offering bonus gifts if they buy your course. This bonus gift has to be something very valuable. You're going to offer an additional incentive to get people to buy now.
Email No.5: Send a thank-you email
Thank everyone for reading your emails and being part of your launch. Include testimonials where people rave about your course. Build social proof that people have bought and are happy.
At this point, you've been selling hard for 5 days, so it's time to be a little grateful and say thanks to your people. And hopefully your launch has gone well – the money has come in and you have a lot to be thankful for! This way, you may even bring in a few additional sales here.
Email No.6: Announce closing cart
One of the best selling strategies that brings many conversions is claiming that your course will be closing, in one day for example. This way you are building a logical argument that it makes sense to buy now. Tell them it's their last chance and send them till three emails at that specific day at different times. Outline that this is their last chance.
So, this is how your email campaign gets completed! Adapt all those techniques to your copy and personal style. And don't forget after the purchase to continue the educational phase to keep your connection and communication with your audience!
(Visited 4,181 times, 1 visits today)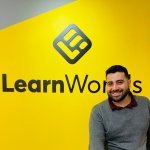 Nick Malekos is a Senior Digital Marketer in LearnWorlds. He is a results based and well-rounded Digital Marketer with years of experience in the education industry, writer and digital literacy trainer.