Are you on the lookout for some great online course ideas? Well, you've come to the right place!
We've done the research to find the most profitable and on high demand online courses. out there. Whether you're looking for a side hustle or want to create a successful online course business for a specific target audience, you'll find what you need right here.
In this article, you'll discover inspiration, current trends, and real examples of course topics that are perfect for teaching online. There's no better time than now to turn your course ideas into a profitable online course business!
We've also included rankings of the hottest topics 📈 and most popular course ideas 🔝, based on data from Google Trends, Semrush, and Ahrefs. You'll find the best online course ideas at the top of each list.
Finding Your Profitable Course Topic
As online education gains popularity, seizing the opportunity to offer an online course becomes an excellent avenue for generating passive income. Launching your own online course can be a lucrative revenue stream for creators, bloggers, and YouTubers alike.
However, the initial step in online course creation is pinpointing the perfect topic to teach. Begin by addressing these three fundamental questions to discover the topic that truly ignites your passion for creation and education:
What do you know?
What do you love?
What do people need?
💁 You can download our Course Workbook to help brainstorm & validate your online course topic
Artificial Intelligence (A.I.) Course Ideas
Artificial intelligence is here to stay, and whether it's building your own AI or prompt engineering, there is a lot of demand for courses on AI. Some of the highest trending and most popular course ideas in each category have something to do with AI.
If you are an expert on AI, it's your opportunity to monetize your expertise with an online course!
Artificial Intelligence Course Ideas
Generative AI (text, images, videos, audio etc.) 📈

AI for Business 📈

Deep Learning 🔝

Machine learning 🔝

Introduction to AI

Applied AI

Prompt Engineering

Neural Networks
💁 Read how elearning has been changed by AI in our how-to guide of LearnWorlds' AI Course Creator.
Artificial Intelligence Course Examples
Learn AI Programming with

Python

Introduction to Artificial Intelligence (AI)

Master Prompt Engineering in X days

The complete course on ChatGPT

Deep Learning Bootcamp 202X

Master Artificial Intelligence: Deliver X projects in Y months

The

beginners

class in Neural Networks
Coaching Course Ideas & Services
The demand for online coaching is on the rise as people seek guidance in various aspects of their lives. We anticipate a continued surge in individuals seeking coaching in the coming years.
Coaching encompasses a wide range of fields, primarily focusing on self-improvement. 
Although certification isn't mandatory to create and offer an online coaching course, obtaining a coaching certification can significantly enhance your ability to attract eager learners.
Coaching Course Ideas
Self-improvement 📈

Mental Health

📈

Time Management

📈

Life Coaching

🔝

Career Counseling 🔝

Financial planning

Business Coaching

Coaching Certification

Family, Dating & Relationships

Motivational Coaching

Leadership Coaching

Interpersonal Communication

Eating & Dieting (e.g. Vegan, Flexitarian,

Weight Loss

)

Goal Setting

Communication
Coaching Course Examples
Unlocking Your Full Potential: The Ultimate Self-Improvement Journey

Wellness

Resilience:

Mental Health

and Emotional Well-being

Healthy Relationships: A Comprehensive Guide to Successful Family and Dating Dynamics

Unleash Your Inner Drive: Motivation and Productivity Coaching

Certified Coach: Professional Coaching Certification Program
Personal Development
Time Management

course
on Coursera by the University of California Irvine
A fascinating trend that has been rising for the past couple of years and is expected to grow in demand is personal branding. More people want to represent themselves at work or on social media, and personal branding is the way to do it.
Personal development isn't just a fleeting trend; it's become an integral aspect of our lives. In our journey to evolve as individuals and professionals, we must navigate a constantly shifting landscape. It's in this context that course creators specializing in personal development truly shine.
One particularly captivating trend that has been steadily gaining momentum over the past few years and shows no signs of slowing down is personal branding.
An increasing number of individuals are eager to establish their unique presence, whether it's in the workplace or on social media platforms. Personal branding is the key to achieving this goal.
Personal Development
Course Ideas
Personal finance

📈

Personal branding

🔝

Time management

Language course

, e.g. ESL

Decision-making

Problem-solving

Stress management
Personal Development
Course Examples
Learn how to master any skill

How to manage stress and have a healthier work / life balance

Improve your financial situation in X days
Business Courses & Entrepreneurship
Business courses cover a wide range of essential skills, from finance to entrepreneurship, providing you with the knowledge needed to thrive in the corporate world or as a business owner.
One increasingly vital and globally relevant area of study is diversity and inclusion. The discussion surrounding diversity in the workplace and the importance of inclusion is on the rise, particularly in the context of the growing trend of remote work.
Business remains an evergreen and popular course topic, consistently in demand and aligned with current trends. While the specific subtopics may evolve, entrepreneurship, in particular, has experienced a steady ascent in popularity over the years.
Business Course Ideas
Entrepreneurship 📈

Finance 📈

Project Management

🔝

Diversity & Inclusion (DEI)

Budgeting

Forecasting

LinkedIn
Business Course Examples
How to start a business

Raising capital for

startups

Budgeting in times of recession

Business leadership for new CEOs

X ways to run a successful business

Master financial forecasting models

Learn agile

project management
Professional Skills

In the office world, online learning is all about helping employees boost their careers, earn more money, or switch to different roles by learning new skills. It also includes options like Continuous Professional Education courses.
One skill that's been consistently in demand for around five years or more is Excel proficiency. Additionally, there's been a growing interest in data science and data analysis skills, although not for as long.
Skills related to handling and analyzing data are super valuable. As companies deal with more and more data, especially in areas like data management and big data, they're constantly on the lookout for professionals who can keep up with the changing work environment.
Professional Skills Course Ideas
Data Science

/ Data Analysis 📈

Excel

📈

Remote team management / leadership

Business communication & languages

Public speaking

& communication skills

Any professional training e.g.

Any professional training e.g.

Medical training for Doctors
Electrician training
Accounting training
Corporate training

🔝
Professional Skills Course Examples
The complete

Data Science

course for

beginners

to advanced

The 7 days

Excel

skills bootcamp

Improve your business communication skills: Business writing

Succeed in

public speaking

From zero to communicator: How to level up your communication skills

Become a professional [profession]: Certification course
Making
Money Online
You might think making money online owes to business or entrepreneurship topics, but it's so vast, it has to be a category in itself.
Entrepreneurship is in human nature, and whether someone is trying to make some money on the side, build a small business or startup, course creators and coaches are there to teach and guide.
Teaching the fundamentals of running a business is essential for someone looking for financial freedom. Some favorite ways of making money online are growing a website, blog or podcast and creating an email list to sell courses, physical products or becoming an affiliate.
All of those are great topics. Usually, successful entrepreneurs or influencers end up creating a course teaching others how to do it by following their steps. Are you among them?
Making
Money Online Course Ideas
Affiliate marketing

📈 🔝

Ecommerce

📈

Drop-shipping 📈

Freelancing 📈

Blogging

Podcasting

Amazon

sales / affiliate

Email marketing

Content marketing

Vlogging (YouTube / TikTok)

Write a Book/eBook

Teach online
Making
Money Online
Course Examples
Running an affiliate website

Find the right niche

Launch your first

podcast

/vlog/book

How to write a children's book

Learn the secrets to running an

Amazon

store
Health &
Wellness
The health & wellness space is growing as more people live longer lives, but our modern way of living has disconnected us from the natural environment. Many people work in front of screens, sitting all day and looking for a healthier escape later.
You get the opportunity to help people and make some side income by selling health & wellness classes online.
Health &
Wellness
Course Ideas
Yoga 🔝

Wellness

📈

Nutrition 📈

Mobility 📈

Personal health

Family health

Mindfulness

Natural remedies
Health &
Wellness
Course Examples
Breastfeeding 101: Keeping your child & yourself healthy

Mindfulness skills and meditation for everyone

Improve your flexibility with X simple Yoga exercises

Plant-based nutrition: A

Beginners

guide to going vegan
Another example of a family dojo teaching martial arts that decided to go online and reach more people than they could with their physical location is Virtual Kenpo.
The story of William Camp going from a crowded martial arts space in his hometown to a successful international school at Kenpo is very interesting.
Personal Investing / Finance
The economy has been tumultuous at best for the past few years, and lots of new investors are looking for investment advice in websites, personalized coaching, tutorials, or online courses.
A financial advice course might help people to understand markets, cryptocurrency, real estate or recessions. There are also opportunities to teach certification courses for some professionals, for example, getting a real estate license online might be possible only through online classes.
Looking for ideas to get investors to spend their money? If you are an expert in any of these, you should be launching your course now!
Investing & Finance Course Ideas
Real Estate

🔝

Personal finance

📈

Stock Market 📈

Forex 📈
Investing & Finance Course Examples
Basics of Stock Market

Investing correctly into Mutual Funds

Choosing the right portfolio of stocks

Intro into Forex investing

Forex trading A-Z: Learn how to make money in Forex markets

Balancing your finances: From broke to real savings
Marketing
You don't need to be a marketer to have a successful online course, but, in this case, most of those people are either marketers or social media influencers 💭
There is a wide variety of people looking to learn more about marketing, and they turn to online courses or virtual classes to do so. Specifics of marketing courses change, but every online business, SME or solopreneur needs to learn basic digital marketing skills, social media marketing and blogging skills.
Amongst the rising trends in courses, though, SEO is becoming more popular (and challenging), online community management, and the most surprising (or not) a trend towards becoming a social media influencer.
With the maturity of social networks and our reliance on them and consuming content, many people aspire to become an influencer, even children. It's not so much of a surprise. As I mentioned before personal branding is increasingly becoming important, so becoming an influencer is pretty much connected to personal branding and audience building.
Who teaches these skills?
Marketing agencies, influencers in the space, or anyone with practical expertise in marketing can potentially launch a course in digital marketing. There are so many niches and so many people looking to be educated in diverse marketing areas, such as.
Marketing Course
Ideas
Digital Marketing

🔝

Social Media

📈

SEO

📈

Social Media

Influencers

Blogging

Community management

Personal Branding

/ Branding

Marketing strategy

Marketing hacks

Growth hacking
Marketing Course
Examples
How to run a

digital marketing

agency

Digital marketing

fundamentals

101

ChatGPT Marketing: Automate your marketing efforts

The complete

digital marketing course

How to start blogging like a Pro
IT & Software
The Metaverse, AR/VR, AI, UI/UX, security, mobile-first, online coding courses, no-code … so many things to keep in track in a fast-growing tech environment.
The need for learning to program or even using no-code programming is increasing, while so many new technologies and cyber-threads are showing up. Courses to tackle the growing need to keep up with technological changes are not a new thing, yet they will significantly grow.
Both individuals and companies will focus on education to handle the changes. Can you provide the solutions?
IT Course Ideas
Cyber Security

/ Ethical Hacking 📈 🔝

Python

📈 🔝

Digital infrastructure (

Microsoft

or AWS servers) 📈

UI / UX 📈

AR/VR Courses (Metaverse)

Responsive design

WordPress

development

No-code development
IT Course Examples
How to become a

Cybersecurity

analyst

Ethical hacking 101

Python

for

beginners

Advanced responsive design course

Developing your first no-code app
Academic & K12
Both homeschooling and after-school classes are important for the most important person in your life. Parents invest in their children's education to ensure their future.
Exam prep, STEM, social sciences, english, happiness courses and many more…
Academic & K12 Course Ideas
Math 🔝

Exam prep 📈

Physics

Homeschooling

Psychology

Happiness

Writing

Learning languages (

english

,

spanish

, etc.)

Literature

Programming

Robotics
Academic & K12 Course Examples
Math for kids

University entry exam-prep

Improve your kid's writing skills

Introduction to programming 101

Learn how to build a robot for ages 6-12
Are you the creative type or an expert in Adobe's many software tools for design and video editing?
Whether you are a seasoned professional or an avid hobbyist, teaching photo/video editing skills is always looked out for.
In the past few years, there has been a rising trend in mobile photography and food photography. We do expect to see more courses teaching video editors on creating deep fakes for social media, movies, and professional works.
How about sharing your expertise and skills in any of the topics below?
Creative Course Ideas
Design (general) 🔝

Creative writing🔝

Photoshop

📈

Figma 📈

Graphic design

📈

Video Editing 📈

Web design 📈

Wedding photography

Illustrator

Video AI

Food photography

Interior design

Responsive design
Creative Course Examples
Graphic Design

Masterclass: The A to Z to Become a Great Designer

Learn

Photoshop

, Illustrator, and InDesign: The Complete Design Bundle

Video Editing 101: Learn to create your first video

Be a professional

interior designer

Figma design for professionals: Level up your skills for the workplace
Fitness
Fitness is related to health, both physical and mental health, and as such it has always been high on the priorities of everyone looking to improve their health (or looks). One rising trend amongst those is unsurprisingly fitness coaches and getting certified to be a fitness coach.
What are you waiting for?
If fitness or sports are your expertise, you could be making some money launching a successful course of your own in.
Fitness Course Ideas
Pilates 📈

Fitness coaching / personal training 📈

Home exercise

Calisthenics

Sports

Mountain Biking

Surfing

Motocross

Tennis

Weight Loss

training

Weight training

Martial Arts (Karate, Kickboxing, TaekWondo, Capoeira etc.)
Fitness Course Examples
Fitness for

Beginners

: How to build a sustainable routine

Complete calisthenics program

Exercise at home like a pro

[Martial arts] for children/adults

Self-maintenance for your bicycle

Learn the secrets of tennis pros
Beauty & Fashion
The world of fashion and beauty is as diverse as it is attractive. If you are a beauty influencer or an ex-model looking to teach your skills, you are in the right place.
Many beauty vloggers and Instagram / TikTok influencers end up monetizing their audiences with online courses with more in-depth content creation on their topic. Whether that's using beauty products, applying make-up, shooting a video or modeling.
Fashion & Beauty Course Ideas
Beauty (general) 🔝

Beauty vlogging 🔝

Modeling 📈

Make-up 📈

Fashion

Nail technician

Hair styling

Fashion illustration

Skincare
Arts & Crafts
We all strive to express ourselves artistically and we do enjoy some handicrafts. Whether you are an expert in knitting, painting or woodwork, there is someone looking to get into the art or craft you teach.
Subjects like painting and music have always been high in-demand courses. So, what would you teach?
Arts & Crafts Course Ideas
Music 🔝

Sewing / Knitting 🔝

Painting 📈

AI art 📈

Art history

DIY (e.g. woodworking, handcrafts)

Singing

Instruments (e.g. piano, violin, guitar)

Mixing (DJing)

Art therapy
Arts & Crafts Course Examples
X Art therapy exercises to improve

mental health

Music classes for children

Acrylic painting classes: Learning the ropes of painting on a canvas

Y easy handicrafts to do at home

Pottery class 101

AI Art using MidJourney: Master the art of AI prompting
Hobbies
Did you ever think that your hobby would turn into an online course business?
Dancing usually needs company, and as a salsa and bachata dancer myself, I know it pretty well. Over the past few years, I have seen the growth of international dance artists launching their online courses and smaller dance schools following up.
Similarly, other hobbies like gardening, drone flying/photography, professional poker, home improvement, DIY, golf and many more can be easily turned into online courses.
All you need is an audience and be knowledgeable enough on one of these topics for others to ask you about it. You don't need to be a master of DIY to teach tips on home improvement. What are you waiting for?
Hobbies Course Ideas
Interior design

🔝

Cooking 🔝

Brewing / tasting (coffee, beer, other alcoholic beverages) 📈

Home improvement / repair

Drone flying

Gardening

Dance (Latin, Ballroom, Modern, Traditional, Ballet etc.)

Poker

Home repair

Home farming

Birdwatching
Hobbies Course Examples
Decluttering 101: Organize your home, office, and life

Birdwatching for

beginners

: How to spot & recognize birds

Baking a birthday cake: X designs for children & adult parties

Learn to play poker like a Pro

How to create a home garden and grow your own vegetables in X days
Miscellaneous Course Ideas
Are you a dog person or a cat person?
Dog training courses are having an incredible year though, but, I guess it's because they can be more easily trained, unlike cats who have a wilder nature 🙂
Looking through the fascinating world of online courses, we have found many subjects that attract an incredible audience even though they might be unexpected or heard only in specific communities.
If those are your expertise, you can turn your knowledge into online courses:
Pet care (Dog Training)

Smartphone Photography

Travel

eGaming / eSports

Religious & Spirituality
What is Your Online Course Topic?
The possibilities are endless for what you love to become an online course. Many online course creators started as expert hobbyists or by influential community members with others asking them for advice.
All you need to do is have a subject you know and love and others craving the knowledge you can provide.
If you have already validated your course topic and are ready to start creating your course content, then, all you need is the right course platform to turn your know-how into a profitable business!
Here at LearnWorlds, we have the all-in-one course business platform you will need to start, and you can get a 30-day trial today to start building your new and successful online course.
(Visited 57,513 times, 18 visits today)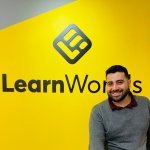 Nick Malekos is a Senior Digital Marketer in LearnWorlds. He is a results based and well-rounded Digital Marketer with years of experience in the education industry, writer and digital literacy trainer.