Being part of the larger eLearning family, Virtual-Instructor Led Training (VILT) has grown in popularity after the pandemic. Scoring high in flexibility and convenience, VILT enables both instructors and learners to join the virtual classroom by doing nothing more than…lifting their fingers to turn on their computers!
On top of that, compared to classroom training (also known as Instructor-Led Training or ILT), VILT is a cost-effective solution that eliminates transportation and venue costs. This makes it an excellent choice for multinational companies that want to run learning and development initiatives in multiple locations. Also, companies with a tight budget and those trying to establish a lifelong learning culture can now train their employees more affordable.
Suppose you have an online academy offering online training to businesses, like executive/leadership coaching or soft skills training. In that case, you should consider adding VILT to your offerings for an integrated and enjoyable learning experience.
Do you have questions about virtual instructor-led training? Read on to find out more, including VILT definition and benefits, the different types of this training delivery method, and implementation tips.
Virtual instructor-led training is instructor-led training that takes place online with the help of relevant technology, such as video conferencing tools. The instructor and the learners are in separate locations.
VILT can take many forms, which we will explain in detail later. Its distinctive characteristic is that the class takes place in real-time, so course participants and instructors interact and communicate more effectively.
At this point, you might be wondering: What is virtual training? Is it synonymous with virtual instructor-led training? Virtual training is similar to VILT because the training program takes place online. Its key differentiator is that it can be conducted entirely asynchronously and with minimal to no involvement from an instructor.
Virtual instructor-led training doesn't need to have the exact same form as classroom training. Here are some common examples of VILT:
One-to-one sessions: One learner and one instructor meet virtually.
Small group training: A small group of learners gets together online.
Workshop: During workshops, learners engage in practical activities and demonstrations.
Webinar: Webinars are often open to a broad audience and are sometimes presented by multiple instructors. Attendees are encouraged to participate during a Q&A session, or any time during the webinar, depending on the activities the presenter has planned.
Let's see some benefits your clients will enjoy if you incorporate instructor-led training sessions into their virtual learning program.
1

Practice Opportunities

Many argue that practice needs to be hands-on to be effective. While there's truth in that, a virtual environment also offers ample practice opportunities, provided some synchronous sessions are in the mix.
For example, role-play activities are perfect for practice if you're teaching soft skills. Present the learner with a situation that mimics the real world and see how they handle it.
2

Higher Engagement

Training programs with synchronous elements are more engaging than entirely self-paced courses due to the human connection. Course participants get to know each other and the instructor, interact, join forces in assignments, and even challenge one another during discussions. Overall, VILT helps increase retention by creating a more friendly learning environment.
3

Collaborative Activities

In VILT, the instructor can assign exercises learners can work on together during the class with the help of whiteboards and breakout rooms, just like in a traditional classroom. Group activities spark healthy competition among teams and enable learners to learn how to utilize everyone's strengths in the best way.
4

Identify Problems Sooner

Engagement can drastically drop in an online learning environment that lacks synchronous elements, and performance issues can go unnoticed for long. During live sessions, the instructor can identify learners who are either falling behind or starting to disengage.

Unwillingness to participate in course discussions, even their facial expressions, can tell an instructor that some learners are not where they're supposed to be. This gives instructors the chance to talk to unmotivated or otherwise struggling learners before the problem escalates.
5

Fruitful Discussions

Another benefit of VILT against asynchronous learning is the opportunity for real-time group discussions. The instructor can initiate discussions during a live session to help learners elaborate on a subject. It's not unusual for in-class discussions to go off-topic as well. And that's not bad at all since learners can get more creative and analytical during more informal discussions.
6

Resolve All Questions

In asynchronous learning, learners don't get many chances to ask a question and instantly get an answer or ask follow-up questions and clarifications. Usually, learners can reach the instructor via email or a scheduled call and ask questions in the discussion forum.

Things get much easier during a live class, where the conversation takes place in real-time and flows naturally. Learners can pose their questions and discuss them until everything's clear. Then you can follow up with assessments, like quizzes and group projects, to confirm whether learners have met the learning objectives.
7

Explore Topics in Depth

A skilled instructor will not analyze a topic alone – they make learners part of the "discovery" process and prompt them to explore the key subject matter together and relative notions until they understand it deeper.
8

Enhance Other Skills

In a classroom setting, learners work on other skills that extend beyond the topic being taught. They work on their communication and analytical thinking skills by participating in course discussions. During collaboration projects, they develop collaboration and teamworking skills. All these fall under the soft skills category– skills essential for life and valuable in any workplace too.
9

More Effective Learning

VILT promotes social learning, which is known for its high effectiveness. Learning in a more relaxed environment and through "informal" methods, such as spontaneous conversations and the exchange of opinions and experiences, is more engaging and sticks with learners.
If you're planning to add VILT sessions to your training experience, these are seven things you need to check off your list:
1

Choose the Right Learning Technology

VILT software, like Zoom and Microsoft TEAMS, that enable video conferencing and offer breakrooms and live chat is a good choice for virtual instructor-led training.
But, if you want to offer more than live sessions, you can use a Learning Management System (LMS) or a virtual training platform that integrates with video conferencing tools and offers additional functions like:
Rich multimedia content
Assessment tools
In-depth analytics for each learner and course individually and your online academy's performance
Customizable and intuitive user interface
White labeling
2

Ask Participants to Switch on Their Cameras

A considerable part of VILT's connectedness and directness is lost if course participants can't see each other or the instructor. At the beginning of every session, remind everyone to turn on their cameras and keep them that way for the duration of the class.
3

Ask Participants to Eliminate Distractions

Notifications, calls, and social media waiting in the next tab are all possible distractions that fight for your learners' attention. Ask everyone to put their devices on silent and refrain from using them unless it's an emergency, and work in an "isolated" online environment without other open tabs.
4

Make the Necessary Introductions

During the first live sessions, ensure course participants introduce themselves and share a few fun facts about them. Be respectful of everyone's boundaries, though, and don't ask questions – let them share what they feel comfortable sharing. Needless to say, the instructor must be the first to set an example, properly introduce themselves, and give essential contact information and availability.
5

Enrich Each Class With Interactions

Raise your hand if you enjoy long lectures. Endless talking and no fun. None? We thought so.
Activities and interactions are a massive part of a virtual learning experience and should go to the top of the "must-include" list. The instructor should frequently create opportunities for learners to interact and cooperate during class by sharing their opinions and knowledge or working together on an assignment. You can also show learners quick videos and ask them to complete quizzes to break the monotony.
6

Keep it Short and Take Breaks

Try to keep sessions shorter than an hour and, if that's not possible, take a break. Because just like with classroom training, short breaks are necessary during online training sessions too. Attention wanes after a while, and while taking breaks might seem counterproductive, it actually gives learners a chance to recharge and come back more focused.
7

Add Self-Reflection Activities

Self-reflection and self-evaluation help learners take control of and improve their learning. Occasionally, make sure to add such activities where learners dwell on their progress and discover ways they can learn more effectively.
Virtual Instructor-Led Training is Here to Stay
You can't go wrong with adding some VILT sessions to your training curriculum. Online learners often miss the human interaction that self-paced learning lacks, leading to a lack of engagement and dropouts. Enriching your training programs with live sessions will increase engagement and help learners understand and retain information more effectively.
See how our platform, LearnWorlds, can help you create an online academy that has it all with a 30-day free trial!
Further reading you might find interesting:
(Visited 136 times, 1 visits today)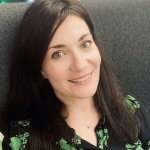 Androniki is a Content Writer at LearnWorlds sharing Instructional Design and marketing tips. With solid experience in B2B writing and technical translation, she is passionate about learning and spreading knowledge. She is also an aspiring yogi, a book nerd, and a talented transponster.