It's official! We're already mind-November, which means that Black Friday is approaching fast. As for Black Friday sales… they're already here!
The biggest shopping day of the year falls on Friday, the 25th of November, and it's the day that consumers and retailers alike look forward to. It's the unofficial beginning of the holiday shopping season (yay!), along with Cyber Monday 3 short days later.
Get the Ultimate FREE Toolkit for Course Creators
Consumers worldwide are ready to spend their money on services and products they have wanted to get their hands on throughout the year. At the same time, retailers are going all-in with the hope of increasing their sales and hopefully making some good profits.
Both in-store and online sales will go wild, like every year. Black Friday shoppers are already preparing for the big day, looking for early-bird Black Friday offers and filling their shopping carts.
eCommerce has huge potential for profit from their Black Friday deals – that includes the creators' economy and monetizing their knowledge online. If you're an online course creator, you can bring your Black Friday marketing ideas to life by using several marketing tools to help you sell more online courses.
Don't know where to begin? Don't worry because we've collected the top tools and grouped them into categories based on their functionality. The best part? All of these tools integrate seamlessly with LearnWorlds.
Conversion & Lead Capture
Have you thought about how you will convince people to buy from you during your Black Friday marketing campaign? Apart from coupons, offers, discount codes, free gifts, and powerful calls to action (CTAs), you are going to need some robust tools and techniques to engage your target audience.
The following tools are perfectly capable to increase the conversion rates of your Black Friday promotions.
1

Sumo

Sumo is a web-based platform that comes with a suite of free online tools you can use to grow your website's traffic and engage your students. You can capture leads (capture forms) and allow site visitors and your students to share courses using their social media accounts and engage in their community.

Learn how to connect Sumo with your LearnWorlds school here.
2

FOMO

FOMO is a social-proof marketing platform that can help you increase conversions from potential customers. It does so by showing off customer interactions taking place in your LearnWorlds school, such as user sign-ups and course purchases.

Fomo took its name from the 'FOMO' (fear of missing out) effect, which is used as a psychological trick to prompt customers to buy a specific product or service. You can additionally use a countdown timer and limited-time offers (say, for example, "valid only for the Black Friday weekend") to induce a sense of urgency.

Learn how to connect FOMO with your LearnWorlds school here.
Email Marketing
According to Campaign Monitor, the education industry has the highest open rates, with 28.5%. This means that it's in your best interest to launch an email marketing campaign not only to nurture leads but also to maintain regular communication with your audience, reduce cart abandonment rates, and engage loyal customers.
Through email marketing, you can communicate promos, send free content like gift guides, and cross-sell products (a more elegant alternative to website pop-ups that some people find annoying and simply ignore).
To make it happen, though, you will need one of the following robust email marketing tools to optimize your processes. Black Friday emails are already circulating, so you'd better start working on those email subject lines now!
3

Mailchimp

Mailchimp is an email marketing software that offers complete transparency of campaigns, email tracking, viewing success, and click-through rates, generating custom reports, and managing subscribers. It's suitable for small businesses with simple automation needs and offers an easy way to set up and send newsletters to any email list size.

Learn how to connect Mailchimp with your LearnWorlds school here.
4

ActiveCampaign

ActiveCampaign is an integrated email marketing automation tool that allows you to design sophisticated, automated marketing processes. Use it to save time and generate additional revenue for your company, send newsletters, segment your audience, and personalize every campaign.

Read this review of ActiveCampaign and learn how to connect Active Campaign with your LearnWorlds school here.
5

Aweber

AWeber is an email marketing and autoresponder service that can help you communicate more effectively and profitably with prospects and customers. You get access to ready-to-use email templates, list management, autoresponders, and email tracking with detailed insights. It offers live chat, phone, and email support, as well as live webinars and a rich library of how-tos and tutorials.

Learn how to connect Aweber with your LearnWorlds school here.
6

ConvertKit

Convertkit is a powerful marketing automation tool that delivers a simple solution for creating easy forms and drip email campaigns to automatically send emails to new subscribers.

Learn how to connect ConvertKit with your LearnWorlds school here.
7

Moosend

Moosend is a modern email marketing and marketing automation platform with powerful and user-friendly features. Through the platform, users can get ready-made templates, a Drag-and-Drop designer that requires no prior knowledge of HTML, and even create landing pages and subscription forms. Moosend offers support to clients of all tiers through email, live chat, and over the phone, as well as a forever free plan for up to 1,000 subscribers.

While there is no direct integration yet, LearnWorlds users can use Zapier, a great online automation tool, to integrate with Moosend and connect the platform with your LearnWorlds school in no time.
Affiliate Marketing
Affiliate marketing is one of the best ways for eCommerce businesses to get an army of salespeople, influencers, and marketers to promote your product and boost sales in exchange for a percentage of your profit.
8

LearnWorlds Built-in Affiliate Management

With LearnWorlds, you get a built-in affiliate management tool to recruit your students as your affiliates or sign up anyone else to sell your product for you. All this without any extra costs!

Read more about our affiliate management tool or visit our Partners Club page to see how you can become a LearnWorlds affiliate and gain a 30% lifetime affiliate commission.
9

Referral Candy

ReferralCandy is one of the best referral program software you can use if you want to invest in affiliate marketing as part of your marketing strategy. With this tool, you will have the power to leverage the network of your users and encourage them to promote your online courses to their family, friends, and colleagues in return for a monetary incentive and get new customers without lifting a finger.

Learn how to connect ReferralCandy with your LearnWorlds school here.
Conducting Live Classes & Webinars
The ability to conduct live classes and webinars can give you a competitive advantage over others. For LearnWorlds users, this is possible through the Zoom integration.
10

Zoom

Zoom is the most popular web-conferencing tool in the market, and its unparalleled features make it the best of its kind. With it, you can easily schedule and conduct live classes, webinars, and video sessions or just meet with your students online for group or one-to-one coaching.

Setting Automated Tasks
As a course business owner, you are more likely to have a lot in your head, but this is the exact reason tools like Zapier and Auth0 exist. They automate tasks to make your life easier and more manageable.
11

Zapier

Zapier is an incredible online automation tool that can connect your LearnWorlds school with more than 3,000 popular applications! The way it works is quite simple. It allows you to set up your school automated tasks like course enrollments or sending coupons through a 'zap' – a blueprint for a task you want to do repeatedly, but you only set it once.

Learn how to connect Zapier with your LearnWorlds school here.
12

Auth0

Auth0 is a flexible, cloud-based identity platform for developers, that allows them to easily add authentication and authorization services to their applications, eliminating friction and the complexity of APIs and custom development.

In your marketing campaigns, you must always keep your online school's security and the safety of your users (students) in mind. That is what Auth0 is all about. With this authentication provider, you can set up groups, users, and roles for users within your online school.

Learn how to connect Auth0 with your LearnWorlds school here.
13

LearnWorlds API

API stands for Application Programming Interface, which is a software intermediary that allows two applications to talk to each other. This is a very technical yet very useful tool you should also consider.

The LearnWorlds API allows you to access our data and get information on various courses, users, and more. LearnWorlds' API, like any other API, requires technical expertise, so if you are not familiar with its function, you will have to pass this over to a developer to handle it for you.

You can access the LearnWorlds API documentation here.
14

Webhooks

A Webhooks enables an app to provide other applications with real-time information. It delivers data to other applications in real-time, which means that you get the data immediately. Learn how you can use webhooks for your LearnWorlds school here.

*Both Webhooks & API are available on the Learning Center and above plans on LearnWorlds.
Managing Payments
Every online business needs some powerful payment platforms. All of the below payment gateways can be easily connected to your online school to accept payments for your online courses.
15

Stripe

Stripe is a payment processing software (a.k.a. Payment gateway) for eCommerce websites and mobile applications. By connecting your Stripe account to your LearnWorlds school, you can accept payments from your students for course sales and subscriptions. End-users can pay via their credit cards, bank transfers, and other payment methods.

See how you can connect Stripe with your LearnWorlds school.

Stripe is the best option to connect with LearnWorlds as you unlock subscription payments and payment plans.
16

PayPal

PayPal is considered the global leader in online payment solutions. It is an online financial service that allows users to pay for items using a secure internet account. By connecting PayPal to your LearnWorlds school, you can accept payments from more than 400 million users who own PayPal accounts and many times more via credit cards.

See how you can connect PayPal with your LearnWorlds school.
17

PagSeguro
PagSeguro is a Brazilian online payment gateway for e-commerce. With PagSeguro, LearnWorlds school owners can accept payments from Brazilian customers via Boleto, which is the most popular payment method in Brazil, and credit cards.
See how you can connect PagSeguro with your LearnWorlds school.
18

Shopify

Shopify is synonymous with eCommerce stores and online shopping. It is an all-inclusive online selling platform where users can create and develop online stores to promote, sell, and ship physical products.

Shopify integrates with LearnWorlds so that you can sell online courses via your Shopify online store. One idea to drive your sales up for Black Friday is to leverage the Shopify SMS marketing app.

See how you can connect Shopify with your LearnWorlds school.
19

Klarna

Klarna is a well-known Buy Now, Pay Later solution that enables customers to pay later or in installments without a credit card. Giving customers this flexible payment option can help you upsell and cross-sell or promote expensive services, like coaching.

See how you can accept Klarna payments through Stripe in the LearnWorlds platform.
20

Afterpay

Afterpay, also known as Clearpay in some countries, is another popular BNPL tool that works in a similar way to Klarna.

See how you can accept Afterpay payments through Stripe in the LearnWorlds platform.
Using Local Payment Gateways
LearnWorlds is the only global course platform that allows you to accept local payment methods that your customers are familiar with. To help you get the most out of it and reduce the losing opportunities to sell, we're supporting Stripe's local payment gateways – iDEAL, Bancontact, Giropay, Sofort, and Przelewy24.
21

iDEAL

iDEAL is a very popular e-commerce payment system used in the Netherlands based on online banking. It allows customers to buy online through direct transfers from their bank account. iDEAL can be connected with your LearnWorlds school to accept online payments.

See how you can connect iDEAL with your LearnWorlds school.
22

Bancontact

Bancontact is Belgium's most popular payment method. Stripe users in Europe and the United States can accept Bancontact payments from customers in Belgium. During the payment process, your customer is redirected to their bank's website or mobile application to authorize the payment.

See how you can connect Bancontact with your LearnWorlds school.
23

Giropay

Giropay is an Internet payment System in Germany that allows customers to buy securely on the Internet using direct online transfers from their bank account. Giropay is an interbank system and the official implementation of German banks for online banking. It is accessible by more than 40 million shoppers and accounts for 16% of all online transactions in Germany.

See how you can connect Giropay with your LearnWorlds school.
24

Sofort

Sofort is the main online direct payment method and works via online banking. It is the predominant online banking method in countries such as Germany, Austria, Switzerland, and Belgium, making it a must-have for any business wanting to operate in these countries.

See how you can connect Sofort with your LearnWorlds school.
25

Przelewy24

Przelewy24 is a real-time bank transfer, offline or pre-payment payment method. Customers based in Poland can use it to transfer funds directly to merchants. Also, Stripe users in Europe and the United States can accept Przelewy24 payments from customers in Poland.

See how you can connect Przelewy24 with your LearnWorlds school.
Managing Tax
To manage all the Black Friday and Cyber Monday sales, you will need a tool that calculates the sales taxes for you, and that is Quaderno. A complete tax compliance toolkit for online businesses.
26

Quaderno

Quaderno is a sales tax calculating tool that sends automatic tax receipts and creates sales tax return-ready reports in a matter of seconds. As an invoice application, it makes the taxation process and tax compliance rules simpler and easy to understand (e.g., for EU VAT taxes).

Learn how to connect Quarderno with your LearnWorlds school here.
Choosing Your Analytics Tools
We have saved a super important toolset for last. Without analytics, it becomes impossible to track your marketing efforts and identify audience needs. Google Analytics & Tag Manager and Meta Pixel are great tools to have in your inventory.
Combined with LearnWorlds Report Center, you will have comprehensive insights to make data-driven decisions about your campaigns.
27

Google Analytics & Tag Manager

Google Analytics allows you to calculate your return on investment (ROI) and review the results of your marketing efforts. It does so by analyzing your website performance, calculating visitor traffic, and identifying consumer behaviors (clicks, site visits, and purchases).

Google Analytics offers a comprehensive report on what works and what doesn't in your advertising campaigns to help you make further improvements either on your site content or ads.

Learn how to integrate Google Analytics into your LearnWorlds school here.

The Google Tag Manager is a free tool that allows you to add and update website tags, including conversion tracking, site analytics, and remarketing, among others. What's great about it is that it is easy to use, as there is no need to edit the website code.
28

Meta Pixel (formerly known as Facebook Pixel)

Facebook is an excellent social media platform to bring together your audience and create some hype by holding giveaway contests, announcing new course releases, and sharing fun content. Using hashtags can also help you get discovered fast.

If, apart from social media marketing, you're also using Facebook Ads, Meta Pixel (formerly known as Facebook Pixel) is a must-have tool. With it, you can track people's actions after seeing your ads. Once you create a Facebook Pixel and add it to your checkout page, you can see who converts as a result of your ads.

The Meta Pixel will improve your ad conversions on Facebook and allow you to run incredibly effective remarketing campaigns!

💁 We have a free course on running Facebook Ad Campaigns and a super useful free ebook you can download, "The Essential Guide to Selling Online courses using Facebook Ads."
An All-in-one Course Platform for Your Needs
The best Black Friday marketing strategy needs the top tools. Kickstart your holiday sales now with an all-in-one platform that combines all the marketing tools and payment gateways you need for the commercial part of your business with rich authoring and educational features for course development.
Too good to be true? Well, that platform exists – and it's LearnWorlds! We invite you to test it out and uncover its functionalities and your own potential as a course creator.
Sign up for a free 30-day trial of LearnWorlds today!
(Visited 3,104 times, 2 visits today)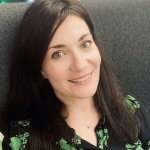 Androniki is a Content Writer at LearnWorlds sharing Instructional Design and marketing tips. With solid experience in B2B writing and technical translation, she is passionate about learning and spreading knowledge. She is also an aspiring yogi, a book nerd, and a talented transponster.