Βlack Friday is the biggest shopping event of the year.
Ask whoever you want – online retailers, offline stores, big or small businesses; and they will tell you they are crazy about Black Friday. That time of year brings in extra sales and a spike in revenue. And guess what? It can do the same for you!
eCommerce stores are on fire on Black Friday! It's the perfect occasion to get that big sale sign up and start cutting down on your course prices. Grab the opportunity to market and sell your online courses to your target audience – old, new, and existing customers. Considering the average adult spent $430 on Black Friday last year alone, you can understand that this is the best day to boost sales!
Not to mention – as a course instructor, you have an extra advantage over Black Friday deals. Why? Because:
You're selling an intangible product without needing inventory, extra expenses, or costs. Online courses have no limitations on sales, and your stock inventory is inexhaustible.
With an online course, you offer the gift of knowledge at a better price and unlimited discount options.
You're offering a product with immediate access – no shipping, delivery, or long lines.
All in all, Black Friday for you means minimum fuss – maximum revenue. Did I get you hooked? Great! Let's get you ready for the big day!
Why is it called Black Friday?
Black Friday is a tradition that started in the USA in the late 1980s and has given its name to the day after Thanksgiving. The term refers to stores 'going in the black' for the season, which means becoming profitable. Black Friday marks the official start of the holiday season, and for many, it's like early Christmas shopping.
When is Black Friday?
This year's Black Friday is on November 25th. However, most companies start offering discounts by mid-November or the end of October to get ahead of the competition. For online sales, this window period is much bigger, giving time to potential customers to explore products and get this feeling of holiday sales.
This means that from Thanksgiving until the upcoming Monday – known as Cyber Monday (28th of November), you can go wild with your course sale and offer special discounts to get the holiday shopping season started sooner!
16 Creative Black Friday Ideas to Prepare Your Marketing Campaign
So, how can you get ready for Black Friday and get the most out of it by the end of the Cyber Monday sales? That's easy. Get down to work to create a smart Black Friday marketing campaign, and let the online shopping begin!
Transform your sales page into an online store your visitors don't want to leave empty-handed. Join the eCommerce frenzy by putting on your Black Friday promotions and offering them as part of an attractive deal that will help you boost sales.
Fortunately, there are many options to choose from for your special deals. As part of your holiday marketing strategy, be sure to take a look at the following 16 creative Black Friday ideas and choose the ones that appeal most to you.
1

Introduce massive discounts for Black Friday promotions

The most test-and-tried Black Friday marketing idea is to cut down prices – and to be generous about it! Start with 50% and go all the way down to 70% off the original course price. Don't be afraid to reduce your prices. It's normal for a course worth $290 to be sold at $87 as part of a Black Friday deal. Customers expect to see massive discounts. Besides, you can always upsell to make up for this.
2

Create a limited-time offer (flash sale)

Black Friday shopping is largely impulsive. Flash sales are perfect for increasing impulse buying and encouraging people to buy your courses on the spot. Create scarcity and a sense of urgency while reinforcing FOMO (Fear Of Missing Out) through a limited-time offer and last minute deals that are available for a specific time period that could be less than 24 hours and for a limited number of new sign-ups.

Deal hunters are always on the lookout for these. A smart marketing tactic that never fails! Use a countdown timer to reinforce the effect.
3

Sell course bundles

Prepare a bundle offer with three courses sold at the price of two, e.g., "2+1 free" or "3+2 free," etc. depending on how many courses you have available and can promote.

Offering course bundles is a win-win: you get to upsell, and customers buy at a better price. This trick will increase order value, and it's a good alternative to huge price drops.

💁 To create a new course bundle in your LearnWorlds school, go to your school's Dashboard, go to the section "Marketing Products," and click on "Bundles" to start creating your new bundle. Fill in the Bundle name, provide a description, and add a thumbnail image for your new bundle. Select the courses you want to include in your bundle from the dropdown menu and click "Save" to finish the process.
Check out this article to see the whole process.
4

Offer a free course

Another promotional idea is offering a free mini-course during the sales period. This can be either a complete mini-course or a course teaser. Use SEO and paid ads to get as much visibility as possible to make the most out of this offer.

Free courses are a great way to introduce your audience to your work without asking for any type of commitment, capture leads, build excitement for upcoming courses, and upsell later on! Don't forget that Christmas and Hanukkah are just on the way 🎁
5

Create one-time offers to upsell and cross-sell

Make Black Friday special by offering an additional paid service for free, just for this day. This could be a free consultation for coaches, two-week access to your online community or membership site, or downloadable material (PDFs, videos, or audio). Small "boosts" like that will excite holiday shoppers and enable you to sell more services and products.
6

Hand out digital coupons

Coupons are one of the best promotional tools you can use to increase your course sales. And they are great at creating a sense of urgency because they have an expiration date.

💁 LearnWorlds Promotions (Coupons) function makes it easier than ever to create coupons. With just a few clicks, you can get sets of memorable discount codes to share across your marketing channels. You can share them on social media, use them in your newsletter, send them one-on-one as a special gift card or even print them out in your promo material!
7

Create exclusive offers and send digital or tangible gifts

We all love to feel special and have access to staff that other people don't. For your most frequent buyers, create special discounts, early access to membership content, and or even send physical products as gifts.

Some ideas for physical products are merchandise with your branding, a book you've written, or an activity book. It's a great way to express gratitude and boost your relationship with loyal customers, which will also take them by surprise!
8

Offer additional discounts for higher purchases

Incentivize people to buy more of your courses by offering higher discounts the more they spend. Remind them that your "products" don't expire – they can get as many courses as they wish now while they're at a low price and complete them when they have the time!
9

Offer a mystery gift

Prompt customers to buy just a little more, so they can get a mystery gift from you! You can choose what this will be, but make sure it's worth it. For example, don't trick your customers by "gifting" them an additional discount if they buy even more. Instead, send them a physical gift, an eBook, or a free course – something they can enjoy immediately.
10

Introduce new products or pre-sell

Black Friday offers the best opportunity to introduce a new course that you've been working on. Even if the course is not ready yet, you can upload a preview and pre-sell the course at a discount rate. If it is, send out an enthusiastic email letting your customers that your brand-new course is out now, available at a special price for Black Friday only.
11

Optimize your homepage/product page

When this time of year comes, adjust the design to bring out a Black Friday mood and make it clear to your target customers and site visitors that something special is going on. Focus on your branding colors, add powerful CTAs, and use pop-ups wherever appropriate. Don't overdo it, or your website will end up looking tacky and salesy.

💁 If you already have created your online school using LearnWorlds, then you can leverage the Site Flavors functionality to change your entire online school into a Black Friday theme for a short-term period. You can turn back to your original theme instantly. Watch the following video to see the process step-by-step:

Alternatively, if you don't want to change your entire school's look, then you can easily add a section with just a few clicks on any part of your website and customize it to create an attractive discount Black Friday zone.

You can even include discount zones on the after-login page which is the first place your students visit when they log in to view their courses.
15

Enable customers to pay in installments

Although this should be a year-round tactic, make sure you say it loud and clear that customers don't need to pay one-off for their courses! Buy now/pay later services are massively popular among consumers, enabling them to pay in installments without a credit card. And they're also massively popular among sellers as they noticeably increase sales.

💁 LearnWorlds offers you the ability to accept payments with Klarna and Afterpay through Stripe, among other flexible payment options.
16

Build your Black Friday email marketing campaign

As research shows, email marketing is a very powerful strategy. It has a huge positive impact on the revenue of eCommerce business owners who use a multivendor eCommerce platform, especially during the holiday season. The fact that 50% of people buy from marketing emails at least once a month shows that email marketing is an excellent choice to increase your online school profits.

Start working on your email campaign at least 2 weeks before the big day. Decide what you want to focus on: a new course launch, informing recipients about offers and inviting them to check them out, promoting specific products to a closed customer group offering early-bird access, etc.

Before you hit the send button, customize your emails and their subject lines. Use words that are popular and catch the attention, such as 'Black Friday,' 'Cyber Monday,' 'Holiday,' 'Free,' 'Don't Miss Out, 'Save,' and 'Now.' This should help you attract more people to your school site and increase your conversion rate. We've got more advice on email marketing in the section below!

Also, don't forget to encourage site visitors to opt-in to your email list to keep up with your course launches and updates. If you don't have one yet, make sure you create your own email list of useful contacts.
Ready to Get Started With Your Black Friday Planning?
Take time to check out your inventory of courses, pick the ones that need a boost or already sell well, and get them out to the public. Whether you create a new course or offer one as a giveaway, there are many Black Friday marketing strategies to try out, and the choice is yours.
Besides, you know your customers better than anyone else. Deep dive into your online school's analytics to make data-driven decisions. Choose the best and most suitable marketing strategy that serves your learners' needs the most while increasing their chances of responding to your offers.
Start working on your Black Friday deals today, and don't forget about Cyber Monday, either!

Further reading you might find interesting:
(Visited 13,161 times, 1 visits today)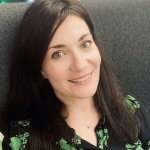 Androniki is a Content Writer at LearnWorlds sharing Instructional Design and marketing tips. With solid experience in B2B writing and technical translation, she is passionate about learning and spreading knowledge. She is also an aspiring yogi, a book nerd, and a talented transponster.