Being an online school owner and educational product creator is often challenging because you also have to attend to the marketing side of your business. Instead of you wearing a marketing hat, you could have a group of partners, like experts or influencers, do the marketing work for you.
It sounds ideal, but it's true. You can actually build your own army of affiliates who will recommend your online courses to their audience. This is essentially affiliate marketing for online schools.
Affiliate marketing is an online sales tactic that involves promoting a vendor's product in exchange for a commission. It is a business arrangement between an online product creator and a third-party business or an individual. The vendor pays commission to the business or individual in exchange for business leads or sales generated from the affiliate's promotional efforts and direct referrals.
Learn how to sell courses in the LearnWorlds academy
Sign up now
Affiliate marketing is a win-win relationship. Apart from the aforementioned sales and commissions generated, there is a list of benefits for your online school that are worth mentioning.
These include:
Expanding your target audience.
Boosting your brand's visibility.
Improving your SEO results.
Recruiting your own sales team without actually hiring talent.
Helping you become more professionally independent.
How to Use Affiliate Marketing to Grow Your Online School
In order to start getting affiliate partners, you need to gain access to a large network of contacts. If you need some guidance on where to start, the following steps can help you out:
Step 1: Search for high-quality affiliates
The first step when starting out to build your affiliate marketing program is to choose your affiliate partners carefully. Starting from your most inner circle, e.g. friends, family, former colleagues or students, search for those who have the will to spread the word, show a genuine belief in the value of your offering and have a large audience that is interested in your courses.
Search for people who share the same interests as you or are in your chosen niche and are willing to market your course. Doing so should help you attract affiliates that will bring you more course sales.
Try these:
Searching manually on Google: Go to Google search and type in "[your industry] and 'blog'" and see where this takes you. Make sure to use appropriate keywords to get the results you would expect.
Exploring social media: Look for different Facebook and LinkedIn groups, join them, and let them know what you are looking for.
Asking your students to become affiliates: Your students know what you do and support you all the way. Contact them one by one and ask them to recommend your work to others.
Step 2: Contact potential partners via email
Send an email to introduce yourself to your target list of affiliates. Present your offering in a professional and concise way.
Demonstrate the benefits that your affiliates will enjoy, and ask them to get back to you in case they are interested in recommending your product to their audience.
It is best to avoid sending mass emails. Try to personalize your communication instead and prioritize contacting people who already have some knowledge of your brand, such as existing leads or students.
Step 3: Make an offer
Discuss the basic terms of your partnership with qualified affiliates. A generous offer of 50 percent or more on your promoted courses, can work and usually does the trick with most affiliate partners. It will help you grow your affiliate program faster than offering a moderate commission of 20 percent.
However, you need to set the commission rate at a level that is competitive but also profitable for you at the same time.
There are a number of affiliate programs out there, which compete for the best affiliate marketers. If you want to stand out from the competition, you can try the following tips:
Offer a free course or trial: Give potential affiliates the chance to try out what you are offering.
Use an affiliate marketplace: You can spot the right affiliate partners in marketplaces, such as Zaxaa, ShareASale, e-Junkie, and ClickBank.
Create videos: Videos can help you actively engage with your audience and be found more easily.
Optimize your online presence: Be consistent and build on your brand's social media presence.
Broaden your reach: Reach out to affiliates using multiple means, such as email marketing, product review blogs, or social networks with high engagement, e.g. Instagram.
An All-in-One Solution for Affiliate Marketing
Now, how do you implement a comprehensive affiliate program for your online school, without any tech hassle or confusion?
With LearnWorlds' built-in Affiliate Management tool, every school on a Pro Trainer plan or higher can set up their own elearning affiliate program with only a few clicks.
Affiliate Management offers all the features you will need, such as affiliate registration page (with a template), a pre-built, editable terms and conditions page, commission set up (customizable per affiliate), complete affiliate and commission tracking, easy commission approval process, in-depth reporting, and so much more… all built-in inside your LearnWorlds school, so you don't need to pay extra for a third-party tool (which would cost anywhere between $49 and $499 per month).
These and many other features can become available for you once you set up your affiliate program with LearnWorlds.
How do you get started?
Log into your school Dashboard and choose "Marketing Tools" from the menu. You will be given the option to set up your affiliate program with a few clicks.
Here's a quick overview of what you'll see when you choose "Affiliate Set Up". In this section, you can set up every detail of your affiliate program.
Enable your affiliate program with turning on the button and don't forget to keep the "on" option at all times:
Your affiliate program is sealed with an agreement between you and your affiliate partners. To prepare one and set your terms click the "Edit page" button.
Once you have opened the template, you can edit the placeholders in red, save and you are ready!
Now, scroll further down the page and set a) the universal commission rate, b) the cookie expiration days, and c) how long it will take to pay out commissions.
Your Affiliate Management Dashboard will give you a complete overview of how your affiliates perform.
When you click on an affiliate's name you will see more details about their individual performance.
Would you like your own army of affiliates to drive highly-targeted web traffic to your online programs? Log in to your school Dashboard now to get started with affiliate marketing for your school.
Not a LearnWorlds customer yet? Click here to start a thriving online school with our 5-star platform.
(Visited 3,284 times, 1 visits today)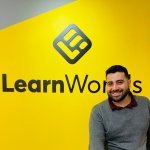 Nick Malekos is a Senior Digital Marketer in LearnWorlds. He is a results based and well-rounded Digital Marketer with years of experience in the education industry, writer and digital literacy trainer.