With the modern rate of technological change, international competition, and economic circumstances, human resource departments need to keep up the pace of their employees' growth for the company to be competitive.
HR departments are responsible for training, onboarding, and upskilling employees to keep them productive.
Luckily, elearning technology is keeping up with the trend, and modern elearning solutions allow HR professionals to train their employees more efficiently.
What is Human Resource Development?
Human resource development is the ongoing process of training, upskilling, and reskilling employees' skills and knowledge.
They are also responsible for keeping up with industry compliance requirements and offer career development training both for performance reasons as well as keeping high-performing employees happy with their professional growth.
Human resource development starts immediately when an employee joins the company and continues towards the complete journey, and includes:
Onboarding training

Employee upskilling & reskilling

Performance management

Career growth training

Compliance training

Soft skills training
The above list is not an exhaustive list by any means. Professional development does not stop while learning and development. It is an ongoing process.
Why is Human Resource Development Important?
One of the core functionalities of an HR department is the training & development of employees for their whole lifecycle. Employees are not acting to their full potential if their skills are outdated or do not follow company procedures correctly.
Human resource development can "unlock" the potential of employees to become high-performing members of the organization.
Benefits of HR eLearning Programs
From onboarding to continuous development, employees who undergo training are more valuable to the company. 
Here are some of the benefits of eLearning Programs for businesses:
Better communication & teamwork.

Higher employee retention.
How to Develop an eLearning Program for Human Resource Management
Human resources departments usually own the need for training and development within organizations.
General training like compliance, onboarding, and management training usually falls under HR. However, specialized training per department or for upskilling certain roles is being done in collaboration with department managers.
After coordinating with the right stakeholders, HR will decide the kind of training required and move forward with training.
Outsourcing or not?
One of the main questions is whether to outsource or buy training. You could purchase training course licenses through marketplace websites or through a professional training provider (individual or company).
In the following step-by-step guide, we are assuming that the HR department has an in-house trainer to develop an eLearning program:
Step 1: Identify the Goal(s)
Every HR training program starts with a problem or a need. The problem will lead to a goal for the training program.
This might be:
Improve the onboarding process

Train employees for missing skills or competencies

Enhance productivity with new methods

Comply with new rules, e.g. fire safety, industry regulations, etc.
Any employee training program should focus on delivering towards the goal. Without a clear goal, you cannot develop an elearning course that will achieve results.
Step 2: Set the Learning Objectives
Then, you need to break down the goals into learning objectives. Those are more granular and measurable results for your training.
You will be using the learning objectives to inform your development program outline and measure the results through a learning management system.
A learning objective for a Health & Safety course might be for the learners to learn the details of new health department regulations and be able to pass a practical assessment on the topic.
Step 3: Create an Instructional Plan
You are ready to create an instructional plan. You will be using the learning goals and objectives to develop an outline of the learning path for the online training.
Tools like storyboards and learning activities can help organize your ideas into a plan.
Each learning goal has to have a specific section or series of learning experiences that will teach employees the right skills or knowledge required.
Remember to add assessments and tests along the way.
Non-graded tests can help with employee engagement during the lifetime of the course, while assessments are a great way to get feedback in your LMS on the progress of your employees.
One or more final assessments might be required for your employees to pass the training. This is also what you are going to be saving in the HR management software you are currently using.
Step 4: Develop the Content
The next step is to develop elearning content for the training program.
You are now ready to take your plan and give it some flesh and bones by creating the content you have planned.
When you are preparing reading material, videos, or assessments, it's a good idea to keep a good folding system and backups in place. It does not matter if you prefer to use Word or Google Docs.
The end result will most likely be a PDF, educational video, or a SCORM file.
Here are a few things to have in mind when developing your elearning content and sources for further study:
Creating PDFs vs. Multimedia Content
You can easily prepare training documents with pages and pages of slides or text. But your content won't be interesting and engaging.
In LearnWorlds, we have developed a multimedia ebook creator where you can directly prepare the training on the LMS and add multimedia content.
In the multimedia content, you can design the ebook and add images, videos, audio, and external links (or embeds) to other content. Making it a richer activity than simply reading.
And, if you need custom learning activities, LearnWorlds also supports SCORM, the format most instructional designers use to deliver custom courses for corporate training.
Educational Videos
Videos are how most of us consume content right now. Video is a warm medium that engages and enhances the senses. It also allows the learner to feel engaged by seeing the face and listening to the voice of the trainer.
But, at the same time, attention spans are lower than ever, and video has to accommodate this as well.
The rule of thumb here is breaking the video down to shorter modules of 0-5 minutes for most activities and up to 20 minutes for in-depth topics. This allows learners to keep up with lessons without being bored of long lectures and remember where they left off to continue another time.
We have an in-depth guide on educational videos here, or you can download our resource to help you develop educational videos:
Assessments
Assessments are both interactive educational tools and evaluations. Using the right assessment at the right point can elevate your training and enhance employee development.
The two most important kinds of assessments are:
Knowledge checks:

These can be quizzes testing the knowledge of the learners after every activity or section. These are educational tools to help learners

retain knowledge

.

Evaluations:

Testing the knowledge of your employees using evaluations of pass/fail or scoring to evaluate the level of knowledge
Remember to use the integration or the LMS' API to pass the scores to your HR management software for better tracking of employee training and performance.
Step 5: Publish & Distribute
Your content is ready, and your LMS is set!
Your next step is to publish the training in the LMS and invite employees to join. Distributing the training can take many forms, and it depends on company procedure.
Here are some examples of training distribution:
Employee portal

Email invitations

In-person invitations

Project management software

HR software

Through managers
Step 6: Measure Results & Feedback
Lastly, you can't have good talent management without measuring results.
As we already mentioned earlier, you need to be sure to upload scores to the HR management or CRM software to keep track of training.
Many companies use certifications to track training completions. Others use a pass/fail tag or scoring in their systems. It really depends on your organization's requirements and tech.
Then, you can always add feedback forms at the end of the course to collect feedback from employees and improve your future training.
An unpopular or badly designed training might impact completion rates. Taking feedback seriously (and with a grain of salt) is important for improving the company processes and training program development. 
Best Online Learning Platform for HR Training
To completely create, deliver, and monitor HR training, you will need to invest in the right LMS software. LearnWorlds is the best platform for HR training needs.
You can test LearnWorlds if it's right for your training program with a 30-day trial:
LearnWorlds is a fully customizable cloud-LMS platform that allows you to create engaging learning experiences on-brand for your company, employees, suppliers, and partners.
It's an easy-to-use platform that supports both modular training and SCORM training material from your vendors.
(Visited 4,371 times, 3 visits today)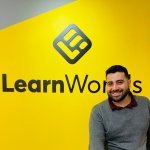 Nick Malekos is a Senior Digital Marketer in LearnWorlds. He is a results based and well-rounded Digital Marketer with years of experience in the education industry, writer and digital literacy trainer.