Today, we are sharing with you the one secret weapon that high-performance online instructors use to attract more students, turn them into rave fans and entice them to take up on your upsells.
You might be at a point where you are increasing enrollments – but growth comes too slowly.
You've launched your course, you've tested and validated it, but it feels like you are not attracting as many students as you expected. You know that there must be a way to sell more online courses and grow your training business faster.
What Can You Do To Sell More Online Courses?
The answer might surprise you! We're not going to talk about posting on Facebook or Instagram or running advertising campaigns. We're going to show you what top achievers do to sell online courses, and how you can do it too!
Need more ideas to increase course sales?
The Complete Checklist To Selling More Online Courses
A comprehensive guide to selling more online courses and suceeding with your online business
Remember back in the day when we all enjoyed a good (offline) training session or workshop in a seminar room? What did you enjoy the most? Interaction!
You enjoyed the interaction with the trainer and the fellow students, right? You were able to ask questions, make jokes, network, and share mutual interests and experiences.
So you must have guessed it by now! The unique advantage of high-performance online trainers is that they've built an active learner community. They keep it alive, they nurture it and expand it.
To increase your course sales exponentially you need to add interaction and networking to your online school – and we provide you with the right tools to do it.
Here's The Big Picture
The urge to be part of a small or large community is not new. For as long as humanity has existed, we have survived and thrived by belonging to a community.
When your students feel that they belong to something bigger they will be more willing to go through the whole course, buy more courses and bring more students on board through word-of-mouth. That's why you need to nurture your community of learners and allow them to engage with you and their fellow learners.
Also, a community will help you:
Reduce refunds
Reduce churn rate in subscriptions
Increase customer satisfaction
And create buzz and help you in word-of-mouth marketing
Grab your free 30-day trial of LearnWorlds and start building your course and online community hassle free!
How To Build A Thriving Community Of Course Participants
Now, you may be wondering "how do I create and nurture my community?"
Maybe Facebook Groups is what comes to mind. But that's not always the best option. Building your own proprietary community is in most cases the way to go. Why? For a lot of reasons, but mostly because you want to own your audience and not being dependent on Facebook's algorithm to decide who's going to see your posts and when. And, with recent events of Facebook's private data being compromised, people might be relieved to join a different community.
In LearnWorlds, we give you all the tools you need to create a lively community and interact with course participants in an engaging way, including a community page similar to a "Facebook Wall", private messaging and comments on both the courses & the community page.
No, need for buggy plugins to create your own membership community.
Have A Built-in Community
Distinct discussions and groups for every course in your school. Imagine what you could do by offering a small facebook-like social network within your school.
Instructors can direct, enrich or moderate a discussion as needed. For educators and teachers, community adds a layer of much needed social learning, while for digital entrepreneurs, the community is a lead nurturing paradise.
Learners are able to discuss issues, ideas, and experiences with each other.
The conversation can take place within a traditional online course or through group discussions (similar to forums) and personal messages.
Use LearnWorlds' private messaging to personalize each student's learning experience for their own learning objectives.
Run A Competition In The Discussion
A great way to activate your current students / customers and get new ones. Running a competition in the comments can get people engaged. Give a course access to the winner and discount codes to the rest of the participants to increase your sales.
Competitions can also be a great lead capture tool. Ask people to register and comment inside the community to get into a lottery.
Searchable Network & Rich Student Profiles
Include a student profile. Your students will be able to customize their profile, add a picture, a bio and network with other students. Enabling them to connect with like-minded people in their industry and create opportunities for extra value.
Know thy students, and offer a personal, social experience to make them come back. Their profile will help them get involved and engaged, staying longer and coming back for more 🙂
Drip Lessons
Another way to go with online courses is to drip them at regular intervals. This is a good way to keep your students and members engaged. Every time a new lesson is released, the subscribers will receive a notification. You can use these customizable notifications to deliver email courses.
Gamification Badges
Gamification badges aim at increasing social interaction and engagement. Small acts of gratification will raise your community's vibe and keep students active and happy.
Private Messaging
Private conversations can personalize the experience and connect in a different level with your students. Answer questions, get feedback, give them a coupon or coach them.
Create A Membership Site
Sell memberships/subscriptions instead of one-off courses. Memberships allow you to offer fresh content on a regular basis and keep your students coming back.
The membership business model has a lot of advantages, like regular recurring income, increased loyalty in the community and steady income growth for your online course business.
With LearnWorlds, you can have different pricing tiers and, at the same time, offer premium courses with one-off payments.
Building Your Path To Success
Selling more online courses starts with providing valuable and engaging content in every lesson. However, a thriving community is what sets apart successful infopreneurs from struggling course instructors. Using LearnWorlds' built-in community and social features gives you a competitive advantage and saves you time, money and effort that you can invest in more fruitful endeavors.
Did you forget to download your free checklist? Click the button below to get it!
The Ultimate Guide To Selling Online Courses (vol 1)
Discover how to make your online courses ready for sales and, most importantly, profitable.
(Visited 1,949 times, 1 visits today)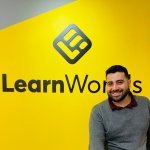 Nick Malekos is a Senior Digital Marketer in LearnWorlds. He is a results based and well-rounded Digital Marketer with years of experience in the education industry, writer and digital literacy trainer.