We're living in the creators' economy, where more and more people who are knowledgeable and passionate about a topic decide to monetize their knowledge by creating and selling online courses.
And why shouldn't they? Creating an online course is easy using an LMS or a Course Platform. If you're an aspiring course creator searching for the right platform or already using LearnWorlds, then you must know that LearnWorlds fits both descriptions perfectly.
LearnWorlds is a modern course creation platform with LMS features that comes with a robust and fully customizable website builder. Therefore, you can create a user-friendly website and sales funnels to market and sell your courses – a functionality that most LMSs fall short of.
And not just that – LearnWorlds also enables you to perform basic Search Engine Optimization and make your website easily discoverable for search engines.
In this post, we're exploring this amazing capability that can increase your course sales and profit. Let's see how you can utilize LearnWorlds' SEO capabilities and build an SEO-optimized website and course pages that will attract the right leads!
Website Builder Options
Before going into our SEO features, let's see what you can do with LearnWorlds Site Builder:
Create an intuitive User Interface for a smooth User Experience (UI/UX friendly)
Customize the Page Slugs (URLs)*
Customize the main menu and footer
Add meta-descriptions and meta-titles
Add headings (H1, H2, H3) to pages and blog posts
Automatically generate a sitemap
Fully customize the site architecture
💁 * Customizing the page slug is not available for Systems, Product, Affiliate, and the Blog Home pages. You need to clone the page if you want to have a different slug and make further customizations. Read our relevant article on Managing your Page Properties for more information.
Basic Setup Checklist
Here is a quick checklist you can use to set up your LearnWorlds Academy correctly and ensure you don't forget anything. Follow the links to our support articles to learn more:
✅ Name of the website: "School Name"
✅ Upload Logo & Browser Icon (Favicon)
✅ Integrate Google Analytics
✅ Verify Google Search Console
✅ Submit a Sitemap
✅ Change the name of the Home Page
✅ Add meta description, meta tags, and keywords to your pages
✅ Connect LearnWorlds with your website
Optimizing SEO with the LearnWorlds Site Builder
LearnWorlds' Site Builder allows you to build any page you feel is valuable for your online school and optimize it for SEO too:
A blog
About us pages
Contact us pages
Welcome pages
Landing pages
Bundle pages
Course pages
Pricing pages
1-click sales funnel
… and any page you wish by using the "Empty" template. In short, you can have the website of your dreams using our customizable drag & drop website builder.
Let's see all the options you have to optimize your website and course pages, so you can reach more people, sell more courses, and make more money!
Course Title and Course URL
When creating a course in LearnWorlds, the Course Builder Wizard guides you with the basic settings you'll need to select to create your course.
To start building your course, navigate to Courses → Create Course. First, you need to add a Course title:
You should make the title SEO-friendly by including a relevant keyword. If you want to teach Managing Personal Finances, for example, don't beat around the bush and call the course "Nick's secrets to saving money." Think about how people would look up this course by doing a quick keyword research. (Don't know how to do keyword research? Read our comprehensive SEO guide for course creators.)
Next, you'll need to choose the course URL. This step is significant for SEO. Create a short, descriptive URL that includes the keyword your course landing page targets.
You'll see that the Course Builder Wizard offers best practices for your URL:
Keep it short
Use keywords in your course title
Don't use "a," "the," "and" and similar words
Use dashes (-) between words
💡 Pro Tip: The course URL cannot be changed later. If you need to change the URL, you will need to copy the course and create a new one.
Course Page SEO – Title & Descriptions
When creating a course on LearnWorlds, you have many options in Course Settings that will boost your course's online visibility while also making it look more appealing and attractive.
Navigate to Course → Select the Course you want to manage → Settings.
Here you have the option to add an Image, a Title, and a Description for your course card. Your Course card and all its contents appear in your Online school.
Next, you can add your course to a Course category.
Further down, you have more options for SEO optimization – this time, all the settings concern how your Course appears in Google results. You can add an SEO title, SEO description, SEO keywords, and SEO image.
If you don't want to do this yourself, there's also the option to extract Course SEO automatically.
*Social Media Preview: The SEO titles & descriptions will also update the Open Graph meta-data. In layman's terms, they will be used from social media when creating a preview of your page or course shared in social media.
Creating a Blog on LearnWorlds
A blog is a great way to improve your SEO, and not just for that. When maintaining an active blog, you get to write and deep-dive into multiple subjects to showcase your expertise and further establish your authority while engaging your audience. With blogs, you can target keywords you couldn't with other pages.
LearnWords has exceptional blogging capabilities that allow you to create an informative and engaging blog that will captivate your learners.
To start building your Blog, navigate to Site Builder → Edit School Site →Blog.
Writing a blog for SEO follows the same principles as the rest of your website. You need to:
do research
decide on topics to write that are relevant to your niche
optimize titles and H1, H2, and H3 titles
add a meta-description
write valuable content
double-check for spelling and grammar mistakes
link to other relevant pages on your website
create relevant URLs
Optimizing Images for SEO in LearnWorlds
Although image optimization won't do wonders for your ranking, it is still a factor in play. Unfortunately, most creators neglect image optimization even though it's a straightforward task.
You just need to follow these three best practices:
Always add alternative text that both screenreaders and search engines can pick
Create unique images whenever you can
Compress the images before uploading them to improve site speed
Using the LearnWorlds Site Builder to add and customize images, you can add alternative text to your images:
In the example above, we have added some additional information to the course instructor's images.
For instance, this is a profile image of an instructor named Andreea-Aurora Constantin. We could write something more specific than "Instructor profile picture" in the alternative text space to optimize the whole page. Writing something like "Social Media Expert teaching social media for course creators" will target important keywords like "social media" and "course creators."
Migrating to LearnWorlds Without Losing SEO Rankings
If you're considering migrating your website to LearnWorlds, you need to take some steps to avoid losing your ranking.
You don't need to worry about this if you don't rank for keywords and have no links pointing to your website. You can check this with a free or paid SEO tool.
If you're getting valuable traffic from search engines, then follow the process below:
Log in to Google Search Console.
Organic traffic: Check and note down pages that are getting organic traffic.
Leads/Customers: If you're using Google Analytics or another tool, review and note down pages that bring leads or customers.
Backlinks: Use an SEO tool, like Ubersuggest or Ahrefs, to discover and note down pages linking to your website.
You guessed right – you need to rebuild all these pages in LearnWorlds before migrating.
You will need to keep the structure of your previous website. For example, if you had www.mywebsite963.com/blog/why-I-became-a-course-creator, you need to keep this URL structure for the new pages.
Also, keep the same or similar structure for your menu, footer, and internal linking—every small detail matters.
⚠️ SOS: For pages you cannot recreate using the exact same structure, you will need to create 301 redirects.
💡 Pro Tip: You don't have to rebuild all pages. On the contrary, this is a great opportunity to remove pages with low-performing or outdated content that might eventually do more harm than good.
💁 Keep in mind that it's absolutely normal to see a drop in organic traffic after a migration. Be patient because your ranking will go back to normal after a few days or weeks at the most.
When should you not migrate?
If you currently have a complex website with tons of valuable traffic, it's in your best interest to keep your WordPress, Wix, or another website in place.
In this case, you can connect your LearnWorlds site as a sub-domain and link to your courses on LearnWorlds from your main website.
Ready to Optimize?
That was it: SEO optimization completed! Taking some time to configure some minor SEO settings can help the visibility of your online school. And we just showed you how easy it is to do it with LearnWorlds.
If you haven't used our platform yet, jump on board with a 30-day free trial to discover how to create optimized learning experiences with LearnWorlds!
(Visited 452 times, 1 visits today)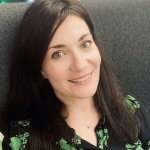 Androniki is a Content Writer at LearnWorlds sharing Instructional Design and marketing tips. With solid experience in B2B writing and technical translation, she is passionate about learning and spreading knowledge. She is also an aspiring yogi, a book nerd, and a talented transponster.