It's the most wonderful time of the year…it's Christmas!
The holiday spirit puts us in the mood to spend quality time with our loved ones, expressing our gratitude for all the beautiful things in this world and our lives, and looking deeper into ourselves. Christmas is the perfect time to evaluate what we accomplished over the last year and offers the opportunity to make a fresh start.
That's why it's a great opportunity for course creators to prompt new customers and existing ones to invest in their personal development and add an online course to their Christmas shopping list!
But, if you want to sell more online courses during the holiday season, you will need to prepare early. How early? Just after you're done with your Black Friday marketing, you should be planning your christmas marketing campaigns to remind existing customers and prospects why your courses are the most awesome gift they could give to themselves – and not only!
Table of contents
Effective Holiday Marketing Strategies
As holiday shopping soars, this season is the perfect opportunity and the best possible timing to promote your courses. All you need is to come up with a hook to make people interested in what you have to offer.
If you need some inspiration, here are the most effective Christmas marketing ideas that can help you do this the right way.
1

Introduce Special Holiday Bundles

Holiday shopping is generous! Why sell one course when you can sell two…or more? In a high-shopping season, course bundles can generate a significant ROI.

If you have more than one course, put together an attractive offer and create a bundle of courses offering two or more courses at a lower price than buying them individually. This way, you offer customers the opportunity to buy multiple courses at once and save money while increasing the real value of their purchase.

💁 Check out how easy it is to create a course bundle in LearnWorlds.
2

Create Special Offers

Holiday sales and special seasonal offers work well for people who are after yearly promotional discounts. For course creators, December is the second-best month (after Black Friday) to go big on sales. What's great is that you can do it in multiple ways.

For example, you can offer a free mini-course as a bonus upon purchase or reduce the cost of the existing course to attract new students. Alternatively, you can create a limited-time coupon code to offer a discount. Browse this shopping calendar with the biggest sales events and holidays throughout the year to choose other appropriate dates for your coupon launches.
3

Offer a Gift Card

Gift cards can work for those who want to get that 'little something' for their loved ones, partners, family, and friends. Besides, everyone loves receiving a gift card they can use as they like!

Another great option for personalized Christmas gifts is to create custom-made, heartwarming Christmas picture cards which capture the essence of the season and spread the festive spirit.

Those who think books are the best presents are more likely to love receiving an online course as a gift – a gift that offers valuable education, the opportunity to develop a skill or start a new hobby.

Make sure to sprinkle some Christmas spirit on your gift cards: combine them with a Christmas card, an e-card, or New Year special promotions/discounts.
4

Support a Charity

Supporting a charity can benefit small businesses, not only financially but also in terms of building brand awareness. Research shows that 85 percent of consumers have a more favorable opinion of companies that support a charity they care about.

Also, they're more likely to switch brands that are equal in quality and price. Promoting a charity can give you an advantage over other schools and attract people who want to contribute to a good cause.
5

Use Social Media

Make use of social media channels like Facebook and Instagram to sell courses. Let people know you're offering a discount on online courses, and share what it's currently available.

Also, join online forums and social media groups relevant to your course topic and target audience. Share a link directing to your landing page (that is dedicated to your Christmas campaign), where you offer educational or fun content. Content marketing in the form of a short but value-packed blog post or video, along with a promotional deal, works wonders.
6

Create Limited-Time Offers

Leveraging FOMO (Fear Of Missing Out) is a foolproof marketing strategy that never disappoints. Create a sense of urgency by announcing last-minute Christmas deals. Use a popup notification to attract attention and a countdown timer so site visitors know exactly how many days they have left before they make their purchase.
7

Create a Christmas-Themed Webinar

If you offer step-by-step guides and tutorials on DIY and crafts creation, food, or catering services, now is the time to create a special-themed webinar that addresses topics relevant to the Christmas season. People working in hospitality and retail will appreciate your special advice for the holidays, as these sectors face an increased workload during this time of year.
8

Consider Affiliates

Promoting your course on other sites is an effective way to boost sales all year round, Christmas included. Through affiliates, you can multiply the audience you reach out to in exchange for a small percentage of your profit. Create exclusive Christmas deals and special discounts for customers discovering you through affiliates to make your offers more attractive.
9

Offer Bonus Services or Products

Along with other promotional deals to increase sales, you can use limited-time bonuses to add more value to the purchase. Bonuses could include consultation calls, one-to-one or group coaching, access to private social media groups, or learning materials like eBooks, PDFs, videos, etc. These are more likely to encourage people to pay attention to your offers and take action.
10

Offer a 'Physical' Present

For those who have a more traditional mindset and prefer to feel that their money is not 'thrown away' to a non-physical present, offer a free physical product along with their online purchase to satisfy their requirements.

These products should be relevant to the course or the subject you teach.

Run a quick search on Google to find gift ideas that might suit the course topic you're teaching.

For example, a typical gift guide related to a gardening course that can come up in a search may look like this:
A gardening journal
Fruit and vegetable stamps
A collection of clay pots
A garden apron
A gardening tool set
Such presents can give potential customers the incentive to enroll in your course. The best part is that you don't need an online store or invest too much in eCommerce to do this.
11

Offer Flexible Payment Options

Chances are, your potential customers might have gotten off the rail a bit with holiday shopping (we've all been there). Perhaps your offer might come at a time when they feel like they've already spent too much and pass it. But there's a way to move past this roadblock and make sure your marketing efforts don't go to waste.

The solution is using a Buy Now, Pay Later service to ease the objections of reluctant customers. Flexible payment options will enable reluctant customers to feel better about buying your course since they won't have to pay all the amount upfront but split it in installments, even if they don't own a credit card.
12

Send a Promotional Email

If you already have an email list (if not, you may read our guide on selling online courses using email marketing) with your students' emails or even those who have just created an account in your school, you can send out newsletters and other promotional material. Each email should entice students to visit your site and/or upgrade their subscriptions. To do this, make sure to present and explain in detail the offer and the benefits they can get from it.

At the same time, it's a good idea to create some urgency, e.g., with limited-time offers or introducing a deadline, and some 'social proof' while sharing examples of past students who used your product and got real value from it.

👉 Check out our blog post about 3 email marketing sequences for selling your online courses.
Email Marketing Tips (with Examples)
Email marketing is a very effective way to reach out to your audience. Below, we will examine some key email types and things you should pay attention to when planning your holiday marketing campaign.
Welcome Emails
Send out welcome emails to new subscribers in your school community. Welcome emails have a 45.7% open rate, far greater than promotional emails that range at 18.8%.
To optimize welcome emails:
Send the welcome mail immediately after subscription.
Ask people to do something through CTAs, like complete a survey or a quiz.
Discuss opt-in benefits and rewards (e.g., a discount code for future purchases).
Include branded media.
Don't send an impersonal message like "Your subscription is confirmed." Instead, call them by their first name and make your email sound human and warm.
Example from Birchbox:
Promotional Emails
Promotional emails aim at prompting a customer to complete a purchase or introduce new products and discounts. They usually end with a CTA that leads to the desired action, e.g., buying, downloading, signing up for an event, etc. Focus on the relationship you want to build with your customers and explain who you are – it's important not to sound too eager to sell.
To optimize promotional emails:
Segment your audience and go beyond the price/discount. Instead, focus on the underlying needs of your customers (need for intimacy, esteem, success, self-realization, and freedom, which the suggested product can offer). Remember to highlight the level of security that can influence them to take the next step.
Be wary about the frequency of the emails you send out – too many of these may bring the opposite result (i.e., the "Unsubscribe" button).
Experiment with different formats/designs and types of promotional emails, such as mystery offers, limited-time offers, newsjacking, contests/competitions, new products release, freebies, sales, and selective promotions.
Example from Gone in a Flash:
Upsell Emails
Upsell emails are sent after the purchase aiming to increase your sales. They can suggest more courses, another one of your products or a bundle, or even send a coupon for their next time or to gift to a friend.
To optimize upsell emails:
Create a friendly atmosphere, say thank you, and welcome your new students by showing them their next steps.
Suggest similar courses they may like.
Give them a gift, coupons, or discounts.
Send new customers a coupon to share as a gift for their family & friends.
Example from Headline Studio by CoSchedule:
Subject Lines
The subject line introduces people to the email, and it's the first thing they get to see. To make a good impression and make sure they actually open the email, your subject line needs to be funny, clever, and engaging; otherwise, it won't have any of the desired results.
Here, don't be afraid to use humor, seasonal emojis like a Christmas tree – 🎄 , a snowman – ⛄, the Santa – 🎅, a Christmas gift – 🎁or anything else that reminds the festive season, and experiment with messaging, mode of contact, and timing.
Subject lines to use for welcoming emails featured at Hubspot and Vero.
'We're Away. Let's meet up." from Away travel
'You're part of the family now' from Eve sleep
'Hi Kasia, let's get you started.' from Helloprint
'You're in 🙂 Quick video inside' from Monday.com
Some popular words to include are: 'Get Started', 'Hello', 'Thank You', and 'Offer.' It's also nice to use special media/videos and relevant CTAs at the end of each email.
Subject lines to use for promotional emails taken from MailCharts:
'Hello, Gift Guru.' from Jonathan Adler
'The right present, right on time' from Tory Burch
'The 12 Days of Christmas Sale Starts Now!' from Yellow Box Shoes
'After Christmas Sale Starts Now' from Pfaltzgraff
Top phrases to use in any of these emails – new, free, off, sale, now, holiday, save, day, more, up to, gift, shipping, only, Christmas, last, get, today, win, and special.
Prepare on Time
Preparation is everything, and even more so for the Christmas sale. Before you start sending out emails, create your own Christmas checklist, and think of your emailing schedule. First, ask yourself when it's the best time to send your emails.
According to recent statistics, most companies send their Christmas emails seven days before Christmas. In more detail:
8.15% of emails are sent on Christmas
5% of emails are sent after Christmas
28% of emails are sent in the 7 days leading up to Christmas (18/12 through 24/12)
Sending your email before Christmas gives your customers plenty of time to decide whether to buy or not and builds up the excitement. Also, don't forget to remind customers of the final deadlines so that they can get their packages on time.
For this, you can use the 'X days to Christmas' email template. Check out the following examples for inspiration:
Example from the Early Learning Centre:
Example from AVON:
So, if you want your Christmas marketing campaign to be successful, you need to create holiday campaigns that are fun, festive, and directly relevant to your audience.
Well-optimized and personalized emails that hit the right 'chord' of your customers can help you achieve a higher click-through rate and an increase in your course sales at large.
Social Media Marketing Tips
There's enormous potential to promote your special offers and increase conversion rates if you make consistent efforts on social media.
Share User-Generated Content
Have you ever thought that users could lend a hand with your social media marketing efforts? Posting user-generated content on social media platforms is a winning strategy to get additional online sales, especially during holidays, whether it's Halloween, Black Friday, Cyber Monday, or Christmas.
To get the most out of it, encourage people to tag your brand's name on their social media posts or stories and share them on your business profile. This may include reviews, photos, videos, texts, or images that position your online courses in a positive light.
Prompt People to Sign Up For Your Newsletter
Explain the benefits of why people should sign up for your newsletter, saying something like 'Our newsletter is full of cool cooking tips' or 'Stay in touch to learn about our secret gourmet dishes.' This way, you are reminding your customers why they should keep receiving your newsletter, and at the same time, you are providing them with a valid reason to continue doing so. Offer a small discount or a free course to give your Christmas sales a nice boost.
Host a Social Media Contest
Another excellent idea to get people involved in your marketing campaign is to host a contest. For example, you can ask them to upload photos on your social media pages to reveal the 'Best Christmas Photo' or share their own Christmas wishes and cards with you using hashtags. This way, you can lure more people in and find out who your real loyal followers are.
Another fun activity is creating a video featuring your product, infographics with cool statistics related to Christmas, or any other eye-catching, well-curated media.
Social media contest example from Starbucks:
Now It's Your Turn!
When it comes to marketing, promotion, and sales, timing is important. If you want to ensure the upcoming Christmas will be great, you need to offer potential learners what they need at the most appropriate time.
Customizing your school's theme so that it fits the needs of your students and shows a glimpse of the holiday season is crucial, and you wouldn't want to waste this huge opportunity. So, are you ready to start your own academy and sell online courses?
(Visited 4,469 times, 1 visits today)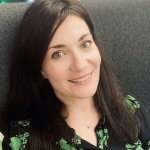 Androniki is a Content Writer at LearnWorlds sharing Instructional Design and marketing tips. With solid experience in B2B writing and technical translation, she is passionate about learning and spreading knowledge. She is also an aspiring yogi, a book nerd, and a talented transponster.