How do you convince customers to buy your product or service?
First, you build an awesome product. Next, you market it smartly to boost its enrollments.
One way to market your product smartly is to educate your audience, your prospective students. Education can be applied anywhere, at any time, and comes in a variety of forms. When it's combined with marketing, the results are astonishing.
While educational marketing doesn't just plug a product or service, it provides customers with information that relates to a certain topic, industry, or product that interests them. It's a cost-effective strategy that has worked for decades, and many companies use it consistently.
If you want to learn how to deploy an educational marketing strategy, read on. We're also sharing examples of successful educational programs and a list of tools you'll need to streamline and realize your efforts. Let's dive in!
What is Educational Marketing?
Don't let the term "educational" confuse you – education marketing isn't used (only) by educational institutions. Any organization, regardless of the industry they operate in, may choose to focus on providing education as part of their marketing campaigns.
Educational marketing is a content marketing strategy that focuses on educating your audience about a certain topic relevant to your industry and product rather than directly pushing toward a sale, although it does guide leads further down your sales funnel. 
By helping prospects realize the value they can potentially get out of your product and also by offering them something in advance (knowledge), you're more likely to convert them into paying customers.
Why use Educational Marketing?
An important rule in marketing is to provide value first, then promote your products – and educational marketing strategy does that well! That's why all the more companies incorporate education into their marketing plans and reap certain benefits that will ultimately help their business thrive:
1

It helps to build trust

No one likes sales gimmicks – not to mention that most customers can see right through them. So instead of pitching your audience on the spot, share your educational services and knowledge to nurture your relationship with them and build more trust.

Case in point, research from DemandMetric shows that 82% of consumers feel more positive about a company after reading custom content.
2

Create the need for your product

Adding educational content into your digital marketing strategy creates in your potential students the need to buy your products. Educational messages dramatically increase the likelihood of people making a purchase, as people discover a product that could improve their lives and at the same time receive basic training on it, which makes it all the more trustworthy and eliminates objections.
3
Increase brand awareness
The steady flow of useful content in your marketing channels and web pages helps to familiarize current students and potential customers with different aspects of your business and can easily get anyone interested in what your company does and how your product or service impacts people's lives.
4
Generate organic traffic
Having a blog that offers informational content helps to drive more organic traffic to your website, resulting in more leads and subscriptions to your email list and, ultimately, an increase in your student enrollments and sales.
To bring in traffic, you need to develop an SEO strategy to make your blog (and landing pages) more discoverable for search engines. This will take a while, but it's worth working on it.
5
Position your brand as a thought leader
Sharing useful elearning content and customer education programs allows you to position your company as a thought leader in the industry while providing real value to those who need it and creating a loyal community over time. Furthermore, it significantly enhances your chances of boosting student recruitment rates.
6
Bring in more customers
The more people get educated and entertained, the more they don't mind being sold to. Providing useful content with no strings attached makes selling much easier and encourages leads to turn into customers; add to that a positive user experience, and they become recurring customers.
6 Educational Marketing Strategies
to Grow Your Business
When using education to attract leads and build brand loyalty, you're essentially trying to increase those touchpoints between your company and your target audience.
Before prospective customers can become your customers, they need to have some sort of interaction with your company that will drive further engagement.
The best way to do this is to adopt a unique approach to 'talk' with your audience.
Here are a few smart ways you can do this:
1
Create a customer persona
Getting to know your customers better doesn't only help deliver a stellar customer experience, but it also helps engage with them effectively. Creating a customer persona can help you create high-quality, valuable content that is relevant and useful to them.
You can learn more about your target audience through group demographics and buyer intent data. But if you feel that you don't know your audience well enough, try out the following methods:
Get to know your current customers better, e.g., their needs, complaints, etc.

Browse

social media

to find what your audience is concerned about/talks about.

Use

keyword research tools

like Google Keyword Planner to identify which keywords your audience is searching for.

Get feedback

from your audience by asking them directly.

Make use of

customer service email software

to respond to your customers and learn their pain points.
All of these initiatives can work great towards creating that common ground that connects your audience's needs with your company and the product you offer.
2

Create content that puts your customers first

The key to educational marketing is to provide value at every stage. To do this, you need to research your customers' needs and pain points and create content that addresses them.

Think about what your educational content should include by answering the following questions:
What is making your customers' lives miserable without them realizing it?

What are the consequences of their bad habits?

What is going to give them hope that everything will change?

How can you help them make that change?
These questions should help you come up with effective educational content niches/topics that will offer detailed guidelines on further actions people can take.
So instead of selling, through your content, you gradually build the expectancy of something that must change in their lives. In other words, you create the need for your product without directly presenting it.
The selling phase will come after you have provided this upfront value.
How?
You will start answering the needs you have created. Start to uncover valuable insights and solutions that can be brought with your product.
3

Choose the right content

Depending on the audience you are targeting, you will need to decide which content format is more appropriate to use.

If you're targeting younger audiences, like Gen Z, creating a series of short video content is the best way to engage with them. Then again, if you're targeting corporate decision-makers, sharing long-form articles on LinkedIn is the best way to engage them.

The latest education marketing trends indicate that the most popular types of content include:
Blog posts

Long-form articles

Case studies

Newsletters

Online courses

Testimonials

Press releases

Templates/Checklists

Ebooks

Videos

Webinars

Podcasts

Whitepapers
These are some of the ways you can deliver informational content, but when it comes to digital marketing, there are certainly a lot more.
You can use a combination of these formats provided that you have a clear understanding of why you are using them, as they need to be tied with all your marketing efforts and objectives.
4
Invest in
social media marketing
Apart from word of mouth, traditional marketing activities are losing their momentum. This calls for modern solutions that will allow you to communicate with your audience better.
For one, there is social media marketing. Through the various social media platforms (see Facebook, Twitter, Instagram, YouTube, TikTok), you can easily reach out to your audience and provide them with all the information they need. 
Such information may involve generic educational content, FAQs, and industry or company news.
💁 For example, let's say you are working in the fitness industry.
Do you want to help people learn how to do a handstand?
👉 Create a workout tutorial and share it on our YouTube channel or Instagram account. You can additionally create a step-by-step infographic for your visual learners. 
Do you want to raise awareness on a fitness industry-related issue?
👉 Engage with fitness coaches who are influencers in the industry and let them spread the word about it and your company on their social media. These can also become your affiliates and help sell your product. 
Do you have a new product release or update?
👉 Let your audience know with a Facebook post and do live streaming on Instagram to educate them on a new product release or enhanced functionality.
As you can see, you have plenty of options.
5
Roll out an
email marketing campaign
Apart from social media, another way to communicate with your audience is through email marketing. Having an email list gives you the opportunity to distribute content straight to your customers' inboxes.
With email, you can direct people to your blog to read the most trending articles, give them company insights through a newsletter, or share a link to your most recent webinar that offers useful content to help them start using your product.
The possibilities are endless.
Then again, if you are selling online courses, check out our email sequence templates to help you launch your product the right way.
6
Build your
content marketing
team
No one has been born an expert at marketing, but everyone starts somewhere. If you don't know all the whereabouts of educational marketing, you can start building your own content marketing team – or hire a marketing agency that can help you learn how to use education as your primary marketing tactic.
While results may take time to show, dedicating time and money to content marketing and forming a team with experienced members will allow you to expand your reach and get all the associated benefits that come with it.
Examples of Top Companies Using Educational Marketing
If you're thinking about investing in educational marketing, conducting some research on what you can do is a great place to start.
Many well-known companies around the world invest in educational marketing and create educational websites and online academies with educational content for their customers and leads.
Here are a few examples of well-designed educational marketing strategies:
Hubspot Academy
Through its Education Partner Program, HubSpot's academy offers educators and Higher Education professors the opportunity to access inbound marketing resources and sales education through guides, templates, ebooks, and webinars. As members of the academy, educators can use HubSpot's software for free and become part of a vibrant community.
Indium Blog
Today at Apple
Today at Apple is Apple's unique in-person educational initiative. Apple offers free sessions at its stores educating customers on Apple products and relevant skills, like "Making a Theme Song," "Make Your Own Emoji," or "Photography on Apple."
We love how Apple moves away from standard digital advertising and follows a "warmer," more personalized approach that enables it to connect and interact with its customers directly.
LearnWorlds Academy 
LearnWorlds Academy educates edupreneurs on how to create, sell, and market their online courses. The academy offers free courses that teach LearnWorlds customers how to use the software, along with tips to optimize marketing and increase sales.
LearnWorlds Academy also gives access to a series of masterclasses on course creation and marketing led by industry experts and connects you with LearnWorlds-trusted professionals to help you skyrocket your online course business. 
Hootsuite Academy 
Hootsuite Academy offers certifications and training on how to use the Hootsuite platform and also on topics relevant to social media marketing, like DEI on social media or social selling. 
It also offers bespoke online learning solutions designed by the Academy Team's videographers, course designers, and UX experts in collaboration with the client.
Smart Tools to Help You With
Educational Marketing
Educational marketing requires careful planning, consistency, and high-quality content. If you want to see results, you must be in for the long haul and you must be willing to invest in the right tools that will support this initiative on all fronts, from planning to execution. 
1
Training Video Software
There are so many different types of videos to create: explainer videos, product or demo videos, animated content, how-tos, expert interviews, customer testimonials, and the list goes on.
To make it happen though, you will need video software to edit and polish your video to perfection or to create screencasts. To help you out, we have compiled a list of the best 35 training video software in the market to explore and compare your options.
2
Graphic Design Tools
If you want to enhance your visual content with graphs, infographics, and eye-catching design, it's worth investing in a graphic design tool. Luckily, there are plenty of tools that are either free or at least offer a free plan (Canva, Visme, and Adobe Spark), so you can see how that works for you before you spend more money on it. 
3
Online Course
Platforms
An online course platform is where you can host all your educational content, including long-form online courses, and create an online academy that additionally serves as a place for your customers to interact. 
Through an online academy, you can share your expertise and knowledge and demonstrate your product without any obligation for someone to buy. This is the vision that inspired LearnWorlds in the first place.
In an online academy, you can include every type of content we mentioned before, including eBooks, interactive videos, quizzes, downloadable guides, communities, and many more to communicate your ideas.
4
Email Marketing
Software
We mentioned before how email is an effective medium to reach out to potential and existing customers to educate, inform, and engage them. Through email, you can send out educational content on a regular basis combined with a tempting offer that will make them click the buy button.
It's worth automating and simplifying the process with robust marketing software. Read our list of email marketing tools to find the best one for your needs.
5
Social Media
Planners
Social media marketing works when it's done consistently. Aim to share content on a weekly or even daily basis and use a social media scheduling tool to upload the content automatically. Some great options include Hootsuite, Buffer, CoSchedule, and SocialBee.
6
Project Management Platforms
One last tool you'll need to structure and streamline your efforts is a project management tool – especially if you're working with a team. Use one to jot down content ideas, set deadlines (even for yourself!), and plan & delegate your next content creation projects.
Most tools, including Trello, Monday.com, Asana, Jira, and Wrike, offer free versions. The features on the free plans might be limited, but they will do just fine if you work by yourself or with a small team. 
Elevate Your Educational Marketing Strategy with LearnWorlds
The most effective way to get people to buy from you is by providing exceptional upfront content that is designed to create specific needs and deliver value.
The more you share your wisdom, the more customers will trust that your brand is the right brand. However, you should always make sure that your educational approach is providing pure value and expecting nothing in return.
When you try to sell right away, you break the trust you have gained so far. So, use your knowledge to educate your audience with zero commitment to your business. Even when you're creating value, you are still marketing in the background.
The best way to do this is to create an online academy using an all-in-one platform like LearnWorlds, that can help you provide a great learning experience to your audience.
With an AI assistant to speed up content creation, integrations with email marketing tools, a built-in community, interactive video editor, and robust eCommerce capabilities to monetize your course, LearnWorlds is a one-stop solution for educational marketing. 
Sign up for your free 30-day trial and get started with LearnWorlds today!
(Visited 17,118 times, 11 visits today)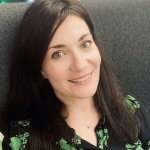 Androniki is a Content Writer at LearnWorlds sharing Instructional Design and marketing tips. With solid experience in B2B writing and technical translation, she is passionate about learning and spreading knowledge. She is also an aspiring yogi, a book nerd, and a talented transponster.