The most profitable online courses are video-based, with any other commonly used material, like eBooks and PDFs, coming as an additional learning resource.
This comes as no surprise since a carefully produced video is the most effective tool to engage learners and the best shortcut to explain and teach just about anything when instruction doesn't happen in real time.
Luckily, nowadays, video production is not just a privilege for professionals.
There is a vast selection of tools available online to create engaging learning material to educate your customers, create employee training videos, or provide genuine learning experiences to any audience you may have as a course creator.
Impressive techniques that are popular among experienced moviemakers have become available to beginners too. Affordable software and easy-to-use apps empower course creators to unleash their creativity resulting in impressive instructional videos. The plethora of available video editing software makes it hard to choose one.
We did the hard work and the testing and curated the best video editing software. So, let us guide you through the most popular and consumer-friendly video editing tools on the market.
Here are the top 35 tools we have selected and tested for you. You'll surely find the one that suits your needs among these options!
📹 You can also watch our video on YouTube on "How to create elearning videos and spice them up".
Category #1: Interactive Training Video Software
Interactive videos enable you to incorporate additional information and media beyond the original video content, like hypertext and images. Today, interactive video editors include various features that can enrich your video and provide a pluralistic learning environment.
Interactivity in training videos means learners have a richer learning experience. They get to answer pop-up quizzes and get instant feedback or are directed to the next part of the course depending on their answer – overall, they are prompted to participate in the lesson instead of passively watching. Plus, you can use CTAs to direct them to another course or additional learning material.
These are the reasons why you should opt for creating an interactive video. Users love to interact with learning content. Why not let them interact with your video?
So, let's see the top software to create videos learners can interact with!
1

LearnWorlds

LearnWorlds is the all-in-one LMS platform with which you can create, promote, and sell your online courses. LearnWorlds' Interactive Video Editor offers you advanced functionalities, allowing you to add elements to your videos and turn them into an interactive, unique experience.

LearnWorlds supports integrations with Vimeo and Wistia. You can easily upload and enrich with interactions any video you have on these platforms. Also, if you add interactive elements to a video and decide to change the video later and upload a new one on the same learning activity, the interactive elements will stay intact.

LearnWorlds' interactive Video Editor comprises simple elements (text, images, thumbnails, watermarks, subtitles, transcript, and player skin) and interactive ones (buttons, offers, questions, and more).

With Learnworlds editor, you can add any element you want, like overlay images, logos, titles, pointers, quizzes, external links, openers, videos, labels, navigational buttons, and more. You can try LearnWorlds and start creating amazing interactive videos.
2

TouchCast

Touchcast is an end-to-end platform for running virtual venues with real-time chat, 1:1 meetings, and live Q&As. They recently revamped their product and offer their solutions as Metaverse as a Service (MaaS).

The product goes beyond simple video conferencing, with multi-camera virtual sets that place the speaker in different environments without needing a professional studio, lighting assistants, or stylists.

With Touchcast, you can create presentations with personalized onboarding for every speaker. Also, you can virtually remove backgrounds, share slides, and respond to audience questions in real time.

The Touchcast Player allows you to enrich your videos with interactive articles, translations, and captions, as well as polls and emojis. Also, it provides an analytics dashboard to help you keep track of your insights.
3

Vimeo

Vimeo is one of the top interactive video software offering multiple features that encourage viewer interaction with your content. Some of the options available are hotspots and overlays, clickable decision points that enable the viewer to choose where they go next (video branching), clickable CTAs, and popup quizzes and polls.

Vimeo also supports 360º interactive video, live streaming, and screen recording (among others) and provides live and real-time performance analytics. With all these features, it's easy to understand this is one of the most versatile tools in the video creation category.
4

Brightcove

Brightcove (previously known as HapYak) is a cloud-based interactive video platform that allows you to layer interactivity onto your video with its drag-and-drop editor while it also supports video branching for ultimate control of the user experience.

Interactive elements provided are links, quizzes, overlays, slide presentations, polls, custom forms, and more customizable video annotation types. The analytics tool enables you to track the metrics of your video and see which interactivities perform best. The platform uses an API to connect viewer clicks and behaviors with popular marketing and CRM tools.
5

Visme

Visme is a cloud-based software with robust functionality that allows you to create beautiful training materials for your training program, and not only, interactive presentations, printables, infographics, videos, and more.

The Visme video maker tool is intuitive and features video templates, images, and animated assets like graphics and characters that you can also customize as you wish. You can also download your video in MP4 or GIF format.
6

Panopto

Panopto is a powerful video recording and editing tool that captures video from multiple cameras, presentations, and screens. With Panopto, you can schedule single and recurring recordings, and you can also live stream your events with advanced security options. The tool also features engagement analytics to measure viewer behavior and, therefore, how your training video performs.

Panopto's editing features include trimming, splitting, and remixing, while you can also upload supporting material, like slides, to complement your training video, or even YouTube videos and web pages. Another exciting feature is the in-video quizzing that enables you to add quizzes and polls without third-party integrations.
Category #2: Screencast & Screen Capture Software
A screencast is a digital recording of the computer screen output, usually containing audio narration. Screen-recording tools are very easy and often free to use.
They're the best software to create video tutorials, guides, and onboarding training for new users or employees.
7

Screencast-O-Matic

Screencast-O-Matic is an online tool that provides fast and free screen recording for stuff that doesn't only reside in a browser window. With this tool, you can choose between screen recording, webcam recording, or both.

You can also use a microphone to record your voice. Even with the free plan, you can add music, audio narration, and captions, create animated GIFS, draw, and more. Zooming, trimming, sharing, and background customization (blur, replace, or remove your background) are also available.
8

Flashback

Flashback enables you to capture your screen while recording yourself through a webcam. It provides a long list of features that allow you to edit your videos like a pro using a very user-friendly interface. The tool allows you to decide whether you want to record sound and web activity or not.

Another great thing about Flashback is that you can schedule recordings to avoid missing online events, such as webinars. Also, it includes a record player that works like a VCR and allows you to go over and review your recording frame-by-frame.
9

Camtasia

Camtasia is a flexible and intuitive screencasting tool that enables you to create several types of videos, like YouTube videos, video lessons, and tutorials, and record meetings, webinars, PowerPoint presentations, and even video calls.

Camtasia has a simple interface with powerful editing, interaction features, animated backgrounds, and special effects. Users can upload their videos straight to YouTube, Vimeo, Screencast, or online courses. Overall, it's excellent for making training videos thanks to its simplicity and rich capabilities.
10

Loom

Loom lets you record your camera and screen with audio. Loom is very popular because of its ease of use and instant shareability, combining the expressiveness of video with the convenience of messaging. It's also an excellent tool to streamline collaboration among teams with async videos.
Category #3: Animated Training Video Software
Creating animations has always been considered a time-intensive activity that requires heavy software and technological expertise. However, over the past few years, the emergence of various online presentation and animation tools has simplified the process of creating animations.
Animations are very powerful tools for eLearning. They are engaging and can serve a variety of purposes. Animations can easily be changed, in contrast to traditional footage. If you want to create employee training videos with a touch of fun and interactivity, then take note of the following tools.
11

Animaker

With Animaker you can easily create animations by choosing from a variety of characters available in the library, deciding on a specific movement and facial expression for the character, and changing it as many times as you need. You can also use pop-up effects and add scene transitions.

Animaker offers the ability to create handcraft animations (a human hand holding the animation), whiteboard animations (an efficient and engaging way to merely explain an idea), or infographic videos. This tool now gives multi-camera possibilities to watch the characters one after the other.

(Visited 167,739 times, 33 visits today)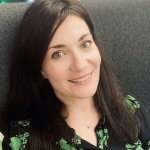 Androniki is a Content Writer at LearnWorlds sharing Instructional Design and marketing tips. With solid experience in B2B writing and technical translation, she is passionate about learning and spreading knowledge. She is also an aspiring yogi, a book nerd, and a talented transponster.