Don't you wish you had a Blog for promoting your online courses? After all, that's what the top course sellers suggest.
But wouldn't it be too much of trouble having to set up a dedicated blog, learning yet another tool and dealing with hosting, design, page speed, SEO, security? What a mess.
Well, not anymore. Because now you can launch your very own Blog in just a few seconds, with LearnWorlds' brand-new integrated Blogging tool!
It combines the full design prowess of the LearnWorlds' Pages Builder with a nifty and user-friendly blog-building engine. And it comes bundled with beautiful new templates, SEO-optimized pages, and fully customizable blog-posts. That's everything you need to start producing some valuable content and reach, vast new audiences.
Writing a blog is a great way to attract traffic, build brand authority and sell online courses. And, our modular Pages Builder technology was designed to help build-up a whole website for your e-learning business.
The blog was one of the top requested features by many course creators. And we delivered, once again.
All you need to enable it is visit your school's admin panel, click on the Enable Blog button…
…and link to it by editing the Top-Bar (Menu).
Online businesses and entrepreneurs spend a lot of resources for setting up a great blog. I could go on about all the great blogs I read from Hubspot to Ahrefs or the many influencers I follow who write almost daily. That's not by accident. There are many benefits to having a blog.
Blogs attract traffic, whether this is by emailing your list or by showing up on Google or other search engines.
Writing a blog also builds brand authority, by positioning you as the industry leader. Merely by sharing insider's tips, writing about the new trends or educating readers about your industry. By attracting more traffic to your blog, it can also help boost your domain name and SEO efforts.
You can also prepare your readers for a product launch and your new online course. Short blog post lessons related to your course create anticipation and excitement.
The blog home page is where your readers' journey begins.
Create an attractive home page for the blog by using LearnWorlds' responsive templates to your readers' exploration, or a minimalist's dream with a title and presenting your blog posts.
Choose the way you would like to present your blog posts using LearnWorlds' rotating magic templates, add an introduction or a form to subscribe to your newsletter.
Then, choose the way you prefer to present your blog-posts. For example you can have one column with medium-sized images:
Or three columns:
Next step is to create a blog post.
Give it a title, a description, and an SEO-friendly URL.
Don't forget to choose an image for your post; this will show up everywhere you include the blog-catalog template. Make each post memorable!
When you write your blog post, you will notice the new blog-specific templates, beautiful, SEO-friendly and mobile-responsive, to make your life easier!
Use one of many customizable templates for:
Titles (Above the Fold)
Headings (H2 & H3) for your SEO
Blog Post Text
Blog Post Images
Blog Post Quotes
Choose the templates that work for your posts' structure, and don't forget to add Call-To-Actions. You can grow your email list by including an email signup form, sell course by linking to their checkout page or introducing your school's community and ask them to sign-in.
Your website won't be complete without promoting your latest blog posts on the home page (or any other page you want). Using any one of the 'Blog Feed' templates, you will be including a featured zone for your blog in any of your landing pages.
Are you ready to publish your first blog post?
Log in to your school or create a free (no-strings-attached) trial today!
(Visited 2,964 times, 3 visits today)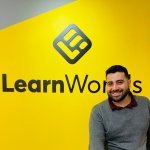 Nick Malekos is a Senior Digital Marketer in LearnWorlds. He is a results based and well-rounded Digital Marketer with years of experience in the education industry, writer and digital literacy trainer.