Deals, offers, discount coupons … They are all embedded in our daily lives. 80% – 90% of consumers use coupons and discount codes when they buy online. When all consumers are actively looking for coupons to save on their spending, it becomes a new marketing channel to use.
So what is a coupon and how can it help you promote your online courses and sell more doing that?
'A coupon is a voucher entitling the holder to a discount for a particular product or service' Click To Tweet
Coupons promote a solid offer to a potential customer and encourage impulse buying. With coupons, you can both attract new clients or reactivate old ones into buying new online courses (upselling).
Consumers actively look for coupons on Season changes and special occasions. See the chart bellow from Google Trends showing the interest in the word Coupon over time in Google Searches. The most important season for coupons is December (Christmas) followed by August (end of the summer).
Issuing coupons is rather easy, but the hard part is to get your offer in front of as many people as possible. This article will help you by presenting some juicy tips on how to create your own online coupons, how to distribute them, and where to submit them to maximize their visibility.
Why use coupons to sell online courses?
Issuing coupons can contribute in growing your sales in more ways than you can imagine:
1

First time is always the most difficult

For people who are not aware of your brand, giving you even a small amount of money is a major obstacle. While free courses are ideal to get new leads, coupons are ideal for converting those leads into customers. Both of them will also break an important buyer and get you in touch with your customer, that might be more than willing to buy the next full-priced course.
2

Encourage learners to make a repeat purchase

Offering a discount on your learners' next purchase that will easily make you their top choice when purchasing a course. Try sending a welcome message to anyone who bought a course offering them a 20-30% discount in their next purchase to engage them while they are in a buying mood.
3

Gain a competitive advantage

Giving an "exclusive" coupon to select communities might lower your price more than your competitors' and get those extra customers. On the other hand, if your competitors are already offering coupons for their online courses or training, you might need to up your game by matching their offer at the very least. But remember, don't get into a price war, premium quality and your brand integrity is equally as important.

4

Increase awareness

Not all coupons are always redeemed, but coupons will make someone pause to check out the offer. Identify the right communities to place your coupon in and you will be rewarded with more people learning about you. Branding is the first step that leads to sales!
5

Provide exclusivity, Urgency and Timing with Coupons

I have referred to communities a couple of times already. By keeping your price high, you keep a perceived high quality for your products. Using coupons, you can "reward" your communities for being loyal to you and offer them special discounts. Your social media followers can have one special discount, while your email subscribers another.
You can even outreach to new communities, new customers, and provide an exclusive discount through their influencers or just by sharing it yourself. Have in mind that coupons work better by combining urgency and a good timing to them. Identify the right times to share (e.g. special occasions or time of day) and make your coupon an exclusive, limited in time commodity and keep on that promise.

Leverage the psychology of discounts and your coupons will grow your sales to a new level!
How to create your online coupon
After learning about the coupons' importance, we will be mastering the art of creating coupons for the purpose of selling online courses. When creating a coupon you should keep in mind a few options. Improving and testing the following will result in the best possible results for your marketing strategy:
1

Smart and catchy name

A coupon should have a smart and at the same time short name so as to catch potential customer's eye on the spot. If it is also branded (e.g. John's holiday special), even better!
2

The discount of your coupon

How much to discount my online course might seem like a difficult question, however it is easier than it seems. Try the The rule of 100. Everything below 100$ should be a percentage deal, while everything above should be a money-off deal.


Also, customers also like definitive amounts they can value, like $5, $10 or $20 off because they can understand those offers since they have concrete value.
3

Expiration date and limited-time offers

The purpose of a coupon's expiration date is to highlight the urgency of the short time of the offer's availability. Expiration dates offer a sense of urgency and thus "pressure" customers to act instantly. This can also accelerate the repeat purchasing behaviour and learners will rush to buy more courses, faster. So remember to always put a time limit or expiration date on your coupons and make it visible to the potential customers.
4

The quantity of your coupons

When creating your tasty offers either on LearnWorlds or on any other client, you need to create a limited amount of coupons that will expire after a certain amount of time. So you can have more control over the coupons and create urgency at the same time.

Creating separate sets of coupons gives you more control over how you distribute them (e.g. to different customer segments, through different channels, seasonal promotions, etc.) and can better monitor the effectiveness of each coupon/promotion.
5

Mind the time

Timing plays an important role when you want to promote your coupon offers. You can create particular offers that can be redeemed on Mother's Day, Father's Day, or other holidays. In particular, each and every month holds special occasions. Those can give you those wonderful upward spikes in your revenue chart.

Check this calendar here for national holidays and international days.
6

Run the numbers

Offering coupons for your courses can be very beneficial to your business as long as you don't lose money in the process. Online courses take a big initial investment (high fixed costs) but do not need much to be maintained and can be offered at very low discounts, but if you offer super low discounts initially, you may not make your initial investment.

Also, low discounts (like a 10%) might be a nice reward for your current students, but not enough to attract new ones.

Where to share digital coupons
Now you got the coupons, you need to use them. To do that, you will need distribution and create some awareness. Here are some free or inexpensive ways businesses can distribute online coupons:
1

E-mail the promotion to your subscribers and customer list

The first thing to do when wanting to promote your coupon offers, is to encourage your existing contacts. Customers who already paid for your products are more likely to pay for more. Don't forget to put the offer in the headline of the e-mail promotion.
2

Share coupons across social media

Social networks are exactly what you need in order to promote your course coupon offers. A simple tweet or post on Facebook can travel pretty far. Also, if you have a Pinterest account remember to check our article on selling with Pinterest.

You can also blog about your fresh baked coupons and let all your readers know that you mean business. They will be more than happy to spread the word of your delicious offer. Your blog subscribers follow you for a reason. They love your product and they would delight in the opportunity to share valuable coupons with their friends. Just make it appealing and interesting!
3

Create a craigslist posting

By creating a craigslist post (even a simple text-only coupon will do the trick) in a relevant business or service category where you will be offering your discount, you can distribute your offers to a vast pool of audience.
4

Find sub-Reddits related to your subject

Reddit offers one of the best communities to be involved with. If there is a sub-Reddit related to your subject with more than a hundred followers, take the time to post your coupons there.
5

Insert a coupon banner on your website

If it is a seasonal offer, you can add a banner on your website with your coupon / coupon code.
6

Make your coupons shareable

Stats show that social sharing now drives traffic upwards to 31% so it is crucial that you make your coupons shareable. Promotions like "Bring two friends and get 20% off for everyone." or "Get 20% when you refer a friend". Each coupon you post through your e-mail, on Twitter or Facebook, should also include a link to "Share this coupon with a friend" so people can easily forward your discount onto their networks.
7

Work with influencers

Bloggers, vloggers, podcasters, social media celebrities and other influential people can help you drive traffic. You could give them coupons to act as your premium referral partners and share the profits or allow them special offers for their audience and competitions they might run to increase their audience.
Where to submit coupons for courses
I could not let you go with no external help. Here is a collection of sites where you can submit your promotion codes and coupons. Coupon websites are basically online advertising sites that use direct marketing to facilitate group-buying deals. They collect the name, contact details and location of each person who purchases from them so as to develop large customer databases.

1

Facebook

Facebook will not only help you let your friends and community know about your attractive offers, but it can also assist you create an offer on Facebook either directly from your Page, Ads Manager, or Power Editor.

This is one of the largest coupon code sites out there where you can submit coupon codes. It was established to aggregate coupon offers and make them available to consumers and distributes over 500,000 coupons from over 50,000 stores in retail categories including accessories, automotive, baby products, beauty products, clothing, electronics, furniture, health, home & garden, jewelry, pets, photography, toys and travel.

It is a Canadian site that allows users to filter through new, expiring, and free shipping coupons, so when designing your course promotions keep in mind those useful categories.

This is a website which also includes a saving-money blog. Furthermore, it allows its users to set up alerts for specific brands, making sure that they are always aware of a new promotion being posted for a brand.

What makes this one special is that it allows users to browse categories including cash back deals and free samples.
Measure, Evaluate and Improve Results
Once your course coupon promotion has been over, it would be crucial to measure how well it performed on drive sales. Your LearnWorlds school has already a built in analytics system so you will always be aware of how your coupons functioned.
Creating a different coupon for each target demographic, campaign or website might be a hussle, but it will help you understand how to drive more sales.
So you know the why and you know the how. All that is left for you now is to create your delicious coupons on your Learnworlds school, share them and start selling your courses through your own website.
Don't have a LearnWorlds school yet? It will only take you 30 seconds to create one. Click here for a free trial.
Further reading you might find interesting:
(Visited 3,212 times, 1 visits today)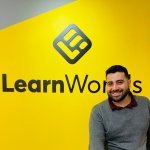 Nick Malekos is a Senior Digital Marketer in LearnWorlds. He is a results based and well-rounded Digital Marketer with years of experience in the education industry, writer and digital literacy trainer.