You probably agree with me that data are the currency of the 21st century. And running an online school generates vast amounts of those which need to be interpreted and analyzed. In fact, making sense of your data and being able to act on them can be the difference between failure and success.
Our new Reporting Center brings the power of e-learning data at your fingertips.
We now enable professionals and organizations to interpret and analyze courses, users, and learning activities. We help you identify patterns and generate segments, drill down into subsets of your data and anticipate trends, or derive actionable recommendations for improving your work.
Now raw data become meaningful information and actionable insights for improving and optimizing your marketing campaigns and your instructional approaches. With just a few clicks you can see:
How many of your students are at risk?
Which courses have average user progress of less than 25%?
Which users signed up for the lead magnet last month but haven't yet purchased a course?
Who are the users with the most certifications and the best grades?
This has been long in the making. A year ago, we decided to make a big leap in the e-Learning industry in three distinct ways. This has been a big project for our product team, but we knew that we would need time to deliver a great result!
So we are proud to present the first part: the most powerful and flexible analytics engine any course platform has ever seen, to help you realize the full potential of your academy.
The new Reporting Center would require an entire encyclopedia to fully describe it. Read along to find out some of the many capabilities that are coming to your LearnWorlds school.
Today, we are offering a sneak preview of our Reporting Center. It comes as a first huge leap, with more following next month. So, without further ado, let's take a first look at:
User Segments, and
User Progress
Exploring User Segments
Would you like to segment users based on various data points? Let's say you are looking for learners who are enrolled in multiple courses and have received more than 1 certificate.
You can use the user segments report to:
Find out who satisfies the criteria,
Save the report and reuse the report,
Export or tag those learners,
View more details on the specific users
The possibilities are endless!
Here are some more ideas:
How many learners have completed at least one course?
How many learners have not enrolled in any course yet?
Who hasn't visited your school for more than one month?
Who are the most active learners?
You can even export a more detailed version of the report in excel to further drill down and manipulate the data you want!
Exploring User Progress
The User Progress view is ideal for monitoring and reporting on the educational aspect of your school or academy.
It helps answer important questions quickly, like:
Who do you want a progress report for?
Which student has the best performance?
Is he/she a member of company X?
User progress comes with a series of filters like:
User name,
Email (e.g. professional domains),
Average score,
Progress,
Completion,
Tags,
Registration date, and
Course name.
You can for example find out how many learners have progressed in the course but did not finish it after a few weeks. Those are learners that might need an intervention as they got stuck at some point.
There are many uses, from checking the completion rates, drop-off, the scores of your learners in a course, and how a group of learners is progressing.
It's especially useful for corporate training where you might split your users into different groups of customers or teams within a company.
Track the performance of a specific group or cohort can be important for their managers instead of seeing all the learners in a course. This can be viewed by tagging each group!
Taking Reporting to the Next Level
We have been excited to work on the Reporting Center, as we knew it would be a wish-come-true for many instructors, especially those working with larger schools and lots of thousands of students.
Even though this is a new feature, it is already battle-hardened, having been tested on online schools with hundreds of thousands of users and returning results faster than an eye-blink.
Insights on your users, their progress, and activities was never that accessible and clear!
More information about the Reporting Center and examples will be released in the following weeks 🙂
So stay tuned and stay hungry for data
(Visited 1,246 times, 1 visits today)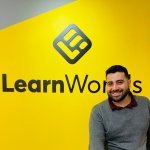 Nick Malekos is a Senior Digital Marketer in LearnWorlds. He is a results based and well-rounded Digital Marketer with years of experience in the education industry, writer and digital literacy trainer.