Selling coaching & consulting online can help you grow your business beyond 1-to-1 sessions. Offering your services online means not limiting your local business to your community and offering a wider range of digital products to complement and elevate your practice and the client experience you deliver.
Here at LearnWorlds, we oversee many successful business cases, based on which we've created these useful tips on how you can run your practice online at scale.
You'll get the answers on how to set up your own branded business coaching & consulting website and mobile app, how you can design and sell coaching & consulting programs, and finally, how to measure the performance of your business. All the examples are based on the LearnWorlds platform functionality for better visualization.
We've got a lot to talk about, so let's get started!
Hacks to Brand Your Coaching & Consulting Business
Branding is essential for any business. Building a brand greatly affects how your business will evolve. This holds true whether you're running your own business working by yourself or you're a group of coaches and consultants offering different services under one business entity.
And remember that branding is more than visual design and logos. Branding includes your tone of voice and messaging and the way you communicate with customers.
Try the most intuitive eLearning platform for free. Use templates and our drag & drop website builder to easily reflect the brand identity of your coaching or consulting business.
Whether you're a fresh professional or have years of experience, make sure to prioritize branding as it's quintessential to business success.
Inspire trust. A branded website shows you have invested time, effort, and money in your business. The uniformity in colors, designs, and messaging inspires trust in potential and existing clients. This can set you apart in a field as competitive as coaching, while a lack of branding might cause skepticism.
Engage and convert. The brand is the personality of your business. A beautiful, branded website adds character, is more personal, and sets the tone you want to speak with your customers. This helps prospects form an opinion about you and better evaluate whether you speak the same language and can have a fruitful collaboration.
Increase perceived value and authority. A branded website appears more professional and trustworthy, and so do the people behind it. Your coaching & consulting business will have more value in the eyes of your clients, while you should be able to ask for the money your services deserve – and actually get it.
Market your business effectively. As we mentioned, branding is also about messaging. And messaging is a huge part of marketing. Building a brand will, first and foremost, help you think about who your target audience is, and how you want them to perceive your business, therefore creating better messaging.
1. Build Your Website
Most coaches & consultants prefer white labeling for their websites. This means that you can create an online portal for your practice that is 100% you – no hosting supplier logo or reference anywhere; plus, it is important to create your own custom domain and add your colors and logo to match your existing professional identity.
Our clients love templates, especially when they are proven to work. They usually choose from more than 50 industry-leading templates, including elegant templates ideal for coaching & consulting businesses. You can start building your own website today! Check our amazing site templates on LearnWorlds with 30-day free access.
From there, it's easy to customize your website by adding testimonials, quotes, widgets, social media buttons, calendars and countdown timers, popups, and buttons, to name a few!
As for fonts and the overall layout of your website? These also have to be chosen by you. Your own branding has to be present in every little element of the website, as you know that the devil is in the details :).
A handy tip from practicing coaches & consultants is to add a blog on your website. A blog is one more way to enrich your online community and showcase your expertise. The members of your online community can interact through the comments, and you can even give them food for thought and opportunities to start new discussions. Also, by optimizing your content with keywords, you can bring traffic and new clients to your coaching business!
Popups are essential additions to your coaching or consulting website as they allow you to communicate offers, updates, upcoming events, invitations to join your mail list, and much more. LearnWorlds' coaches & consultants prefer to set up pop-ups from the selection of templates: Emails, Promotional, Offers & Coupons, Exit-Intent, Notification & Announcement, Welcome User, and Video Pop-ups..
2. Launch Your Branded Mobile App
Coaches who want to be with their clients at every step of their transformational journey, offer them a branded, native mobile app. It is hard to believe, but there is a solution that requires no coding skills & thousands of dollars to develop. Like the website, it's easy to customize the mobile app to fit the business brand style.
Here's why it's a good idea to build a mobile app. Coaching & Consulting is addressed to everyone from startup and small business owners to high-level executives and private individuals. All these people have one thing in common – a packed and often unpredictable schedule. Offering them the option to learn or train on the go can increase the value of your business coaching & consulting services and make your clients' lives a tad easier.
LearnWorlds clients mention what they like about our app solution, so you may use it as a handy tip while choosing one:
No-code app. Correct, you don't need to write a single line of code. (Don't know what code is? It doesn't matter – we just told you, you won't need it 🙂).
Native app. Native apps are created and optimized to work for specific operating systems – in this case, iOS and Android. They are fast, user-friendly, and secure.
No maintenance. Support to launch your app and take care of backups, updates, and everything else to ensure your app's smooth operation!
Hacks to Create Digital Products
Digital products are coaching or consulting programs that are sold online. They're often available for download or offline viewing so the customer can get the most value out of them. The most popular types of digital products include self-paced programs, blended programs (a combination of self-paced content & live sessions), memberships and subscriptions, and eBooks.
With LearnWorlds, you can have the widest variety of eLearning content types to create digital products that sell. Explore the most feature-rich platform for FREE today and see how easily you can scale your coaching & consulting offers!
Let's explore the options successful coaches & consultants use for their businesses.
1. Self-paced programs
A self-paced program is basically an online course – the most comprehensive digital product you can offer your clients. You can even duplicate the course to provide more or fewer resources and adjust the pricing accordingly. There are cases of building the program using just one type of content (e.g. audio or video), but coaches and consultants who build multi-format programs reach higher engagement numbers and are able to increase the value of their service.
💡 Take note! You can offer a free business course as a lead magnet to attract specific audiences for your coaching & consulting business.
2. Blended programs
Another valuable tip from our clients is to build blended programs. How do they do it? Simply add the self-paced content in audio, video, or text format and conclude the practice section with a live webinar or 1:1 session, which clients can book themselves. Also, a good practice is to place your private session with a client prior to the start of your program. It helps to align on expectations and goals each client wants to achieve along their transformational journey. You can even ask them to write down their goals by adding a Diary activity and setting up a Reflection journal at the end of your program, so they will see and better appreciate the progress your program delivered.
🗒️From our coaches & consultants to you. Functionalities you'll love using for your online business!
#1 One-to-One and Group Sessions
No matter the coaching or consulting model you've decided to work with, you'll definitely need to catch up with your clients regularly to discuss their progress and stimulate experience sharing, offer additional support, and ensure they're on track with their goals.
1:1 & group sessions enable your clients to schedule real-time online sessions based on your availability, so you never lose touch with them and establish ongoing communication, trust, and accountability.
And – get this! – you can add private notes after each session to keep track of their progress and refer to previous conversations you've had.
#2 Integration With Calendly
Another important functionality is integration with Calendly. This allows you to hold 1:1 & group sessions with your busy clients at the most suitable time for both of you. Scheduling opportunities within clients' coaching portal levels down your operational hassle and enables reminders for your client's convenience.
#3 Built-In Community
Building an online community will take your online academy to the next level. Let your clients get together virtually to exchange experiences and advice. It will be like they've built their own mastermind groups.
Communities enable you to create groups and initiate thought-provoking discussions. They also allow user-generated content to engage your clients further and encourage them to express themselves creatively.
#4 Content formats
Make sure to use different types of content when creating your program to keep clients hooked. Apart from your live sessions and webinars, you can create videos and eBooks your clients can have for life, which you can also sell separately as standalone digital products or distribute part of them on social media to promote your business and attract clients. Plus, you can create mini-quizzes (non-graded) and self-reflection quizzes. Put all these together to create a transformation roadmap for your clients. 🚀
#5 Gamification
Fact No. 1: reaching a goal is much easier once you break it down into smaller steps and milestones.
Fact No. 2: a small reward, whether it comes from an external source or us, goes a long way toward keeping us motivated to work toward our goal.
Put those two together and give us a good reason why not to reward your clients when they reach an important milestone in their transformation journey.
#6 Data Security
Most of the data going in and out of your online academy are sensitive and should remain confidential and safe. LearnWorlds clients suggest you make sure all data is perfectly protected since strict data security measures, such as isolated databases, regular backups, and encrypted data storage, should be in place.

3. Bundles
Coaches & consultants love this option of putting together two or more courses covering similar, complementary topics, then selling them in a bundle. A course bundle translates into more profit for you and more rounded knowledge for your client.
4. Subscriptions & Memberships
It's no secret that subscriptions and memberships are the Holy Grail of revenue for coaching & consulting businesses!
Selling a subscription is a good idea if you're regularly releasing new content and you also prefer having a recurring monthly income. With a subscription, you can give a chance to your clients to "taste" your content before they make a purchase decision. They can initiate a free trial and get to know your style better. It definitely helps to increase your purchase conversion.
There are unique benefits LearnWorlds coaches want to share with you regarding creating a membership site. For instance, this business model allows you to create and nurture your online community and build unprecedented engagement with your clients.
5. eBooks
eBooks are among the most popular digital products our coaches & consultants use as part of a program or as a standalone offering. Moreover, they work perfectly as lead magnets and are a way to grow your mailing list!
Our clients usually add several elements to their eBook to make it more engaging and easier to read, like headings, columns, images, and videos.
And the best part is that your clients not only read the content you shared with them but can keep notes and mark important parts, so they can later come back to the piece of your wisdom and recall all the content.
Hacks to Market Your Coaching Business
There are several exciting and straightforward ways LearnWorlds coaches & consultants follow to promote and market their business. Coupons (individual, bulk, or subscription plan), email marketing, and affiliate programs work the best for them.
Let's examine each one in more detail.
1. Create Coupons
Create coupons to sell a program at a discount, either at a percentage or at a specific amount. Offering a discount coupon is a good way to reward your loyal clients or celebrate occasional events like your business birthday or Black Friday.
2. Leverage Email Marketing
LearnWorlds clients can't stop emphasizing how important it is for your coaching platform to integrate with the most popular email marketing tools, enabling you to create automated email marketing campaigns to convert leads into customers and stay in touch with your current clients.
MailChimp, Active Campaign, AWeber, and ConvertKit are probably the tools you already use. Make sure they're integrated into your all-in-one solution so you are able to streamline your operations managing all from one central place.
3. Create an Affiliate Program
Affiliate marketing is another option to bring new business your way by partnering with third parties who will happily promote your business with a small commission.
You can create your Affiliate Agreement containing the terms and conditions. What is also important is to define the commission rate and manage the Cookie expiration date, and how many days after a client has purchased from you, you will pay the commission.
4. Optimize Your Website for SEO
SEO optimization is a great chapter in program promotion heavily used by coaches & consultants. Our comprehensive guide on SEO optimization for course creators will help you deep-dive into the secrets of an SEO-optimized website and courses.
Optimizing your academy's website for search engines will help increase online visibility and reach a wider audience. A few SEO elements to pay attention to are the following:
Name and URL: Pick a name for your academy that reflects your offerings and is easy to remember. Your course URL and other landing pages should always be brief and descriptive without filler words.
SEO title and meta description: You must have noticed that every page that appears in the Google search engine results includes a title and a brief description. Based on what you read, you'll choose to click on the title and visit that page or skip to another more relevant one. LearnWorlds clients customize how their course appears in search results by creating an SEO title and meta description for their website.
Images: Choose a small image (or compress one), and add a brief description and alt-text to help Google's crawl engine discover your page and facilitate visually impaired individuals using screen readers.
Keywords, keywords, keywords: Try to incorporate relevant keywords throughout your website on all your landing pages, especially in your headlines and subtitles. Don't overdo it, though; you still want to sound human to make a connection with your audience.
Hacks to Monitor Your Performance
Evaluation and monitoring are just as important as having a business plan. LearnWorlds coaches & consultants advise monitoring different aspects of your programs to evaluate whether you have accurate results, such as:
1. User Analytics
User progress through the program
User segments (i.e., break down customers based on criteria you set)
The performance of your courses individually (plus an overview of your top 4 or 5 courses and your most engaging, popular, hard, and dropped-out courses)
Learner behavior and interaction with course content
The effectiveness of different learning activities
Key program users metrics, like Course Completion Date, Units Completed, Certificate Date, and Score, their Time on Video, Course, or Platform, as well as their Average Course Score.
Overall metrics like Enrolled Users, Social Posting, Average Scores, Course Content Consumption, Time on Course, Certificates Issues, Success Rate, and many more.
This will help you understand how a program evolves over time and whether engagement gradually drops or increases. If engagement drops, the program might not be relevant anymore, so you might need to enrich it with new content that covers your clients' current needs.
Activities breakdown. This includes Users (those who completed all activities), Viewers (those who viewed but not necessarily completed all activities), Average study time, Total study time, Average score, Time on learning activities, Learning Activities visits, and Learning Activities unique views.
Live sessions calendar. Keep track of scheduled future and past live sessions. Monitor session details, attendees & their status
2. Sales
As a coach or consultant, being also an entrepreneur is practically a part of your DNA. As such, you need access to data that will enable you to monitor your business goals and achieve business success. Our clients advise you to set up reports and regularly check your:
Orders
Revenue generated from products
Revenue generated from instructors (in your case, it could be different coaches if you run a big business)
Canceled sales
Coupon sales
3. Activity History
Last but not least, you need to track the events log to monitor every activity in your coaching academy in real-time and know what's happening in your business coaching programs.
A few examples include:
Subscription signups and trials
Scheduled subscription cancellations
Failed purchases
New affiliates
User posts, comments, and likes in the community
Certifications earned
…and many more
Think about how useful it is to know who has canceled their subscription or failed to purchase a product. You can contact these clients and win them back, safeguarding your income and clientele.
Tracking the engagement in your community is also a huge benefit, as you can spot your biggest promoters and ask them for a testimonial or turn them into your most passionate brand ambassadors.
On the other hand, if you spot a drop in engagement, you can take action (send reminders, offer benefits, such as exclusive access to sessions, free courses, or even a discount) to bring life back to your community on time!
Ready to Make the Most Crucial Move?
Your coaching academy is your most powerful tool, after your skills, to take your coaching & consulting business to a whole new level. Moving your business online opens the door to countless opportunities to reach new clients anywhere in the world, create captivating content that will support your client's journey, and build your very own community and brand.
We have put together the checklist below with key features to consider while choosing an all-in-one platform for your coaching or consulting business. Download it now to save it for the time you need it!
That was a quick list of all the features to look for in your online coaching platform. Throughout this article, we've shared tips that both our team and our clients have found to make a huge difference for a coaching & consulting business. We hope they have inspired you to take the next step and transform your business as you transform your clients' lives!
(Visited 1,985 times, 1 visits today)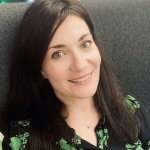 Androniki is a Content Writer at LearnWorlds sharing Instructional Design and marketing tips. With solid experience in B2B writing and technical translation, she is passionate about learning and spreading knowledge. She is also an aspiring yogi, a book nerd, and a talented transponster.