Customer training should be part of every single customer success strategy. Besides promoting product adoption, educating your customers nurtures your relationship with them and helps you achieve authority in the market.
Customer onboarding is the first step of the customer experience journey after purchase – and selecting the best Learning Management System to deploy your training program plays a huge role.
To build a high-impact customer education program, you'll need a customer education platform that fulfills certain criteria. We went the extra mile for you and compiled a list of seven top customer training LMSs for 2023, comparing their features to help you choose the best fit for your business.
When deploying a customer training program, you need to place equal emphasis on offering an impactful learning experience and achieving your business goals. The following features contribute to achieving both:
1. Ease of Use
You must choose a customer training platform that is easy to implement and use. You should be able to upload your content and build your website without frustration, ideally with the help of customizable templates, and have your program up and running in a few days.
2. Advanced Reporting
How are customers responding to your program? Do they complete it all, or do they give up halfway? What parts do they enjoy the most? Your LMS must provide you with in-depth analytics that measures every part of your course. Reporting should include sales and conversion analytics to optimize your sales funnels and the educational part of your program.
3. Flexible User Roles
Another functionality to look for is user roles, which will give you control over who accesses what in your courses. It's all the more important when you have multiple instructors or collaborators accessing the course.
4. Advanced Assessments
Do customers grasp the key takeaways? Are they going to be able to use your product or service effectively and therefore integrate it into their lives? You can't know unless you quiz them. Not only that, but assessments can help users reiterate or practice right away and therefore internalize the information better. When built smartly, they also add to the learning experience.
5. Certificate Builder
Awarding a certificate gives you a reason to charge for your training course and adds credibility. This option is highly recommended for more established brands whose accreditation means a lot.
6. Mobile App
Enable your customers to access your learning resources no matter where they are or which device they use. It shouldn't matter whether they have an internet connection or not, either.
Look for a platform that offers a native, branded mobile app. This will help you go the extra mile for your customers and transform how they consume your training materials, making every aspect of their user experience a breeze.
7. Sales & Marketing Tools
Sales & marketing tools are another feature you can't avoid overlooking. Many companies choose to monetize their customer education programs, especially the most established brands that award certificates upon completion.
For this reason, ensure the platform you pick features or integrates with tools that enable you to promote and sell your courses, like multiple payment gateways, email marketing, flexible payment plans, BN/PL support, and marketing analytics.
8. Webinars and ILT
Real-time interaction with your customers is essential to boost engagement and build meaningful relationships. During webinars and instructor-led sessions, you can demonstrate your product more effectively and answer questions, and also allow for some more fun time and discussion with customers to gather feedback and thoughts. True connection happens only through real-time communication, so keep this one high on your priorities list.
9. White labeling
One of the top reasons to deploy a customer education program is to boost your brand and build customer loyalty. You can't do it effectively unless your LMS supports white labeling and allows you to create a custom domain and customize your website with your brand colors and logo. Customers have linked your brand to a certain image, so it's vital that you keep that consistent across all touchpoints.
We've researched the most popular and top-rated customer training platforms in the market and have selected the best ones to help you increase customer satisfaction and other essential business KPIs.
LearnWorlds is the top cloud-based platform for customer education, as it encompasses all the must-have features and more! For starters, LearnWorlds supports multimedia content, additionally allowing you to add interactions to your videos and eBooks. You can also host live sessions via integrations with Zoom and Webex.
LearnWorlds' powerful assessment engine offers you a hard-to-find variety of assessments. The platform's certificate builder allows you to reward your customers while monetizing your program.
With the platform's visual drag-and-drop website builder, you can easily build your website, which can have your custom domain and branding, as LearnWorlds supports 100% white labeling.
And if you have any questions, the LearnWorlds customer support team is there to help without extra charge. Plus, a large resource library and daily webinars are in your hands anytime you need them.
And if you want to monetize your program, LearnWorlds gives you plenty of options and tools to facilitate this. As a top-notch SaaS solution, LearnWorlds integrates with email marketing tools and payment gateways, and BN/PL services and supports flexible payment plans and promotional offers, like bundles and coupons.
With LearnWorlds, you can also generate comprehensive and customizable reports to stay on top of all key metrics regarding learner behavior and course sales.
To the more technical aspects, LearnWorlds is SCORM-compliant and supports API, multiple languages, B2B licensing, custom user roles, and multiple integrations with popular tools you already use to adjust your training program the way you need.
And all this at a transparent, no-surprises price.
LearnWorlds Advantages
Intuitive UI for administrators & users
Customizable website templates
Multimedia and interactive content
NPS surveys & Qualification Questions
Native, no-code mobile app
Reasonable and transparent pricing
Unlimited users
Multiple integrations
Free premium support
Sales & marketing tools
B2B licensing
LearnWorlds Disadvantages
Learning curve due to multiple features
No free plan
No multi-tenancy yet (coming in March 2023).
Pricing Plans
Starter – $29 per month ($24 billed yearly)
Pro – $99 per month ($79 billed yearly)
Learning Center – $299 per month ($249 billed yearly)
High-Volume & Corporate – Get a customized quote
*Pricing information was retrieved from LearnWorlds on January 27, 2023.
AcademyOcean is an LMS that stands out for its simple and clean user interface, which offers a smooth user experience for administrators and learners alike. AcademyOcean can help you onboard new clients, improve customer engagement, and reduce churn.
With its Team feature, it allows you to categorize learners into different groups and create learning paths for them. You can also create "teaser lessons" to attract leads.
That said, AcademyOcean lacks advanced customization options, and most importantly, it lacks eCommerce tools. This means that you can't easily monetize your program or create compelling offers.
AcademyOcean Advantages
One of the most intuitive platforms
Advanced course analytics
Assessment & certificate builders
Asynchronous learning
Zapier & API integrations
AcademyOcean Disadvantages
No mobile app
White labeling available only at the highest plan
No eCommerce tools
No B2B licensing
Pricing Plans
Standard – $300/mo
Pro – $800/mo
Premium – $2,800/mo
Enterprise – Custom
*Pricing information was retrieved from AcademyOcean on January 27, 2023.
Skilljar is a dedicated customer education software, so it couldn't possibly be missing from our list. Skilljar promises to increase product adoption, boost customer retention and reduce customer support costs, and it does so very effectively.
The platform features eCommerce and extended analytics to help you stay on top of your customer education initiatives. Its eCommerce features include the ability to sell subscriptions, payment gateway integrations, and flexible pricing & packaging.
Skilljar features an assessment engine with good quizzing options and supports live sessions. Another standout feature is the Unique verification URLs and LinkedIn certification sharing option that adds extra power to your program.
The platform features customizable templates with advanced customization capabilities and responsive design, but it lacks a mobile app. Users have also mentioned encountering difficulties trying to build their courses and limited report customization.
Skilljar Advantages
Advanced user roles
eCommerce capabilities
Multi-tenancy
Assessment builder & remote proctoring
Advanced certificate builder
Advanced reporting
Skilljar Disadvantages
Not as intuitive as other platforms
No mobile app
Unclear pricing
No interactive content
Pricing Plans
Skilljar doesn't mention its pricing on the website. You need to fill in a form to get a quote.
*Pricing information was retrieved from Skilljar on January 27, 2023.
Thought Industries is another customer training software. This versatile learning platform features a drag-and-drop website builder that allows for customization and white labeling.
Thought Industries supports a wide variety of interactive training content, including video and flashcards, it has rich assessment options and enables you to build flexible learning paths. With the Central Asset Manager feature, you can manage your content.
As for monetization features, those include storefront and landing pages, a built-in shopping cart, the possibility to create coupons & sell subscriptions, and more.
That said, the platform is not particularly easy to navigate and doesn't feature a mobile app, although the educational content can be accessed offline as well. Customer reviews also mention the pricing is high.
Thought Industries Advantages
Supports live sessions
Progress bar
Multi-tenancy
Easy content repurposing
Rich gamification
Thought Industries Disadvantages
No mobile app
Unclear pricing
Not particularly intuitive
Limited reporting capabilities
Pricing Plans
Thought Industries doesn't mention its pricing on its website. You can request custom pricing after submitting a relevant form.
*Pricing information was retrieved from Thought Industries on January 27, 2023.
Docebo is an AI-powered LMS platform and one of the most popular providers of online training, partner training, and customer onboarding. Docebo also has rich features and additional capabilities to create content in a heartbeat, while it also supports ILT training and webinars.
The platform supports multiple integrations and has an extended array of features from multimedia content support, gamification, certificates & assessment engines, white labeling, use roles, and many more. It also integrates with eCommerce tools and enables you to create different domains and pages for your online courses.
That said, customer reviews repeatedly mention that the platform is pretty complex, customer support is slow, and its price is high.
Docebo Advantages
Mobile app
AI-powered
Powerful reporting
Extensive learning features
Docebo Disadvantages
Extra charge for premium customer support
Learning curve
Hidden pricing
Slow customer support
Pricey
Pricing Plans
Docebo has no fixed pricing plans but offers customized quotes.
*Pricing information was retrieved from Docebo on January 27, 2023.
eFront is an enterprise-ready LMS that helps streamline your customer training program and employee training. The platform supports different types of content formats and synchronous learning. It features an advanced assessment engine that supports multiple types of quizzes, including lesser-known options like matrix and fuzzy correctness.
Being a platform emphasizing data security, eFront has advanced user role settings and branches that allow you to divide your eLearning courses into different units. It also has some basic eCommerce authoring capabilities, like integrations with payment gateways and the ability to offer discounts, and it's white-labeled.
On the downside, eFront doesn't support a mobile app, and its reporting capabilities are a bit limited. Its starting price is also rather high, which might make it forbidding for a small business.
eFront Advantages
Built-in shopping cart
Advanced data security
Good assessment options
Content library available
eFront Disadvantages
No branded mobile app (only eFront app)
Reporting capabilities could improve
High starting price
Pricing Plans
eFront has a flat rate of $1200 per month for up to 1000 registered users and unlimited courses. To add more users, you need to request a quote.
*Pricing information was retrieved from eFront on January 27, 2023.
LearnUpon is a user-friendly cloud-based learning management system with different use cases, including customer onboarding. It integrates with webinar tools to support ILT training along with scheduling, attendance tracking, and reminder notifications.
It has several question types and assignments and a survey feature to measure learner feedback. Plus, it features a Resource Center where you can store training materials in a centralized knowledge base, and it supports user segmentation to control access and automate tasks. Its advanced certificate feature notifies learners when it's time to re-certify (in case your certificates have expiration dates).
LearnUpon enables you to build different branded learning portals and storefronts to sell your training courses. Another nice feature is the multimedia banners that pop up on the learner's dashboard, drawing attention to updates or whatever you might want to communicate.
On the flip side, LearnUpon doesn't allow you to build your own mobile app, and its reports include basic metrics only.
LearnUpon Advantages
Intuitive
Certificate management
Centralized resource center
Advanced gamification
eCommerce support
LearnUpon Disadvantages
Limited integrations
Needs more robust reporting tools
No branded mobile app (only LearnUpon app)
Pricing Plans
LearnUpon has 3 plans (Essential, Premium, and Enterprise), but they don't mention pricing on their website. You need to fill in a form to schedule a demo.
*Pricing information was retrieved from LearnUpon on January 27, 2023.
In this post, we've reviewed the top 7 LMS platforms, all of which come with robust features to help you reach your goals and get the most benefit out of your customer training program.
LearnWorlds stands out as the most reasonably priced, scalable, and feature-rich solution, including strong eCommerce capabilities and a native, branded mobile app – two features that most LMSs lack.
Try LearnWorlds with a 30-day free trial, with the most features available. Don't let another day pass without offering your customers all the resources they need to truly appreciate your product and integrate it into their lives!
(Visited 620 times, 8 visits today)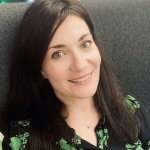 Androniki is a Content Writer at LearnWorlds sharing Instructional Design and marketing tips. With solid experience in B2B writing and technical translation, she is passionate about learning and spreading knowledge. She is also an aspiring yogi, a book nerd, and a talented transponster.