Humans are social creatures, and as such, we rely on a common knowledge pool to make decisions in times of uncertainty. Group thinking and social conformities are big parts of being accepted and decision making, and expert marketers use that to their advantage.
In simpler terms, social proof eases the mind of visitors into taking actions without hesitation, resulting in increased conversions.
How does that work?
The same way as if you were looking for reviews or testimonials of a product, social proof gives that information upfront. It helps an undecided buyer to make the next step. Social proof is when one or more other people use or suggest a certain product.
Think of these two statements:
"The new iPhone is a state of the art smartphone with new features."
"Thousands of consumers bought the new iPhone, feeling happy with their new purchase."
Which one sounds more convincing? While the first statement is more technical and value-driven, the second one focuses on getting an emotional response to social proof. It's the same way as trying to choose a coffee-shop at a new area. You wouldn't go to the one that is empty, but rather wait in line for the one which is full.
Social Proof Conversions in Numbers
According to Econsultancy, consumers look for reviews, trust them and are more likely to buy because of them.
64% of consumers would read online reviews when purchasing technology items,
63% of customers are more likely to make a purchase
Consumers trust reviews 12 times more than descriptions from the company
What would that mean for course creators? With just a few reviews that instill social proof in your courses, it could be the single best improvement to conversion rates you can do.
Leveraging social proof for online schools
Having one way to ease the minds of potential customers is essential, two or more can make a real impact to your online business.
There are subtler and more direct ways to do that. Combining both subtle and direct social proof is much more effective, and adding visuals can be even better. A testimonial with a picture of the person, a recognized brand's logo or a graph showing the increase in numbers can complement the argument. Here is a list of ideas on how to include social proof to your sales pages:
1

Social Media Proof

Showcase your Facebook community or Twitter followers. Embedding your Facebook Page on your website or your Twitter Profile, who can then doubt your hundreds or thousands of followers?
Social followership can increase the perception of your brand influence even if the person seeing it has never heard of you or your company before.
2

Reviews & Testimonials

Satisfied customers will often be more than happy to share a good word for your courses. And even if you have just started, a friend or business partner that has tested your course can testify for it. Reviews and testimonials can increase sales up to 34%.

We always collect positive comments from our Facebook page, email communications, and calls, and have compiled a whole page with 2 of the best positive reviews for our support team for every month of 2017, check it out 🙂
3

Community Numbers Matter

No one wants to join a community with no other members. Having an online course with a built-in community is already an advantage. You can showcase your numbers on the front page.

If you don't have any learners yet, talk about your offline successes e.g. 10 years of experience, 50 Successful workshops, 1000 participants etc
4

Media Testimonials

Have you ever been:
Interviewed by a TV channel, Podcast or Youtube Celebrity?
Featured in the top professionals in your field by a news-site?
Guest posted on an influential website?
Then, you can include those as media testimonials and can even link to their flattering articles or videos.
5

Education, Work Experience, Awards & Certifications

Yes, that sounds more like a CV than a testimonial, but all of the above are important when it comes to trust. Would you trust a self-proclaimed doctor, or would you like to see a medical degree? I certainly want to see the degree.

Being educated on the subject you are teaching or having some solid experience might seem like a no-brainer, but without some "boasting" and proof, you are missing a huge opportunity. An about page is one of the most visited pages in the web and one that speaks of your accomplishments, education, work and awards or certifications is essential.
6

Let your users know when someone takes action

Onsite notifications are a powerful tool to increase conversations. How would you like to have a pop up show up on your website every time someone buys a course, subscribes to your newsletter, gets a certificate or downloads your ebook?

Now you can do exactly that with LearnWorlds' newest integration of Fomo. You can read more on how to connect it with your LearnWorlds Online School. We have already prepared a few actions for your to try, read more below:
Include Social Proof Notifications with Fomo [New Integration]
Fomo is one of the top tools for Social Proof Notifications that increase conversions. Your online academy can benefit from adding Fomo to its list of marketing tools, as it will give you a much-needed advantage over the competition.
Fomo's notifications will show up on new visitors letting them know of new registrations, course sales, earned certificates by your students and more! To make your life easier, we have already prepared some notification templates to start serving your visitors 😉
Sign up for a FOMO account via LearnWorlds and get 50% off for your first month, use this link. More on connecting FOMO to LearnWorlds on our FOMO Help Center Article.
Review & Testimonial Templates for Online Academies
An extra sweet treat from us, LearnWorlds' pages builder allows you to create landing pages with beautiful templates. You can use the testimonial templates to add another layer of social proof to your school and see those sales increase!
If you like these, you can try them from your own academy with 30-days free trial.
(Visited 1,444 times, 3 visits today)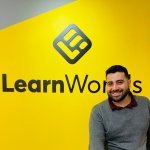 Nick Malekos is a Senior Digital Marketer in LearnWorlds. He is a results based and well-rounded Digital Marketer with years of experience in the education industry, writer and digital literacy trainer.