Making New Year's resolutions is a tradition as old as eating turkey on Thanksgiving. That's because we all love this feeling of turning over a new leaf and making a fresh start – and the beginning of a new year is the perfect time to hit the "Reset" button!
As a course creator, you might feel like you could do certain things better or even not do them at all anymore because they're not really working. And although we're firm advocates of dedicating time and energy to your online course business all year long, the New Year is an excellent chance to reflect on your strategy and do some (decisive) tweaks.
So when the clock strikes 12… here are the 12 New Year's resolutions you need to make to skyrocket your online academy's success!
1. Set Business Goals
If you want to be a successful business owner with a profitable online school, you need to get organized and start making strategic decisions that will take your business where you want it to be.
Start by setting specific goals. Setting goals increases your chances of success as it gives you purpose and keeps you motivated and laser-focused on your "target."
Goal setting will also help you take the best course of action to actually achieve these goals instead of making random business decisions.
A popular goal-setting method that all entrepreneurs swear by is S.M.A.R.T.
Specific. What exactly do you want to achieve? Many course creators set generic goals, like "make more money." Instead, your goal could be something like "generate $1000 per month."
Measurable. The goal of generating $1000 in revenue is measurable (as measurable as it gets, probably).
Attainable. Ask yourself if you can realistically reach your goal. Had your goal been generating $20000 out of thin air, we'd say that it's not.
Relevant. Your goal should be relevant to your business and your overall vision. If you've built online courses to boost your income, then it makes sense to set a financial goal.
Time-bound. The final touch! If your end goal is to generate $1000 per month, when should this start happening? In two or six months from now, perhaps? Setting a timeframe to achieve your goal will help you take it more seriously and not postpone acting upon it.
2. Take Stock of Your Current Status
You can build your online academy exactly as you imagined it. And if you want to, you can reimagine it and dream even bigger – and turn it from a small business venture to a thriving business!
Assess where your online business was last year, where it's now, and where you want it to be next year. Are you progressing the way you thought you would? Take stock of your current assets. Are the tools you currently use enough to take you where you want to be? Will you need to invest in additional tools, perhaps for marketing? Does the learning platform you're using offer everything you need?
Remember, you must choose your course creation platform based on your goals – not lower your goals and ambitions to fit your platform's capabilities! If your current platform lacks features and limits your potential, start looking for other options.
3. Focus on Quality
Make sure all your course material is high quality. Offering rich and versatile educational content will take your online school to the next level and help you stand out.
Video remains massively popular, so make sure you practice until you get comfortable in front of the camera and start making better videos. If you can afford it, invest in a high-quality microphone and webcam for better audio and video quality.
As much as learners love video, offering just one type of media might be tedious and ineffective for some. Use infographics, podcasts, eBooks, and checklists, and add interactive elements wherever possible to satisfy different preferences and enhance knowledge retention.
And these are just the basics. Commit to going the extra mile this year and create different types of assessments for your learners, offering them also a reflection journal and self-assessments so they can evaluate their own progress and learning processes.
Help them stay curious and expand their knowledge by building a blog and an RSS feed that's automatically updated with the latest news. If it fits the scope of your school, offer one-to-one or group sessions, or build a mobile app.
4. Increase Productivity
Staying productive is tricky business. Even professionals with years of experience working freelance struggle to build a schedule. If you're a beginner, you might need to put in some extra effort to get started.
We've got a few ideas for handling the most common productivity challenges:
⌛ Procrastination
First things first, set a productivity goal. Commit to dedicating at least X hours per week to course creation and create a schedule with specific days and times. Stick a post-it note on your fridge if you must, until you realize that course creation is a priority and not something that you do "if time permits."
😵‍💫 Distractions
That's a hard one. Start with creating a dedicated space where you work (preferably not your bedroom). Keep it organized and clean – a messy surrounding is stress-inducing for many people and negatively impacts focus. Once you get to work, close all social media tabs and silence app notifications. If working from home is not your cup of tea, try a nearby coffee place or a co-working space. You might find that working outside is actually less distracting than at your own home.
📝 Time management and prioritization
A good rule of thumb when you've got too much on your plate is to start with the most important or time-sensitive tasks. That said, some people need more than a to-do list to get organized and get to work. If you're one of them, you might benefit from a time management technique, like The Pomodoro Technique or Getting Things Done.
5. Try a New Business Model
There are actually quite a few different profitable business models in the creator's economy. If you want to try something other than the typical self-paced online course, experiment with one of the following course formats.
6. Build a Community
Most people are active in some type of online community (the most usual being social media) because they love the connection, the interaction, and the effortless learning that happens. Replicate that sense in your online academy to strengthen your relationship with your learners and build loyalty.
How to strengthen your online community:
Host Live Events
Host live events that you can market as webinars, workshops, or mastermind classes, depending on their scope. Choose:
webinars for a deep dive into your course topic (include a Q&A at the end),
workshops for a hands-on demonstration and creative activities, and
mastermind sessions to promote support and knowledge sharing among members.
Stay Active on Social Media
We don't need to convince you about the community-building capabilities of social media. Promote new courses and offers with announcements, host contests, share blog posts, and post quizzes and polls. Don't forget to use hashtags (especially on Instagram!) and try to reply to all comments and feedback.
Create a Built-In Community
Ideally, you want your online course platform to feature a built-in online community. Some instructors use discussion boards just for announcements, but that's a waste of such a great feature.
Instead, use the community feature to start thought-provoking conversations, create polls, and invite learners to pose their own questions and upload their own content. Pick a platform that allows you to build different groups and discussion boards and allows members to become "friends," message each other directly, and follow each other's activity.
Build a Membership Site
Selling memberships & subscriptions is the best business model if you want to focus on connecting with your audience. Maintaining a membership site entails developing new content and hosting live events regularly to keep the momentum going.
7. Market Your Online Academy
This is the year when you finally build a carefully planned marketing strategy. Marketing is a core task when running a business, even if it can sometimes feel exhausting because there're so many options you don't know what to start with. Here are a few ideas:
Social media is a goldmine in terms of engagement and outreach. Stay active and engage with your audience as much as you can.
Guest blogging will also help you offer valuable content and get your name out there.
Email marketing remains one of the most effective ways to touch base with your audience and convert leads.
Network by joining online communities and collaborating with other course creators.
Use lead magnets. Offer free downloadables like eBooks, checklists, or even mini-courses to grow your email list and engage potential customers.
SEO & paid advertising. Following basic SEO best practices will boost website traffic. If you need faster results, try paid ads.
Affiliate marketing. Offer a part of your profit to have your academy promoted by third parties.
8. Keep up With Trends
Stay in the know about trends in eLearning and your niche. Find out what topics are currently trending – is it something you're knowledgeable about? If not, consider finding a collaborator to expand your course offerings.
Keep up with instructional design trends and best practices, and you might find advice that will help you optimize your processes and the final output.
So put checking eLearning news on your calendar too. If you're too busy, you don't need to check daily. But set apart some time every couple of weeks to check relevant websites, newsfeeds, and social media groups.
9. Stay on Top of Your Business
Don't trust "luck" too much regarding the future of your online academy. Whatever your goals are, you need to know what's happening in your online school at any given moment.
Keep a close eye on learner behavior and overall school performance. Notice what types of content learners interact with the most, if they're active in the online community, where they seem to be struggling, etc. See how your sales evolve over time and where the most demand lies.
Also, create a system for tracking and updating your course content. Keep up with trends and developments, as we discussed before, and keep a record of what you plan to add to your course and when.
10. Learn a New Skill
Enough about business! Some of your New Year's resolutions should concern your self-improvement and well-being – starting with practicing what you preach. Try learning something new to improve your skills, such as instructional design, video creation and editing, basic graphic design, and proofreading.
You can learn anything, really, even if it's not related to course creation. As a course creator yourself, you should know that staying curious and seeking knowledge gets the creative juices flowing and boosts confidence.
11. Take Care of Yourself
Prioritize your well-being and maintain a work-life balance this year. Get adequate sleep, build healthy eating habits, refrain from alcohol and smoking, and exercise. Taking care of yourself will increase your mental focus, keep your body healthy and strong, and enable you to work faster and more efficiently.
12. Reward Yourself
Last but not least, show yourself some appreciation. Celebrate every small win and milestone with a reward you'll determine beforehand. Feel it in your bones that you're making progress – this will give you unparalleled motivation to keep going strong.
New Year, New Attitude
These were 12 New Year's resolutions ideas to inspire positive change this year. Pick the ones that resonate with your needs and goals the most, and get to work! Hopefully, by the end of 2023, you'll look back at the previous year and smile proudly at what you've accomplished.
(Visited 296 times, 1 visits today)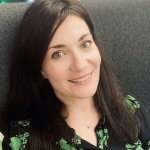 Androniki is a Content Writer at LearnWorlds sharing Instructional Design and marketing tips. With solid experience in B2B writing and technical translation, she is passionate about learning and spreading knowledge. She is also an aspiring yogi, a book nerd, and a talented transponster.