Today, we are taking video insights to the next level with a new feature, Video Stats and HeatMaps. With improved insights, every educator can better understand the viewing habits of their students, or identify weak and drop-off points.
Video is one of the most important mediums for course creators, and as such, more detailed insights can help improve the learning experience of your students.
Improving Learning and Training with Video Insights
No learning is complete without measuring learning outcomes, evaluating the situation and intervening where possible to offer assistance.
With video-based learning on the rise, video analytics have become essential. The right insights on your students' learning journey can lead to the correct interventions:
Support weak students whenever needed,
Create better material on difficult topics,
Find the right video-length, or
Monitor who is watching the training.
This is even more important for corporate training, where you need to measure and improve workers' performance through training.
So, how do you go on with learning more about your students?
Introducing Course Video Analytics & HeatMaps
We are very excited to announce Video Analytics as the new feature on the LearnWorlds' new media player.
Video analytics are designed to help you understand how your audience engages with your video, allowing you to have a complete view of who and how is watching and interacting with it.
You can now see video stats from your course's video library such as:
Average Engagement
Total Plays
Play Rate
Engagement Graph
HeatMaps
Average Engagement
Average engagement shows how much of a video your students have watched. It is calculated by taking the number of hours watched divided by the Total Plays when multiplied by Video Length.
Hours Watched / (Total Plays x Video Length)
Total Plays
This is the number of times a video has been played/watched. It is a cumulative number and a unique student might add multiple plays to this number by rewatching your lectures.
Play Rate
The play rate describes how many times was the video started over how many times the page has been visited. This is for cases where you have disabled video autoplay for your courses, and the student needs to click to play the video.
Unique Plays / Unique Page Visits
Engagement Graph
The engagement graph allows you to see how your audience is watching your video.
You can see which sections of your video are being watched multiple times and where the students drop off. Spikes and drop-offs are highly important points.
Spikes can indicate interest or a difficult point for a student, while drop-offs can signal the loss of interest, a tiresome subject, or a call to action towards another page of your school.
Viewers – How many people watched up to what percentage of the video.
Rewatches – Points on a video that have been watched multiple times.
HeatMap
Heatmaps are a second-by-second representation of your students' watching journey. They are color-coded based on how many times a student rewatched part of the video.
They can be used to drill down to an individual student's viewing to intervene and guide the student if needed. You will also be able to see detailed information such as:
The name or email of a student,
The location,
Device information,
The percentage of the video they have viewed (completion),
Skipped parts (white graph),
Page / course unit they have watched the video
Last watched date/time
Where to Find Video Stats
The video stats can be found in three places inside your course. They are designed to make information more accessible at the points where you can take action to improve your content!
1

Video Library
Visit a course,
Click on the Video library tab,
Then, click on the video's graph icon which is on the top right corner of each video.
2

Course Contents
Visit a course,
Go to the Contents Tab,
Then, click on the video's graph icon, which is next to the settings of a video learning unit.
3

Interactive Video Editor
Visit a course,
Go to the Contents Tab,
Click Edit video next to a video learning unit,
Click the "Video Stats" option on the top of the editor
With this option, you will be able to see the stats and the engagement graph while editing the video for interactive elements. It provides the right information to improve the points where your students get stacked or need more attention.
Use the engagement graph to find drop-off or rewatch points, then take the appropriate action with LearnWorlds Interactive Video Player to improve the learning experience in that specific point.
*If you can't access the video analytics, please contact our support to help you out.
Insights for Better Online Courses
Viewership metrics are an essential addition in the arsenal of every educator. They will help to improve your courses and deliver better learning experiences to your students.
On top of that, it helps you make informed decisions on developing newer material, offers the ability of intervention to help weak students and better reporting in corporate training and continuous professional education.
What's more interesting is that you can combine this feature with our interactive video player to add quizzes, chapters or call-to-actions to make drop-off points more interesting and engaging. You don't need to re-shoot a video when you can add interactivity.
You can start using a modern elearning platform to deliver engaging video courses. LearnWorlds offers a 30-day trial to start building your courses today.
Disclaimer: The instructional video stats are available on all LearnWorlds plans and schools that were created after January 2019.
(Visited 431 times, 1 visits today)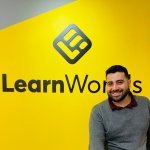 Nick Malekos is a Senior Digital Marketer in LearnWorlds. He is a results based and well-rounded Digital Marketer with years of experience in the education industry, writer and digital literacy trainer.