2019 has been a transformative year for the LearnWorlds family, as we have grown across the board. Our team has more than doubled in size and thousands of new LearnWorlds instructors have trusted us for launching their online schools.
2019 has been a year of tremendous growth for our instructors as well, some of them earning millions through selling online courses. Keep an eye since very soon we will start publishing some of those success stories on our website.
We've been honoured to partner up with so many amazing talented individuals this year. We have also been blessed to meet face to face with several of you this year and looking forward to meet many more in the near future. Wherever you are, we are determined to connect with you.
With 2020 and a new decade entering the scene with a blast, we wanted to share our most important moments, lessons learned and a glimpse of what is to come.
Starting with our most exciting news …
Growing with You!
In the past year, our team has more than doubled in size. We started 2019 as a team of 15 and have recently become a band of 32 amazing people, with more lined up to join us in the next few weeks. A highly-committed team of overachievers, devoted to helping you deliver the best possible training and achieving your goals.
For those of you who are long-term customers, you might have noticed even more people jumping in to your help at an even faster rate. Taking care of you is our Number One priority!
Growing our customer success team was a top priority to keep the high level of help you have come to expect from LearnWorlds. We make sure that a capable and caring human will be answering your every question, helping you on your journey to launch a successful online course, training or coaching. No bots and random answers here, just 100% human skill and care:)
Of course, our product still remains our main focus. That's why we are investing heavily in having the best team of developers and deliver all those features that make LearnWorlds the best all-in-one platform in the market.
In the words of our co-founders earlier this year, the small team that started building this company 7 years ago, has grown into a fast-growing international company:
What started several years ago as a cool side project has already evolved into a profitable SaaS business serving top course sellers in over 70 countries. The ragtag team of four who worked night and day to create the first MVP and bring it in front of trainers and students has grown to a strong team of 25 26 28 amazing individuals.
Investing in Your Growth
Since the very start, LearnWorlds has been a bootstrapped company. In 2019, with more than 1000 customers trusting our platform and enabling us to touch the lives of hundreds of thousands of students, we decided to push the pedal to the metal. We have a clear vision of the product and the customer experience that we want to deliver to you and we can't wait to execute on this vision.
Finding the extra resources required for this proved remarkably easy so a few months ago we closed a $1.1mn funding round that we already put to good use, accelerating an already fast-growing company.
Marathon VC has been our valuable partner on this journey, helping us take LearnWorlds to the next level.
Promises kept in 2019
2019 has been a super productive year for our team. We have been able to deliver on some long-awaited features and even throw in a few surprises.
Server & Speed Improvements
We have been working hard on our infrastructure in order to support the influx of LearnWorlds users and their legions of students. More specifically, we have added quite a few cloud servers, strategically distributed around the world, and done major architecture updates leading to all schools now running 5x faster and being able to handle multiple times the load under heavy usage.
For our biggest schools, and here we are talking about hundreds of thousands of students with tens of thousands of simultaneous visitors, this has been a huge difference as they can keep growing without any worry about their operations.
Plus, we've overhauled our Backup infrastructure, adding additional backup servers and taking backups of high volume schools multiple times per day, making sure that we can handle pretty much any adversity thrown our way.
New Courses on LearnWorlds' Academy
We've also expanded on our tradition of delivering high-quality content to you.
We have launched new courses on our own academy, joining an ever-growing library of courses to help you create, market and sell online courses:
This course is an excellent introduction to affiliate marketing. It will help you understand what affiliate marketing is, how to build relationships with partners, and determine commissions.
Learn everything about the most powerful marketing tool! Whether you have experience in Email marketing or not, this course will provide you with the most useful tips.
Remarketing or retargeting is an advanced form of online advertising that can help you reach people who visited your website but did not buy a course.
And you can find more of our valuable books and hands-on checklists on our Resources Page.
New Features for Your Online School
Many many small and big features were released in 2019. Anyone who started using LearnWorlds was positively surprised by the many and frequent improvements and new features.
Everything was focused on delivering value to you, helping you better manage your school, sell more online courses and offer the best elearning experiences to your students:
You can build your own sales team and manage it from your LearnWorlds dashboard, without paying extra for a third-party tool. We made it easier for you to have experts or influencers do school marketing for you.
Enhanced intellectual property protection. These set of features discourages piracy and account sharing. It's not one or two small updates, but rather a full security suite all included in one plan!
With LearnWorlds, it's not just a course or a website, it's an all-in-one suite to host your elearning business, including your blog.
We also launched a new customizable course player. You can now customize the experience of your students, change the color and design. It also comes with added capabilities for controlling the navigation path of the student and when a course or section is considered finished.
It offers a better way to upload, manage and control the images you use in your school.. Whether this is while building online courses or creating landing pages.
With improved insights, every educator can better understand the viewing habits of their students, or identify weak and drop-off points. Now, you have this information in your hands!
Viewing and managing the progress of your students in a new and better way than in any way before.
After GDPR came the SCA for card payments in the EU. If you are based or have clients in the EU, you have to be SCA compliant, and, with LearnWorlds you are fully compliant with the new requirements.
A better way to upload and play audio files. Upload your audio lessons, podcasts or sound exercises and allow your students to enjoy them to the fullest.
LearnWorlds Customer Reviews
2019 was yet another year in which we received lots of love from our customers. Every single positive message means the world to us and makes us all warm and fuzzy inside ❤️. I can't overstate what your messages mean to the morale of this crew and to our drive to keep getting better at what we do.
Here is a small sample of love sent to us through our customer care team:
I wanted to say thank you for all the great work your team is doing. Honestly, I wouldn't know what to do without LearnWorlds to grow, or even launch my startup. All I know is without you I would have been in a world of pain!
– Tarek –
I'm very excited to be onboard with learnworlds, I did a ton of research on e-learning solutions before finding out about learnworlds and your platform is really top notch! We are starting with the basic plan but will most likely be upgrading once we start selling in a few months.
– Anonymous –
You guys have really done a great job on LearnWorlds. School owners now have so much flexibility to customize and control their schools. I doubt if any e-learning technology available today can surpass this. Thumbs up LearnWorlds.
– Vincent –
The job you have done guys is truly remarkable! Your authoring tools are the easiest to handle out there and the features you support are so powerful.
– Alex –
"You have an impressive platform. I've been looking for almost a year for a platform that has a school (rather than courses) approach, integrates sales, marketing and payment, and has a graphical user interface."
– Anonymous –
Gratitude does not stop there, as we also read carefully every review about us. Feedback is the fuel of our product, it keeps us on track helping us cater to your needs. We have selected a few of the latest reviews of LearnWorlds below to share with you:
Recent Awards & Recognitions
Since 2014, LearnWorlds offers a high-end course platform to create, sell and deliver online courses. We pride ourselves in listening to our users and implementing the latest research in elearning to create the best learning platform for you and your students.
For the last couple of years, LearnWorlds has been a resident in all the top lists featuring the best course platforms such as the ones at:
Forbes
Neil Patel
Learning Revolution
Elearning Industry
Now, LearnWorlds is also recognised as one of the leading learning platforms by elearning experts and based on user reviews. In the last couple of months, LearnWorlds has climbed in the top rankings of the most popular lists and review sites reflecting the recent advances we have made.
Working towards the best platform for elearning, the recent awards, listings and reviews confirm we are on the right track to doing so!
Best Learning Management Systems by ElearningIndustry.com
ElearningIndustry.com, the largest community of elearning experts and users in the world, released two lists featuring LearnWorlds in the top positions.
Competing with more than 300 elearning platforms, LearnWorlds has earned the:
🏆 5th position as the Best Learning Management Systems based on Customer Experience.
Each evaluation included three dimensions. For Customer Experience, the rankings were evaluated on satisfaction, effort and expectations. While, for User Experience, the rankings were evaluated for usability, usefulness and a net promoter score.
🏆 10th position as the Best Learning Management Systems based on User Experience.
Serving the needs of our users has been our focus from the very first day, and we wouldn't have done that without your help and your feedback.
Best Online Learning Platform List by G2 Crowd
Earning another spotlight, G2 Crowd, one of the biggest and most popular review sites in the world includes LearnWorlds in its Best Online Learning Platforms for 2019, with a score of 4.8 out of 5, the highest score achieved by platforms with more than five reviews.
G2 Crowd qualifies Online Learning Platforms, as:
Providing educational material to students anywhere and from any device.
Offer tools for creating and/or uploading educational content.
Provide workflows for effectively managing and tracking educational content and students' progress.
Track key metrics such as performance and study behavior.
Offer support for a variety of multimedia such as Word docs, video, audio, PDFs, text, PPT, HTML, voice-over slide presentations, survey, quizzes, downloadable attachments, and more.
Breaking down the list of the absolute top Online Learning Platforms, LearnWorlds ranks at:
🏆 2nd place as the Easiest To Use Online Learning Platform,
🏆 4th place in the Highest Rated of the list
🏆 4th place in Customer Satisfaction.
Top Continuing Education Systems by TalentedLearning.com
Another distinction comes from Talented Learning, an independent research, news and consultancy company. Talented Learning evaluated various learning platforms for their suitability in continuing education training.
LearnWorlds was amongst the finalist for the top positions of the research. The qualifying criteria included:
A high-quality public "branded" website;
Integrated systems for content management, customer relationship management, event management and membership management;
Tools for marketing automation, social networking, secure ecommerce, product fulfillment, analytics and more.
Glowing 5-Star Reviews from our Customers ⭐⭐⭐⭐⭐
All these were achieved with the help of your positive and constructive feedback; LearnWorlds has been consistently reviewed by our users with 5-star in all the top review sites.
Capterra ⭐⭐⭐⭐⭐
G2 Crowd ⭐⭐⭐⭐⭐
eLearning Industry ⭐⭐⭐⭐⭐
Trustpilot ⭐⭐⭐⭐⭐
Here at Learnworlds, every customer counts, and across all departments, from our support to the development to our marketing teams, our priority is to provide the best customer experience. Those glowing stars are only the surface, and we encourage you to read our user's experience with LearnWorlds and write your own.
We also get amazing emails about life-changing moments our customers have with the platform and the people behind it. Choosing just a few to represent the love and wishes is what fuels our passion every day!
Writing for You – Most Read Articles from LearnWorlds' Blog
Lastly, our blog attracted more than half a million visits during 2019 with people looking to learn more about elearning and creating training videos, their first course and of course selling it!
We value real, high quality education. Our founders come from academic backgrounds in elearning technologies and we keep learning from our customers' feedback and the best industry practises.
Using our combined knowledge, we write in-depth articles and guides to educate LearnWorlds users and everyone looking to join the knowledge society by sharing their knowledge and teach online.
Want to learn more? Here are our most popular articles for 2019:
– The 22 Best Training Video Software
– How to Create an Online Course
– How to Choose a Catchy Name for a Training Program
– How to Start an Online School: Step-by-Step Guide
– How to Sell Online Courses – The Ultimate Guide
– Learning Goals and Objectives in Course Design
– How Much Money Can You Make Selling Online Courses?
– How to Build an Online Course Landing Page [With Examples]
LearnWorlds' Roadmap to 2020
And this is just the beginning. Most days we feel we are just getting started implementing our vision and there is so much work going on the results of which you will see in the next few months. We have a full roadmap and a crew of developers are working tirelessly to deliver to you the evolution of elearning, not in some distant future, but starting from today.
No spoilers here, just a brief introduction of the cool thing we will be delivering in the next couple of months. These are just the starters for what 2020 will bring us.
Interactive Video 4 – Interactive Transcripts, Subtitles and more
It's the fourth version of our most unique and incredible tool. The interactive video was designed to get rid of passive watching and simple videos.
Taking a video and making it interactive by adding labels, buttons, quizzes and many more actions is one thing, now, we are adding:
Interactive transcripts
Subtitles, and
A new editor
We have already released a sneak peek into the new iVideo with more information on what that entails and soon it will also be live to all Learning Center accounts!
Advanced Analytics & Reporting
Analytics and detailed reports are a must have for any professional trainer and course seller. Basic reports, for all practical purposes, you can already get in your school. But coming up in 2020, each LearnWorlds school will be equipped with a Reporting Center, giving you and your customers advanced analytics for any significant actions taking place in your school.
Advanced User Management
Owners of large schools require more control over the users, such as being able to form, manage and report on user groups. They also need detailed user privileges in order to share the burden of managing a school with their staff and trainers, as well as give management control to customers and external stakeholders.
User groups, user roles and user credentials will be part of the advanced user management we will be releasing in early 2020. Stay tuned.
Pages Builder – A Complete eLearning Website Maker
When our product team was presenting the early versions of our new pages builder, I felt like being in the future. Building web pages is one thing. But building a full website, with a cohesive design and comprehensive theme management is at a whole different level.
Our New Pages Builder will deliver exactly that: making a beautiful website and owning the branding, from the logo to the fonts. It's not about building page after page anymore, being able to easily build and style a whole website with a few of clicks. It's easier to use, with more templates, more capabilities, and a next-level responsive tool. You will be able to change the desktop and mobile versions of each page for a better user experience.
There are more nuances to this, but, let's say that you will have even more control over how your school will look like with less work!
Onwards to a New Year – and decade – of passionate, creative work and achievements.
And remember, LearnWorlds keeps getting better every single day.
(Visited 1,583 times, 2 visits today)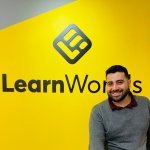 Nick Malekos is a Senior Digital Marketer in LearnWorlds. He is a results based and well-rounded Digital Marketer with years of experience in the education industry, writer and digital literacy trainer.