The skills gap is real, and it's bad. A Korn Ferry report compiled after extensive research in 20 economies across the world predicts that by 2030, more than 85 million jobs could go unfilled due to the massive skills shortage.
The need to reskill and upskill employees are imperative. There's no need to stress about it, though – using a Learning Management System (LMS) can really untie your hands and make the development process much smoother.
At the same time, an LMS can help you solve another problem – educating your customers and anyone involved in selling your product, such as consultants, vendors, stakeholders, and more. This is all the more true (and needed) if you have a complex product like SaaS.
So today, we're going to explore why you should deploy training in the first place and why you should choose a Learning Management System for your upskilling efforts. Then, we'll find out how you can use an LMS for upskilling and training and which features to look for.
Table of contents
Before diving into the practical aspects of upskilling and training, let's start by giving you the reasons to do so. First, when it comes to training your employees.
1

Boost Productivity and Job Performance

The most direct and fast result you should expect after deploying an employee training program is a more productive and efficient workforce. After all, this is exactly what upskilling is about – enhancing existing or developing new skills, whether soft or digital skills, that will help employees do their jobs better and faster and also undertake new responsibilities.
2

Increase Employee Retention

Career development and upskilling opportunities have been cited repeatedly among the top reasons why employees leave their current employer and start looking for a different job. And unsurprisingly so. Employees, at least the type you want to have among your workforce, will end up feeling stagnant if there's no prospect for a rewarding career path on the horizon.

As employee engagement drops, it's all downhill: productivity decreases, absenteeism increases, and so does turnover. Not to mention that disgruntled employees often pass on their dissatisfaction and lack of motivation to others, and the overall workplace environment loses some of its liveliness. Opportunities for professional development seriously increase your chances of not losing quality employees.
3

Improve Employee Agility and Readiness

Employee training might be primarily linked with technical skills and competencies, but you mustn't overlook the way it can improve soft skills either. Soft skills become all the more important to employers as they're often the glue that sticks the workplace together. How? Think about how higher emotional intelligence and better conflict management could decrease friction in the workplace.

It doesn't matter which soft skills your corporate training program focuses on. Following a streamlined approach and offering plenty of training opportunities to your workforce will help you stay ahead of industry trends and future-proof your business.

Talent development helps employees remain sharp, alert, and agile enough to face any challenges or changes that come along, like digital transformation and the integration of Artificial Intelligence in the workplace. This is because regularly feeding employees' brains with new information and skills takes them out of a state of passiveness, sparks their curiosity, and boosts their confidence.
4

Stay Competitive

You can't even dream of success without a competent workforce. Your employees are the ones bringing in ideas and turning your vision into actual products and superior customer experiences. Whether you'll be able to maintain this high level of quality in everything you offer or not depends on the effort you put into educating your employees and continuously honing their current skill sets.
5

Create a Positive Company Culture

A learning culture can't be anything but a positive culture. Provided you respect your employees' personal time and don't force them into participating in training programs they don't want to.

In any other circumstances, employee development programs contribute to a positive employee experience. Learning and development goes hand in hand with a vibrant workplace where all team members find purpose and opportunities to grow professionally, open their horizons, and feel empowered with new skills.
Deploying a customer education program won't disappoint you regarding business benefits. These benefits usually translate into better business KPIs that ultimately lead to economic growth and stability.
1

Increase Product Adoption

It goes without saying that when customers have the resources they need to learn a complex product, this increases the chances of them managing to incorporate it into their work or their lives. Product adoption is the first step to establishing your brand in your customers' minds and creating a relationship of trust and loyalty.
2

Improve Customer Satisfaction

A customer who uses your product and has a better workflow, project management, personal development, or whatever your product solves is naturally a happy customer. Your e-learning content, whether we're talking about video tutorials, a blog, etc., will empower customers and allow them to utilize your product to the maximum, increasing customer satisfaction.
3

Build Customer Loyalty

Customer loyalty comes with the added benefit that, as a rule, loyal customers spend more. This happens both because they buy more often from you and also because they buy a wider range of products. The amount of money a customer spends for as long as they remain your customer is known as Lifetime Customer Value.
4

Decrease Customer Acquisition Cost

You know very well that attracting new customers is not exactly cost-effective. Customer education enables you to build your brand and establish your business in the market. This means that more people will know about you, and you won't have to spend that much on marketing and promotional activities, thereby decreasing the customer acquisition cost.
5

Get More Positive Online Reviews

A direct result of higher customer satisfaction is that your Net Promoter Score (NPS) and the number of positive reviews and ratings will increase. It's pretty obvious what online reviews are, but perhaps you haven't heard of NPS. NPS is the number that measures the likelihood of a customer to recommend your product or service, and it's measured by a survey asking exactly that.
Now that you've realized how necessary training is, we'll explain why you should use a Learning Management System to deliver online training instead of using a classroom-based approach.
1

Familiarity

During the pandemic and the subsequent restrictions on movement, most of our daily activities switched to online mode. And for many people, they have stayed this way. Working, shopping, and learning, among others, still take place online. In most cases, doing these things online is more convenient.

Like remote work, online learning is the option that makes the most sense right now, and an LMS is the best learning tool for the job. Employees can enhance their skill sets, and customers and partners can learn your product in a familiar and easy way.
2

Flexibility

A Learning Management System is the most flexible solution for all involved stakeholders.

Starting with you, imagine organizing on-site training for a large group of audience and possibly different branches. You'll need to find a location, booking fees, and possible transportation costs. Both the trouble and the cost are considerable. Not to mention that there's a limit to the number of people that could participate in such an event, making on-site training very challenging and almost impossible for high-scale customer education.

With an LMS, you can offer training courses from the comfort of your office chair. Well, sort of. But you get the point: once you pick the right platform, creating the content becomes much easier. Among the desired LMS features at this point is SCORM compliance, so you can easily transfer your content if you're switching platforms.

What's more, you only build the content once, have the core of your course ready, and then update it as you go whenever necessary. Also, an LMS supports as many users as you wish and an unlimited amount of learning material.

An LMS is flexible for course participants too. Online training doesn't cut into their day; whether employees or customers can learn while commuting and at their own pace and can create their distinct learning path. The course material is available when they most need it.

Think about your mobile or deskless employees, for example. Drivers, consultants, healthcare professionals, and sales assistants – their jobs become a lot easier when they have instant access to "cheat sheets." Many LMS solutions even offer a mobile app, which is the best deal for learning on the go.
3

Onboarding

Onboarding new hires is a challenging yet crucial process. New employees are likely to feel overwhelmed by instructor-led learning programs, on-the-job learning, and the overall amount of new information they have to take in before they fully take on their new role.

Providing training via an LMS allows both employees and customers to learn at a more comfortable pace and access less critical content later. At the same time, they know that all the training resources they need are organized and stored in one location.
4

Effectiveness

When you have an LMS, learning never ends! You can continuously renew your content library by activating an RSS feed, for example. Or by initiating conversations in the discussion forum. These might not be examples of formal learning, but social learning is just as effective – and definitely more pleasant.

Even during the formal part of your e-learning course, an LMS has everything you need. You can combine different content formats to satisfy all learner preferences and to keep a nice balance between visual and audio content – eBooks, PDFs, videos, quizzes for self-evaluation, and formal learner assessments. You can also choose to add gamification elements, like leaderboards and badges.

For further interactivity and synchronous learning, a learning platform allows you to schedule real-time, instructor-led sessions and webinars. During these sessions, the instructor can address learner questions, explain complex concepts more effectively, discuss in real-time, and organize learning activities.
5

Reporting

A valuable and unique to LMS platforms' functionality is that you can monitor more than completion rates. You can get invaluable insights about how they interact with the content and which parts of the online course have sparked their interest, taken them longer to complete, and more.

This information is handy as it can complement learner feedback, which isn't always honest. Plus, in certain types of training, like compliance training, you need to ensure employees have achieved the learning objectives.

You can analyze your findings and ask for clarifications from the learners (especially when we're talking about corporate training) if you notice concerning patterns. Most importantly, you should be able to act upon these findings and improve your upskilling strategy and learning experience.
6

Monetization

Most LMS platforms offer eCommerce capabilities, and either have built-in marketing tools or integrate with popular marketing tools, so you can also sell your training course if you wish. This option comes in handy with advanced customer education programs and soft skills training. Soft skills apply in different settings, whether in everyday life or the workplace and are not unique to your business.
We're sharing seven practical ways to use a learning management system in your training efforts regardless of the audience.
1

Deploy Training Courses

The most obvious and common way to put an LMS into use, especially in a business setting, is to create online training courses. These courses can vary:
Compliance training. This type of training is usually mandatory and is particularly common in heavily regulated industries like healthcare and manufacturing.
Technical skills. This involves enhancing or building new job-related skills that have practical application. A couple of examples are sales and customer service training.
Soft skills. Soft skills are a must for a functional and friction-free workplace. Yet they're the trickiest to build, as they involve behavioral change. The list of soft skills is extended and comprises conflict resolution, leadership skills, communication, time management, active listening, and many more.
Onboarding. Onboarding is a one-way street for companies who want to decrease time-to-productivity and keep their employees. A proper onboarding process may last up to 6 months to give the new hire ample time to explore new information at a moderate pace.
Customer education. Customer education, or customer onboarding, dramatically improves critical business KPIs and empowers customers.
Partner training. Similar to customer education, partner training gives external collaborators the knowledge they need to sell your product efficiently.
Online training programs usually involve a variety of eLearning content. They are either entirely self-paced (asynchronous) or have a mix of asynchronous and synchronous elements (blended learning). Synchronous learning is also an option for online training.
2

Host Online Events

Another way you can use your LMS is to host online events, like mentoring and networking events, webinars, and conferences. Most learning management systems integrate with video conferencing tools, like Zoom and Webex, so you can schedule synchronous sessions where participants can engage in more direct communication and practice and host large-scale events. You can record and repurpose them at a later stage to become part of a course.
3

Build an Online Community

Don't underestimate the power of bringing your learners together – whether we're talking about employees or customers. Within an online community that includes a discussion board, a blog, and groups learners can socialize and learn through a spontaneous exchange of information.

For example, you can create topic-specific groups to bring together learners with similar interests and knowledge levels. Or you can initiate discussions and share insightful blog posts.
4

Create a Centralized Content Library

You can use an LMS to upload useful resources and learning material that your employees can access any time they like to learn more about a topic or practice a skill, even if it's not as a part of formal training.

Having a centralized content library will additionally help employees occasionally refresh their memory. Offer a variety of content as not all people learn the same way. A centralized content library is also especially helpful for new employees.
5

Offer Just-in-Time Resources

Remember those deskless employees we mentioned earlier? This part of your workforce often doesn't receive the same level of training. Having quick resources they can access on the job is extremely helpful and can save them from frustration and mistakes. Quick resources are also lifesavers for customer education too.

To enable that, take into account that learners won't have much time to watch lengthy videos and process complicated information. Therefore, offer bite-sized resources, like infographics, slideshows, and quick instructional videos that stock to the point and effectively answer their questions.

The best way to deliver just-in-time training is via a mobile app. A mobile app is not only as mobile-friendly as it gets; it has the most appropriate user interface for easy search and on-the-go learning.
6

Measure and Track Learner Progress

A well-monitored training program applies to employee training first and foremost and also to customer and partner training.

An LMS offers a variety of assessment tools you can use to evaluate learner progress, like quizzes, assignments, and exams. For deeper insights, you also have access to advanced reporting. You can additionally keep a record of their performance using an online gradebook.

Measuring progress and analyzing completion rates and engagement with the course is a crucial part of learning – it gives you the opportunity to make improvements and enjoy even better results with your next program.
7

Incentivize and Reward Learners

If learners lose interest mid-training or even go into training unenthusiastically, learning won't be effective. Finding ways to motivate learners in training is important to keep their attention and interest, so as to maximize training effectiveness and also to get them to complete their course.

One such way is creating engaging content, to begin with. Interactive elements and a variety of content can satisfy different learning preferences and keep everyone happy. To take it a step further, you can incentivize learners by rewarding them with badges as they progress through the course.

Certificates are another excellent way to reward learners and validate their knowledge. And if you decide later to sell the course, they add extra value and increase its appeal.
The first step to training success in your upskilling programs and similar training initiatives is investing in a user-friendly and feature-rich Learning Management System. Let's take a quick look at the 13 (lucky 🍀) features your LMS shouldn't miss:
Variety of content: This is a no-brainer. Not every learner learns the same way. Unless you're able to provide a little bit of everything, all learners will get bored and some won't be able to learn much at all.
Video conferencing tools: Your LMS of choice should integrate with video conferencing tools to allow you to hold webinars and synchronous online sessions.
Assessment tools: Another must-have feature, assessment options like exams and assignments will help you evaluate whether your learners have actually learned or just cruised through the course.
Reporting tools: In-depth course analytics will enable you to understand whether your course has resonated with learners and identify problematic areas.
Feedback tools: Getting direct feedback from learners should be part of your training program. Learners need to be heard and they need to see that their feedback is taken into consideration. Look for a platform with built-in forms that you can use to request feedback at the end of the course – among many other uses.
Integrations: An LMS with plenty of integrations will help you automate processes and enable you to work with tools you're already familiar with.
Gamification: Even simple gamification elements like badges play a role in boosting engagement and motivation.
Certificate builder: The ultimate incentive is recognition. Make the process easier by choosing a platform with a built-in certificate builder.
Mobile app: For deskless employees -and not only- a mobile app will take mobile learning to the next level. Increase engagement with in-app notifications.
eCommerce and marketing capabilities: Why not leave the window of monetization open? If someday you want to sell your courses, you should be able to. Therefore, the best learning management system must accept different payment gateways, integrate with marketing tools, and offer affiliate marketing and diverse selling options.
White labeling: Create training in a familiar environment where your company logos and colors shine. Make sure your LMS offers true white labeling where it's all you.
Website builder: Another essential feature for customer training and also for selling online courses. With a customizable website builder, you can create the online storefront that best expresses you and matches your company and brand.
SCORM-compliance: A SCORM-compliant LMS makes your life so much easier because it ensures the content and the LMS play well.
There's no question about whether you should deploy training or not. No matter the audience and the purpose, a training course is always a good idea as it educates, engages, and empowers!
Give LearnWorlds a try for free for 30 days and start creating your training courses.
Further reading you might find interesting:
(Visited 922 times, 1 visits today)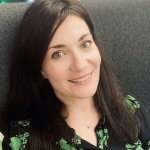 Androniki is a Content Writer at LearnWorlds sharing Instructional Design and marketing tips. With solid experience in B2B writing and technical translation, she is passionate about learning and spreading knowledge. She is also an aspiring yogi, a book nerd, and a talented transponster.